Get ready for summer by stirring up a batch of homemade Pink Lemonade. Strawberries give it its beautiful hue. It's a delicious way to cool off, tart and sweet and perfectly refreshing.
While you might be tempted to use your most beautiful berries in this recipe, it's actually great for making good use of those ripe, juicy strawberries that might be going a bit soft. This Pink Lemonade recipe will have you in the pink in no time!
Jump to:
Lemonade is pretty good straight up the classic way, but it takes on a whole new level of fun when you add strawberries to it and pink it up.
This fun summer drink is ready for your summer line-up, packed with flavor and so cool and refreshing. You'll wonder why you haven't been making pink lemonade with strawberries all along.
Why make this
It's pink! Who doesn't love pink lemonade? It's festive and fun without being fussy.
It's cool and refreshing. The sweet-tart combo of strawberries and lemons really can't be beat.
It's budget-friendly. At only $1.92/batch, it's a bargain beverage to enjoy morning, noon, or night.
It makes good use of overripe berries. If you don't store strawberries properly, they might get sad before their time. You don't have to chuck them, though. This recipe is ideal if you've got berries that are still technically good (not moldy), but look a little weary. Blend them up and make them into something tasty.
Did I mention it's pink lemonade?
Ingredients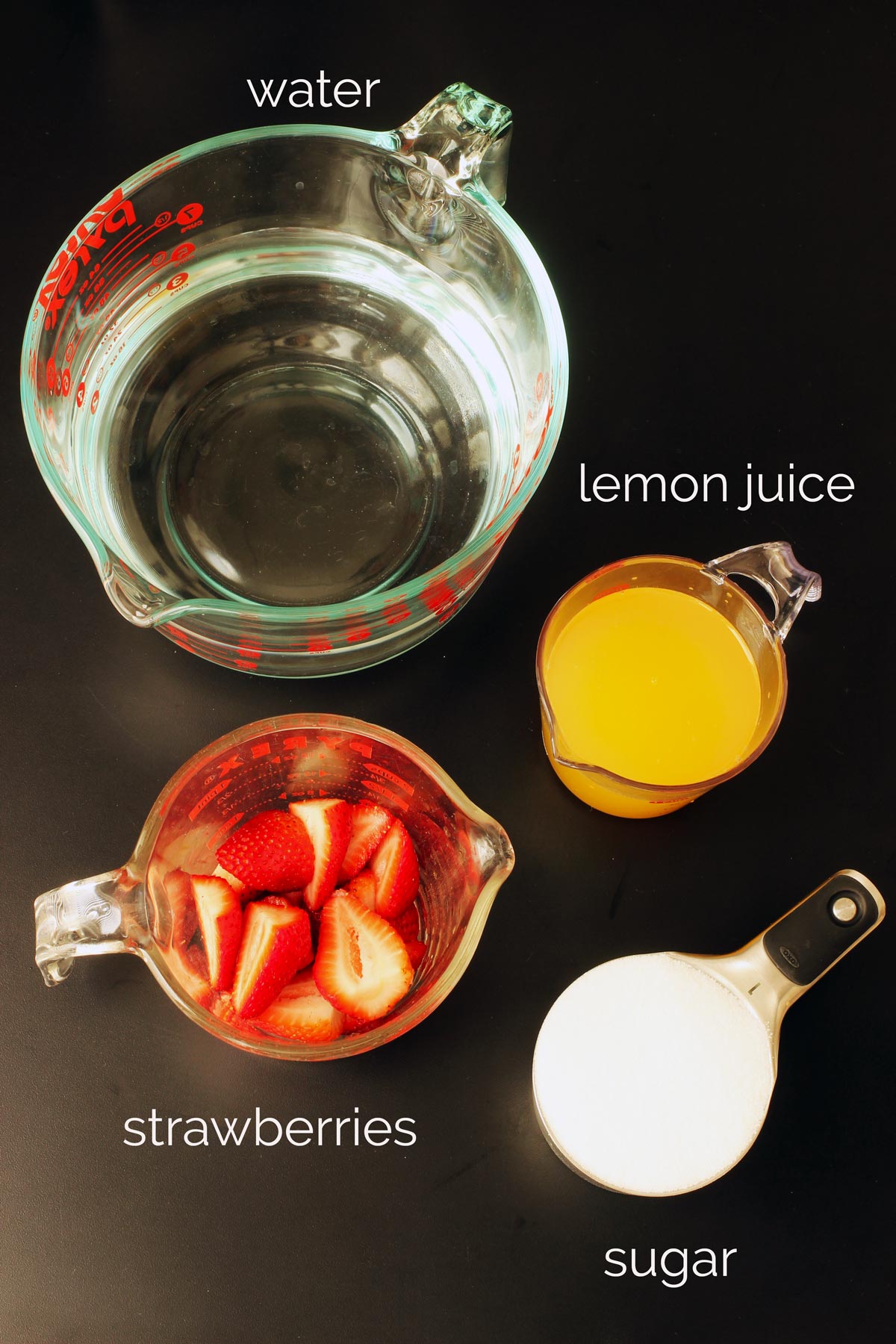 strawberries to make strawberry juice – it's best if you have very ripe strawberries. Still green or just ripe berries won't make as much juice, meaning you'll need more of them for this recipe. Luckily, very ripe or even
lemon juice – freshly squeezed tastes the best, but you can use bottled in a pinch.
granulated sugar – You want sugar that will easily dissolve in water, so use granulated or fine sugar. Coarse or raw sugar will not work as well.
Step-by-step instructions
Juice the strawberries.
If you have a juicer, you can juice the strawberries pretty quickly. However that's a pretty specialty machine that not everyone owns. Instead you can use a food processor or high-speed blender to puree the berries and then strain out the seeds. (This puree process is the same you'll use to make Strawberry Chocolate Chip Ice Cream.)
Here's how to do that:
Place the strawberries in the bowl of a food processor fitted with a metal blade.
Puree the berries until very smooth, stopping the machine occasionally to scrape down the sides.
Pour the puree into a fine mesh sieve to strain out the seeds and little chunks of berry.
Stir the puree in the sieve to get more juice to come through. You will need ½ cup strawberry juice.
Note: You can save any leftover puree and pulp to use in smoothies or baked good recipes. Freeze it in ice cube trays until you're ready to use it.
Prepare the lemonade.
Combine the strawberry juice, lemon juice, and sugar in the pitcher. Stir until sugar dissolves.
Stir in the water until combined.
FAQ
What is in pink lemonade to make it pink?
Pink lemonade gets its color from food coloring, grenadine, or the juice of a red fruit, such as cranberries, cherries, or strawberries. Tradition says that the first pink lemonade was made with red hot cinnamon candies!
Do I have to strain the strawberry puree?
You don't have to strain the puree, but your pink lemonade won't be as smooth if you don't. It will be more like thick, pulpy orange juice. Some people might not care for the seeds.
Can I use a different kind of fruit, besides strawberry?
You don't have to make pink lemonade with strawberries. You can also use bottled cranberry, pomegranate, or cherry juice (straight juice, not cocktail or a juice blend. Likewise, you can juice pomegranate arils or pitted fresh cherries in the same manner described here if that's the fruit you have. Your pink lemonade will be delicious no matter which fruit you use.
Recipe costs
Knowing how much it costs you to prepare a recipe can help you decide if it's the type of recipe to make regularly or one you might want to save for special occasions. Let's crunch some numbers and see how this recipe pencils out.
lemons – $1.20 (or free if you have a tree or know someone who does!)
strawberries – $0.50
sugar – $0.22
Shopped at a mid-range grocery store at non-sale prices, the ingredients for this pink lemonade recipe should cost about $1.92/batch or 32 cents per cup!
Pretty darn good for a homemade beverage made with plain real food, no dyes, preservatives, or artificial sweeteners or ingredients.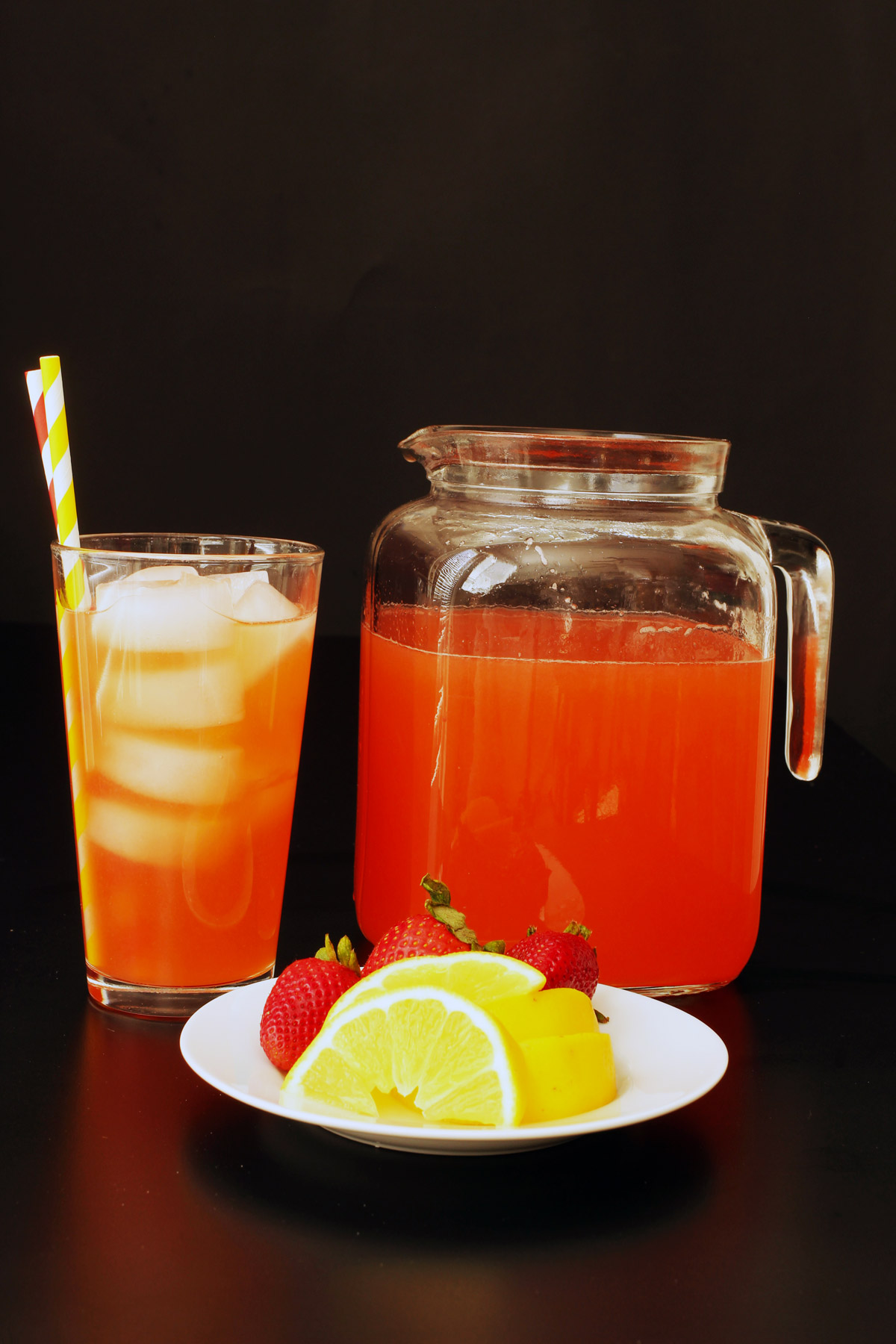 More Cool Drink Recipes
Pink Lemonade with Strawberries
Get ready for summer by stirring up a batch of Pink Lemonade. It's a delicious way to cool off, tart and sweet and perfectly refreshing.
Ingredients
1 ½

cups

strawberries

, halved and hulled (best if very ripe)

1

cup

lemon juice

freshly squeezed is best

1

cup

granulated sugar

5 to 6

cups

water
Instructions
Prepare the strawberry juice with a juicer or a food mill.
Juice the strawberries according to the manufacturer's directions.
Prepare the strawberry juice with a food processor or blender
Add the strawberries to a food processor bowl fitted with the metal blade or in the bowl of a high speed blender. Puree until smooth and liquified, stopping to scrape down the sides a few times.

Transfer the puree to a fine mesh sieve or a nut milk bag, pressing on the solids to get as much juice as possible, without the seeds. You want ½ cup strawberry juice.
To prepare the lemonade
Combine the strawberry juice, lemon juice, and sugar in a large pitcher and stir until well blended and then sugar is dissolved. Stir in the water to taste. Adjust by adding more sugar or lemon juice to suit your preferences.

Serve over ice or chill prior to serving.
Notes
Very ripe strawberries will give you more juice than slightly green or just ripe berries.
Promptly store leftovers in an airtight container in the refrigerator, for up to 3 days.
Nutritional values are approximate and based on 1 cup lemonade.
Leftover strawberry pulp and puree can be added to smoothies or baked good recipes. You can freeze it in ice cube trays until you're ready to use it up.
Nutrition
Calories:
75
kcal
|
Carbohydrates:
19
g
|
Protein:
1
g
|
Fat:
1
g
|
Saturated Fat:
1
g
|
Sodium:
6
mg
|
Potassium:
48
mg
|
Fiber:
1
g
|
Sugar:
18
g
|
Vitamin C:
18
mg
|
Calcium:
7
mg
|
Iron:
1
mg
This post was originally published on May 10, 2015. It has been updated for content and clarity.