Get ready for summer by stirring up a batch of Strawberry Lemonade. It's a delicious way to cool off!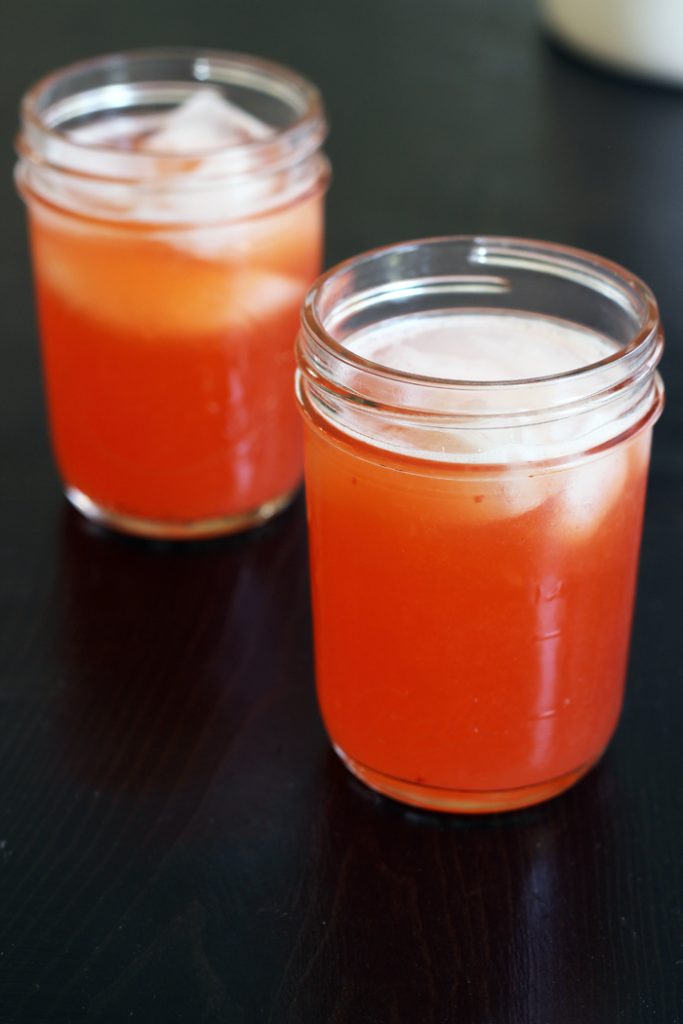 Writing the Juice Book was so much fun. It's been a couple years now since I worked on it, but I have great memories of creating those recipes with my kids.
I think one of the reasons I love it so much is that THEY loved it so much.
Years ago, soda pop was a regular fixture in our house. I drank Vanilla Coke daily and appeased my kids with a weekly dose of it on Pizza Night. Nowadays we almost never buy it. On a recent weekend away my husband was stunned when I let the kids get soda at a favorite restaurant. It's just not what we do anymore.
The Juice Book, as we call it at our house, is filled with homemade juice recipes as well as naturally-sweetened recipes for things like sports ade, ginger ale, and popsicles. Making our own flavored drinks at home is cheaper and healthier for us.
One recent favorite that I created is this recipe for Strawberry Lemonade. We went berry picking a few weeks ago. The first day's berries were beautiful, but they started to look a sad on the next day. I pureed them in the food processor, mixed them with lemon juice, and made a Strawberry Lemonade. It is SO GOOD.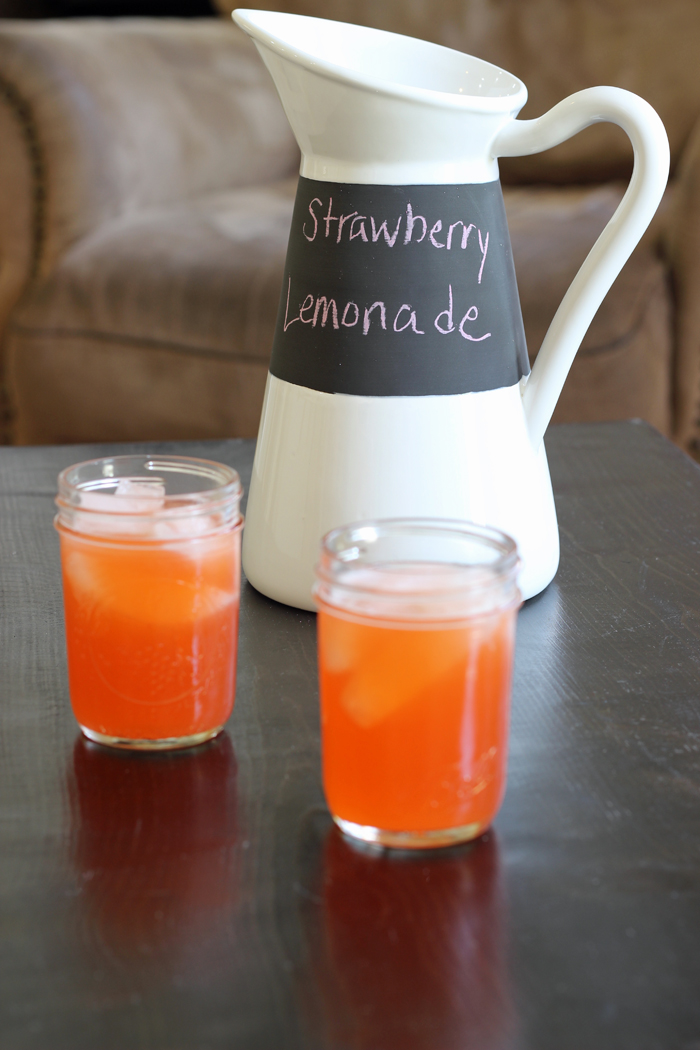 Granted, this recipe does call for sugar but you can very easily substitute honey syrup if you prefer or make your own simple syrup I use both, depending on my mood
Now one warning: it does take some time to filter the seeds out of the strawberry puree. A food mill might work better than the food processor-sieve combination that I used. I don't have a food mill, but I'm looking at this one. Happy to take suggestions if you've got one that you love.
This recipe is ideal if you've got berries that are still technically good (not moldy), but look a little weary. Chances are you can nab some on sale or clearance. Blend them up and make them into something tasty.
If you've got more strawberries than lemonade drinkers, you can always freeze the puree for a later date.
We get lemons for free from my dad, so I rarely have to buy them. Keep your eyes peeled for good sales or for bottled lemon juice for cheap. No, bottled lemon juice is not ideal – it tastes like it came from a factory — but it works in a pinch. My guess is that the fresh strawberry flavor will override any of the bottled after taste.
Strawberry Lemonade
Get ready for summer by stirring up a batch of Strawberry Lemonade. It's a delicious way to cool off!
Ingredients
1 1/2

cups

strawberries

, hulled

1

cup

lemon juice

1

cup

granulated sugar

5 to 6

cups

water
Instructions
In the bowl of a food processor fitted with a metal blade, puree the strawberries until smooth. Strain the mixture through a sieve, pressing on the solids to get as much pulp and juice as possible, without the seeds. Alternatively, you can run the berries through a food mill. You should have about 1/2 cup strawberry puree.

Combine the puree, lemon juice, and sugar in a large pitcher and stir until well belnded and then sugar is dissolved. Stir in the water to taste.

Serve over ice or chill prior to serving.
Notes
Can be done in a blender if you don't own a food processor.
Nutrition
Calories:
75
kcal
|
Carbohydrates:
19
g
|
Protein:
1
g
|
Fat:
1
g
|
Saturated Fat:
1
g
|
Sodium:
6
mg
|
Potassium:
48
mg
|
Fiber:
1
g
|
Sugar:
18
g
|
Vitamin C:
18
mg
|
Calcium:
7
mg
|
Iron:
1
mg