Whole Wheat Soft Pretzels are easy to make and so delicious. You may just want to bake a double batch and hide some away in the freezer for later.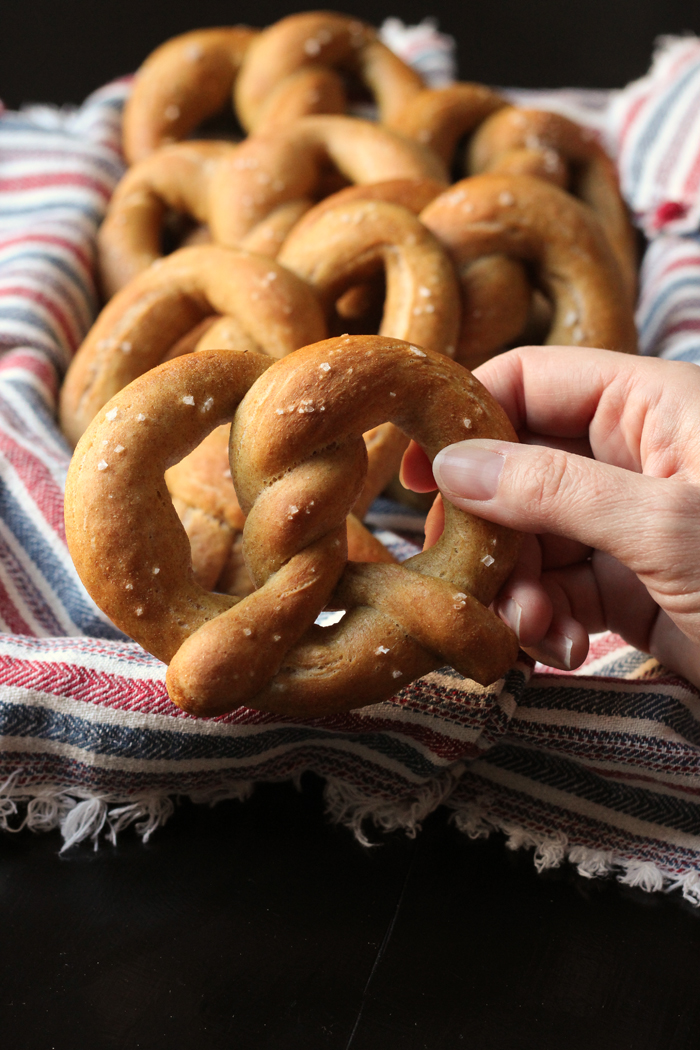 It used to be that my kids associated soft pretzels with a trip to the mall. We had some "buy one get one" coupons one summer and so we indulged extravagantly. Alas! Trips to the mall aren't a regular occurrence for our family. Too expensive. As are the much-loved mall pretzels.
Since no one ever really got to eat his fill of mall soft pretzels, learning to make our own was a good move. A game changer, if you will. I did a little study into the history of pretzels, because I'm a food geek like that, and it's caused me to make these homemade Whole Wheat Soft Pretzels more than once each spring.
Believe it or not, pretzels have a much more spiritual history than mere mega malls. In fact, it is said that medieval monks developed pretzels as a way to help children learn their prayers. The pretzel shape is supposed to be reminiscent of praying hands.
And, believe it or not, pretzels have their roots in the history of Easter. Since eggs and butter were forbidden foods during Lent — and since many pretzel recipes can be made without eggs and butter, pretzels were a permissible food during that time.
Eggs, a food that one would abstain from during Lent, would be hardboiled for longer storage. And eventually it came about that children were served two hard boiled eggs nestled in the hollows of a pretzel on Easter morning. That pretzel eventually evolved into "the Easter Basket." Pretty cool, eh?
Who knew? Personally, I'd rather have a Whole Wheat Soft Pretzel than the basket!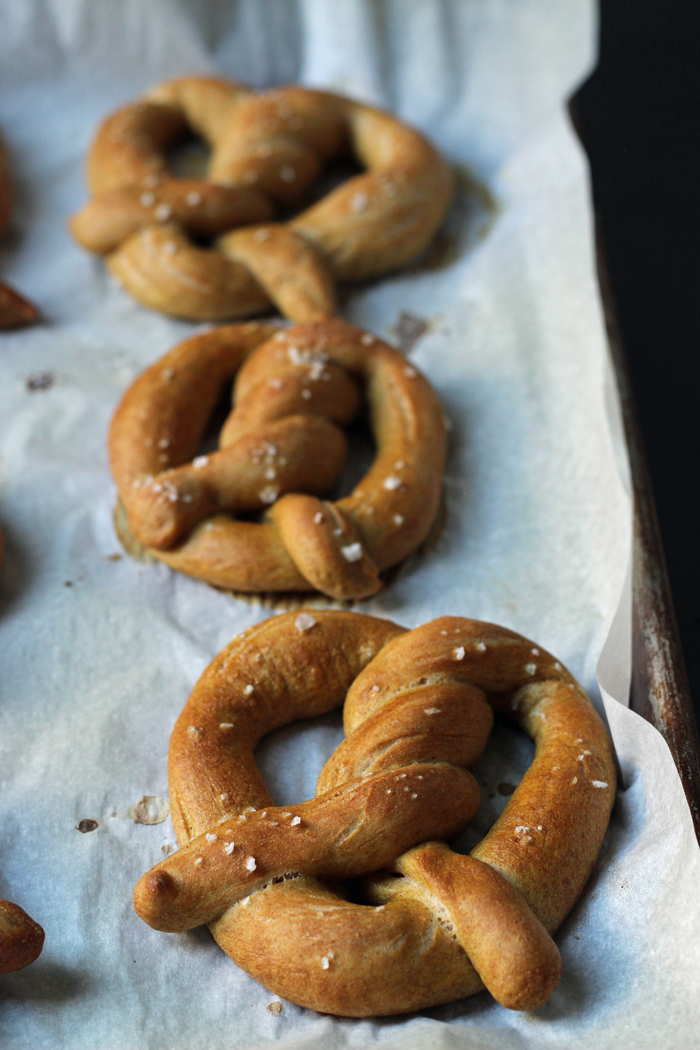 Whether you abstain from butter and eggs — now or anytime — soft pretzels are a delicious treat. And making them at home elevates them to a super-duper-outstanding level of deliciousness. They are easy to prepare, but there are a few steps involved. Consider making several batches in a row so that you can eat your fill. Or freeze them for later.
If you like, try my Garlic Herb Pretzel recipe, too. Or check out how to Enjoy Homemade Pretzels in Lots of Fun Ways.
How to make this good and cheap:
Here are some of the strategies you can use to make this recipe more economical:
How I make this recipe easy:
This recipe really couldn't be easier than it is, but having the right kitchen tools can really make your time in the kitchen more enjoyable. Over time, I've honed my collection so that they are perfect for my needs.
Here are the tools that I use for this recipe:
Whole Wheat Soft Pretzels
Whole Wheat Soft Pretzels are easy to make and so delicious. This recipe takes a little time, but it's worth it.
Ingredients
1/2

cup

water

1

cup

milk

1

tbsp

granulated sugar

3

cup

bread flour

1

cup

whole wheat flour

1 1/4

tsp

salt

1

tbsp

active dry yeast

8

cup

water

1/4

cup

baking soda

coarse salt
Instructions
To make the dough in a bread machine:
Place the 1/2 cup water, milk, sugar, flours, salt, and yeast in the bread pan. Set the machine on dough. When the cycle ends, remove the dough to a lightly oiled surface.
To make the dough by hand:
Warm the water and milk slightly and combine it with the sugar and yeast. Let that rest for 5 minutes. Then add the flours and salt. Stir until you have a sticky dough but all the flour is incorporated. Turn it onto a floured surface and knead until the dough becomes elastic. Set into a greased bowl and allow to rise until doubled in bulk, about an hour.
Once the dough is ready:
Preheat the oven to 450°. Line two large cookie sheets with parchment paper.

Divide the dough into 12 equal portions. Roll each portion into a long snake, about 18 inches long. Shape the snake into a horseshoe. Twist the sides of the horseshoe, about halfway up, around each other twice. Flip the ends over onto the U of the horseshoe. Press to seal. Continue until all the pretzels are shaped.

Meanwhile, bring the 8 cups water to a boil in a large stockpot. Add the baking soda and continue to boil. Drop the formed pretzels, one at a time into the soda bath. Boil for about 30 seconds and remove to the prepared parchment. Sprinkle with coarse salt, if desired.

Once all the pretzels have been "bathed," bake them for 9 to 10 minutes or until golden. Remove them to a rack to cool.

Store cooled pretzels in an airtight container at room temperature for up to 3 days.
Notes
To freeze: Place the cooled pretzels (unbuttered) in a ziptop freezer bag and store in the freezer for up to 3 months. Thaw, wrapped, on the countertop at room temperature. You can reheat them in a warm oven for five minutes to freshen them.
Nutritional values are approximate and based on 1

 pretzel.
Nutrition
Calories:
164
kcal
|
Carbohydrates:
32
g
|
Protein:
6
g
|
Fat:
1
g
|
Saturated Fat:
1
g
|
Cholesterol:
2
mg
|
Sodium:
945
mg
|
Potassium:
98
mg
|
Fiber:
2
g
|
Sugar:
2
g
|
Vitamin A:
33
IU
|
Calcium:
36
mg
|
Iron:
1
mg