Serve up a snacky dinner for a quick and easy meal that can still feel special.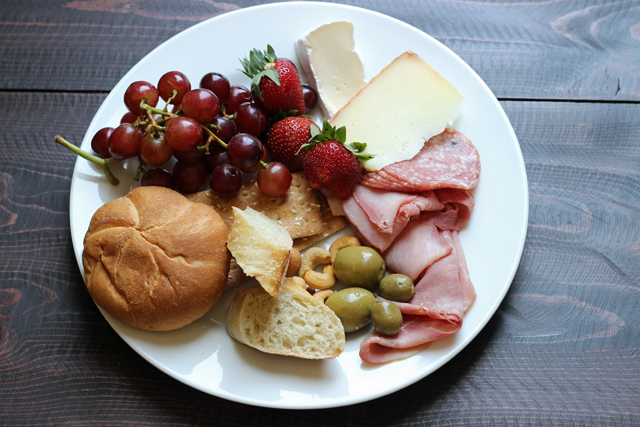 The Snacky Dinner has long been a part of our family's food culture. I remember when our kids were all under nine years old. Yes, really. We had five children and were living in our four bedroom home in Olathe, Kansas. Winters were long, and so were Sunday nights! Football seemed to drag on all day long.
Though I was not a football fan, I decided to embrace it. That time was mine to do what I wanted. And a snacky dinner was part of that. I would lay out a tablecloth on the floor in front of the TV and the kids would picnic.
Even before children we were happy to dine on appetizers. It's an easy meal to prepare and a great one to share with friends and family at Christmas and New Year's. It works for my birthday lunch, a casual summer picnic, and a busy school night.
Here's what we like to put in our snacky dinner spread:
Bread
Sliced French baguette and/or crackers
Cheese
Two or three cheeses of different textures and intensities of flavor (such as Brie, Gruyère, and a soft herbed cheese, like Boursin) – Check these tips for making a cheese platter.

Charcuterie
Deli-sliced ham, salami, roast beef, and/or turkey
Vegetables and Dip
Baby carrots, celery sticks, cucumber slices, blanched green beans, zucchini spears, and/or snap peas – Check out my Easy Veggie Tray.
Fruits and Nuts
An array of dried and fresh fruits and nuts, such as fresh apples, grapes, figs, and clementines; dried apricots, raisins, and cranberries; and almonds and cashews
Pickles
Preserved condiments like cured olives, dill pickles, and pepperoncini
Good Cheap Eats Dinner in 30 Minutes or Less

Looking for more bright ideas to get dinner on the table? My latest cookbook is here! And it's designed just for you to make dinner quickly, easily, and affordably.

You can beat the clock without breaking the bank.

And you'll eat well too.
What do YOU include in YOUR snacky dinners?