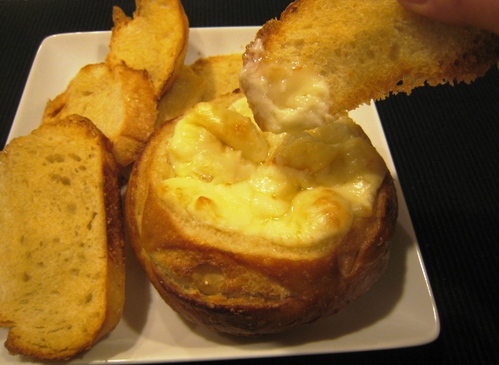 This appetizer is just fantastic! It is very "make-ahead" and only contains a few ingredients. One great aspect of it is that you get to eat the bowl!

Recipe: Garlic Brie Bread
Adapted from The Friends for Life Cookbook
Ingredients
1 large sourdough bread round (or two small rounds)
1 large loaf sourdough bread
4 Tablespoons olive oil, divided usage
2 cloves garlic, minced
1 small wheel Brie cheese, rind removed, cut into cubes
Instructions
Preheat oven to 350 degrees. Cut off top of bread round and place on cookie sheet. Remove interior of bread round, leaving a one-inch shell. Place shell on cookie sheet. Slice the part you removed and place on cookie sheet as well. Slice remaining sourdough loaf and lay out slices on cookie sheet(s).
Combine 2 tablespoons olive oil with garlic and brush on interior of bread bowl. Brush remainder of oil on all bread slices. Fill bread bowl with Brie cheese cubes.
Place all cookie sheets into oven and bake until cheese is melted completely and bread is toasted. Serve Brie bowl with toasted bread. When most of cheese is consumed, slice bread bowl into sections and eat those, too!