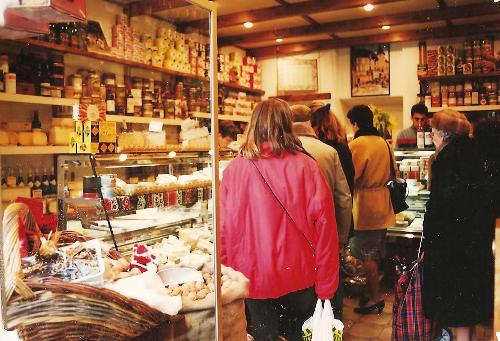 Years ago, almost twenty to be exact, I was une jeune fille americaine living in France. I left the States speaking horrific French, but not caring. It had been a lifelong dream to live in France, and I was going.
Thankfully, I had the opportunity to meet and dine with a number of French folk, and to be indoctrinated into the world of wonderful cheeses. And to brush up on my French.
Oh, sure, when I first got there, I reserved my purchases at the cheese counter to Mimolette, a soft orange cheese that reminded me of cheddar. But, as time went on and I rubbed shoulders with more of the natives, I got bolder to try different cheeses, loving the strong flavors and smells.
On occasion, my French family would break out the Fondue pot or the raclette machine and I would stuff myself on cheese and carbs, either baguette or potatoes, depending on which cheese dish was featured that night.
FishPapa came to visit me that year and we traveled throughout the South, visiting different areas and being regular tourists. Within a year of my return home to the States, we got married and flew back to France on our honeymoon. I assumed we would make it a yearly trip.
We haven't been in years, almost twenty to be exact. But, I've got my eye on 2014.
Anyway, this post is supposed to be about cheese. And it is. Or will be eventually. My publisher sent me a copy of the lovely book La Bonne Femme Cookbook by Wini Moranville. I love it! It's taken me back. I even dreamed of France the first night reading it.
So, a few days or so ago, I was strolling through Trader Joe's thinking about France… and voila! In the cheese section there was raclette. And I had to buy some as well as some cornichons. I knew we had ham and new potatoes at home and on the spot, come pantry challenge or high water, I switched meal plans for the evening, so we could enjoy raclette.
I entertained visions of my children scarfing down melted cheese and potatoes and thanking their mama profusely for her kindness. Instead, they all plugged their noses and tried to hide from the delectable feast. Hubs and I looked at each other in disbelief. How could they respond this way?
Clearly, in 2014, it may be a second honeymoon.
Raclette is a cheese, traditionally a Swiss cheese, as in "made in Switzerland." It does not have big holes like you may imagine when you hear the words Swiss cheese. But, my package of cheese was from France. So, whatever.
Hot and melty raclette is served with boiled new potatoes, baby pickles, and charcuterie (ham). It was a fantastic, easy supper. Whereas you can buy a unitasker machine specifically designed to melt the cheese and heat the other ingredients, I don't have one. Instead, I warmed all the items that needed to be warmed, like ham, potatoes, and sauteed mushrooms. And then I broiled the cheese in a pan in the toaster oven. Not as fancy as the machine, but it worked.
I apologize for no photo. Our plates were so pretty. But the light wasn't. Bummer. I guess I'll need to make it again soon. On a date night. Without children.
Raclette Potato Bowls
Since raclette in the states is often served sliced, we've adapted the traditional method of serving to suit a bowl meal. These Raclette Potato Bowls are ultimate comfort food.
Instructions
Cook the potatoes in a pot of water until tender, about 25 minutes. Drain immediately.

Divide the potatoes and ham among four broiler-safe plates. Lay a slice of cheese over each.

Place the plates in the broiler for 3-5 minutes or until the cheese is melted and slightly bubbling.

Add the pickles and vegetables to each plate.

Serve immediately.
Notes
Promptly store leftovers in an airtight container in the refrigerator, for up to 4 days.
Nutritional values are approximate and based on 1/4 the recipe. Does not include vegetables.
Nutrition
Calories:
478
kcal
|
Carbohydrates:
42
g
|
Protein:
25
g
|
Fat:
24
g
|
Saturated Fat:
14
g
|
Cholesterol:
77
mg
|
Sodium:
1387
mg
|
Potassium:
1104
mg
|
Fiber:
6
g
|
Sugar:
3
g
|
Vitamin A:
676
IU
|
Vitamin C:
45
mg
|
Calcium:
436
mg
|
Iron:
3
mg
This is by far a favorite cheesy recipe of mine. I would love to hear what YOUR favorite cheese recipes are!