Sourdough bread is so incredibly tasty, and sourdough baking is actually pretty easy to do. Here's what you need to know to get started.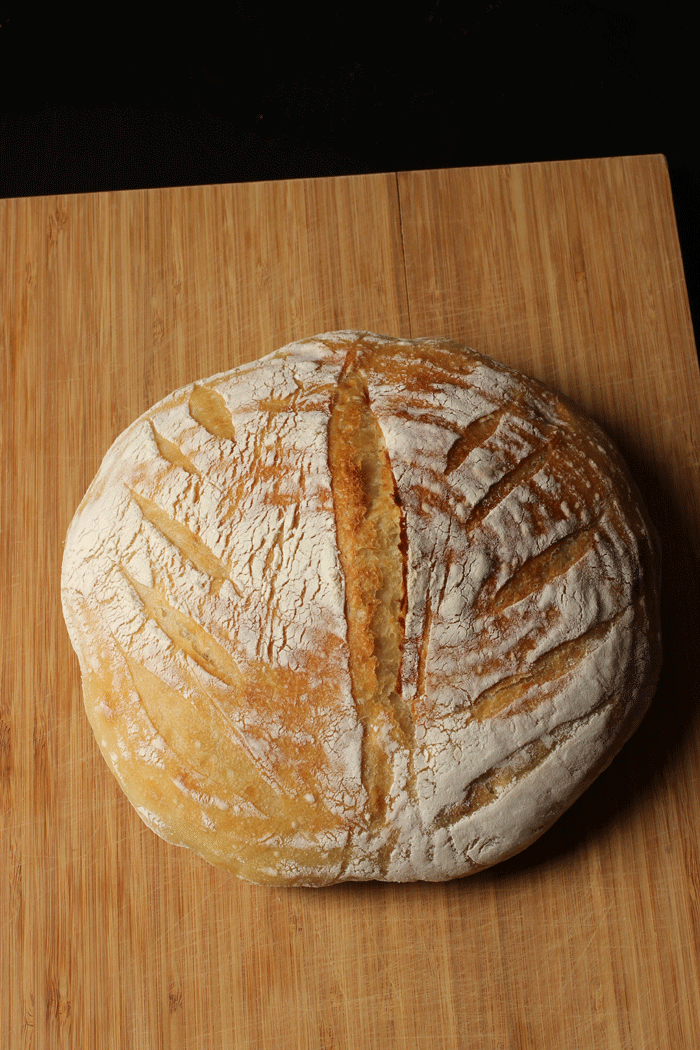 One of my best friends is named Marilla. She was born on a small island in Canada. She's pretty steadfast. And so far, she hasn't failed me.
And no, she isn't a fictional character.
Marilla is key to my family's Friday pizza nights. Our weekend bagels. Our daily bread.
Marilla is my sourdough starter. She's been a close friend for over a year now, since my friend Kate sent her to me from Salt Spring Island. And you know what, learning to work with sourdough was one of my biggest and best accomplishments of last year.
It took some trial and error, but homemade sourdough bread has become a regular staple in our kitchen. My kids don't really like store-bought bread anymore because homemade is just so good.
Sourdough Bread for the win!
And lest you think I'm sitting over here in my flour-dusted apron all day all week long, let me assure you that this process takes me no more than an hour of active time each week.
In the immortal words of my kid sister, "Amazeballs!"
Truly, learning to master sourdough bread baking has been a game changer.
If anyone in your home eats sandwiches, you know that bread from the store is not cheap. Not even the cheap kind is cheap. Since we've got eight people here, that's a lot of bread. Over the last year, I've successfully replaced mediocre $3 loaves with exceptional, artisan-style sourdough bread for about a buck a boule.
Want to get in on the action?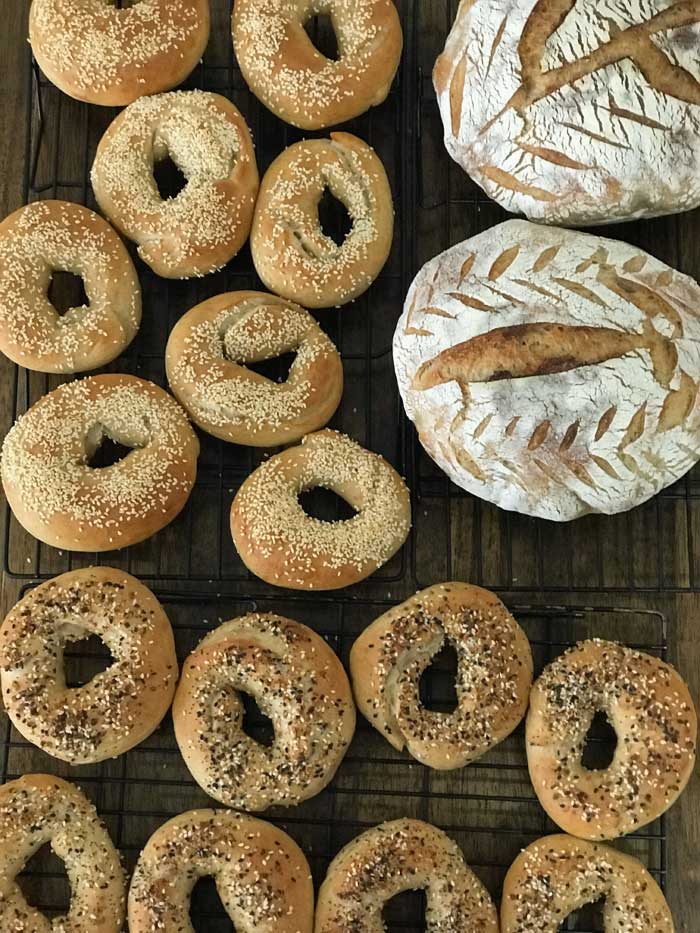 The good thing about sourdough bread baking is that it's not as complicated as it might seem. Our grandmothers and their grandmothers before them used a sourdough starter instead of yeast for years. We, with all our newfangled technology, can do it all the more easily.
Here's what I've learned over the last year to make sourdough bread baking a weekly thing, including what resources to access, equipment to buy, and ingredients to use. This post will provide all the basics you need to know in order to start baking sourdough bread at home.
What You Need to Know to Bake Sourdough Bread
First a disclaimer: I am not a baking instructor by trade. What I'm dishing out today is simply my experience as a home baker. While I'm not the most experienced in artisan, wild yeast baking, I am a learner. I've made all the mistakes so you don't have to.
As I said before, I've done a lot of baking over the last year — six kids, remember? — so I may have more "trial and error" than most people. I'm currently doing one big bake of 4-6 sourdough boules once a week with a pizza grilling stint on Fridays. Every once in a while, I also bake sourdough crumpets or bagels.
Since fresh, home baked, sourdough bread doesn't last as long as commercial loaves, I slice them and freeze them to keep them fresh.
When I first started, my family had to be patient with me. They didn't love every loaf I made, but overtime, I've gotten better at my technique and it's now something that everyone looks forward to.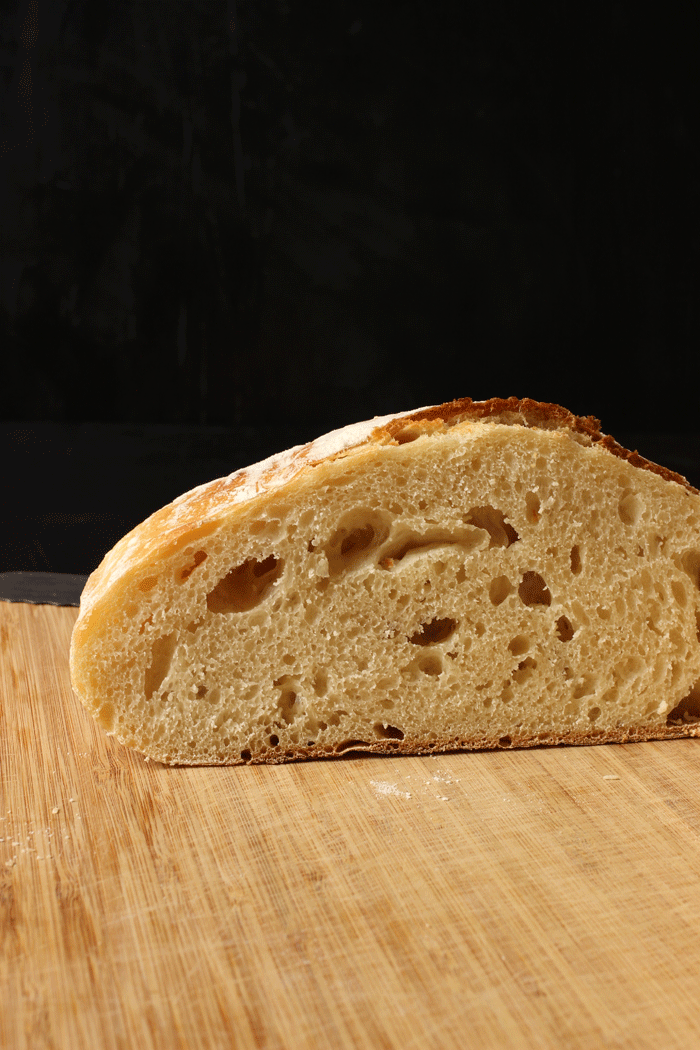 What is sourdough bread?
Sourdough bread is bread that has baked with a sourdough starter. Not only does the starter add a sour flavor, but it also acts as a leavening agent in the place of commercial yeast.
For years I used a sourdough starter for flavor only. I had no idea that you could use it as the leavening agent. The only leavening agent.
All the recipes I'd seen all called for starter as well as yeast, but it turns out that you don't need to add the extra commercial yeast at all!
Baking with starter only to lift the bread takes more rising time, but the resulting bread is said to be more easily digested. Some folks with gluten intolerance have reported being able to eat wheat bread leavened with sourdough starter without issues.
This process of baking sourdough bread without commercial yeast is also called natural yeast or wild yeast.
How do you make a sourdough starter?
A sourdough starter can be prepared by combining water and flour and fermenting it at room temperature, capturing the wild yeast present in the air.
Last year I tried this process to make my starter, following the King Arthur tutorial, but it was a miserable failure. Whether there's a lack of wild yeast in the San Diego air or I was simply doing it wrong, I do not know.
It gave me such a failure complex, though, that it actually impeded my mastering sourdough bread baking. So, don't feel bad if it doesn't work. Chances are you may actually know someone with an active starter who is happy to share.
No friend who can gift you some starter? No problem. You can buy some sourdough starter on Amazon. You'll also need a starter crock or other clean container with a lid.
The magic of the starter is really fascinating. You need just a tiny amount that you "feed" with flour and water, and it grows! And grows!
If you're not careful in how often you bake, you may end up with the Starter that Ate New York, as I did many times last year when my starter basically overflowed from the largest storage vessel we owned!
How do you keep the starter from taking over the world?
The reason my starter got so big is that I didn't discard any of it. You see, the feeding process will double the quantity of your starter. If you don't use it up in an adequate way, you'll end up with bigger and bigger amounts of starter.
So, you can either discard half before you feed it or find some great recipes that use sourdough discard.
The cookbook Artisan Sourdough Made Simple does a great job of providing you basic, hand-holding advice for starting this process and includes some fantastic recipes. In my first few months, I consulted this book daily to make sure I wasn't doing it wrong.
Pro tip: My kids looooove the Chocolate Chip Bread recipe in that book!
How do you feed the starter?
A starter has living yeast organisms inside it that need to be fed on a regular basis. Currently, I use my starter about once a week, feed it, and refrigerate it until I use it again.
Depending on the weather and the temps in your home, you'll need to play with the frequency of feeding your starter as well as whether or not it will work for you to use cold starter in bread. I wouldn't have done it a year ago, but currently it's working for me.
To feed your starter: I use a scale to weigh how much starter I have, then I add that same weight in water and all-purpose, unbleached flour. Stir well, cover loosely, and set it on the counter to do its work.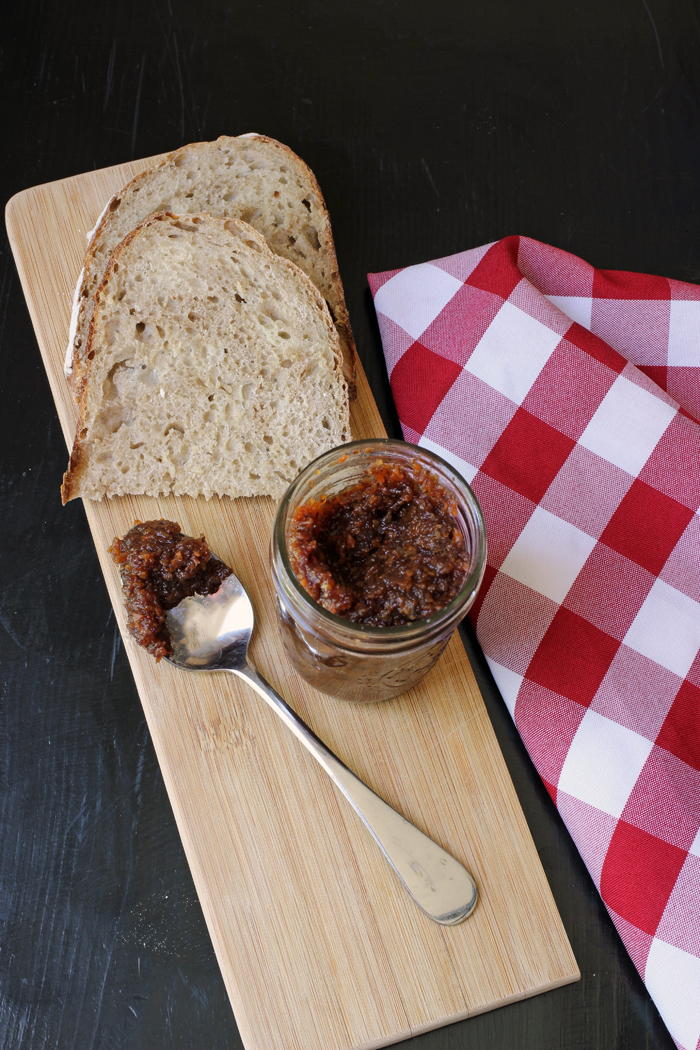 What's the process for baking sourdough bread?
My process for my weekly bake is this:
Mix up the dough using active, bubbly starter. I use an adaptation of the basic boule recipe in the cookbook mentioned earlier. However, I mix a double batch in my stand mixer. Twice or three times.
As each double batch comes together — this takes about five to ten minutes — I transfer the dough to an oiled bowl and cover it with a lid from one of my pots. Using a lid saves me from doing more washing of tea towels or using up plastic wrap.
I let the dough rise for up to 12 hours, depending on the weather. Less time for warmer days. I will either mix dough right before bed or first thing in the morning, so that I can bake first thing in the morning or right after dinner.
I feed my starter.
When the dough is ready, I turn it out onto a floured board and divide it into two portions. I form two boules and allow them to rise 30 to 60 minutes in floured or lined banettons.
When the time is up, I transfer the boule to a round of parchment and cut some slashes in the top. This allows the bread to expand without tearing.
I bake the boules in a cast iron stock pot in the oven, covered for 25 minutes and uncovered for another 20 minutes. Then I cool them on racks. My oven will hold two dutch ovens. Covering the pot for the first part allows you to get some steam action going which contributes to a crisper crust.
If I have more than two loaves to bake, I get the next two rising while the first two bake.
Sounds like time, but it's waiting time.
Obviously, the process takes time, but most of the time is waiting time. Waiting for the first rise, waiting for the second rise, waiting for the baking to be done.
My hands-on time is pretty minimal, but attention is required at intervals. It is not recommended that you binge-watch old spy shows like Covert Affairs and forget that you have dough rising.
It's okay to binge-watch, just be sure to set a timer!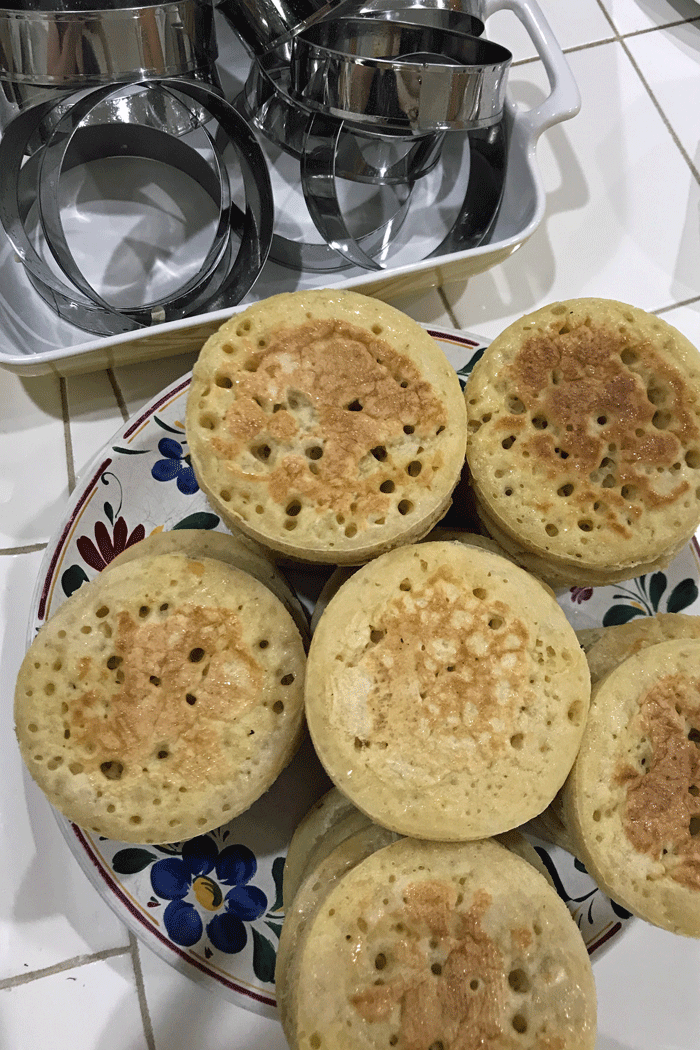 What equipment do you need?
Do you need fancy equipment to bake sourdough bread? Not exactly. If you've ever baked bread before, you likely have whatever you need on hand.
I didn't go out and buy a lot when I first started sourdough baking, but once I knew it was going to be a habit that stuck, I did invest in some special tools.
Specifically these tools for sourdough baking:
banettons for shaping the boules
a lame for slashing the dough
a dutch oven for baking, okay, I bought two to speed things up.
crumpet rings to make crumpets (recipe coming soon!)
Is sourdough bread baking worth it?
Yes! It will take a little time and attention to master the craft, but it's totally worth it. I feel odd buying bread at the store these days, and I'm always disappointed when I do.
Learning to bake sourdough bread felt like such an accomplishment for me. What was once an incredibly frustrating and perplexing task has become almost second-nature.
How to Feed and Maintain a Sourdough Starter
Learn the basics to starting a sourdough bread baking habit.
Equipment
ceramic crock, jar, or other food-safe container with lid

copy of Artisan Sourdough Made Simple cookbook

large cutting board or smooth work surface

lame

banettons or large bowls

tea towel

Dutch oven or covered roaster

bread knife
Instructions
Purchase a sourdough starter and follow the directions to activate it.

Alternatively, you can see if you have a friend who can gift you some starter. You only need about 1 cup to get started.

Once your starter is active and bubbly, you can use it in recipes.

After you use your starter, you can discard half or use it in recipes that call for "discard".

Weigh what remains. Add an equal amount of flour and water to that measurement. Stir, cover loosely, and allow to sit at room temperature until bubbly. The starter will have a distinct yeasty aroma.

Use the starter continually in recipes, repeating the process of feeding it, at least once a week.
Notes
If your starter starts to smell like nail polish remover or develops orange or pink coloration or mold, it has gone bad and must be thrown out.
Nutrition
Calories:
683
kcal
|
Carbohydrates:
143
g
|
Protein:
19
g
|
Fat:
2
g
|
Saturated Fat:
1
g
|
Sodium:
18
mg
|
Potassium:
134
mg
|
Fiber:
5
g
|
Sugar:
1
g
|
Calcium:
26
mg
|
Iron:
6
mg