Learn to feed sourdough starter in a way that doesn't make you feel chained to the kitchen or left wondering if the Blob will take over. With just water, flour, and a kitchen scale, feeding sourdough starter will be an easy weekly task that allows you to enjoy lots of sourdough bread recipes.
Once you have your own sourdough starter going, you can enjoy Sourdough Pizza, freshly baked Sourdough Rye Bread, and even Sourdough French Toast.
Jump to:
Sourdough bread is so incredibly tasty, and sourdough baking is actually pretty easy to do. There's a world of possibilities in what you can make, from crumpets to pizza crust to delicious sourdough breads and rolls for sandwiches and sides. 
But first you need to get in the habit of feeding sourdough starter so it's all ready and waiting for when you want to bake.
Let me assure you that this process takes me no more than a few minutes of active time each week.
Feeding sourdough starter and working it into all kinds of amazing dishes is actually a fairly passive activity. And a delicious one at that.
Why Bake with Sourdough
It's easy. The good thing about sourdough bread baking is that it's easy. Our grandmothers and their grandmothers before them used a sourdough starter instead of commercial yeast for years. We, with all our newfangled technology, can do it all the more easily.
It's economical. If anyone in your home eats sandwiches, you know that bread from the store is not cheap. Not even the cheap kind is cheap. You can replace mediocre $6 loaves with exceptional, artisan-style sourdough bread for about a buck a boule!
Sourdough bread is delicious! Homemade sourdough bread is so tasty. You'll feel like a rockstar baker once you master feeding sourdough starter and keeping it active.
What You'll Need for Feeding Sourdough Starter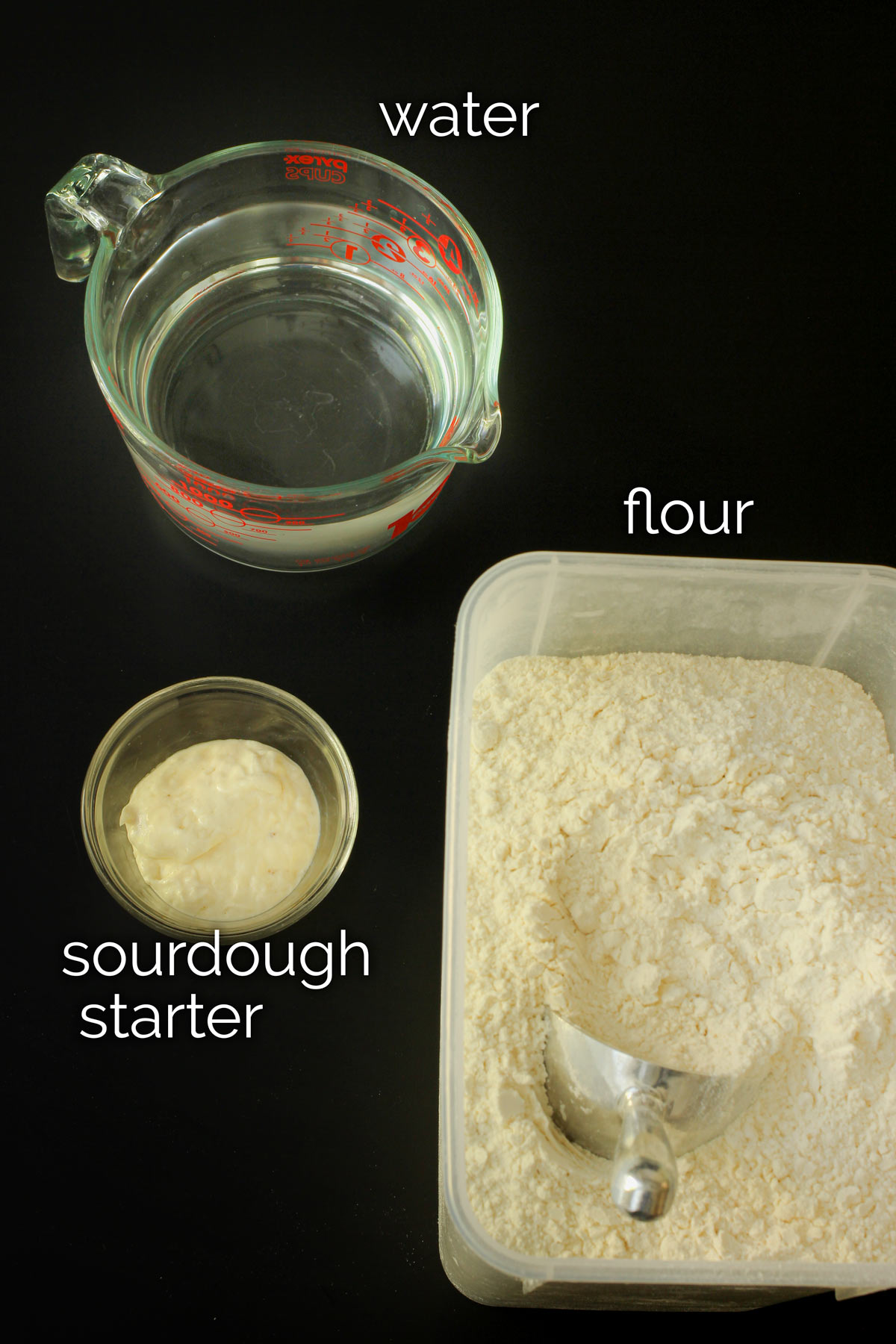 You'll need equal parts of starter, flour, and water for feeding and maintaining an active sourdough starter:
sourdough starter – You can buy a starter online, get some from a friend like I did, or build your own from flour and water. I've never had success with sourdough starter recipes, so I've always used a commercial sourdough starter, or one from a friend.
flour – I have found that cheap flour doesn't make for a good sourdough starter. In fact, Gold Medal has been the worst. I use one of these three brands of unbleached, all-purpose flour: Bob's Red Mill, King Arthur, or Montana Wheat. The latter is the most affordable and readily available at Walmart. While you can use whole wheat flour for sourdough starter feed, I prefer to use unbleached all purpose flour or bread flour for my starter flour.
water –  I used filtered water, but there's some debate about what's best. 
Step-by Step Instructions
If you are starting from scratch, follow the instructions on the package of sourdough starter to rehydrate it and get it going.
If you get some sourdough starter from a friend, give it a starter feeding so that it's bubbly and ready to go.
Feeding sourdough starter: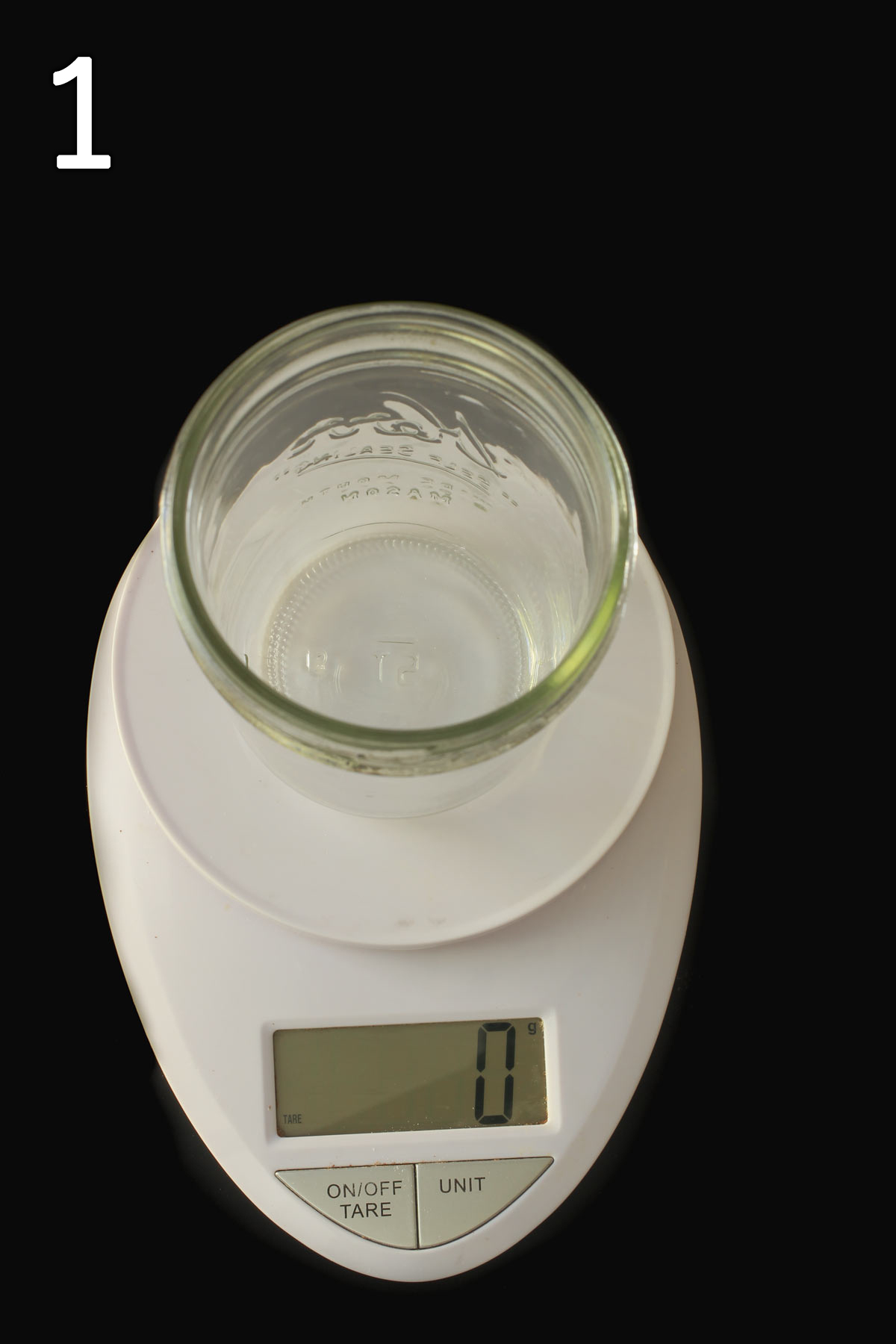 1. Zero out the scale.
I use a scale to measure flour properly, so it makes sense to use a scale for feeding sourdough starter. Place your jar or container on the scale and zero it out. This means that the scale won't count the weight of the container. (This is the scale I use.) I use.)
2. Weigh the starter.
You don't need a lot of sourdough starter. Trust me. It grows quickly and you can easily have too much. 50 grams is good to feed.
3. Add an equal weight of flour.
Add an equal amount of flour to the container, in this case 50 grams.
4. Add an equal weight of water.
Add an equal amount of water to the container, in this case 50 grams.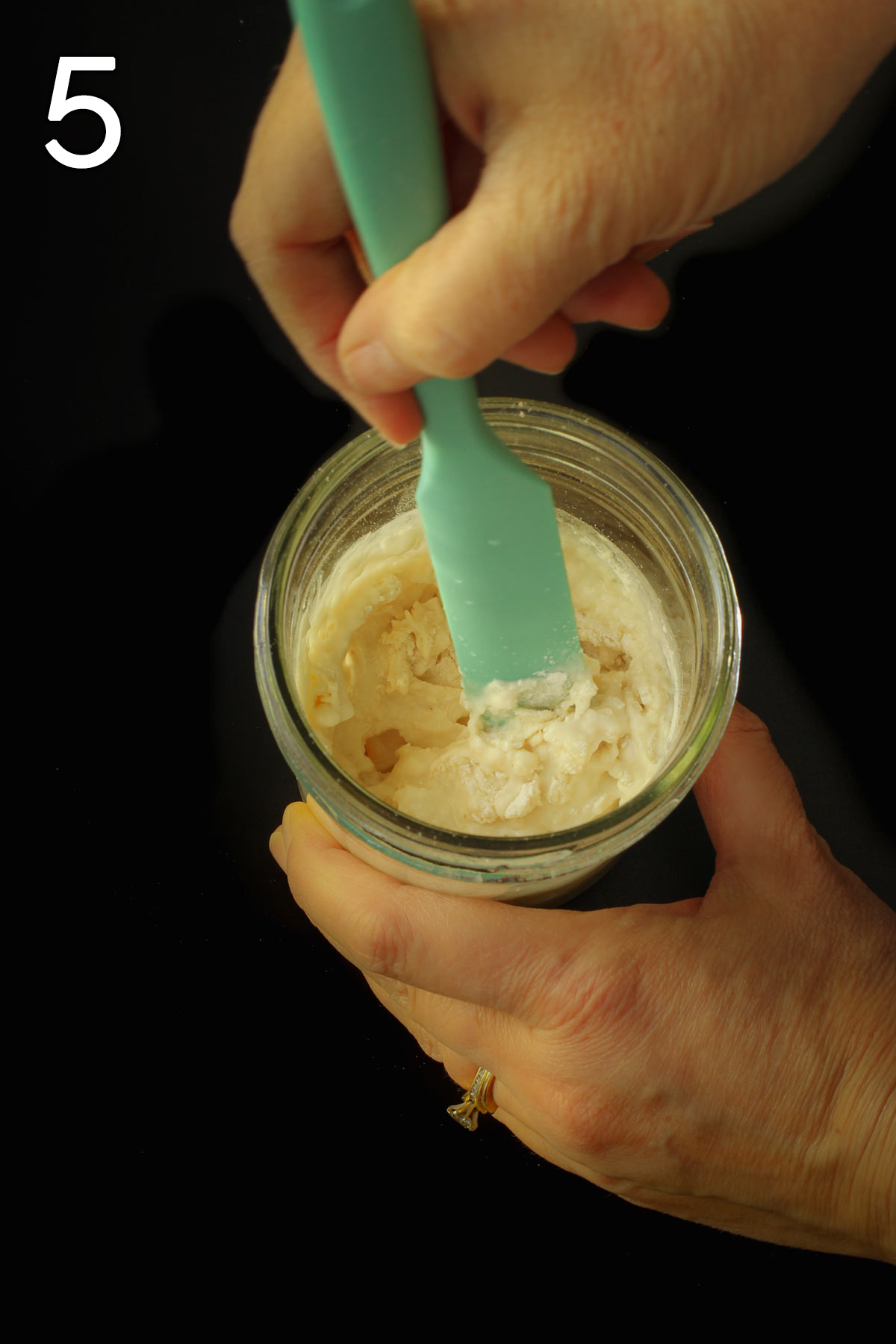 5. Stir the ingredients together.
Stir the sourdough starter, flour, and water together well. You can use a fork, a thin spatula, or if you have a larger amount of starter, a dough whisk.
6. Cover the sourdough starter.
Cover the container loosely. You need room for the gases to be able to escape the jar, or else the pressure might actually break the jar. Set it on the counter to do its work or store it in the fridge if you won't be using it for a few days.
The starter will rise and fall within 12 to 24 hours, depending on the temperature in your kitchen.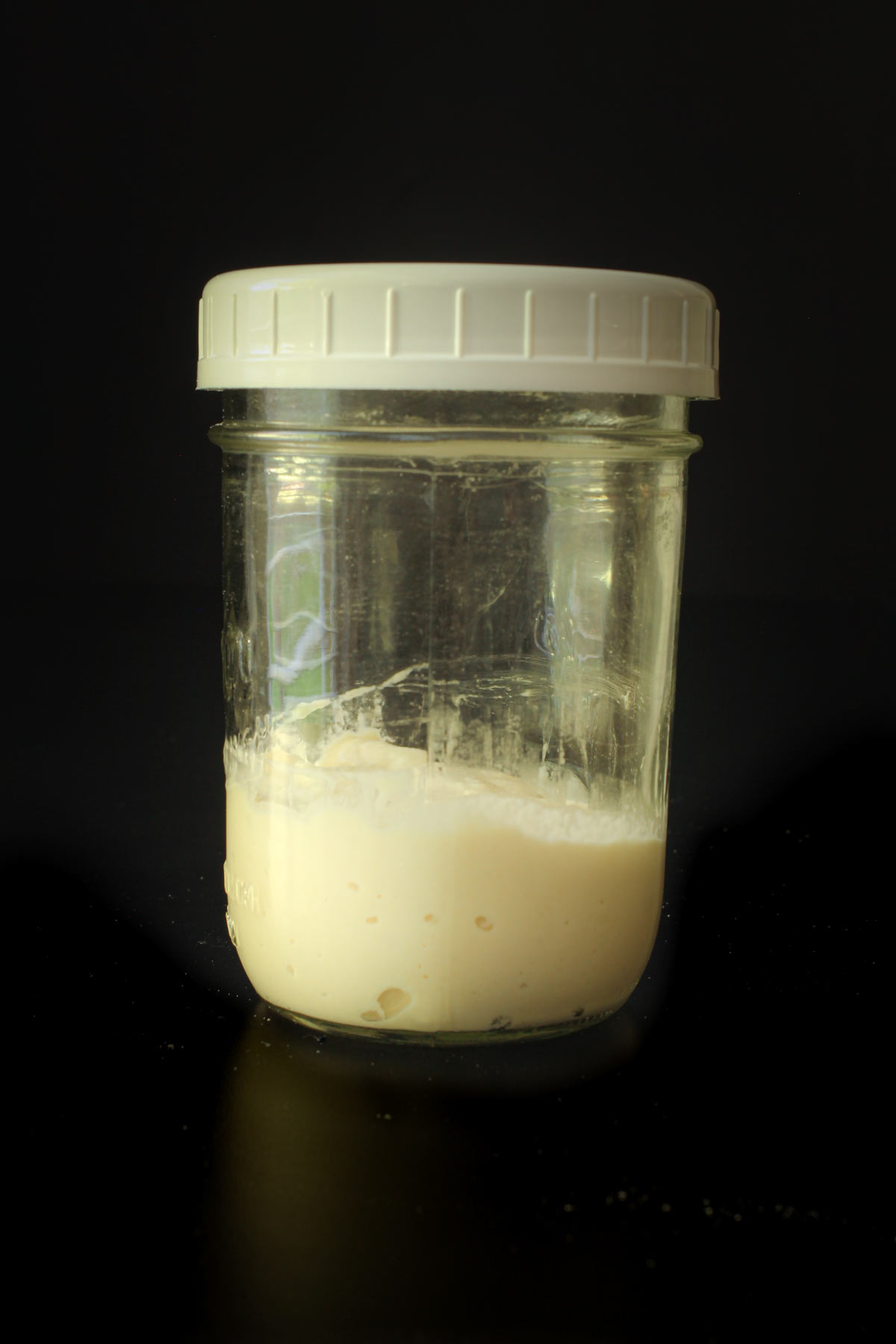 The left picture shows the starter right after feeding. The right picture shows the sourdough starter the next morning. You can see by the line on the glass that it has risen and started to fall a bit.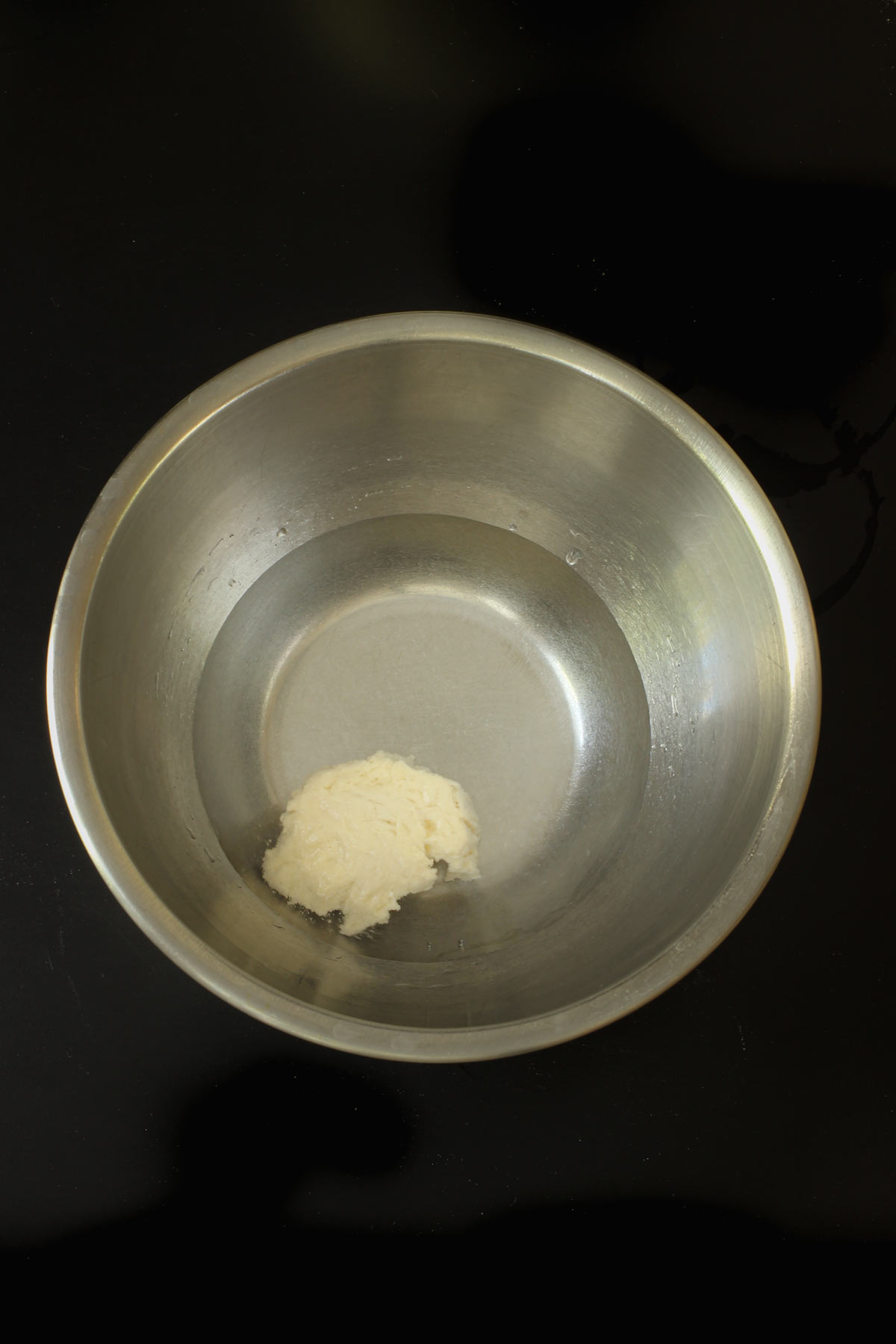 Tips for Success
The starter is ready to use when it is bubbly, smells fruity, and has risen and fallen.
You can also determine its readiness when a spoonful of starter floats in a bowl of water, pictured below.
You can now use your starter in recipes. Once you remove the amount for your recipe, you'll want to feed the starter again.
I feed my starter once a week, keeping it in the refrigerator until I'm ready to use it. Since I bake pizza and bread on Friday nights, I typically feed some for bread dough the night before and use the discard in pizza crust.
Depending on the weather and the temps in your home, you'll need to play with the frequency of your sourdough starter feeding. Keeping a healthy sourdough starter is sometimes an art over a science.
A light gray tinge or liquid on the top of the starter is normal. Just stir it in.
However, if your starter starts to smell like nail polish remover or develops orange or pink coloration or mold, it has gone bad and must be thrown out.
FAQs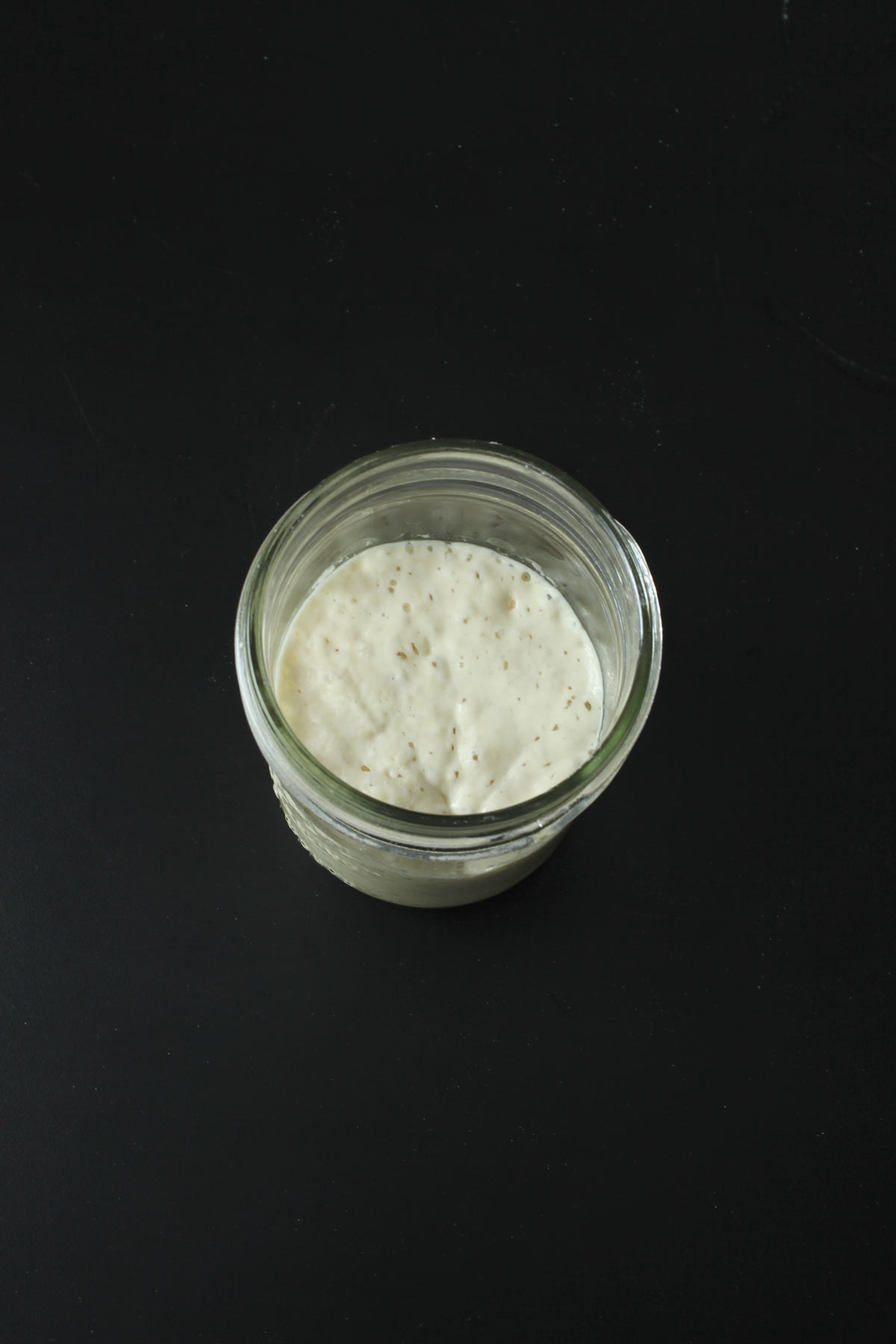 Sourdough Discard Recipes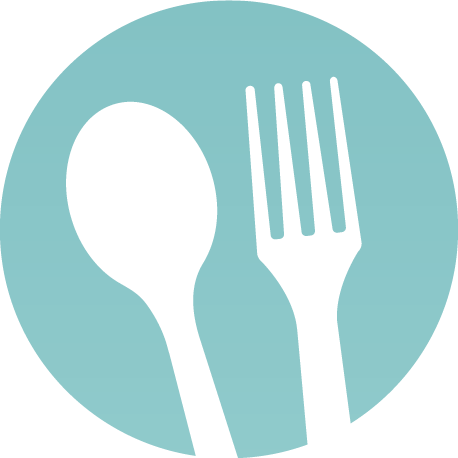 Tell us what you think!
We love to hear your experiences with Good Cheap Eats. Click the STARS on the recipe card or leave a STARRED comment to let us know what you think of the recipe.
How to Feed and Maintain a Sourdough Starter
Learn the basics to starting a sourdough bread baking habit.
Instructions
Purchase a sourdough starter and follow the directions to activate it.

Alternatively, you can see if you have a friend who can gift you some starter. You only need about ½ cup to get started.

Weigh your starter. Add an equal amount of flour and water to that measurement. Stir, cover loosely, and allow to sit at room temperature until bubbly. The starter will have a distinct yeasty aroma.

Once your starter is active and bubbly, you can use it in recipes.

After you use your starter, you can discard half or use it in recipes that call for "discard".

Use the starter continually in recipes, repeating the process of feeding it, at least once a week.
Notes
A light gray tinge or liquid on the top of the starter is normal. Just stir it in. However, if your starter starts to smell like nail polish remover or develops orange or pink coloration or mold, it has gone bad and must be thrown out.
To use sourdough starter in a recipe that doesn't already call for starter: This will take some trial and error to make adjustments to your favorite recipe, but here's a rule of thumb. Substitute 8 ounces of starter for each packet of yeast the recipe calls for, then omit 4 ounces of flour from the recipe as well as 4 ounces of liquid, such as milk or water. Note this will only work in recipes that already have an adequate amount of liquid and flour.
Nutrition
Calories:
683
kcal
|
Carbohydrates:
143
g
|
Protein:
19
g
|
Fat:
2
g
|
Saturated Fat:
1
g
|
Sodium:
18
mg
|
Potassium:
134
mg
|
Fiber:
5
g
|
Sugar:
1
g
|
Calcium:
26
mg
|
Iron:
6
mg
Tried this Recipe? Tell us what you think!
Your reviews help us develop better recipes and give newcomers the confidence to try your favorites. Scroll down to leave a starred comment.
This post was originally published on May 20, 2019. It has been updated for content and clarity.