You can make homemade pizza easily and economically. You'll save a ton of money and eat better pizza. Guaranteed.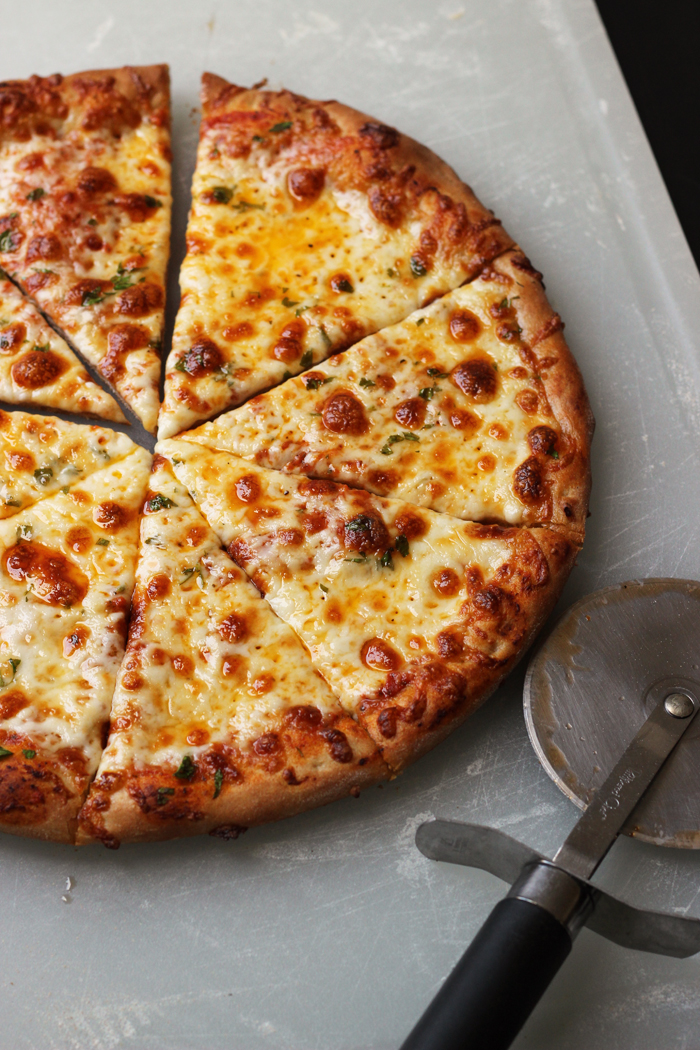 Homemade Pizza is a regular feature on the FishFam menu. I try to make it at least once a week, usually on Fridays. This makes a great start to our weekend. Coupled with root beer, a movie, and snacks, it creates a fun family night for my husband and me and our six children.
The first time I made pizza, it was a terrible bomb and I vowed never to make it again. That was fifteen years ago. About three years later when our first child was born and we moved to one income, I reconsidered that vow. I liked pizza, but I knew it wasn't in the budget to indulge on a regular basis.
Instead, I set out to teach myself how to make it at home. After some trial and error, I've come up with something that we like just as well if not better than pizza parlour pies. I still goof up sometimes, but overall everyone enjoys pizza night.
I rely on my bread machine to make fantastic dough. The texture can vary a little, depending on the humidity, but overall it's pretty consistent.
Basic Homemade Pizza
You can make homemade pizza easily and economically with this recipe for homemade pizza crust. It tastes great, better than the pizza parlor.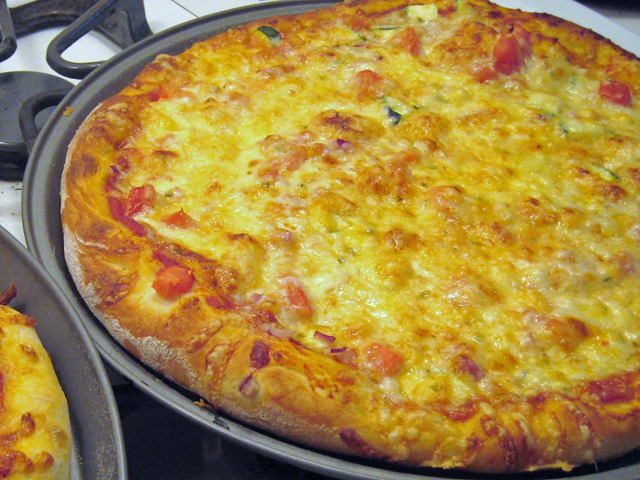 Preparation Time:90 minutes
Cook time:10 minutes
Total time:1 hour 40 minutes
four 12-inch pizzas
Ingredients:
1 1/2 cups water

1/4 cup olive oil

2 tablespoons honey

4 1/2 cups flour

1 tablespoon salt

1 tablespoon yeast
Instructions:

Combine ingredients in the bread machine pan according to the order recommended by your machine's manufacturer. Set on dough and start the machine, checking after ten minutes to make sure all the ingredients have been incorporated and not stuck to the side of the pan.
If you don't have a bread machine, this recipe is still delicious! Warm the water slightly and combine it with the olive oil, honey, and yeast. Let that rest for 5 minutes. Then add the flour and salt. Stir or mix in your stand mixer until you have a sticky dough but all the flour is incorporated. Turn it onto a floured surface and knead until the dough becomes elastic. Set into a greased bowl and allow to rise until doubled in bulk, about an hour.
When dough is ready, divide into portions. This makes six individual pizzas or three to four large. Shape each portion into a flat round. Place on a cookie sheet or pizza pan that has been greased and sprinkled with corn meal. Spread pizza crust with sauce.
To freeze the dough: divide the dough into portions BEFORE it finishes its first rise cycle in the bread machine, about 20 minutes into it, if making dough by hand. Place each dough ball into a plastic sandwich bag and freeze immediately. To use later, remove the frozen dough ball from the packaging and allow to rise in a greased dish in the refrigerator overnight or at room temperature for about 6 hours.
Sauce
I usually use whatever spaghetti sauce I have on hand. Usually something I've made myself, like this tomato sauce with meats. I prepare it in huge quantities and store it in 2-cup portions in the freezer. The morning of pizza night, I pull out a container to thaw in the refrigerator.
I use about 2/3 cup sauce for large pizzas, 1/3 cup for smaller, individual size pies.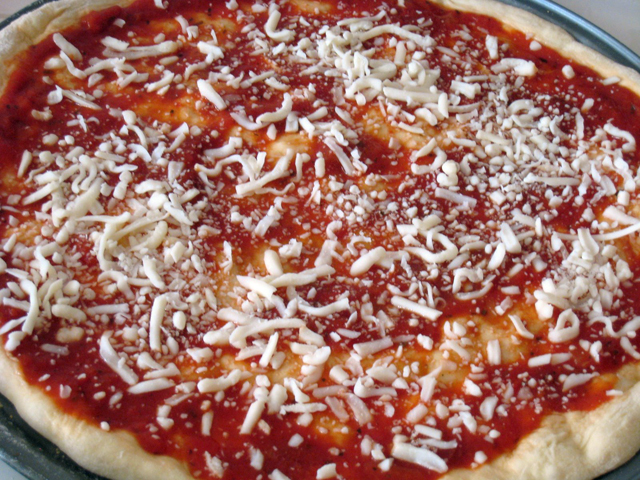 Toppings
Start with a sprinkling of cheese. We like a combination of shredded jack and mozzarella cheeses.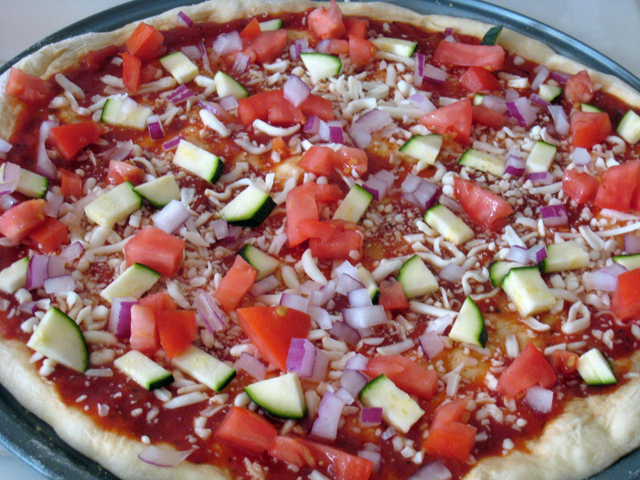 Next layer on whatever toppings you like:
pepperoni
sausage
sliced mushrooms
diced onion
diced or sliced tomato
sliced, black olives
chopped zucchini
sliced bell pepper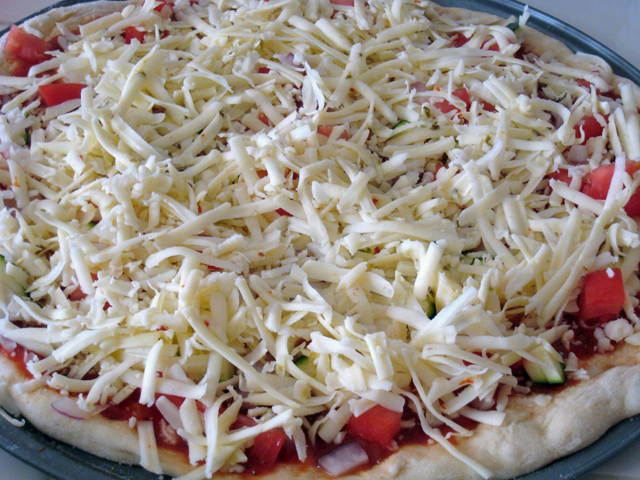 Top with more cheese.
A preheated oven is key to a great crust. Up to an hour before baking, set your oven to 475 &deg. Bake pizzas for 8-15 minutes, depending on their size. Use the shorter baking time for smaller pizzas, the longer time for larger ones. Pay close attention to how your oven operates and how brown your pizzas are getting. I cook only one large pizza at a time.

Tools To Help You:
While you really only need a baking sheet, there are some tools that I've found helpful over the years of pizza making:
Watch the video.
When you're first starting out shaping pizza dough, you might feel like a dork. It takes a little practice to be able to flip it and make perfectly round pies. Don't worry if they look like amoebas. Just call it an artisan pizza and no one will know you didn't do it on purpose.
Here's a very old video that shows how to form small pizza rounds. Those are super easy to make when you're just beginning. Mini pizzas make for a super duper easy pizza night. Check out these easy pizza recipes for pizza topping ideas.
What's your favorite pizza topping?