A mini pizza is fun and easy recipe for pizza night. Make a big batch for freezing and cold-pizza breakfast, too.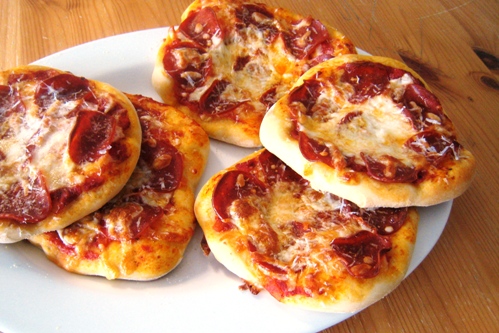 We are big pizza lovers at our house. It seems like my kids are asking for pizza at least twice a week. I make my own pizza so that we can afford to eat this way. Recently, I've been switching things up: creating new pizza toppings, playing with new dough recipes, and shrinking our pizzas.
Yes, shrinking them.
While a large pie is great for feeding a crowd, so are a variety of smaller pizzas. Mini pizzas have a lot of good things going for them:
A Mini pizza is a single-serving.
Most of us like to have our "own" pizza, kids in particular. So, making them mini-sized makes it more fun for everybody. You can dish up one pizza per plate and everybody has his own little pie. No squabbling! We start with our homemade pizza dough and the divide it into 16 portions (up to 20) so everyone can have their own.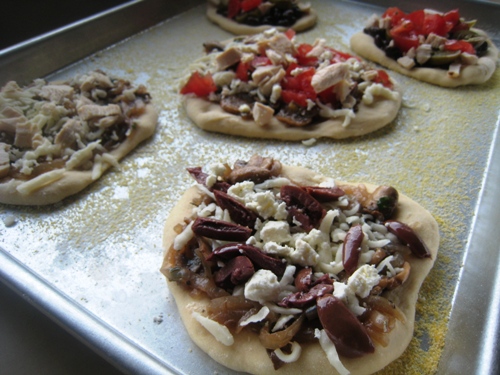 Mini pizzas are easily customizable.
We top our pizzas with our easy homemade pizza sauce recipe and then from there we can each make them the way we want them! I am a huge mushroom fan. I love mushrooms on my pizza. But, not everyone in my family feels the same way. With mini pizzas, I can make my pizza to please me — and so can they.
An added bonus is that I can experiment with a variety of toppings without feeling like I'm taking too many risks. It makes for a fun pizza night when we try all kinds of different combinations without fear of "ruining" a whole pie.

Mini pizzas are portion controlled.
Unfortunately, there is such a thing as too much of a good thing. Pizza, included. Overeating somehow takes away from the overall enjoyment of the meal. We tend to feel bloated afterward. Enough is as good as a feast.
If you've already divvied up your pizza into portions, you can more easily limit yourself. I find that once a pizza is cut into, you're going to want to eat the whole thing. Slices don't reheat as well as whole pies.
Mini pizzas are freezer-friendly.
Likewise, one wouldn't really freeze individual slices for later eating, but a whole pizza? Sure. Having a stash of mini-pizzas waiting in the freezer makes it easy to indulge your pizza craving, night or day.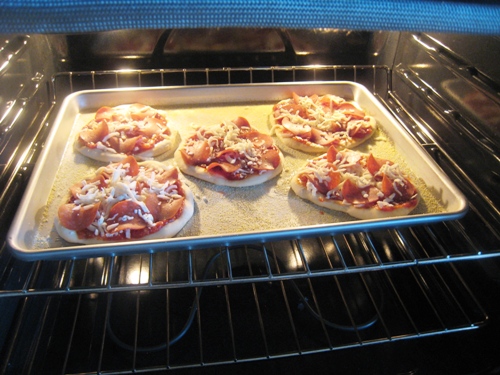 These tools help me make great pizza:
Mini Pizzas
Mini pizzas make for a fun and easy pizza night. Make a big batch for freezing and cold-pizza breakfast, too.
Ingredients
1

batch

pizza dough

1

cup

Pizza Sauce

16

oz

mozzarella cheese (shredded)

Monterey Jack, cheddar, crumbled feta or goat, any combination (4 cups)

6

oz

pepperoni (sliced)
Instructions
Preheat the oven to 500 °. Spray baking sheets with nonstick cooking spray and sprinkle with corn meal to prevent sticking or line the pans with parchment paper for easier cleanup.

Divide the dough into 16 portions. Flatten each portion into a thin round and place on the cooking sheet.

Spread sauce and sprinkle toppings as desired.

Bake for 8 to 10 minutes or until the crust is crisp and the cheese melted and lightly browned.

To freeze: wrapped cooled pizzas in foil or plastic wrap and stash in a larger ziptop freezer bag. Thaw and reheat in a 350 oven for about 5 minutes.
Notes
Promptly store leftovers in an airtight container in the refrigerator, for up to 4 days.
Nutritional values are approximate and based on 1

 mini pizza.
Nutrition
Calories:
141
kcal
|
Carbohydrates:
1
g
|
Protein:
9
g
|
Fat:
11
g
|
Saturated Fat:
5
g
|
Cholesterol:
34
mg
|
Sodium:
445
mg
|
Potassium:
102
mg
|
Fiber:
1
g
|
Sugar:
1
g
|
Vitamin A:
258
IU
|
Vitamin C:
1
mg
|
Calcium:
147
mg
|
Iron:
1
mg