Make pizza night super duper out of this world with this Homemade Supreme Pizza recipe. Piled high with vegetables and two types of meat, this recipe is a great DIY alternative to the pizzeria classic.
Is Pizza Night your favorite night of the week? Mine, too!
Except for the price.
For years getting pizza, good pizza, felt like a splurge. While there may be some cities in the country where great pizza is a dime a dozen, the pizza syndicate in California charges a high price for a quality pie! We're talking $20 and up for a large pie.
No problem, I said one day. I'll learn to do it myself.
So I did. I learned to make homemade pizza instead. Like my chicken pesto pizza and now this supreme pizza version.
Homemade Supreme Pizza
Homemade Pizza is a delight. Not only because you save money, but also because you get to play with the toppings.
A homemade supreme pizza is a great starter pizza for you to try. The pizzeria classic is super easy to make yourself!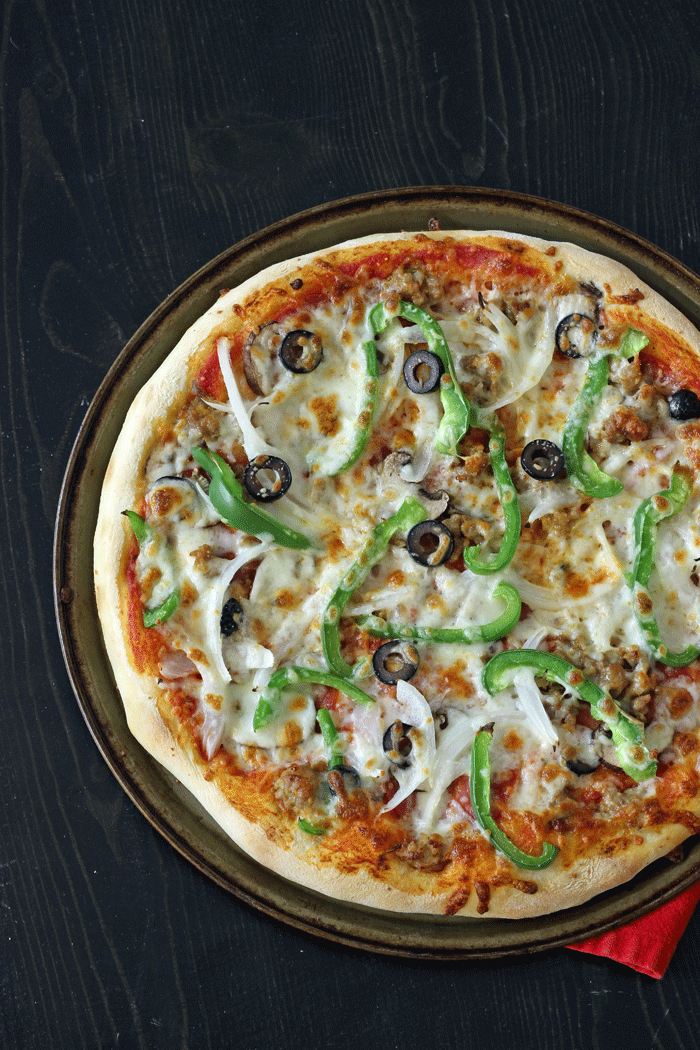 What's on a supreme pizza?
A Supreme Pizza features your standard pizza sauce and shredded mozzarella cheese on a great pizza crust, but in between you'll find:
sliced pepperoni
cooked, Italian sausage
chopped or sliced onions
chopped or sliced green pepper
sliced mushrooms
sliced black olives
A supreme pizza is pretty standard fare at most of my childhood pizza places, with a few twists to the nomenclature. My hometown favorite, ChiChi's Pizza calls it a Super Deluxe. Pizza Hut calls is a Supreme. At Costco, it's the Combo.
Whatever you call it, Supreme Pizza is delicious!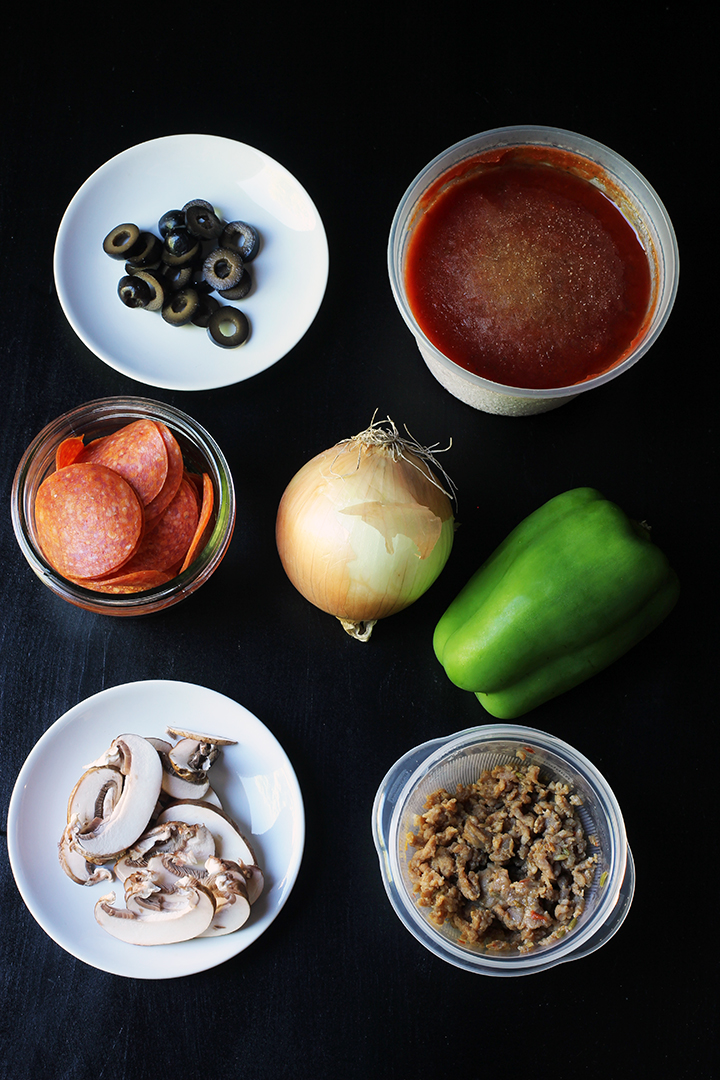 What do you do for pizza dough?
You can buy commercial pizza dough at the store or make your own dough. I'm partial to these four types:
But, if you don't have time to make your own dough, you can also make pizza on pita bread or make pizza bagels, all with the supreme pizza toppings.
You can add or subtract what you want to create your favorite Supreme Pizza. That's the beauty of making homemade pizza.
Pro Tip: Be mindful of how much veg you add. Fresh veggies give off water when cooked. Too many will make your pizza soggy and affect the texture of the finished pizza pie. You can offset this a bit if you top your pizza with sautéed vegetables from which the water has already been cooked off.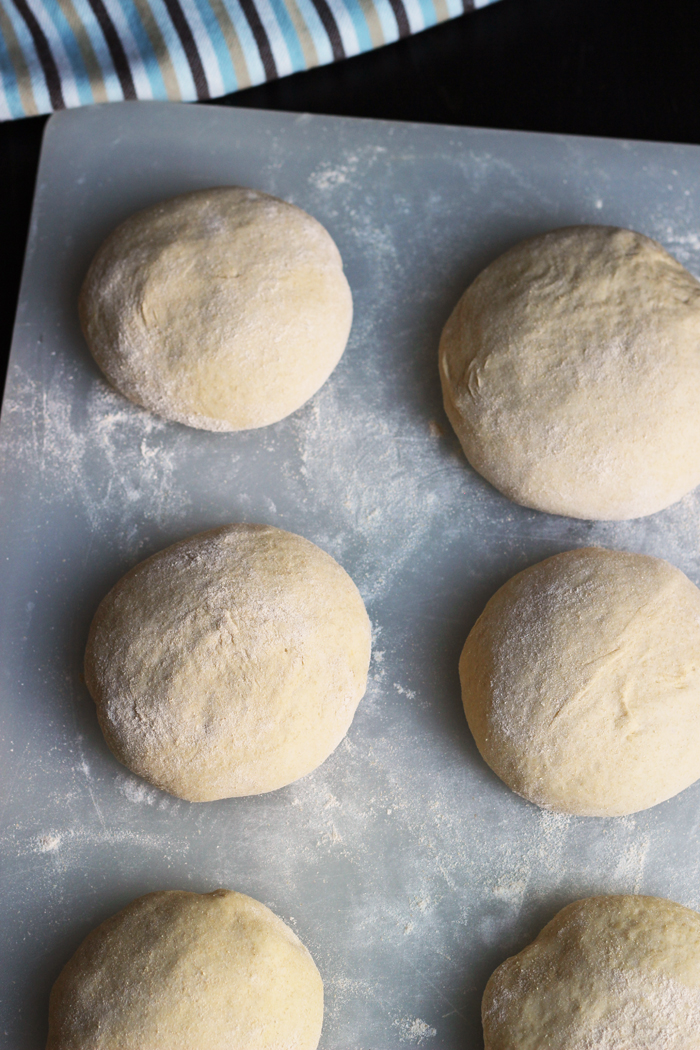 Do you put the supreme pizza toppings or cheese on the pizza first?
This is actually a matter of debate. In house and elsewhere. I'm sure you'll notice that some pizza places put the toppings over the cheese; others put them under. Heck, in Chicago, they put the sauce on top.
Clearly, everyone has an opinion. Even my family.
My nephew, who lives in my hometown, loves my homemade pizza because I top it with cheese last, like ChiChi's does it. My daughter, on the other hand, prefers to have the pepperoni on top of the cheese because the texture changes when the pepperoni is cooked on top.
Do what you want, but I recommend that you spread the pizza sauce on your pizza dough first. Add your supreme pizza toppings in the order listed – pepperoni, sausage, mushrooms, green pepper, onions, black olives, and then top it all with shredded mozzarella cheese.
What cheese is best for pizza?
You could use up whatever cheeses you have in your fridge. But traditionally, American pizza features shredded mozzarella cheese and that's what we use on this homemade supreme pizza.
I also really like combining shredded Monterey Jack with shredded mozzarella for a slight twist.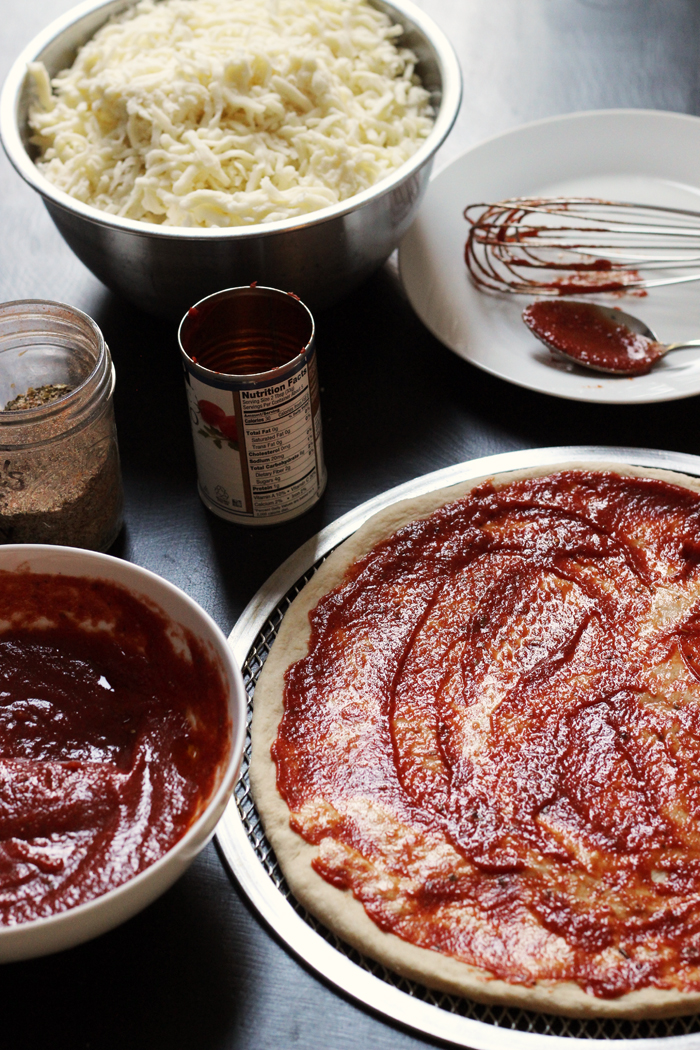 What temperature do you cook homemade pizza on?
You want to cook your homemade pizza at a high heat- somewhere between 450 and 500 degrees. When I don't grill pizza, I cook it at 475 degrees.
Keep in mind that not all pans can sustain such high heats, so be sure to check that your pans are safe for higher temperatures. If you use USA pans, bump the heat down to 450 and cook it a minute or so longer.
These pizza tools are some of my favorites.
My pizzas take about 10 minutes to cook at high heat. You want to bake the pizza until the cheese is melted and the crust is crisp.
Do you cook pizza toppings before adding to the pizza?
For the supreme pizza toppings, you do need to cook the sausage first. For the rest of the toppings, you don't need to cook them. Simply place them on raw. They will cook in the oven.
If you prefer, you can precook the vegetables to eliminate some of their water content. That's up to you.
Why is my homemade pizza soggy?
Again, watch how many vegetables you put on the pizza. Too many and you might end up with a soggy pizza.
Another possible pizza cooking mistake could because your oven wasn't hot enough. We cook ours at 475 degrees or on a very hot outdoor grill.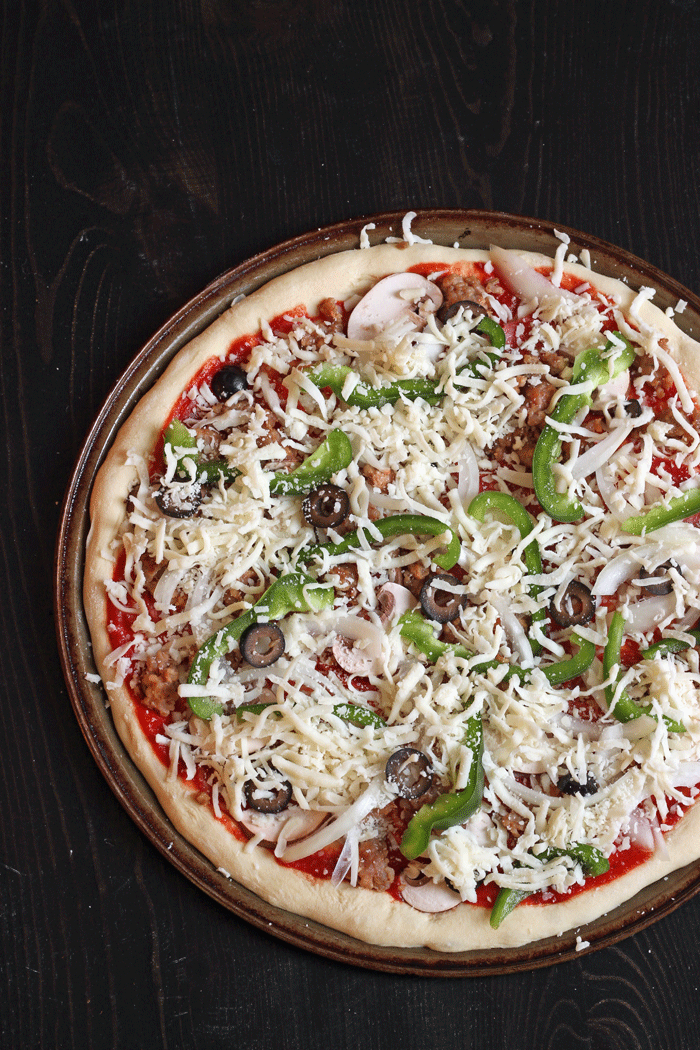 How much does it cost to make a homemade supreme pizza?
Making your own homemade pizza is super affordable. Here's how the prices break down when purchased at non-sale prices at a mid-range grocery store:
homemade pizza dough – $0.51 (based on $2.03 for a full batch)
pizza sauce – $0.06 (based on $0.99 for a full batch)
pepperoni – $0.50 ($2.50/6 oz)
sausage – $0.50 ($3.99/lb)
mushrooms – $0.20 ($1.99/8 oz)
bell peppers – $0.25 ($1/ea)
onion – $0.10 ($0.75/whole onion)
black olives – $0.12 ($2.29/6 oz)
mozzarella cheese – $0.94 ($1.88/8 oz)
Total cost for one homemade supreme pizza is $3.18!
Compare that price with the following alternatives:
grocery store take and bake supreme pizza: $5
grocery store frozen supreme pizza: $4.29
Pizza Hut: $18.99
Clearly, homemade wins!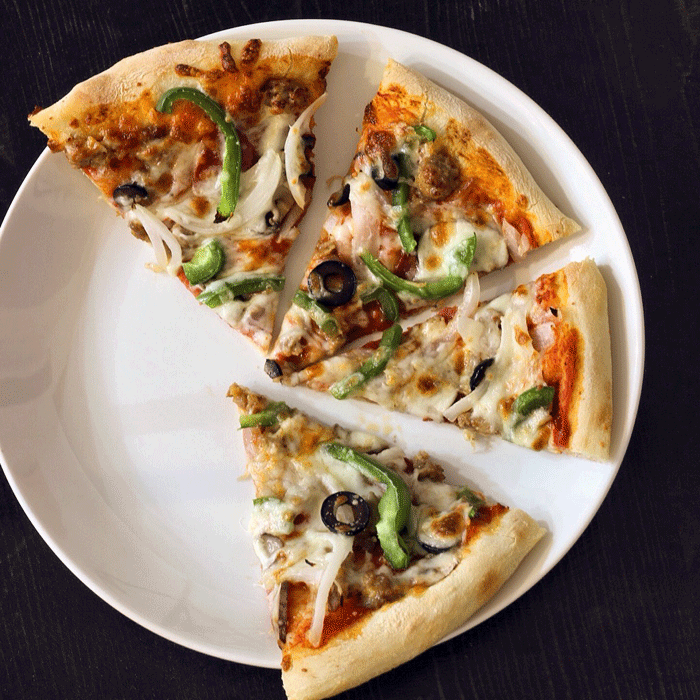 How can you lower the price even more?
Three bucks isn't bad, but you can do even better! Check out these strategies to save even more:
Shop the cheapest store – Find the best prices for the things you buy and shop that store.
Shop the sales – Sausage, pepperoni, and cheese are the highest priced items here. Watch for sales, stock up, and stash the extras in your freezer.
Buy in bulk – You can usually buy the yeast, shredded mozzarella cheese, tomato paste/tomato sauce, and olives in bulk at Costco. Store the big bag of yeast in the freezer and break the 5-pound bag of cheese into smaller bags to use over time.
Making homemade pizza is cheap and easy — and so delicious! You'll wonder why you ever paid pizza parlor prices.
Do you need special tools to make pizza?
After 20 years of making homemade pizza almost every week, I've tried a lot of different recipes as well as different tools and techniques. These are the ones that I've found to be the most helpful: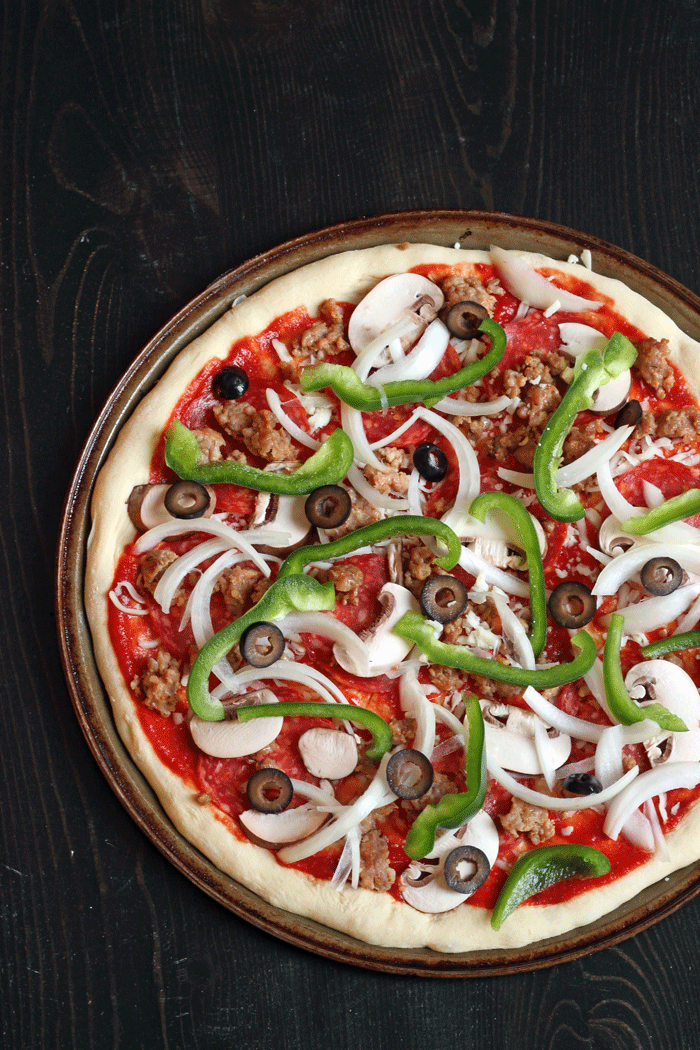 If you prepare this recipe, be sure to share a picture on social media and hashtag it
#GOODCHEAPEATS
. I can't wait to see what you cook up!
Supreme Pizza Recipe
Make pizza night super duper out of this world with homemade pizza. This recipe is supreme with vegetables and two types of meat. Yum!
Ingredients
¼

batch

pizza dough

2

tablespoon

pizza sauce

10

slices

pepperoni (sliced)

4

oz

bulk Italian sausage

cooked, crumbled, and drained

2

large

mushrooms

sliced

½

onion

sliced

¼

bell pepper (any color)

sliced

1

teaspoon

sliced black olives

4

oz

mozzarella cheese (shredded)

(1 cup)
Instructions
Preheat the oven to 475°.

Spray pizza pan with nonstick cooking or line a baking sheet with parchment paper.

Flatten dough into a thin round and place on the pizza pan.

Spread pizza sauce over the dough

Layer the toppings over the dough in the order listed

Bake for 8 to 10 minutes or until the crust is crisp and the cheese melted and lightly browned.
Notes
Store leftover pizza, wrapped completely, in the fridge. It will last 3 to 4 days.
Nutrition
Calories:
197
kcal
|
Carbohydrates:
22
g
|
Protein:
9
g
|
Fat:
9
g
|
Saturated Fat:
3
g
|
Cholesterol:
21
mg
|
Sodium:
441
mg
|
Potassium:
93
mg
|
Fiber:
2
g
|
Sugar:
1
g
|
Vitamin A:
235
IU
|
Vitamin C:
5.6
mg
|
Calcium:
72
mg
|
Iron:
0.3
mg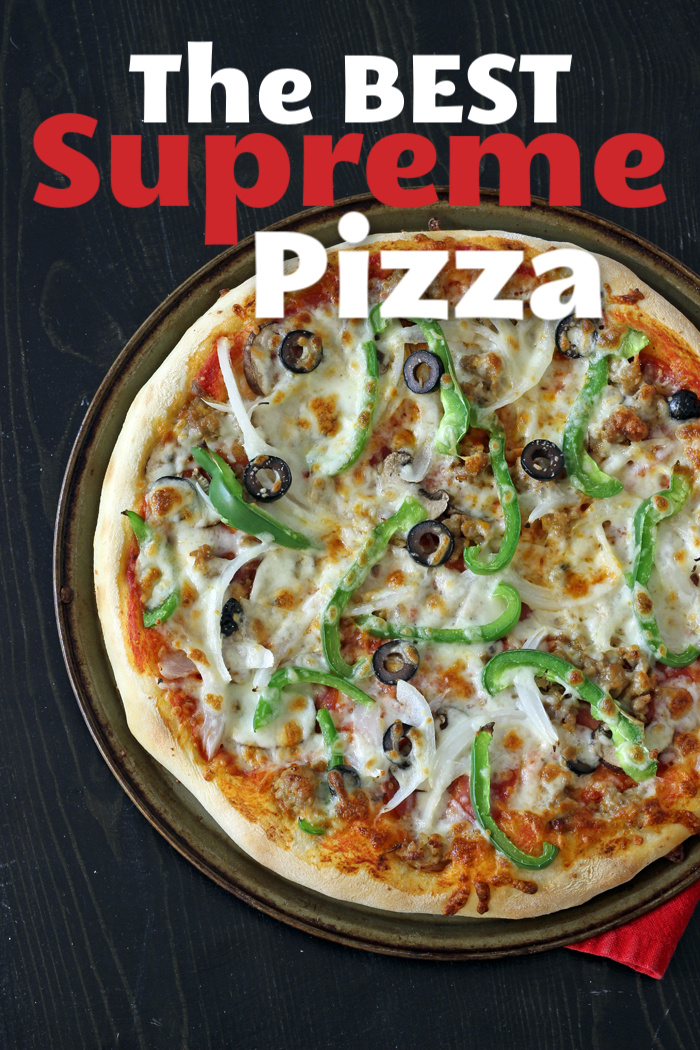 This post was originally published on April 22, 2015. It has been updated for content and clarity.