Make pizza night super duper out of this world with homemade pizza. This recipe is supreme with vegetables and two types of meat. Yum!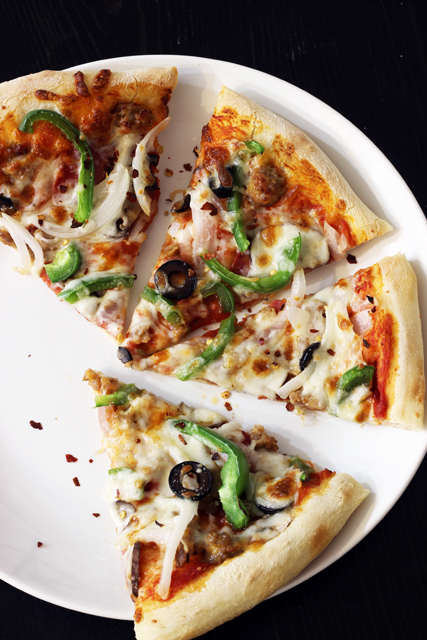 Pizza night is one of our favorite nights of the week. When the bread machine pan fell apart back in January, I worried that homemade pizza would fall off the radar because I was such a wimp about the KitchenAid. Surprisingly, that is not the case.
In fact, I might (finally) be falling in love with my stand mixer. I never thought we'd get past the love-hate relationship, but we have.
The last few weeks and months of pizza dough making have not been as difficult or as messy as I expected. And last week, I think I reached pizza dough perfection. Seriously.
We make pizza once a week at home. I've been doing this since FishBoy17 was born. Learning good pizza making has been a process, but it's been good.
Make it a Supreme Pizza Night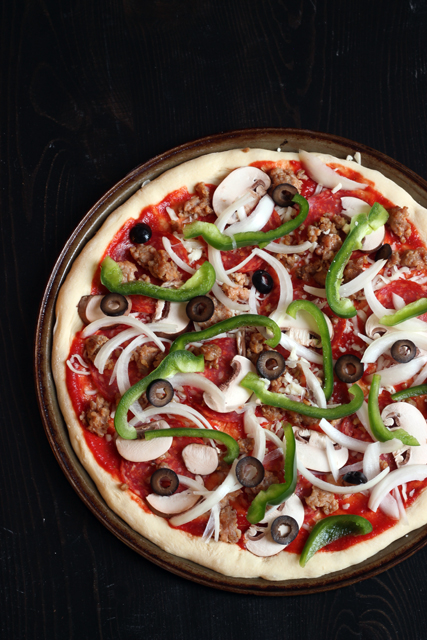 pizza before the final cheese
Most of us enjoy experimenting with different toppings and the littles LOVE to help decorate the pizzas — even when they don't get too creative with the topping variety. (Hello again, Pepperoni.)
One of our favorite pizza variations is the Supreme, or what Costco calls a Combo. Sausage, pepperoni, mushrooms, olives, peppers, and onions are great on a pizza!
You can add or subtract what you want to create your favorite Supreme Pizza. However, just be mindful of how much veg you add. Fresh veggies give off water when cooked. Too many will make your pizza soggy and affect the texture of the finished pizza pie.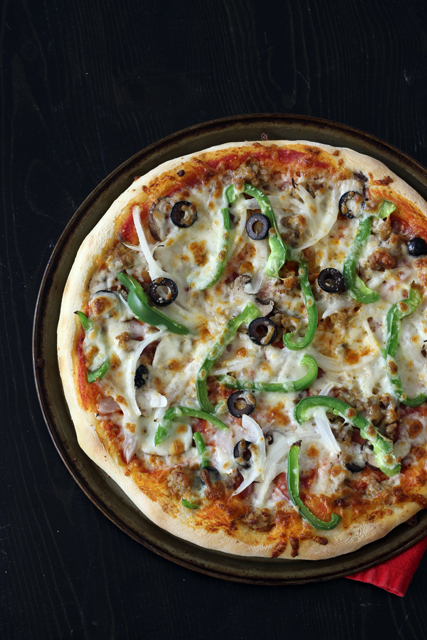 Make your own pizza every week!
Making my own pizza is super affordable. I make a batch and a half of my favorite pizza dough, though we're almost to double batch status. Each batch of dough should cost about $1 to $1.50 to make if you're buying good quality flour.
I regularly buy the yeast, cheese, tomato paste/tomato sauce, and olives at Costco. I store the big bag of yeast in the freezer and break the 5-pound bag of cheese into smaller bags. I typically buy the pepperoni and sausage at Trader Joe's.
With the basics on hand, it's pretty easy to make pizza a regular thing. I usually make the dough about 3 or 4 on Friday afternoon, but you can make it the night before or earlier in the day. You can also make the dough and freeze it right away.
Readers have shared how they parbake the crust and freeze the rounds. I've not tried it yet, but it's on my list.
Making homemade pizza is cheap and easy — and so delicious! You'll wonder why you ever paid pizza parlor prices.
Tools I use to make homemade pizza easier:
Supreme Pizza Recipe
Make pizza night super duper out of this world with homemade pizza. This recipe is supreme with vegetables and two types of meat. Yum!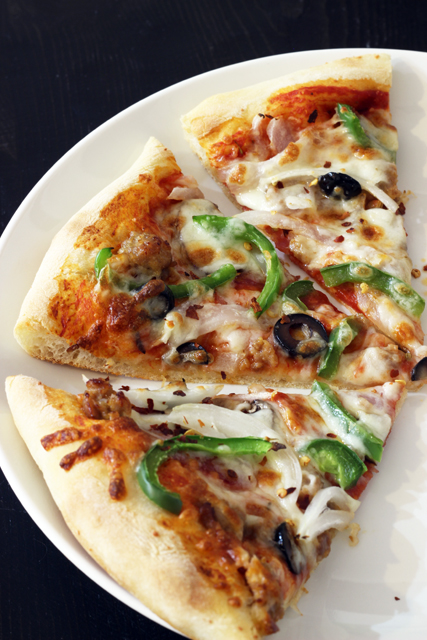 Preparation Time:1 hour 15 minutes
Cook time:9 minutes
Total time:1 hour 24 minutes
4 servings
Ingredients:
1/4 batch pizza dough
2 tablespoons Last-Minute Pizza Sauce

10 slices pepperoni

1 cup cooked and crumbled Italian sausage

2 large mushrooms, sliced

1/4 bell pepper, sliced

1 tablespoon sliced black olives

1 cup shredded mozzarella cheese
Instructions:

Preheat the oven to 475°. Spray pizza pan with nonstick cooking or line a baking sheet with parchment paper.
Flatten dough into a thin round and place on the pizza pan.
Spread pizza sauce over the dough.
Layer the toppings over the dough in the order listed .
Bake for 8 to 10 minutes or until the crust is crisp and the cheese melted and lightly browned.