Pizza bagels are easy and delicious! Top a split bagel with sauce, your favorite toppings, and some cheese for a fun and simple lunch, snack, or dinner.
When you crave pizza, you have to find something to feed the craving.
You could order take-out, run to the store for a frozen pie or take-and-bake, or whip up a homemade pizza dough. All of those have their proper times and places.
But sometimes, you want that pizza tout de suite.
And that's where the Pizza Bagel is a perfect candidate.
Quick & Easy Pizza Bagels Recipe
Like other quick pizza, a pizza bagel can be made in less than 15 minutes. Grab a bagel, slice it in half so you have two rounds, spread some tomato sauce, a few pepperoni, and a sprinkle of cheese. Slide it in the oven, and voila!
Pizza Bagels are served!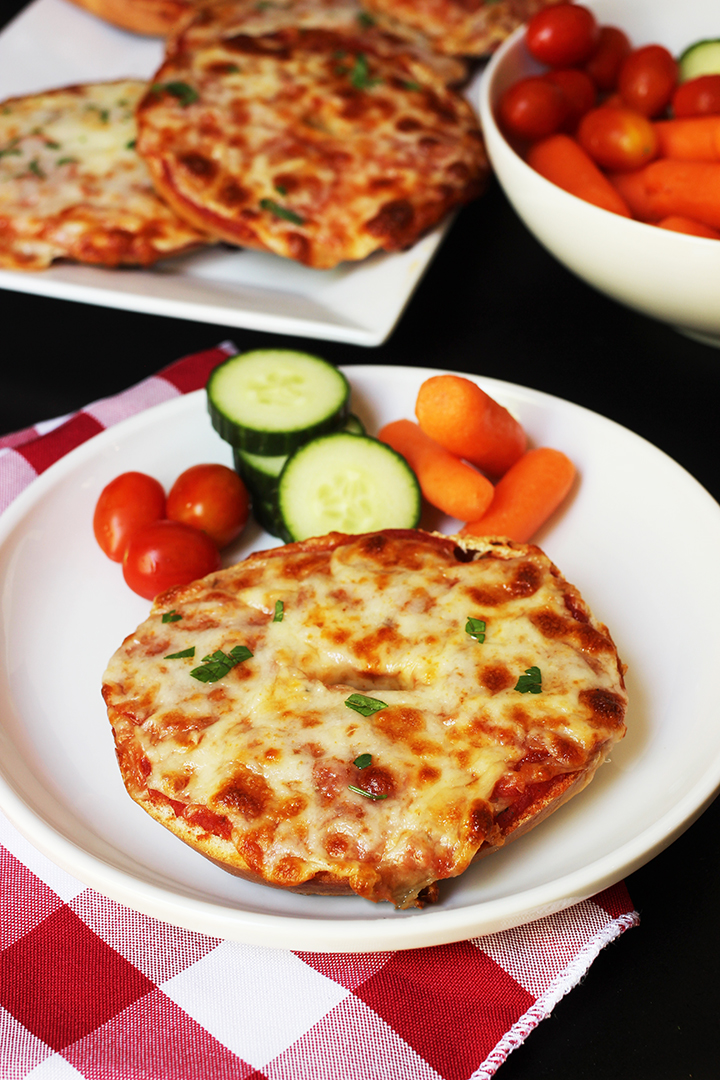 These delicious morsels of cheese, sauce, and bagel take me back in time to my high school days when the school district did not provide a full cafeteria. You could take the 30 minutes and try to book it to a nearby restaurant, pack a lunch and don't let anyone see you eat it, or make do with the limited snack bar.
The snack bar sold such wholesome main dishes as Chili Cheese Fries, Nachos, and Pizza Bagels. And they were yummy. Yes, yes, they were.
I can picture those Pizza Bagels now. They had been prepped in a kitchen off-site: whole bagel, not split, slathered with sauce, and layered with a slice of cheese. They were kept warm until lunch I guess.
And we liked them fine, especially since they cost just a buck fifty.
However, these days you can make your own! Better tasting and I imagine more nutritious!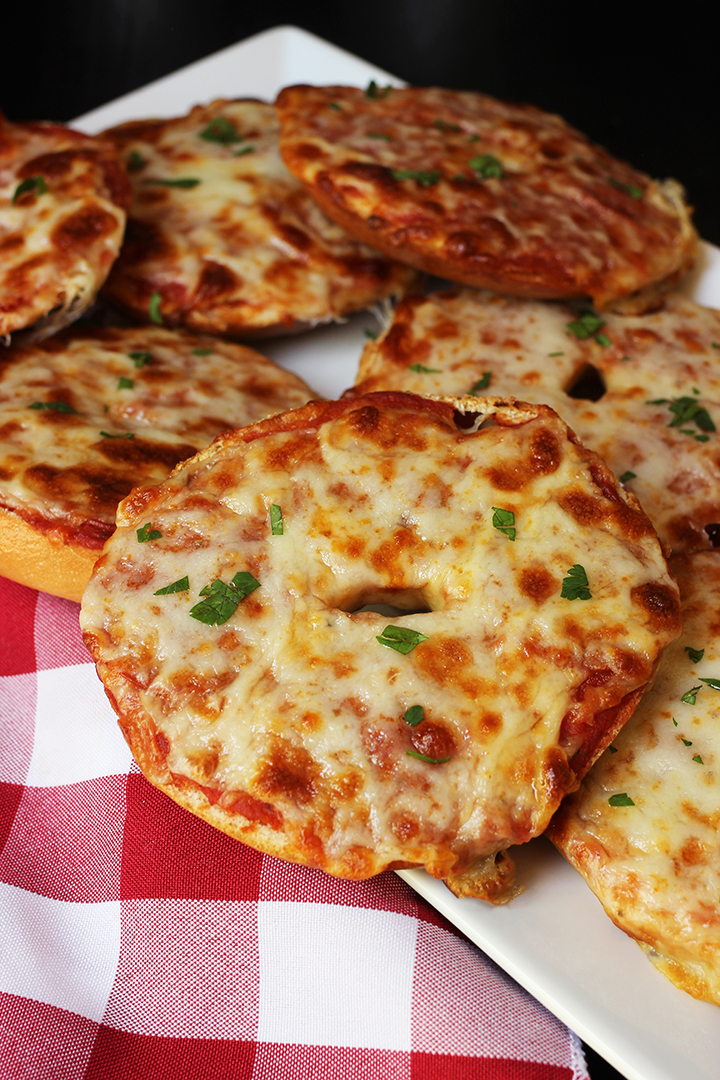 What ingredients do you need to make pizza bagels?
This recipe is simple, requiring just a handful of ingredients. Like other pizza recipes, you can mix and match whatever sauce, cheese, and topping combination you like, making it a great option for clearing out the fridge.
Here is what you need at the basic:
Bagels – Use your favorite kind and split them in half. Remember you can freeze bagels if you have too many after the meal is over.
Pizza sauce – you can use store bought but it's super simple and cheaper to make your own pizza sauce at home. Try making my homemade pizza sauce recipe or even my no cook pizza sauce. But, remember you can also use a sauce like pesto or BBQ sauce.
Mozzarella cheese – when I find cheese on sale I like stock up and stash it in my freezer. It's just one way my freezer is my BFF.
Pizza toppings – You really can top these with whatever you want: pepperoni, sausage, veggies, pineapple, bacon. Keep it simple with just cheese like the lunch ladies or jazz it up.
What kind of bagels should you use for pizzas?
Theoretically, you can use whatever bagels you like, however, the savory nature of the toppings dictates that you avoid blueberry, cinnamon, or cranberry bagels and stick to the savory or plain ones such as:
everything
sesame
egg
plain
whole wheat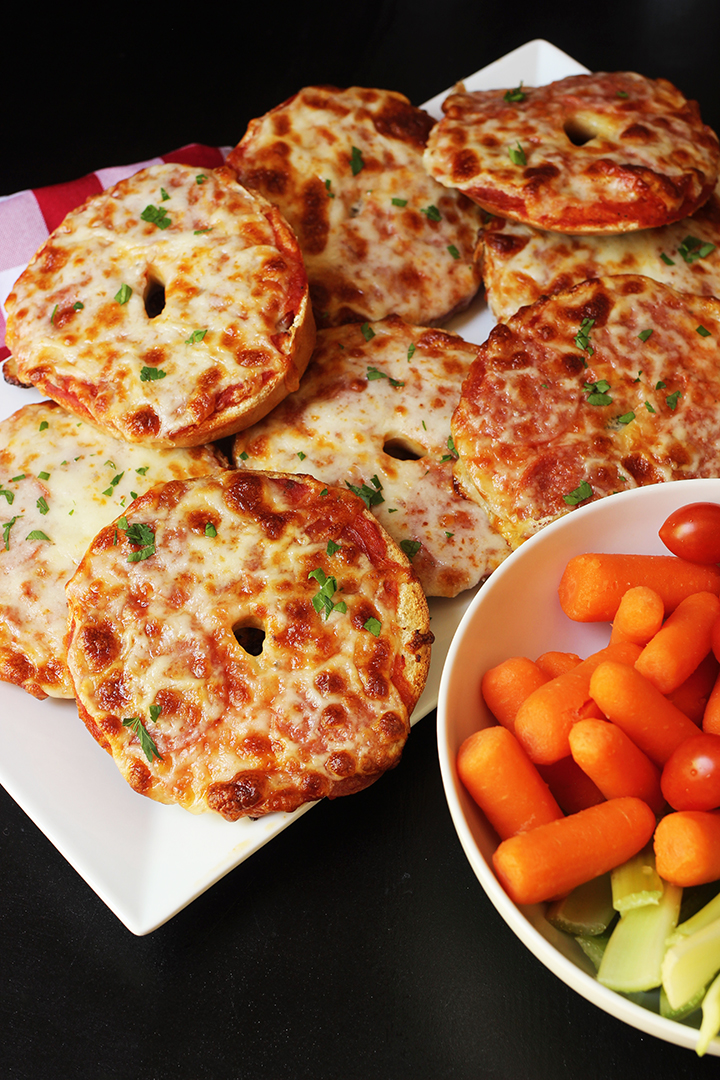 How long do I cook pizza bagels?
A pizza bagel shouldn't take long to bake, only about 8 to 10 minutes depending on how much cheese you add on top.
How do you make pizza bagels?
Preheat the oven to 475°. Line a baking sheet with parchment to catch the melted cheese that will be a bear to scrub off if it burns.
Split the bagels in half horizontally. Place the bagel halves on a baking sheet.
Spread the sauce over the surface of the bagels. Layer on your toppings. Sprinkle on the cheese, according to taste.
Bake for 8 to 10 minutes or until the cheese is bubbly and starting to brown.
Serve immediately or once they cool, wrap and refrigerate to reheat later or eat cold.
TOPPINGS FOR PAN PIZZA
You can keep it simple or feel free to have some fun and creative with your toppings. Here are a few fun ways to do just that: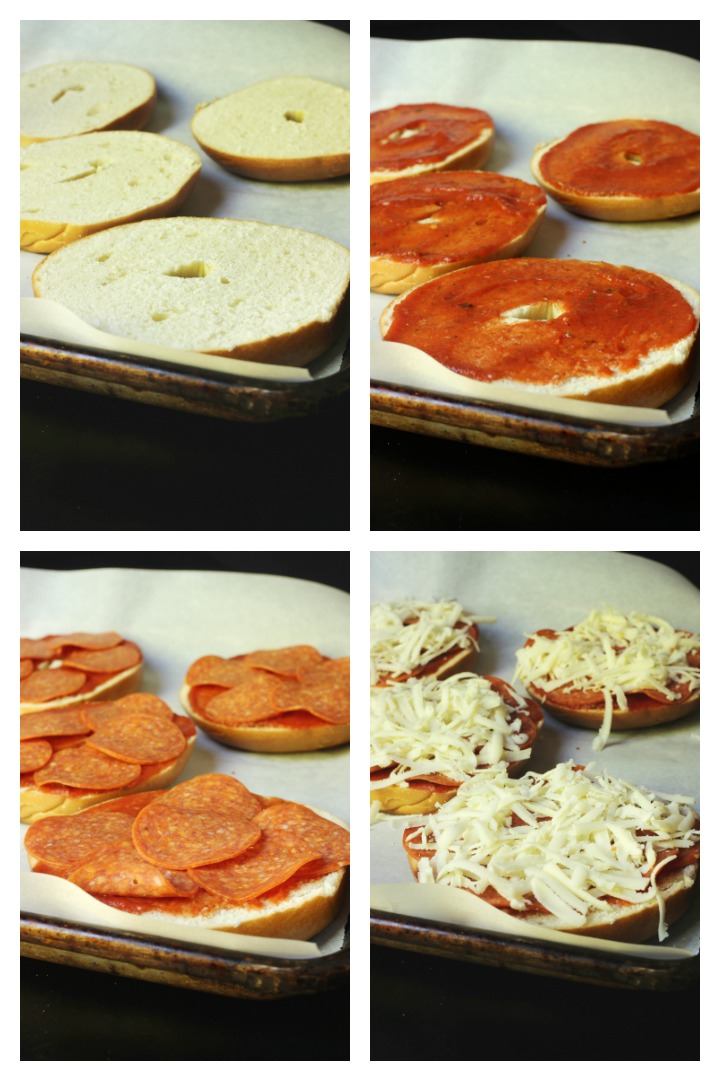 How much do pizza bagels cost to make?
You know that I'm a huge proponent of making homemade because it tastes better and costs less money. Let's crunch the numbers to see what it really costs.
Purchased at non-sale prices at a mid-range grocery store, the ingredients for this dish break down as follows:
bagels – $1.32 ($1.99/6)
pizza sauce – $0.25 ($1/16 oz)
mozzarella cheese – $1.88 ($1.88/8oz)
pepperoni – $0.83 ($2.50/6oz)
A batch of pizza bagels costs $4.28 or 54 cents a serving! Much, much less than what the lunch lady was charging back in 1987.
I'm not sure where you can buy pizza bagels these days besides the freezer section, but let's compare:
Macabee's Kosher Foods 6 Cheese Bagel Pizzas $6.99/6 or $1.17 for each full bagel
Pepperoni Bagel Bites $6.99 per 24 bites or 6 servings, also $1.17 per serving
If we counted two of our bagel pizzas as equal in volume to one of the frozen servings, we'd still come out ahead at $1.08 — made with better ingredients.
So, yeah, it's better to make pizza bagels. Whenever you want. 😉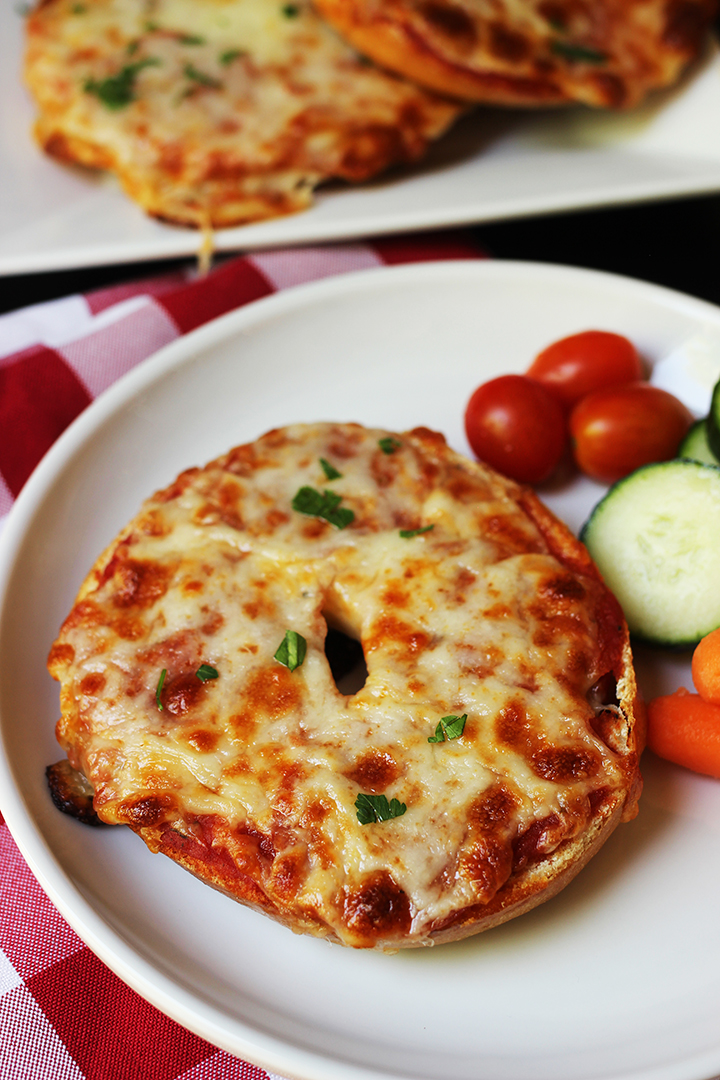 How to save even more on your groceries for this recipe:
Pizza Bagels already rank as a good cheap eat, but you can do even better:
Shop the sales – The higher priced items for this recipe are the cheese and the pepperoni. Watch the sales and stock up when you see a good price. Both shredded cheese and sliced pepperoni freeze well.
Use less – Obviously, a gooey, cheesy pizza is amazing, but you'd be surprised that it's just as good with less cheese.
Go meatless – As tasty as pepperoni is, cheese pizza is almost as good. Even better for some folks. Explore your options for lower priced toppings.
Use up leftovers – I mentioned earlier that this is a great recipe for using up little bits of leftovers that might otherwise get tossed. That's almost like free food. Watch for bits of chicken, ham, veggies, or other cheeses that you might use up on your pizza bagels.
Do you need special equipment to make bagel pizzas?
So, if you want to get fancy or if you've got young children prepping your pizza bagels you might invest in a Bagel Guillotine. It works well, except on very soft, fresh bagels. Those tend to get a bit smooshed.
We bought one years ago when the kids weren't quite up to speed slicing bagels. Trust me, it prevented more than one trip to the ER. That said, it's definitely a non-essential.
Other than that, you can get by with very basic kitchen tools: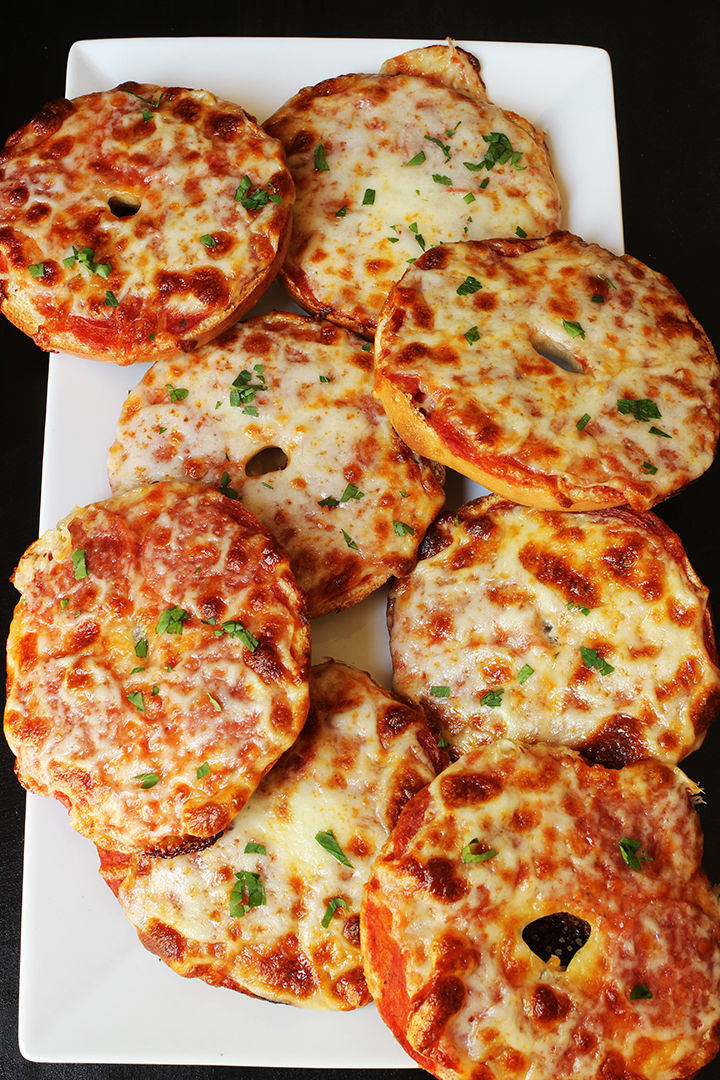 If you prepare this recipe, be sure to share a picture on social media and hashtag it
#GOODCHEAPEATS
. I can't wait to see what you cook up!
Pizza Bagels
Pizza bagels are easy and delicious! Top a split bagel with sauce, your favorite toppings, and some cheese for a fun and simple lunch, snack, or dinner.
Ingredients
4

bagels

split in half

½

cup

pizza sauce

8

oz

mozzarella cheese (shredded)

(2 cups)

2

oz

pepperoni (sliced)

(about 32 slices)
Instructions
Preheat the oven to 475°.

Place the bagel halves on a baking sheet. Spread the sauce over the surface of the bagels. Sprinkle a small amount of cheese over the sauce. Layer the pepperoni over the cheese. Add more cheese, according to taste.

Bake for 8 to 10 minutes or until the cheese is bubbly and starting to brown.

Serve immediately.
Notes
Promptly store leftovers in an airtight container in the refrigerator, for up to 3 days.
Nutritional values are approximate and based on 1

 bagel round.
Nutrition
Calories:
268
kcal
|
Carbohydrates:
29
g
|
Protein:
14
g
|
Fat:
10
g
|
Saturated Fat:
5
g
|
Cholesterol:
30
mg
|
Sodium:
663
mg
|
Potassium:
145
mg
|
Fiber:
1
g
|
Sugar:
1
g
|
Vitamin A:
258
IU
|
Vitamin C:
1
mg
|
Calcium:
156
mg
|
Iron:
1
mg
Tried this Recipe? Tell us what you think!
Your reviews help us develop better recipes and give newcomers the confidence to try your favorites. Scroll down to leave a starred comment.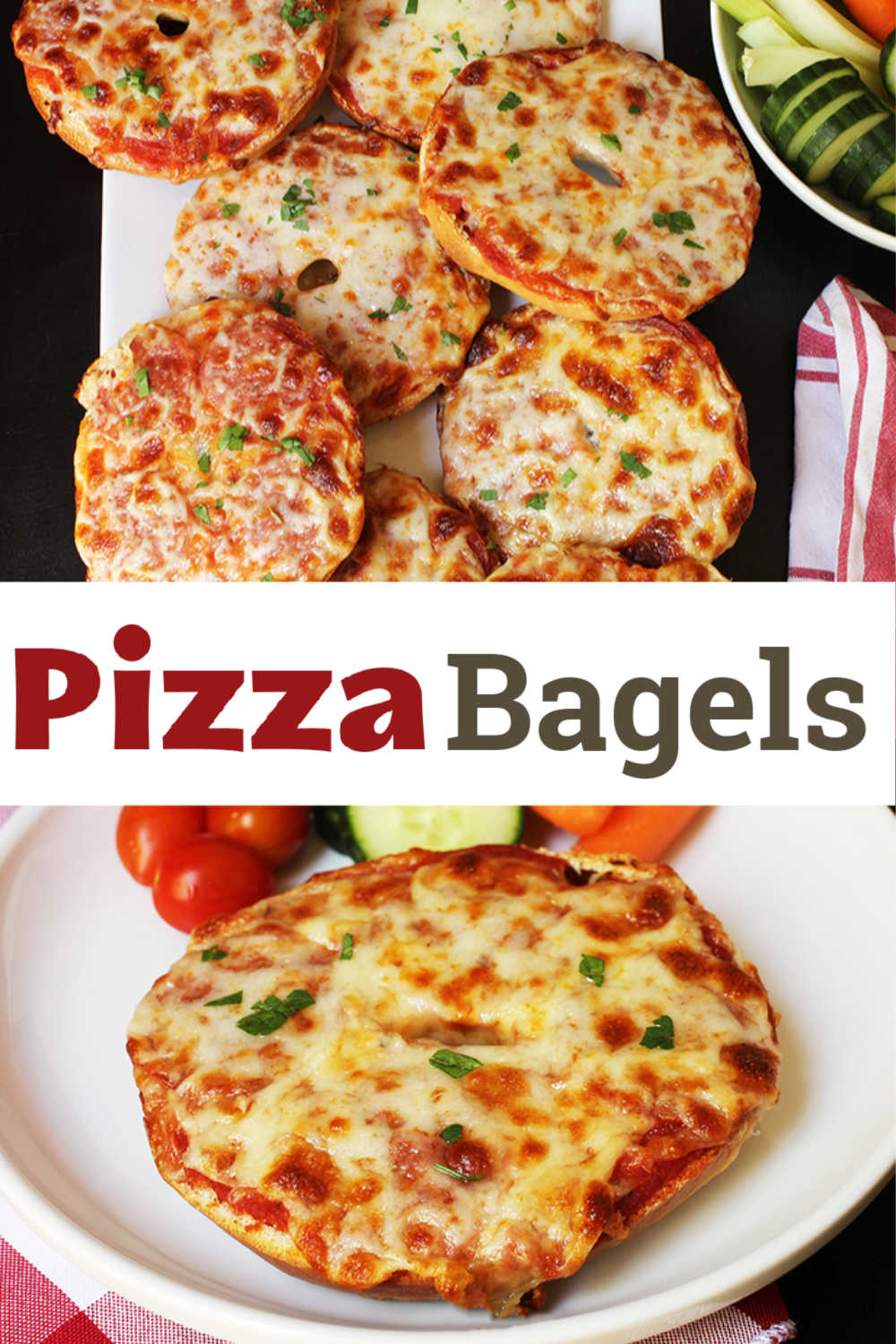 This post was originally published on June 15, 2011. It has been updated for content and clarity.