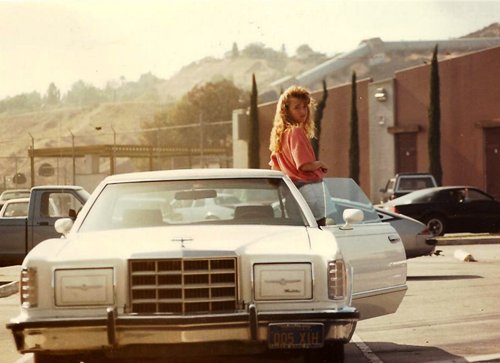 That's me in high school. I attended your typical high school in suburban Los Angeles county in the late 1980s. And, yes, I really drove that car. Good times.
But, before I was allowed to drive that car to school — yes, I had to get permission — my friends and I ate from the little snack bar. Since the school district did not provide a cafeteria, I suppose that is why the campus was "open." You could leave for lunch if you could get back to school in the 35 minutes we were allowed for lunch break. Ha!
Only if you drove at the speed of light.
But, we won't go there. My parents might be reading this.
Anywho… we were talking about the snack bar. The snack bar sold such wholesome main dishes as Chili Cheese Fries, Nachos, and Pizza Bagels.
And they were yummy. Yes, yes, they were. Not as fine as these that I served my family, of course. The high school didn't serve it on fine china, of course. But, they were yummy, nonetheless.
You can make your own Pizza Bagels!
Ingredients
4 bagels, split in half
1 cup pizza sauce
2 cups grated mozzarella cheese
sliced pepperoni
Instructions
Preheat the oven to 475°.
Place the bagel halves on a baking sheet. Spread the sauce over the surface of the bagels. Sprinkle a small amount of cheese over the sauce. Layer the pepperoni over the cheese. Add more cheese, according to taste.
Bake for 8 to 10 minutes or until the cheese is bubbly and starting to brown.
Serve immediately.
Number of servings (yield): 4
What's your favorite taste from the past?
Welcome to What's On Your Plate?!
What's on Your Plate? is designed to be a conversation amongst good eaters.
Tell us about a recent meal. Did it meet with rave reviews? Or did it bomb? What side dishes did you pair with the star of the show? Did you try a new ingredient? Find the groceries at great prices?
What's on YOUR Plate?
Share with us a recent meal you prepared. Either link it up below or tell us about it in the comments. Please make sure that you link to www.goodcheapeats.com in your post so others know where the dinner party is.
And don't forget to visit the other good eaters participating today. I'm sure you will be inspired to make all sorts of Good Cheap Eats at your house.