Quick and yummy dinners are easy to come by when you make a bulk batch of these Supreme Meatballs. They are tender, delicious, and very freezer-friendly.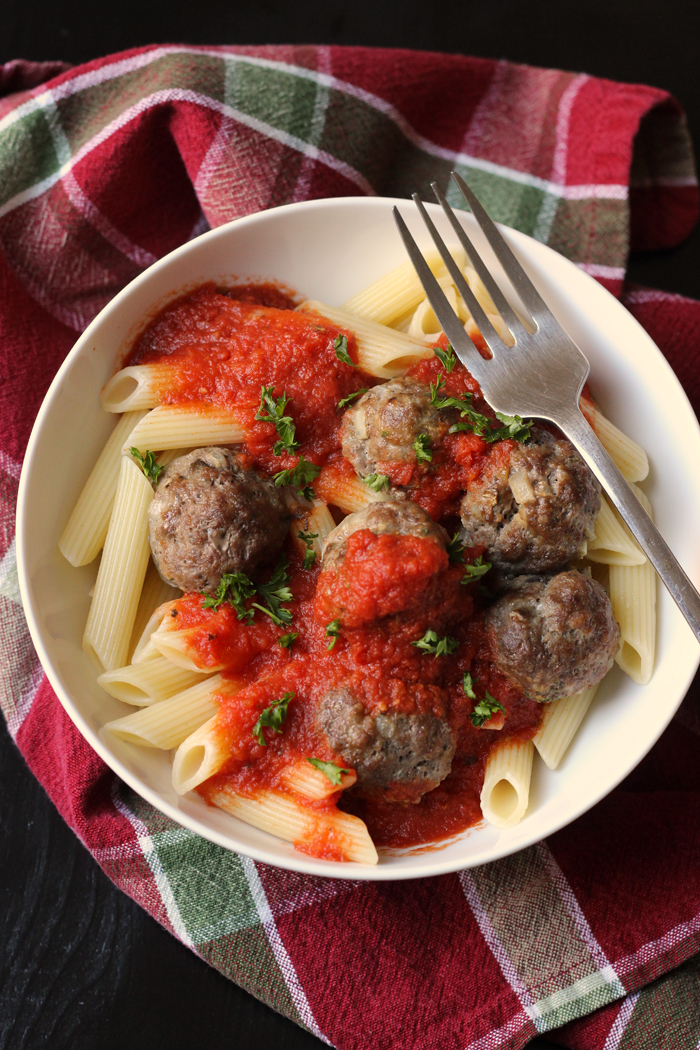 Those of you who've been around awhile know what a big fan I am of meatballs. I am a meatloaf lover — and meatballs are like the very best form of meatloaf with all the golden edges everywhere.
I love them for their versatility. They go great with gravy and mashed potatoes, atop spaghetti doused in marinara sauce, floating in soup, heated on the grill and basted with BBQ sauce, in bowl meals…. You name it, meatballs are where it's at!
And the icing on the cake is that you can make a huge batch and freeze them for future meals. You don't need to remember to thaw them in advance, they reheat quickly, and they taste awesome!
Need I say more.
I recently married my gluten-free, mushroom-based meatball recipe with my traditional herbed meatball recipe and through in the classic dry — but homemade — onion soup mix flavor profile for good measure. Happiness in a pot! Or a sheet pan, as the case may be.
I make these meatballs smaller meaning they cook more quickly and work better in soup. Aren't they beautiful?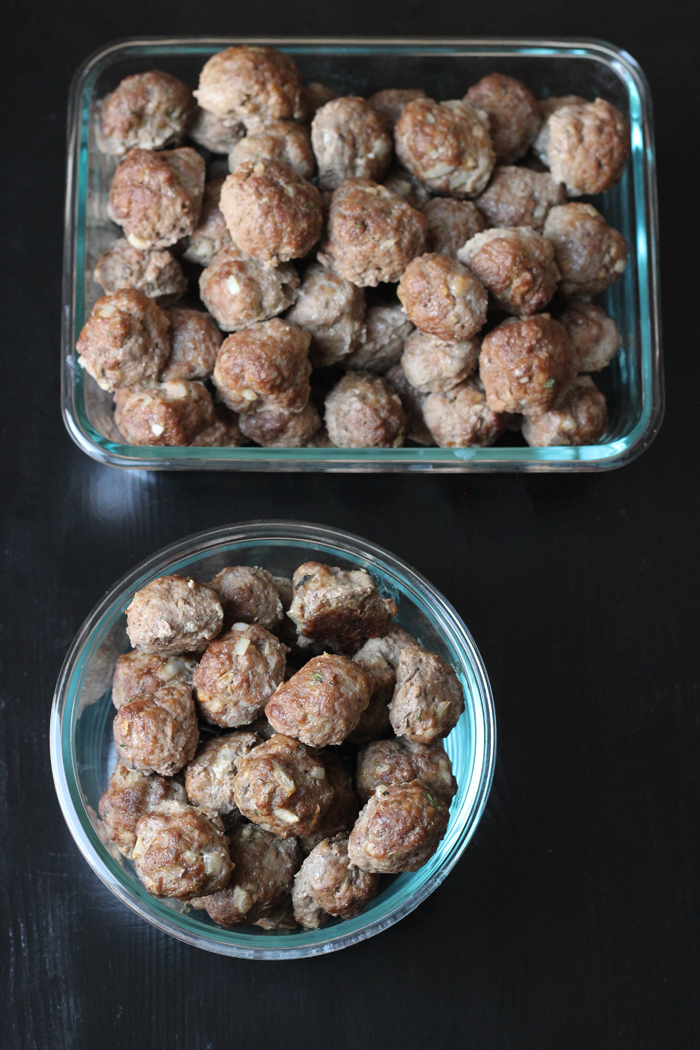 How to make this good and cheap:
Here are some of the strategies you can use to make this recipe more economical:
Stock up on ingredients when they are on sale. The main ingredients here are beef, mushrooms, and onions. Watch the sales and snatch up those items when the prices are low.
Cook in bulk. When you cook in bulk, you are maximizing your time investment as well as the energy you use to heat the oven. It doesn't take that much longer to make a few more meatballs and they all cook in the same amount of time. That doesn't make the oven work any harder!
How I make this recipe easy:
This recipe really couldn't be easier than it is, but having the right kitchen tools can really make your time in the kitchen more enjoyable. Over time, I've honed my collection so that they are perfect for my needs.
Here are the tools that I use for this recipe:
Bulk Batch Supreme Meatballs
Quick and easy dinners are easy to come by when you make a bulk batch of these Supreme Meatballs. They are tender, delicious, and very freezer-friendly.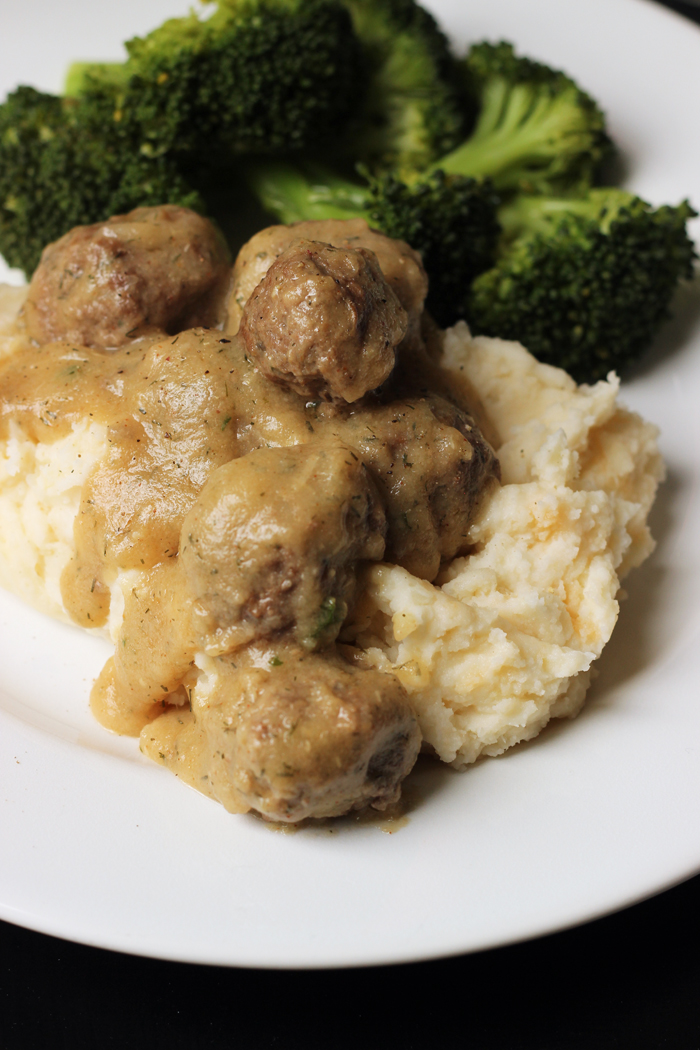 Preparation Time:20 minutes
Cook time:15 minutes
Total time:35 minutes
95 small meatballs
Ingredients:
4 pounds ground beef

2 cups fresh bread crumbs

1 cup finely chopped mushrooms

1 cup finely chopped onion

4 beaten eggs

1/4 cup shredded parmesan cheese

1 tablespoon fresh garlic

1 tablespoon dry parsley

1 teaspoon salt

1 teaspoon dried thyme

1 teaspoon paprika

1/2 teaspoon black pepper
Instructions:

Preheat the oven to 400 degrees. Line two large baking sheets with parchment paper or heavy-duty aluminum foil. If using aluminum foil, spray the foil with nonstick cooking spray.
In a large mixing bowl, combine the meat, bread crumbs, mushrooms, onions, eggs, cheese, herbs, and spices. Mush and squoosh until all the ingredients are evenly distributed.
Form the mixture into small balls, about 1 tablespoon of mixture per ball. Place these on the prepared baking pans.
When all the mixture is formed into balls, bake the meatballs for about 15 minutes until golden and cooked through. Use in recipes or package them in meal-sized portions, chill, and freeze.
Reheat frozen meatballs and continue with your recipe.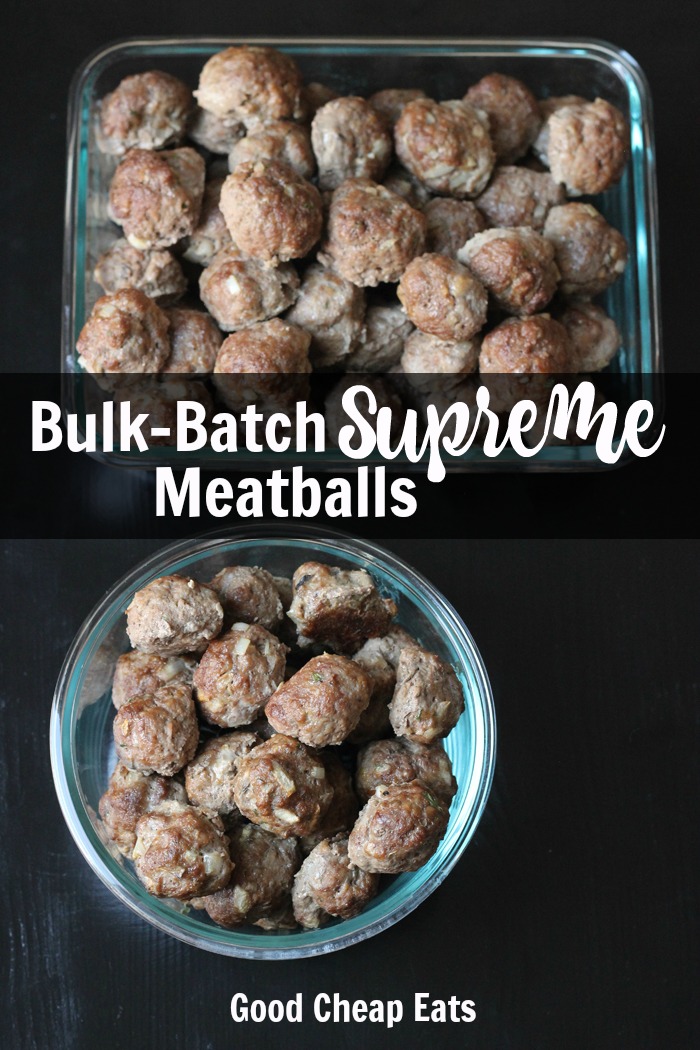 Are you looking for more good cheap eats?