These hearty and naturally gluten-free meatballs will quickly become a favorite at your house! The combination of beef, pork, mushrooms, and scallions is full of flavor, perfect for dousing in tomato sauce or your favorite BBQ sauce.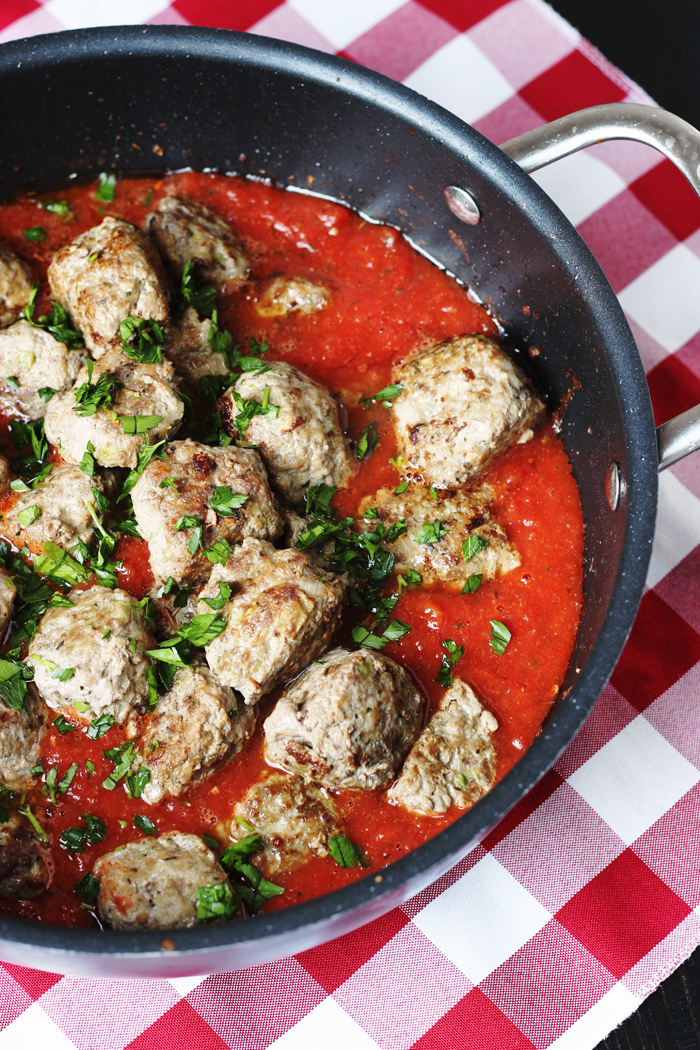 I love meatballs. There's something so comforting about serving up a big pot of meatballs doused in flavorful tomato sauce or swimming in savory gravy. It's such a filling meal without being overly complicated.
My family loves them, too. It seems that there are never enough of these meaty balls of goodness.
Over the past few months I've been experimenting with making a naturally gluten-free version. I have plenty of friends and family who avoid gluten for various reasons, so I wanted something in my arsenal that was full of flavor without having any gluten or other funky gluten-substitutes.
I'm pleased to say these meatballs are a success!

Do meatballs have gluten?
They do, yes. Normally, the meatball mixture has breadcrumbs as a binder. Now you can buy gluten free breadcrumbs, but these meatballs are made gluten free a different way.
Instead of using gf breadcrumbs, coconut flour, or a nut meal, I leaned on mushrooms. Chopped fine, mushrooms add substance without tasting mushroomy. My mushroom haters devour these meatballs, so I really wouldn't worry about folks turning up their noses. Promise.
(Just don't tell them. I think people are afraid of the idea of mushrooms, not the mushrooms themselves.)
These gluten-free meatballs are perfect if you're gluten-free, paleo, Whole 30, or just don't want the extra bread crumbs. I promise you won't miss them.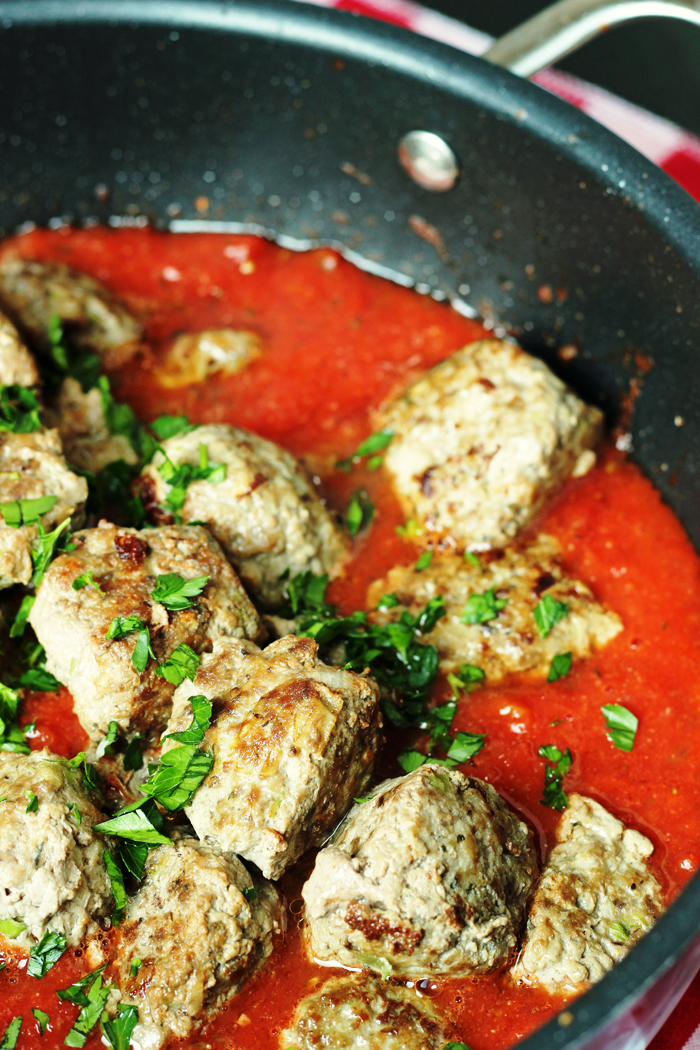 What can I serve these gluten free meatballs with?
Anyway, another thing that meatballs have going for them is how versatile they are. Once you have a bulk batch cooked, you can doctor them up for serving in so many ways!
I love to bake big batches of these and stash them in the freezer for quick meals. So good!
Tools I use to make this easy:
Hearty Gluten-Free Meatballs
These hearty and naturally gluten-free meatballs feature a combination of beef, pork, mushrooms, and scallions, perfect for dousing in tomato sauce.
Ingredients
8

oz

mushrooms

1 1/2

lb

ground beef

1

lb

ground pork

2

egg

beaten

3

green onion (chopped)

1

tsp

salt

1/2

tsp

black pepper

1 1/2

tsp

herbes de Provence

or Italian herb blend

oil for frying the meatballs
Instructions
Place the mushrooms in the bowl of a food processor fitted with a metal blade. Pulse until finely chopped. You can also chop the mushrooms by hand, but this ensures a very fine chop.

In a large mixing bowl combine the mushrooms, beef, pork, eggs, green onions, salt, pepper, and optional seasoning. Mix well to incorporate all the ingredients well.

With a quick release scoop, form the meat mixture into golf ball-size portions. Once all the balls are formed, heat 2 tablespoons olive oil in the bottom of a large skillet or 5-qt pot. In batches, fry the meatballs in the hot oil, turning to brown all sides of the meatballs.

Alternatively, you can bake the meatballs on a lined baking sheet for 25 minutes in a 400 degree oven.

Once the meatballs are cooked, they are ready to serve or package for freezing. To freeze, cool the meatballs completely and place in freezer-safe containers or ziptop freezer bags. Chill thoroughly before storing in the freezer. To serve, reheat completely in a pan on the stovetop, in the slow cooker, on a hot grill, or in the microwave.
Nutrition
Calories:
58
kcal
|
Carbohydrates:
1
g
|
Protein:
6
g
|
Fat:
3
g
|
Saturated Fat:
1
g
|
Cholesterol:
27
mg
|
Sodium:
79
mg
|
Potassium:
115
mg
|
Fiber:
1
g
|
Sugar:
1
g
|
Vitamin A:
20
IU
|
Vitamin C:
1
mg
|
Calcium:
5
mg
|
Iron:
1
mg