The classic Margherita pizza is easy to prepare and a delicious meatless main dish.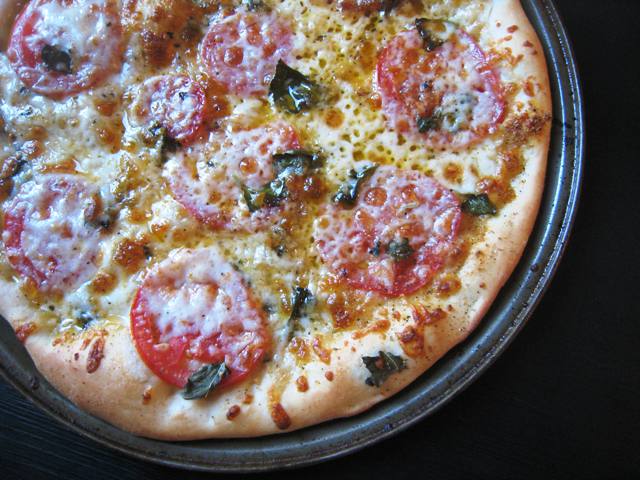 Friday night is our typical pizza night. Homemade pizza. It's taken a few years to get it just right. But, we're getting there.
Five kids prefer pepperoni. One wants just cheese. The adventurous one of the group will try the other experiments that I make, especially if they have meat on them.
This one doesn't.
But, man it's good.
The history of the Margherita Pizza is that some chef invented it to honor a visiting Queen Margherita. The red, green, and white of the toppings were designed to represent the Italian flag.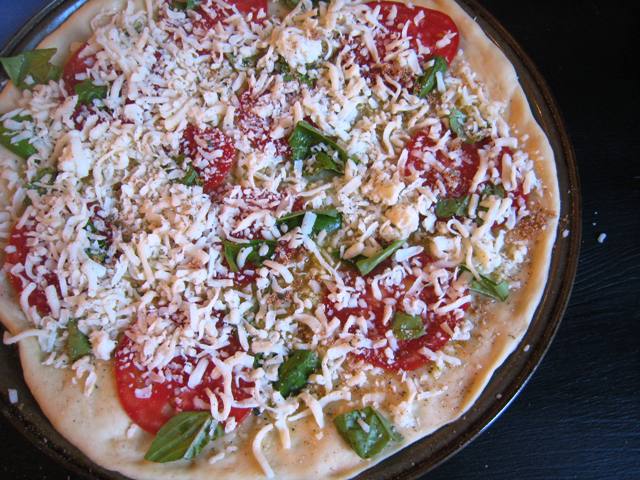 Hubs and I have ordered this pizza at pizzerias and I've made several versions at home. This is the method that we like the best. Some folks put sauce on the crust; we prefer it without.
At Giovanni's in Santa Ynez, CA, we tried one with a spice blend on top. We really liked that so I use Jamie's Spice Mix to top it which adds a great bit of flavor.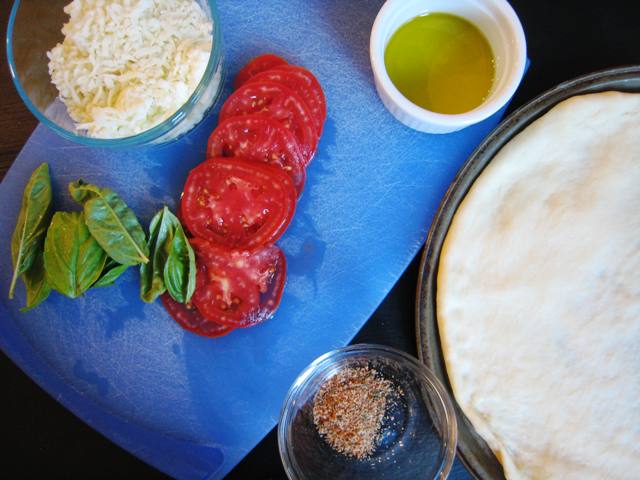 It's a pretty simple recipe: crust, olive oil, spice mix, tomatoes, mozzarella, and fresh basil. Yum!
PIZZA MARGHERITA
Enjoy a simple and delicious vegetarian pizza with the Pizza Margherita! Sliced tomatoes, basil, cheese, and an easy homemade spice blend are all you need to top your standard pie.
Instructions
Preheat the oven to 500 °. Spray baking sheets with nonstick cooking spray and sprinkle with corn meal to prevent sticking or line with parchment paper.

Flatten dough into a thin round and place on the baking sheet.

Brush olive oil over the dough.

Lay tomatoes across the pizza.

Sprinkle with basil leaves, mozzarella, and spice mix.

Bake for 8 to 10 minutes or until the crust is crisp and the cheese melted and lightly browned.
Notes
Promptly store leftovers in an airtight container in the refrigerator, for up to 3 days.
Nutritional values are approximate and based on 1/8 the pizza.
Nutrition
Calories:
79
kcal
|
Carbohydrates:
2
g
|
Protein:
3
g
|
Fat:
7
g
|
Saturated Fat:
2
g
|
Cholesterol:
11
mg
|
Sodium:
89
mg
|
Potassium:
54
mg
|
Fiber:
1
g
|
Sugar:
1
g
|
Vitamin A:
217
IU
|
Vitamin C:
1
mg
|
Calcium:
102
mg
|
Iron:
1
mg