Enjoy a healthier pizza night this week with this homemade Chicken Pesto Pizza with Fresh Avocado featuring a whole wheat crust.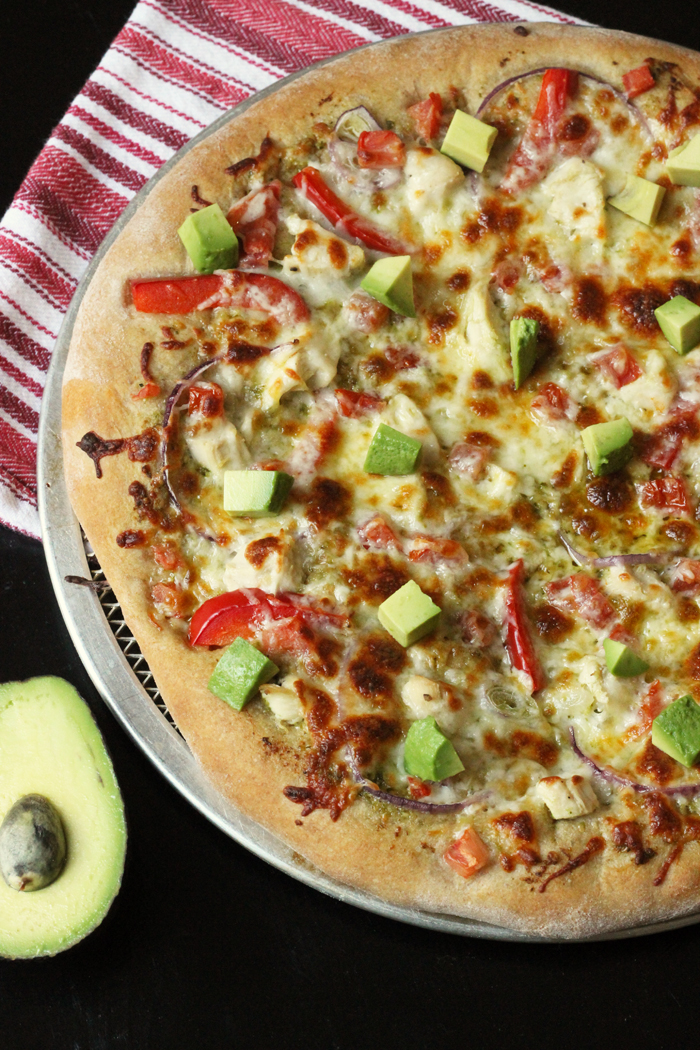 It used to be that one of my children requested Costco pizza on a weekly basis. And on a weekly basis, I said no.
Though it was once a our "go-to" pizza for almost two decades, our (hubs' and mine) recent adventure in calorie counting has struck Costco pizza from the list. With one slice topping 500 calories, it's just not worth it to us. Especially when I can make a personal-size pizza with whole wheat crust for fewer calories. Not only is my version less fattening but it tastes better and contains much more nutrition.
So, now that homemade pizza is a regular thing, the aforementioned child requests pizza on a weekly basis. And he gets really wigged out if I have something different on the meal plan.
Good thing I know how to make a healthier pizza.
In our calorie education hubs and I learned to measure out toppings, like cheese or chicken. We realized that we were just as satisfied with an ounce of cheese as we were with several handfuls. Who knew?
Not only is measuring a great way to reduce calories, but it's also a fair means to using less and thereby saving money. One of our favorite healthier pizzas is this Chicken Pesto Pizza with Fresh Avocado.
With a whole grain crust, pesto sauce, chicken, and lots of fresh vegetables, it's a winner! I love adding avocado to a pizza after it's been cooked. Gives it a nice dose of healthy fat and a boost in flavor. Have you tried it? You must!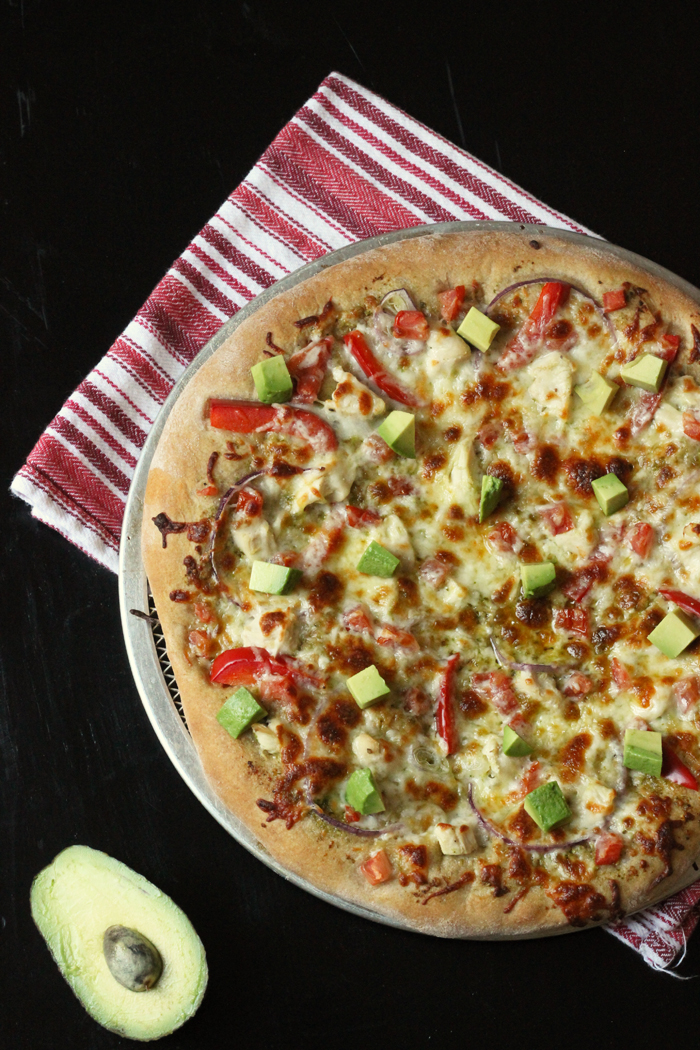 Often I make my own pesto or this Rustic Basil Sauce, but on a Friday night when I'm tired, I'm happy to lean on Costco's Pesto. It's delicious and a great deal. Feel free to use your favorite pesto-type sauce.
How to make this cheap:
Here are some of the strategies you can use to make this recipe more economical:
Stock up on ingredients when they are on sale

. Whether it's chicken, pesto, or avocado, track prices and stock up on great priced items.

Shop Costco. Costco has the best price on shredded mozzarella as well as pesto. I buy the big five pound bag of cheese and divide it into smaller bags to store in the freezer. The jar of pesto lasts several weeks and we make all the pesto things when we buy a jar.
Tools I use to make this recipe easy:
This is a pretty straight-forward dish. You don't need any fancy equipment. However, having some good basic kitchen tools can really make your time in the kitchen more enjoyable. Over time, I've honed my collection so that they are perfect for my needs.
I actually have an arsenal of favorite pizza tools that make the Friday night pizza experience super quick and simple.
Here are the tools that I like to use in this recipe: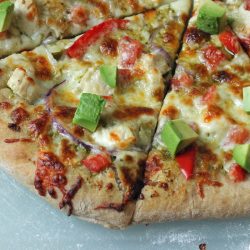 Print Recipe
Chicken Pesto Pizza
Enjoy a healthier pizza night this week with this homemade Chicken Pesto Pizza with Fresh Avocado featuring a whole wheat crust.
Ingredients
1/2

batch

Whole Wheat Pizza Dough

1/2

cup

pesto

1/4

red onion

sliced

1/2

bell pepper (any color)

julienned

2

cup

chicken (cooked and cubed)

1

tomato

diced

12

oz

mozzarella cheese (shredded)

(3 cups)

1

avocado

peeled, pitted, and chopped
Instructions
Preheat the oven to 475. Spray two 12-inch pizza pans with non-stick cooking spray or line two baking sheets with . Form the dough and stretch to fit the prepared pans. You can make two medium pizzas or 4 small personal size pizzas.

Divide the pesto evenly over the rounds, spreading to the edges. Layer on the toppings: chicken, vegetables, and cheese.

Bake for 8 to 10 minutes or until the dough is crisp and the cheese is melted. Remove from the oven and slice. Top the pizzas with fresh avocado.
Originally published October 10, 2012. Updated April 22, 2017.