Celebrate the weekend with your own pan pizza!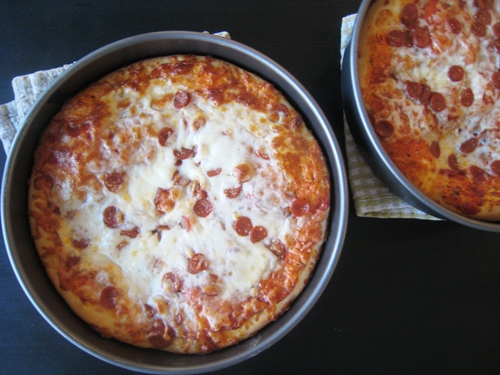 I've eaten many tasty pizzas in my time. My favorite style, to date, is probably the pan pizza.
It wasn't until this summer that I tried my hand at making pan pizza at home. (Tina inspired me.)
I have no idea why it took me so long! I've been making homemade pizza for 15 years now. I've baked countless loaves of focaccia.
A pan pizza is really just a combination of the two: a thick crust, drenched in olive oil and topped with all kinds of pizza goodness.
I've tested this method with various dough recipes (my usual as well as a new whole wheat crust I'm working on) as well as with different kinds of pans. The verdict? I think any pizza dough should work, but nonstick cake pans will work the best. If you decide to use a different kind of baking pan, be sure to oil it generously to prevent sticking.
You can use more oil than I've specified, but I am trying to be a little conservative. 😉
To make our pizzas a little more fun, I also used the new Pepperoni Minis from Hormel. The kids love its fun confetti-like appearance on the pizza, and I like it that I can stretch a bag to cover many, many pizzas.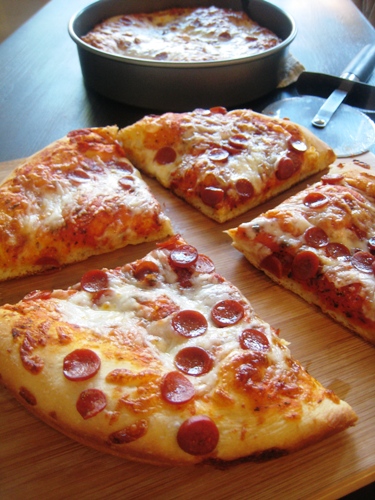 Recipe: Pan Pizza with Confetti Pepperoni
Summary: Makes 4 generous personal pan pizzas
Ingredients
1 batch pizza dough
1/4 cup olive oil
2 cups shredded mozzarella
1 (4 or 5-ounce) package of Pepperoni Minis
other pizza toppings, optional
Instructions
Preheat the oven to 500°. Place 1 tablespoon olive oil in each of 4 9-inch round cake pans.
Divide the pizza dough into 4 equal portions. Dip each portion in the oil in the pan, flip, and pat until the dough is stretched to cover the bottom of the pan.
Spread 1/4 cup sauce on each pizza crust. Sprinkle with 1/4 the package of pepperoni minis. Layer on other pizza toppings if desired. Cover each pizza with 1/2 cup cheese.
Bake for 10 to 12 minutes or until the crust is crisp and the cheese is melted and brown in spots.
Remove from pan to a cutting surface. Cut and serve.
Preparation time: 10 minute(s)
Cooking time:
Number of servings (yield): 4
What's YOUR favorite style pizza?
Disclosure: I received products and product coupons from Hormel Foods as part of my participation in the Hormel Foods Extended Family Preferred Blogger Program. All opinions about the products are my own.