Make a Slow Cooker Ham for your next holiday feast. It's easy. It's delicious. It's a good cheap eat that will make you the hit of the party.
Ham plays a starring role at many a holiday feast. While the humble ham may be relegated to sandwiches most of the year, it's welcomed with open arms at Thanksgiving, Christmas, and Easter. And trust me, you'll be hard pressed to find a half ham any other time of the year. I've tried.
Hint: if you want to make a ham those off-holiday months, stock up!
Over the years, I've come to realize how vital my oven is during feast days. It seems like it runs 24/7, particularly when I want to bake my own rolls (which I do), bake my desserts (which I do), and prepare the best scalloped potatoes in the universe (which I most definitely do!)
This means that I need to find alternative cooking methods so my oven can be free to make all the things in due time. Preparing a slow cooker ham solves my problem! I can get the ham going early in the day, allowing it to soak up all the yummy flavors and then finish it off with a glaze in the oven right before serving.
I get my ham AND my scalloped potatoes, too!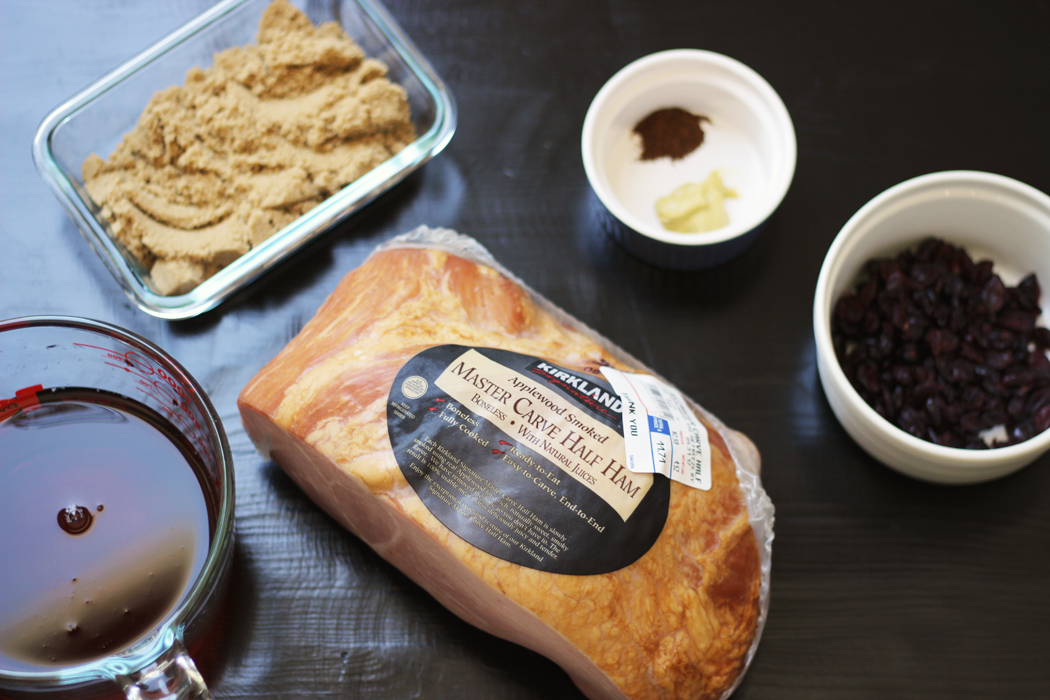 How do you make slow cooker ham?
This Slow Cooker Ham recipe is super straightforward, with only six ingredients. I really love this boneless half ham that Costco now carries. It looks small, but trust me, it's mighty. It cooked up beautifully.
This recipe is loosely adapted from a recipe from Jacqueline Heriteau's Best of Electric Crockery Cooking.
In addition to your ham, you'll also need:
juice (apple or grape or apple-grape)
dried cranberries
brown sugar
Dijon mustard
ground cloves.
Tips for making this slow cooker ham:
Big enough crockpot. You'll, of course, need a slow cooker that fits your ham. The ham pictured fit very nicely in my 6-quart Crock-pot. Other hams I've bought in the past have been a tight squeeze, requiring me to slice off a sliver from one end so that the lid would fit snugly.
Snug lid. You definitely want your lid to close properly. This insures your food safety as well as adequate heating of the ham.
You will have leftovers. Ham tends to be a pretty economical protein. When you buy a half ham, you'll likely have some leftovers. This means that you can make the most of one meal prep and use that meat in the days and weeks to come.
My eldest son loves to chop or slice the leftover ham and freeze it in meal-size portions to use in his breakfasts and lunches over the coming months. Ham is his love language. What can I say?
Be sure to read –> Great Leftover Ham Recipes
How much ham for one person?
A good rule of thumb, especially if serving this for the holidays is about ¾ of a pound per person.
How long should I cook a ham in the crockpot?
The ham will take about 6-8 hours on low, or you can cook it on high for about 4 hours.
What to serve with this slow cooker ham: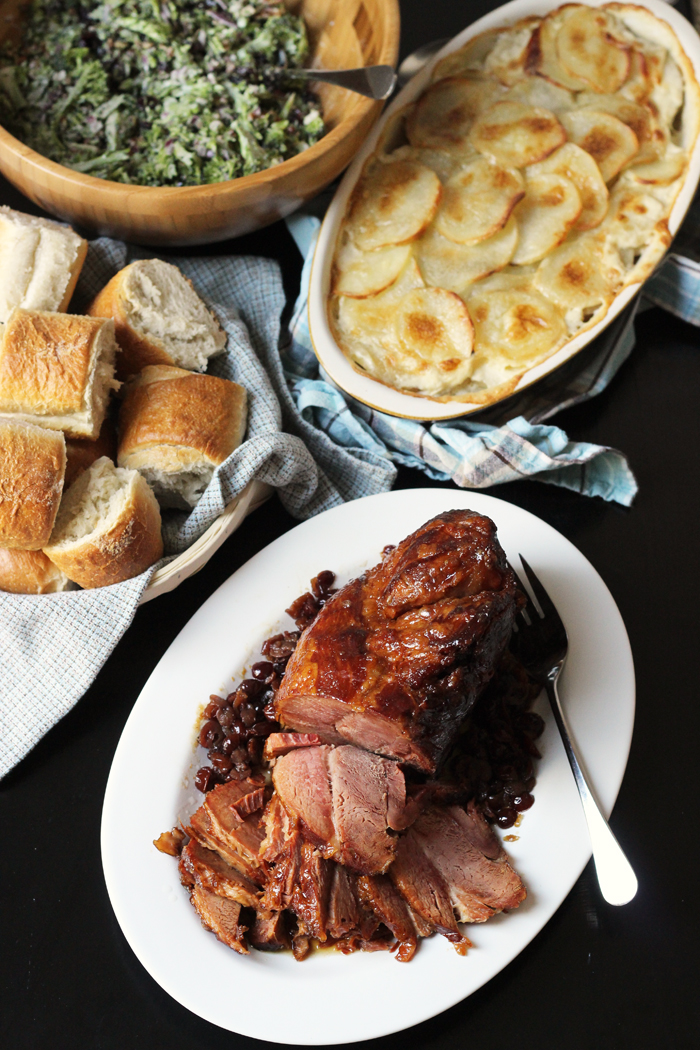 How to make this good and cheap:
Here are some of the strategies you can use to make this recipe more economical:
Meal plan around what's on sale. Don't decide to make slow cooker ham any old time of the year. One, you won't be able to find a ham, and two, if you do, it will be expensive. Stock up the week before the Easter, Thanksgiving, and Christmas holidays and throw a couple extra hams in your freezer.
Stock up on ingredients when they are on sale

. Again, with the sale thing. Also, watch for clearance the day after the aforementioned holidays. The store wants to move those hams because they don't carry ham any other time.

Price match. Check your grocery store fliers to see who has the best price on hams.
Tools I use to make this recipe easy:
This is a pretty straight-forward dish. You don't need any fancy equipment. However, having some good basic kitchen tools can really make your time in the kitchen more enjoyable. Over time, I've honed my collection so that they are perfect for my needs. Here are the tools that I like to use in this recipe.
Slow Cooker Ham
Make a Slow Cooker Ham for your next holiday feast. It's easy. It's delicious. It's a good cheap eat that will make you the hit of the party.
Ingredients
one large half ham

that fits in your largest crockpot

2

cup

apple grape juice

½

cup

dried cranberries

¾

cup

brown sugar

1

teaspoon

Dijon mustard

¼

teaspoon

ground cloves
Instructions
Place ham, cut side down into crockpot. Add apple grape juice and dried cranberries. Cover and cook on LOW for 6-8 hours or HIGH for 4 hours.

Carefully remove the ham from crockpot and place in roasting pan, on its side.

Heat the oven to 375 ° Combine brown sugar, Dijon mustard, ground cloves, and enough of the juices from the crockpot to create a paste. Spread the paste over the ham. Place in the hot oven to glaze, about 20 to 30 minutes. Slice and serve.
Nutrition
Calories:
131
kcal
|
Carbohydrates:
34
g
|
Protein:
1
g
|
Fat:
1
g
|
Saturated Fat:
1
g
|
Sodium:
16
mg
|
Potassium:
90
mg
|
Fiber:
1
g
|
Sugar:
31
g
|
Vitamin C:
1
mg
|
Calcium:
22
mg
|
Iron:
1
mg