Leftover ham, whether a ham bone, whole ham, or cooked ham slices and bits, is worth saving! It goes great in all kinds of sandwiches, salads, pastas, breakfast casseroles, and other ham recipes. Can you freeze ham? Yes – and you should! It's a great way to extend the life of your purchase and avoid food waste.
Not only that, but you can thaw ham, prepped in ready-to-use cubes in Ham and Egg Salad or for stirring into Ham Pasta. I love to slice and freeze ham slices so that I can tuck them into my copycat Starbucks Ham and Cheese Croissant.
Jump to:
If you find yourself with leftover ham after a family gathering or holiday meal, you may be wondering if you're destined to eat ham for a main dish for days on end. Or maybe you stocked up on a post-holiday clearance and want to save a few hams for later.
Thankfully, you can freeze ham for later use. It's aboslutely safe to freeze ham and today, we'll talk about how to do it properly so that you can store frozen ham and keep it fresh and delicious for weeks to come.
Why Do This
You can avoid food waste. Wasting food takes a big bite out of your budget as well as your time. Thankfully, it's easy to freeze cooked ham so that nothing goes to waste — and you don't get sick of it eating too much in one month!
You can have the convenience of ham prepped for recipes. While I love a slow cooker ham for holiday meals, there are few other occasions when I'll cook ham in large amounts. Instead, I like to have a cup or two of chopped leftover ham to add to soup or fold into omelets. Freezing ham ahead of time makes this easy to do!
You can save money on buying a larger hunk of ham. While you may not be able to use a whole ham in one sitting, you can benefit from the bulk pricing on one when you freeze ham for later. Don't hesitate to bring home a sale ham if you've got freezer space for what you can't use right away.
Ingredients
All you need is ham. Whether you buy a whole ham, spiral-sliced ham, ham steaks, or cubed ham, all can easily be frozen.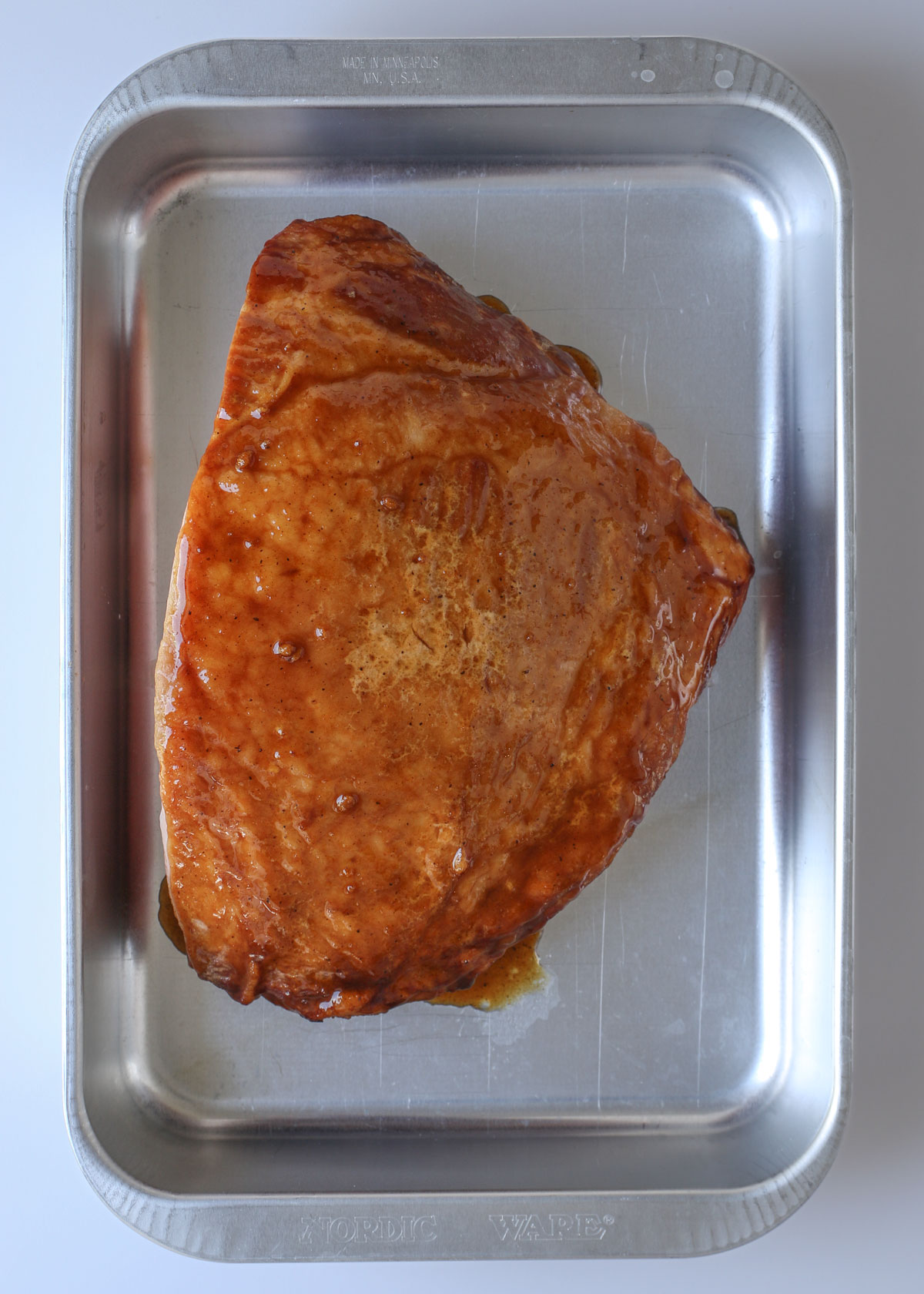 For the purposes of safely freezing ham, you just want to be sure that the ham you're freezing is fresh and within its "best by" dates. Leftover ham that's been sitting around for a week should be discarded since prepped food is good for just four days in the fridge.
See this extra tips about ham from the USDA.
Step by Step Instructions
Here's how to freeze ham: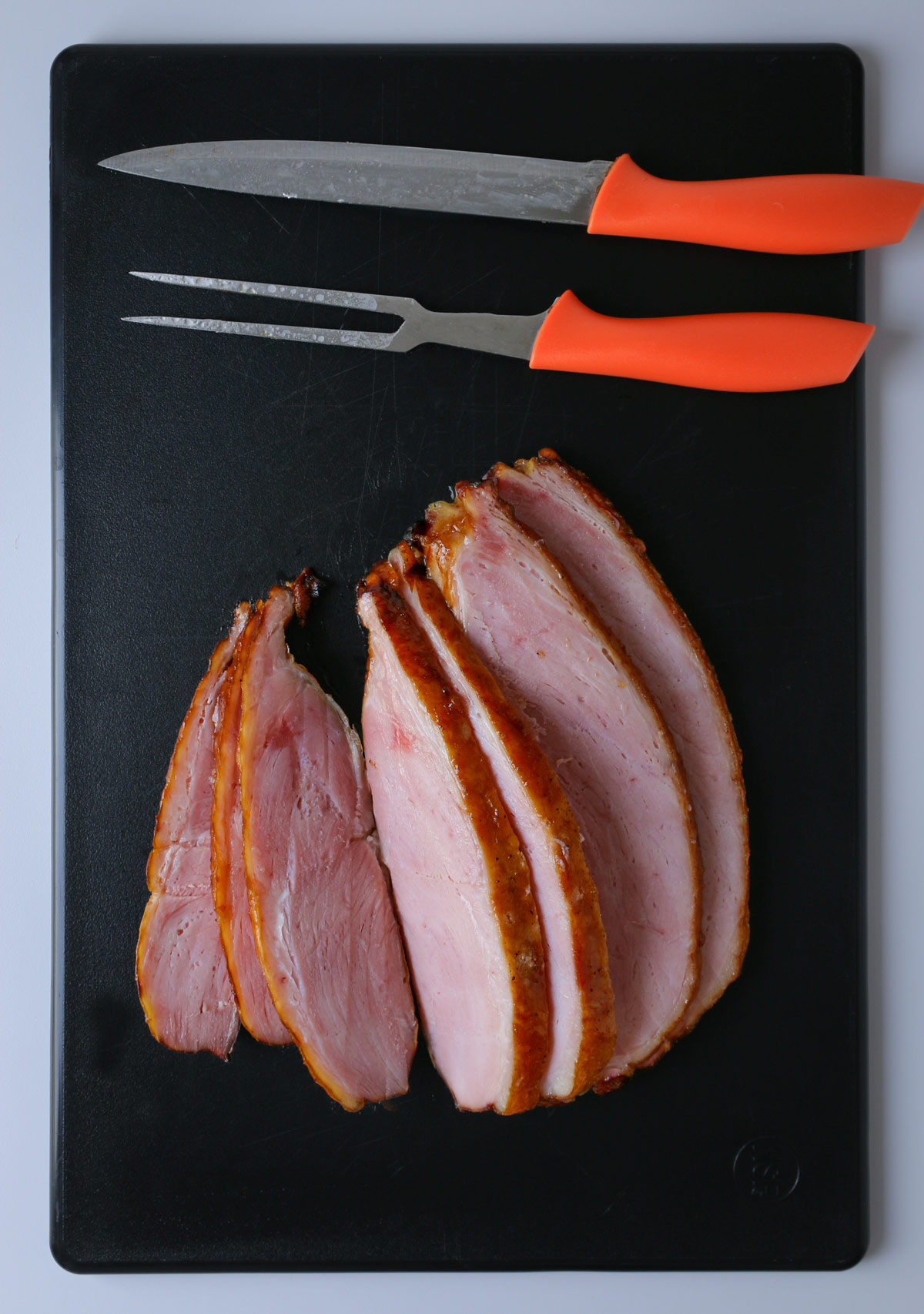 Cube or slice the ham (if not purchased that way) as you plan to use it after thawing. This makes it easier to use later.
Portion it out in amounts that will be easy to use later. Smaller portions will be easier to use than large ones.
Package ham for freezing. You can wrap it tightly in plastic wrap or aluminum foil and then tuck the packages into a labeled, ziptop freezer bag. The less oxygen in the package, the better to prevent freezer burn.
Alternatively, you can piled cubed ham into the sections of a Souper Cube. Be sure to label it.
Freezing Tips
Be sure to chill the ham prior to placing it in the freezer. Cold food freezes more quickly, reducing the risk of freezer burn.
Store the ham in the freezer at 0°F (-18°C) or lower. This is the ideal temperature for freezing ham and other foods. It will be good indefinitely, but will lose taste or texture over time, especially if the freezer is opened often and its temperature compromised. Use the ham up within 2 months, for best quality and taste.
For best results, store ham and other frozen meats in the coldest parts of the freezer, like the back or bottom shelves. The door will be warmer as will the fronts of the shelves.
Thawing and Serving Instructions
To use the frozen ham, pull the package from the freezer and allow it to thaw in the fridge on a tray to catch drips. Alternatively, you can place the sealed package in a container of cold water on the counter to precipitate thawing.
If you've frozen cubed ham, it should thaw very quickly at room temperature and you may be able to break apart the cubes fairly easily and add them to recipes partially frozen.
FAQs
Is it safe to freeze ham?
Freezing ham is a great way to preserve it for future use and can extend its shelf life for up to two months. Be sure that the ham is fresh, chilled and wrapped properly, and stored below 0°F.
Can you freeze ham on the bone? ham hocks? ham slices?
Keep in mind that not all types of ham freeze equally. While most can be frozen, some may not freeze as well  as others due to their high water content. Cheaper deli ham, for example, may become watery or rubbery when frozen. In contrast, ham with a higher fat content, such as ham from a bone-in ham or ham hock, tends to freeze better and stay fresh longer. Spiral-cut hams have already been oxidized a bit so they may lose some taste and texture compared to boneless, unsliced hams.
What can you do with frozen ham?
Ham is great served as a main dish, but is also delicious in soups, salads, stir-fries, casseroles, egg bakes, and on sandwiches.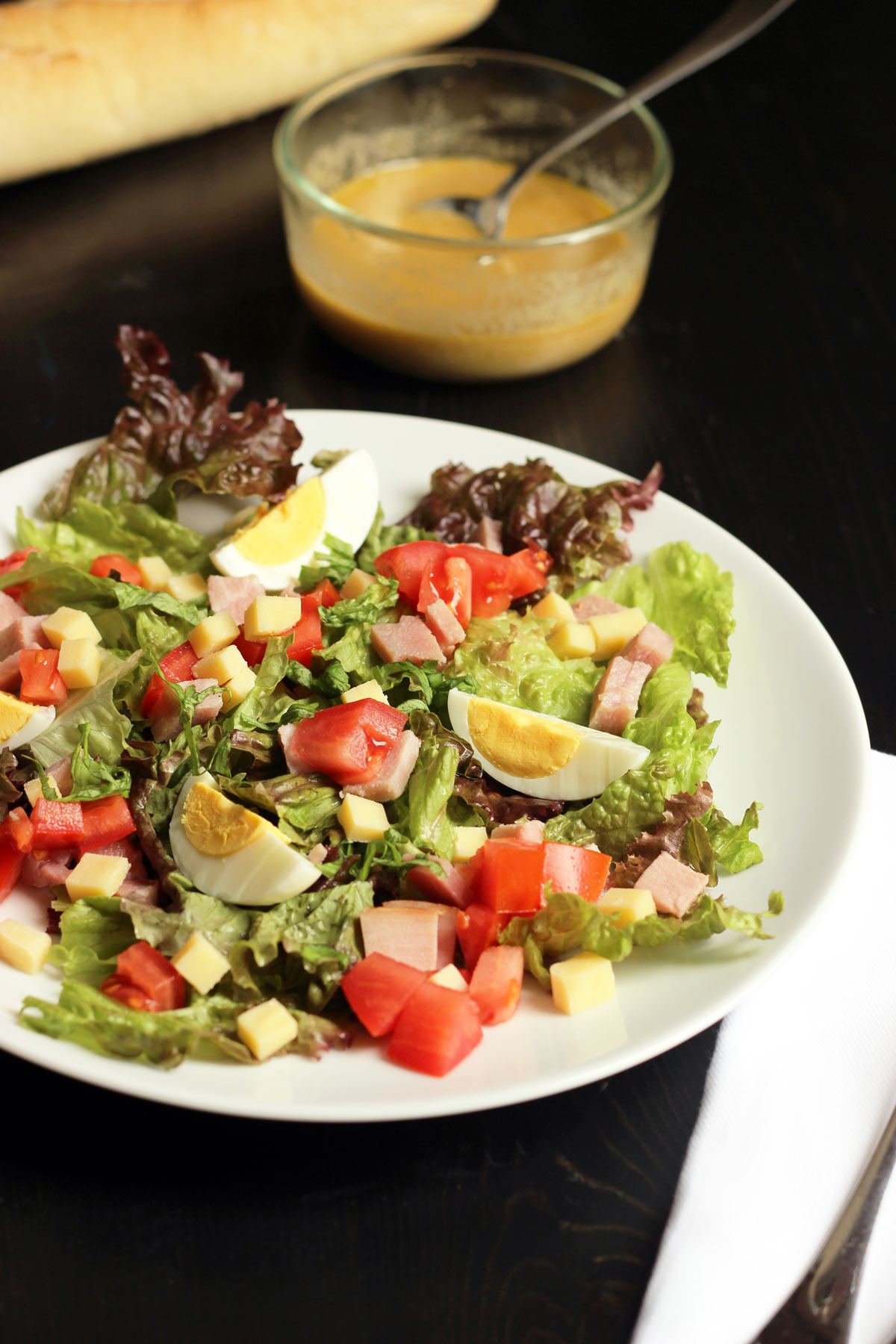 Best Ham Recipes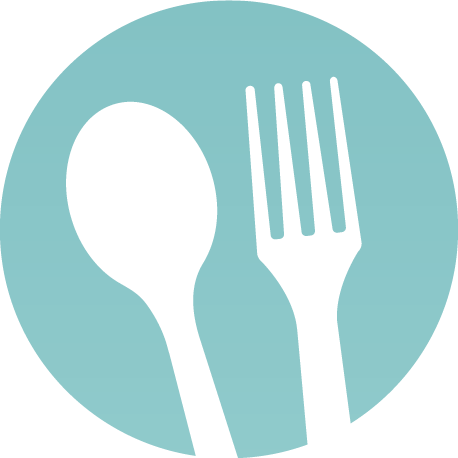 Tell us what you think!
We love to hear your experiences with Good Cheap Eats. Click the STARS on the recipe card or leave a STARRED comment to let us know what you think of the recipe.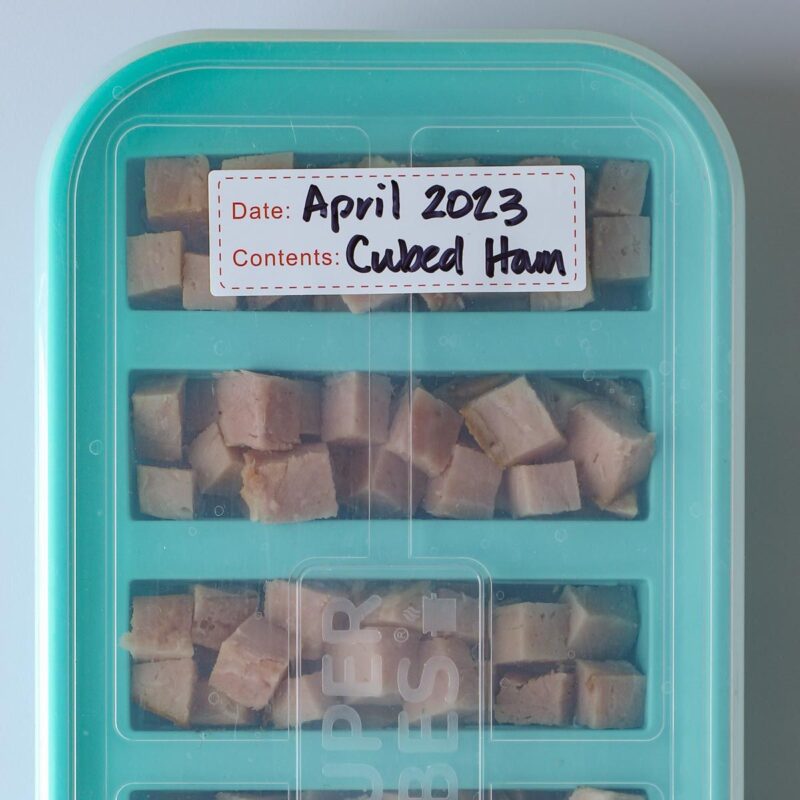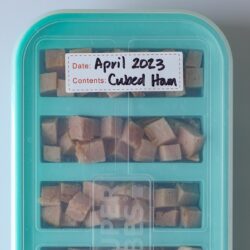 How to Freeze Ham
Learn how to freeze ham so that you can stock up on a great sale or save leftover ham for another time. It's a great way to save time and money and ham up your recipes.
Print
Pin
Rate
Instructions
Chop or slice the ham according to your preferences, if not purchased that way.

Package in recipe-size portions in ziptop freezer bags or freezer-friendly containers. If freezing a chunk of ham, wrap it well with plastic wrap and place inside a ziptop bag.

To use: add to recipe from frozen or thaw briefly on counter or in the fridge.
Notes
Frozen ham will be safe indefinitely if kept at below zero degrees, but after 2-3 months, the will start to diminish. Since home freezers are not as consistent and reliable as commercial freezers, try to use your frozen ham within 1-2 months.
Ham is delicious in pizzas, salads, pasta dishes, and on charcuterie boards.
Nutrition
Calories:
276
kcal
|
Protein:
24
g
|
Fat:
19
g
|
Saturated Fat:
7
g
|
Polyunsaturated Fat:
2
g
|
Monounsaturated Fat:
9
g
|
Cholesterol:
70
mg
|
Sodium:
1346
mg
|
Potassium:
324
mg
|
Calcium:
8
mg
|
Iron:
1
mg
Tried this recipe?
Tell us what you think! Your reviews help us develop better recipes and give newcomers the confidence to try your favorites. Scroll down to leave a starred comment.