Ham and eggs are a natural pair, especially in a sandwich-style salad featuring green garlic, spicy brown mustard, and crunchy celery.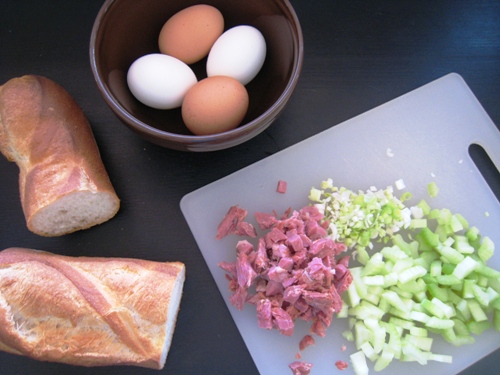 Ours is a house where hard cooked eggs disappear in the blink of an eye. Ours is also the house where we only dye a dozen or so at Easter, if we even get around to it.
Eggs don't languish at our house. Today I decided to experiment with the Easter leftovers, creating a tasty sandwich spread. You've probably heard of it before. It's not all that fancy or new, but it is pretty yummy.
My "regular egg salad" is usually eggs, mayo, mustard, and celery. The little twists that I added to this salad were chopped ham, spicy brown mustard, and green garlic. Green garlic is young garlic that looks much like a scallion or green onion. If you can't find it feel free to use garlic or green onion instead.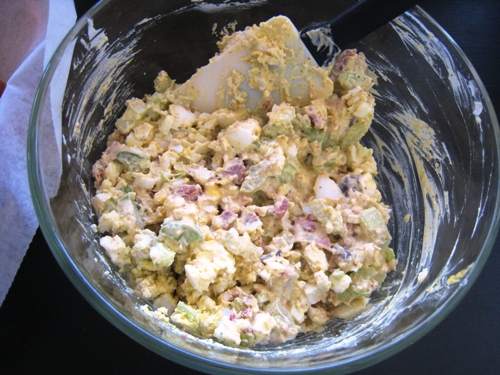 I know. Egg salad isn't super photogenic. Don't be judging. It's pretty tasty.
Recipe: Ham and Egg Salad
Ingredients
4 hard cooked eggs, peeled
1/2 cup diced ham
2 ribs celery, chopped
1/4 cup mayonnaise
1 tablespoon spicy brown mustard
1 1/2 teaspoons chopped green garlic or 1/2 teaspoon chopped garlic and 1 teaspoon chopped scallion
salt and pepper to taste
Instructions
In a medium bowl, mash the eggs with a potato masher until desired consistency.
Add ham, celery, mayonnaise, mustard, and garlic. Stir gently to combine.
Season to taste with salt and pepper.
Serve on lettuce leaves or in a sandwich.
Preparation time: 5 minute(s)
Number of servings (yield): 4
I served this salad on a baguette which was actually a bad decision. The baguette was a little too tough to make it a pleasurable experience. Serve this salad on soft sandwich bread or a soft roll.