Making your own mayonnaise isn't that hard. And it's a great way to control the ingredients you eat.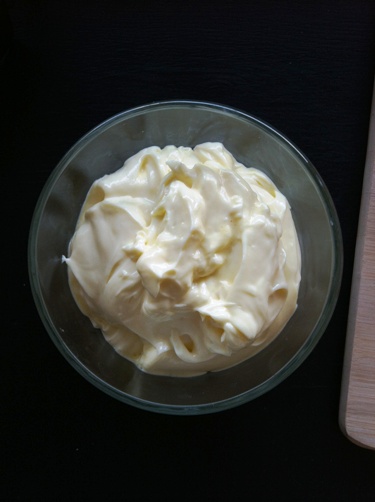 I never in a million years thought that I would make my own mayonnaise. I had heard that it was difficult. And it sounded a little scary.
But then I did some food research and decided that soy was something I wanted to avoid in my kitchen. Unfortunately, my very favorite mayonnaise (Best Foods, aka Hellmann's) in the whole wide world is made with soy. What's a girl to do?
I could find a commercial, soy-free mayo that I liked or learn to make it myself. The first part is practically impossible. If it doesn't have soy, it has extra sweeteners. So, I took the plunge.
I got lots of coaching from Mandi and from Shaina. Both have been the lucky recipients of fevered texts and emails, some sent from the middle of Walmart, while I try to figure this mayonnaise thing out.
I tried four different recipes (whole egg, olive oil only, egg yolk, etc) and two different methods (immersion blender and food processor). What I landed on has become spot-on, tasty, and easy. In fact, I made two batches this past weekend!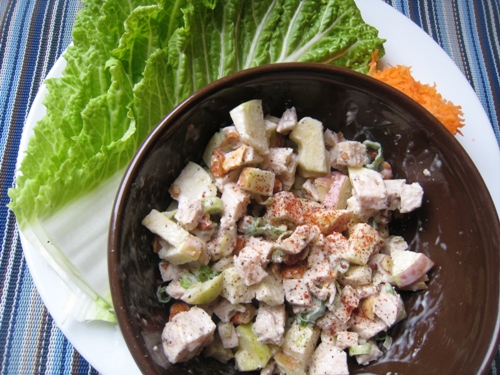 I followed the proportions similar to those that Shaina suggests in her Sriracha-Lime Mayo, but I've settled on the food processor as my go-to gadget. The immersion blender experience was rife with user error. The food processor is in my wheel house for this.
I used pasteurized eggs for this. I found them on sale at Sprouts this week. This makes me feel "on the safe side", but you can use regular eggs, too, just make sure they are very fresh. I also found that using a blend of light olive oil and sunflower oil gave it a milder taste than straight olive which I'd tried a few times.
We've used this basic mayonnaise on sandwiches, in potato salad, in chicken salad, and in Yogurt-Dill Dressing. And you can bet I'll be using it in caesar salad soon. So, so good!
Making homemade mayo doesn't have to be tricky — and it can enable you to eat the way you want to!
Recipe: Basic Homemade Mayonnaise
Ingredients
1 pasteurized egg yolk
2 teaspoons lemon juice
2 teaspoons white wine vinegar
1/4 teaspoon fine sea salt
1/2 cup light olive oil
1/4 cup sunflower oil (use more light olive oil for Whole 30)
Instructions
In a food processor bowl fitted with a metal blade, place the egg yolk, lemon juice, white wine vinegar, and sea salt. Turn the food processor on and blend well.
Combine the oils in a glass measuring cup.
While the food processor is running, add the oils in a very thin stream until an emulsion is formed and the mixture thickens.
Scrape down the sides of the bowl and mix this liquid in.
Spoon the mayonnaise into a glass jar. Store, covered, in the fridge for about 5 days.
Preparation time: 15 minute(s)
Number of servings (yield): 1 cup