With Greek yogurt, mayonnaise, dill weed, dill relish, and a handful of spices, you can make a fresher-tasting and nutritious tartar sauce for fish and shrimp.
Jump to:
Last spring I started experimenting with tartar sauce. I knew homemade was the best, based on my pub tours of England, but I wanted to feel a little virtuous when I slathered the sauce onto my fish or dipped in my chips.
I decided to add Greek yogurt to what is typically a mayo-based sauce, and man, am I so glad I did!
This Greek yogurt tartar sauce is packed with flavor and even a bit of protein to make all my fish and chip dreams come true.
The secret is in the sauce, and when that sauce is actually nutritious, well, load it on! Believe it or not, there are tons of sauce recipes you can make yourself.
What is tartar sauce?
Tartar sauce is a sauce of mayonnaise mixed with capers, cornichons (dill pickled cucumbers), onions or shallots, olives, lemon juice or vinegar, and seasonings. It's a traditional accompaniment to fried fish, but is delicious on potatoes and other vegetables.
I've simplified the concoction by omitting the capers (too expensive) and substituting dill pickle relish (not sweet!) since it's a cheaper alternative to chopping whole pickles. The addition of Greek yogurt adds the tang that vinegar or lemon juice would give. And onion and garlic powders are a much quicker fix than chopping onions or shallots.
Serving suggestions
This tartar sauce is fantastic served alongside grilled or fried fish or shrimp and is super good on potatoes and vegetables.
Season your fish with Warm & Spicy Fish Rub prior to cooking it. Then serve it alongside Roast Potatoes and Garlic Green Beans for a super simply yet uber-tasty dinner.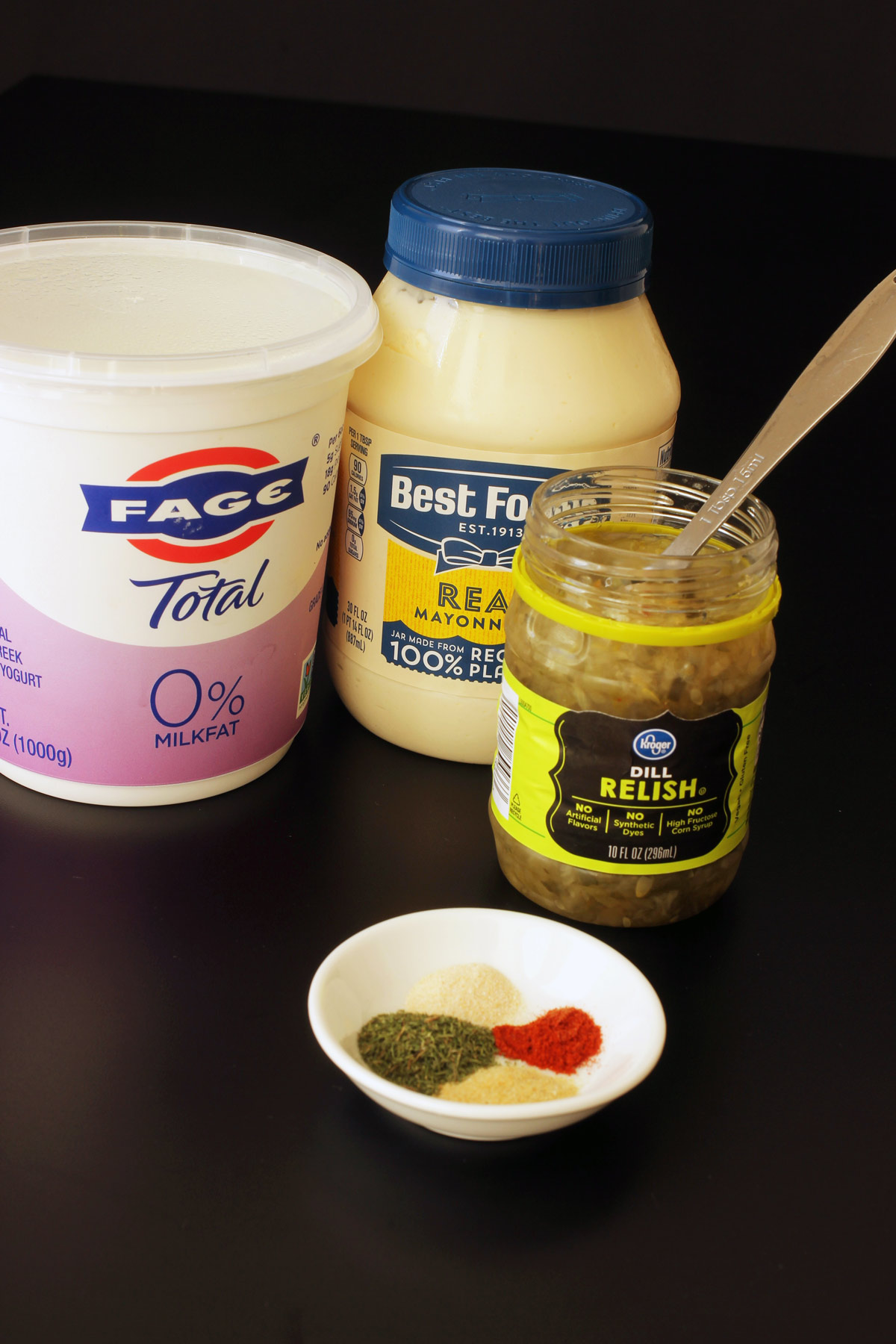 Ingredients
The ingredients for this homemade tartar sauce are typical grocery staples, making this recipe a very quick and easy fix.
Greek yogurt – You can use any brand of plain greek yogurt with any fat content you like. The higher the fat content, the richer the flavor will be.
mayonnaise – I prefer homemade mayonnaise or Best Foods/Hellmans. Use what you like.
dill relish – Do make sure this is dill relish and NOT sweet relish. You can chop your own dill pickles, but I find it easier to buy chopped pickles (aka relish) in the jar. My kids like making their own burger sauce, so we go through this pretty quickly. If you don't think you'll use it up, but you like pickles, then chop your own. You'll waste less that way.
dill – Dill is a fantastic flavor combo with fish, so don't skimp on this. I usually use dried dill weed, but you can absolutely use fresh. If you've got fresh, be sure to use 1 1/2 teaspoons of fresh instead of the 1/2 teaspoon dried.
garlic powder – This is a great flavor to add to the sauce. If you have fresh garlic, go ahead and use 1 small clove. You can also use roasted garlic for a slightly different, buy equally delicious addition to the sauce.
onion powder – I buy onion powder in bulk to use in my sauces and spice mixes. It's an easy way to add onion flavor. You can use chopped green onion or minced white onion if you prefer, about 1 teaspoon if you like.
smoked paprika – This adds amazing flavor. You don't need a lot. If you only have sweet paprika, that's fine as well.
Instructions
This sauce is so simple to make! Measure out your ingredients and mix it all together.
Note: I've written the recipe to account for half yogurt to half mayonnaise as I find that proportion to be a good starting point for taste and texture. There's wiggle room here so feel free to use more of one and less than the other.
Make-ahead instructions
The sauce is good in the fridge, stored in a covered container, for up to 4 days. Liquid may rise to the top, either from the whey in the yogurt or liquid from the dill relish. Just stir this back in prior to serving.
I love cooking extra fish and veggies for easy lunch preps.
Recipe costs
Knowing how much it costs you to prepare a recipe can help you decide if it's the type of recipe to make regularly or one you might want to save for special occasions. Let's crunch some numbers and see how this recipe pencils out.
Greek yogurt – $0.15
mayonnaise – $0.20
dill relish – $0.12
dill – $0.18
garlic powder – $0.02
onion powder – $0.06
smoked paprika – $0.02
This recipe ends up costing 75 cents per half cup or 8 oz. Commercial tartar sauce starts at $2.39 for 12 ounces. Not only does homemade taste better but it's also cheaper!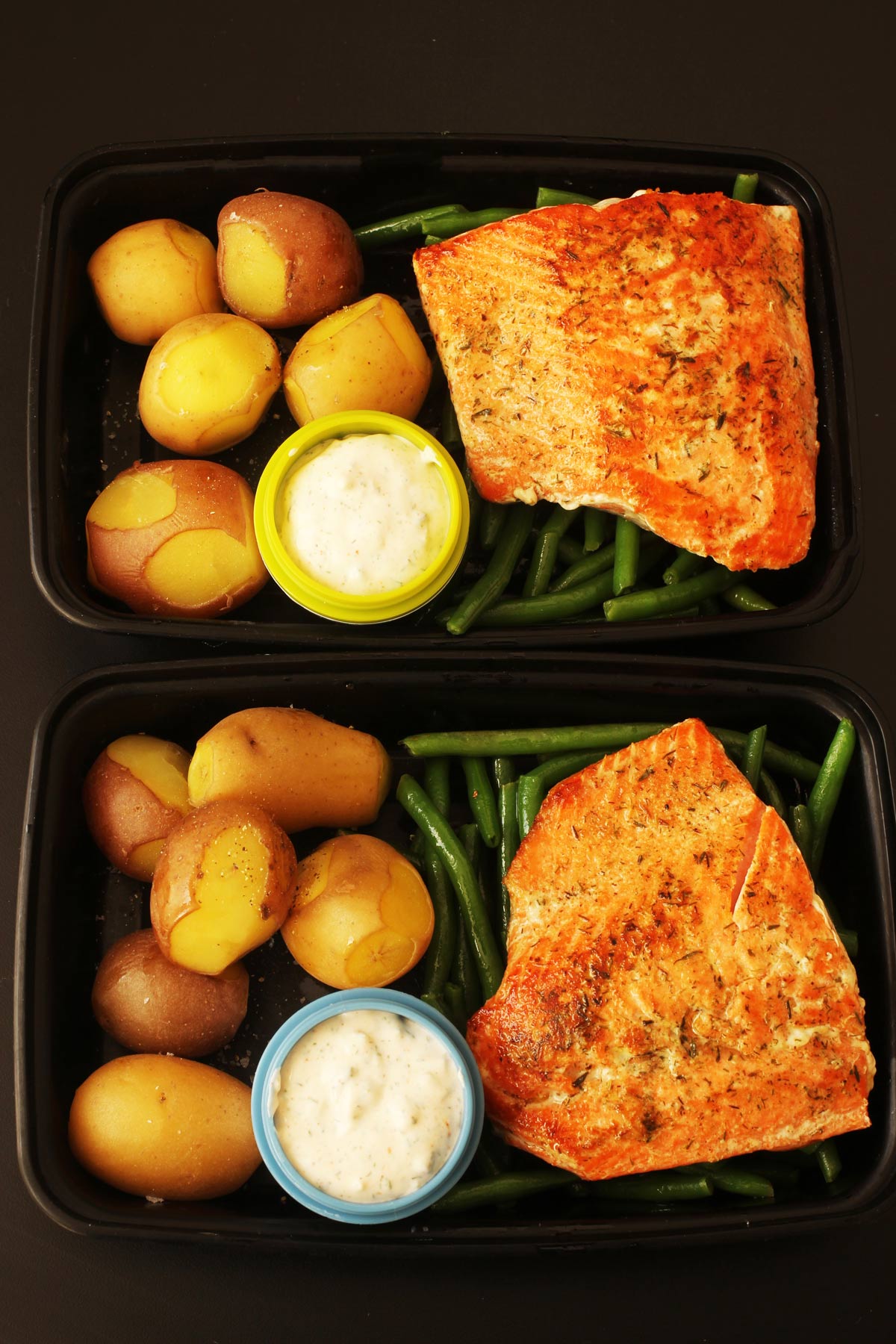 How to save more
You can get the price of this recipe down even more when you work the Good Cheap Eats System. Already it's proven itself that cooking from scratch is a winning strategy when it comes to tartar sauce.
Shop the pantry first – Use what you have. There are any number of herbs and spices you could try in this recipe if you're missing one or two.
Plan your meals – One way that meal planning can benefit you with this recipe is to plan meals that use common ingredients so that you can avoid food waste.
Make a plan for leftovers – Be sure to use up leftover sauce as well as ingredients you purchased to make the sauce.
Visit the store with the best prices – Shopping at Whole Foods will likely result in a higher cost than shopping someplace like Walmart or ALDI.
Shop the sales and clearance – Yogurt, mayo, dill, and relish are the higher cost ingredients. If you can find these at lower prices, you'll lower the cost of the overall recipe.
Kitchen equipment
This recipe really couldn't be easier than it is, but having the right kitchen tools can really make your time in the kitchen more enjoyable. Over time, I've honed my collection so that they are perfect for my needs.
I rely on a supply of mason jars with plastic lids for storing my homemade dip and sauces. This makes it easy to prep ahead and/or store leftovers in the fridge.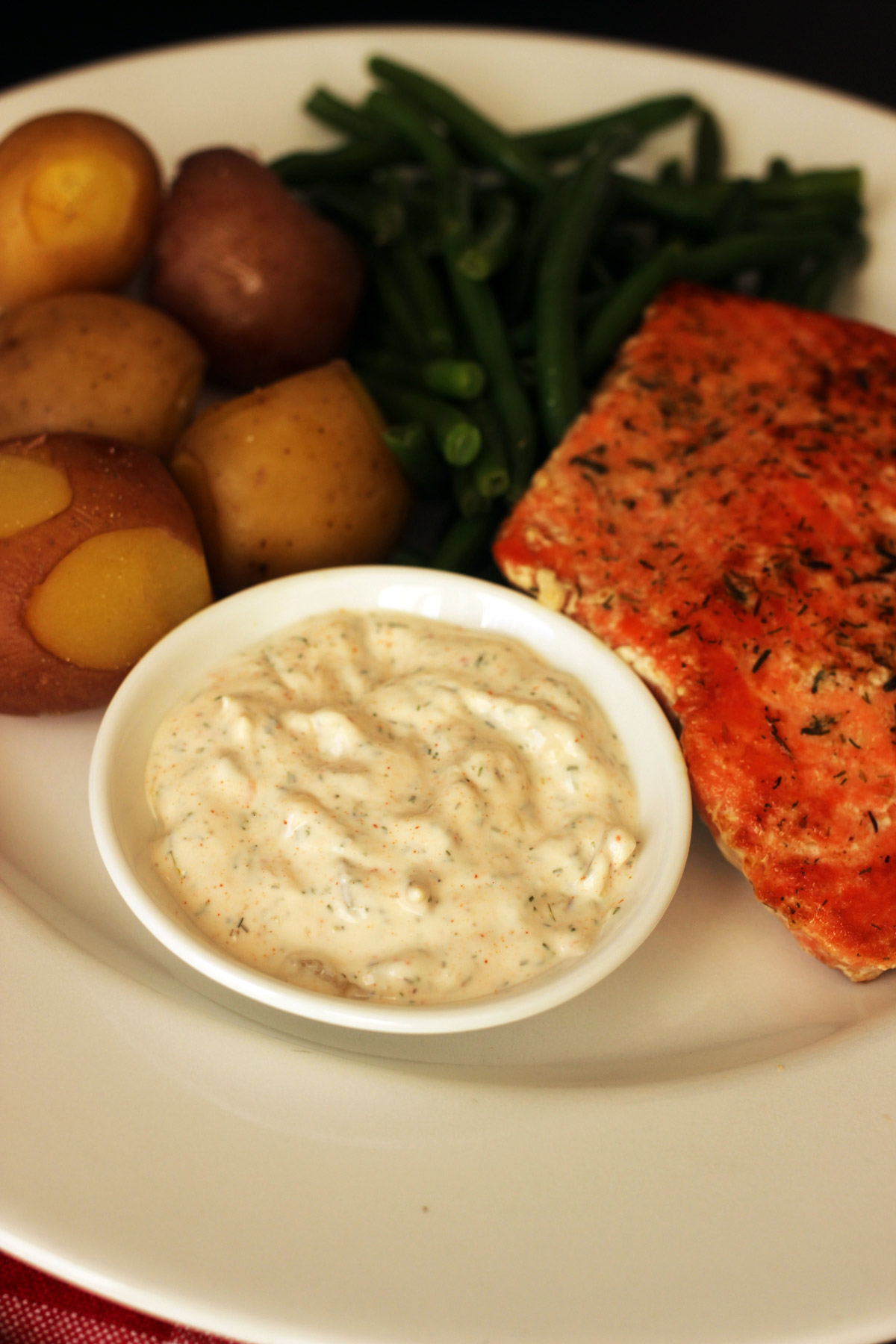 Greek Yogurt Tartar Sauce Recipe
With Greek yogurt, mayonnaise, dill weed, dill relish, and a handful of spices, you can make a fresher-tasting and nutritious tartar sauce for fish and shrimp.
Ingredients
1/4

cup

Greek yogurt

or more to taste

1/4

cup

mayonnaise

2

tbsp

chopped dill pickles

or dill relish

1/2

tsp

dried dill

1/4

tsp

garlic powder

1/4

tsp

onion powder

1/4

tsp

smoked paprika
Instructions
In a small mixing bowl, combine all ingredients. Taste and adjust seasonings to your preference.
Notes
Adjust proportions of Greek yogurt to mayonnaise to suit your preferences. Since the yogurt is more tart than the mayonnaise, start with half and half and experiment.
Promptly store leftovers in an airtight container in the refrigerator, for up to 3 days.
Nutritional values are approximate and based on 1 tablespoon.
Nutrition
Calories:
56
kcal
|
Carbohydrates:
1
g
|
Protein:
1
g
|
Fat:
5
g
|
Saturated Fat:
1
g
|
Trans Fat:
1
g
|
Cholesterol:
3
mg
|
Sodium:
88
mg
|
Potassium:
18
mg
|
Fiber:
1
g
|
Sugar:
1
g
|
Vitamin A:
46
IU
|
Vitamin C:
1
mg
|
Calcium:
9
mg
|
Iron:
1
mg