This recipe for Dill Dip is super simple to make with sour cream and a few spice cupboard staples: dried dill, onion flakes, garlic powder, parsley flakes, onion powder, and black pepper.
Delicious to serve with a Veggie Tray, this dip is also tasty for dipping Roast Potatoes or Sweet Potato Fries, a great alternative to commercial sour cream dip.
Jump to:
We are big dippers around here. Are you?
Whether it's hummus, salsa, or homemade sour cream dip like this onion dip, dipping veggies, crackers, or chips into a homemade dip makes for delicious snacking. The carrot stick, butter cracker, or potato chip can serve as a vehicle for all kinds of deliciousness.
While there are plenty of commercial dips on the market, making your own homemade dill dip is the absolute best.
It's really just as simple, if not simpler, than buying a packaged mix. It tastes better, AND it's so much more affordable.
Ingredients
This recipe for dill dip is made from just a handful of ingredients. Here's what you'll need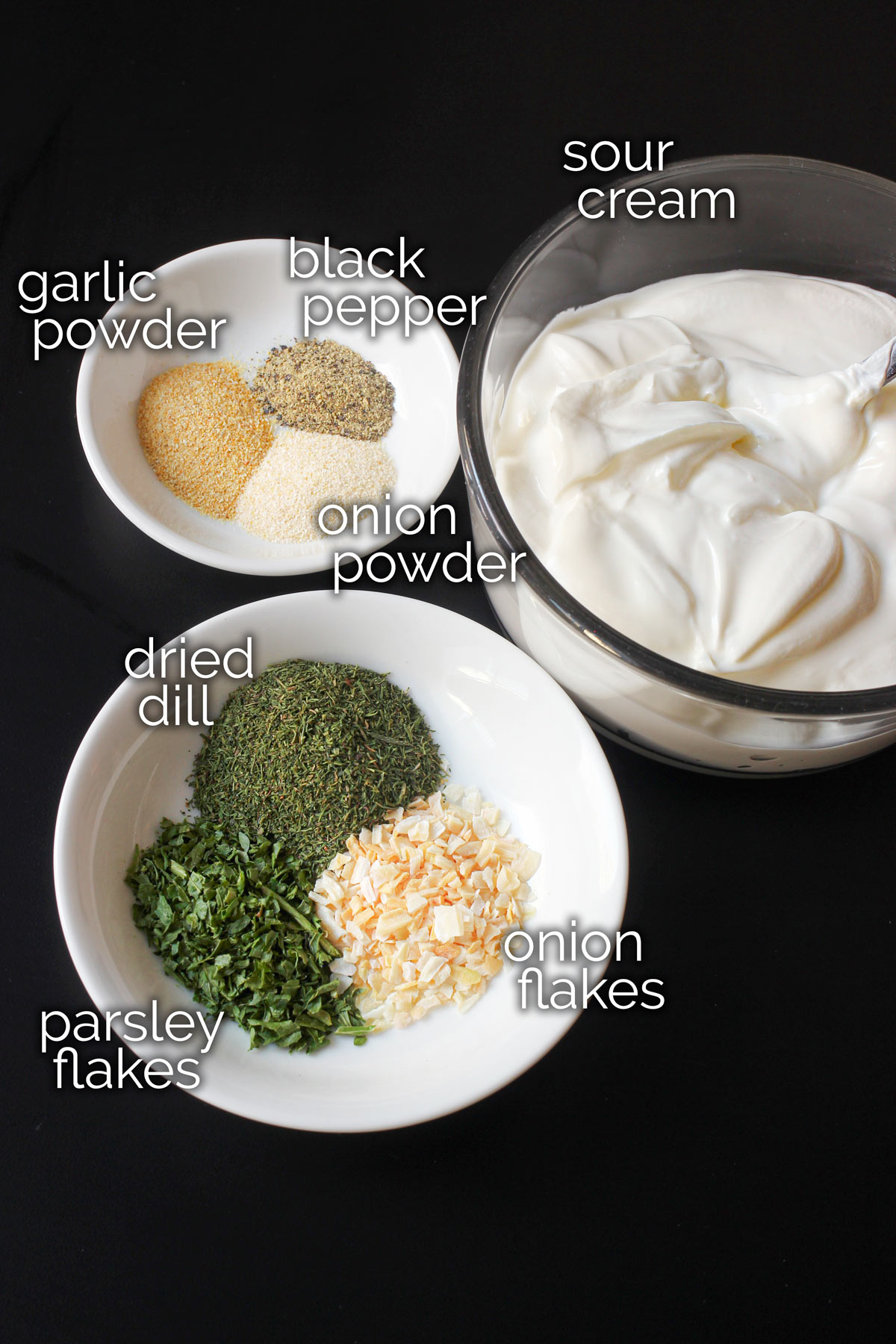 sour cream – Sour cream is a common base for dips. You can also use mayonnaise, Greek yogurt, or a combination of any of the three.
the dill dip mix – the spice mix includes onion flakes, dried dill, parsley flakes, garlic powder, onion powder, and black pepper.
Step-by-Step Instructions
Dill dip is super simple to make. Place the sour cream in a small mixing bowl. Add the herbs and spices. Stir well to combine. Refrigerate until ready to serve.
For best texture, make the dip at least 30 minutes before serving. This will allow the herbs and spices time to rehydrate and for the flavors to meld.
Make-ahead Instructions
While prepared dip is only good for a few days, you can save time in the prep stages by making a homemade dip mix.
Simply combine all the dry ingredients in a small plastic container or snack bag and store it in a cool dry place. Be sure to label the bag with directions for preparing the dip.
Remember that commercial dip mixes contain preservatives and anti-caking agents. This homemade dip mix will not last forever, but it will taste so much better!
Date the homemade dip packet so that you can be sure to use it up within a few months for best taste and texture.
I don't recommend using fresh dill when making this as a mix.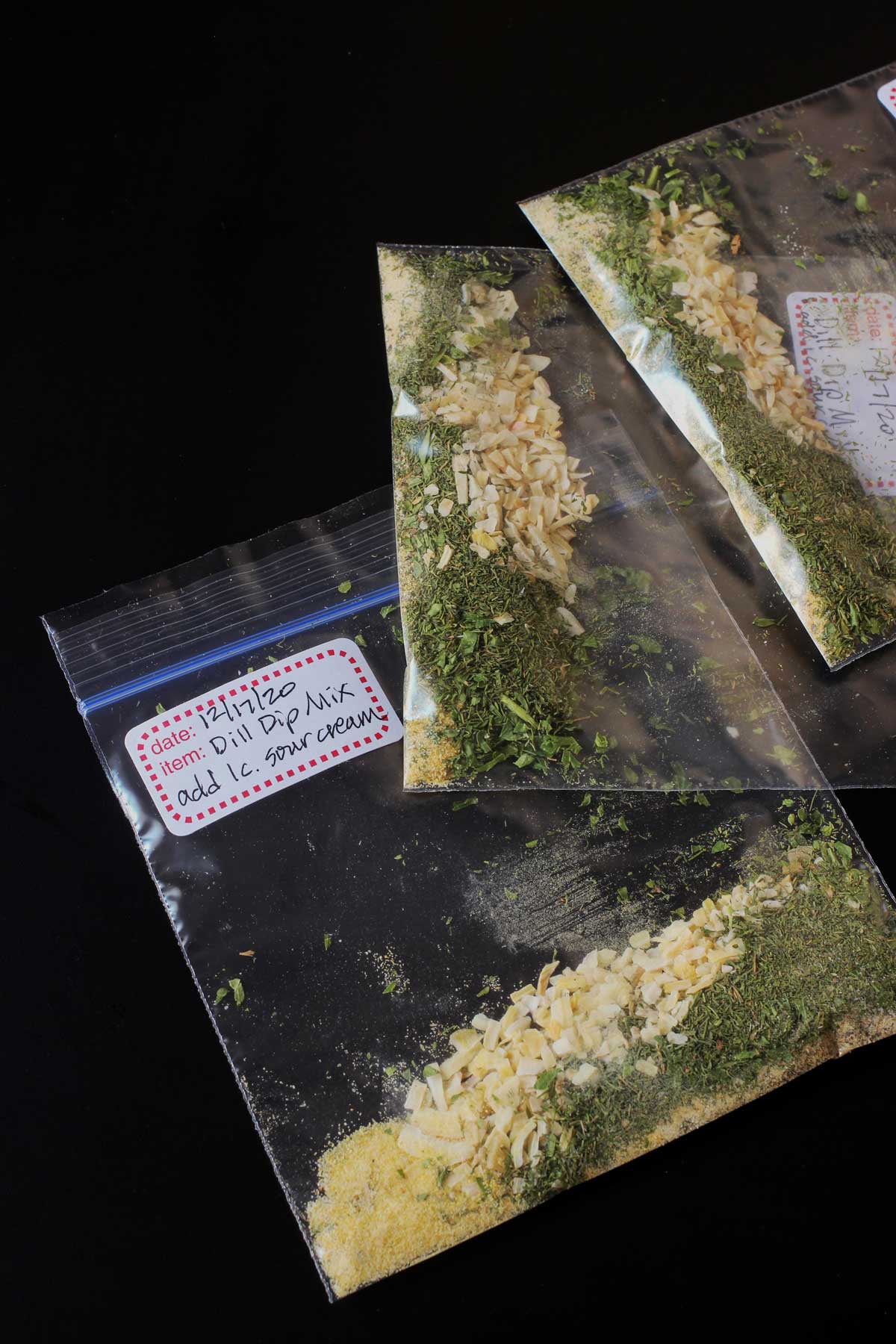 Serving Suggestions
Serve the dip in a pretty dish alongside platters of veggie dippers, chips, and crackers.
Be sure to provide a spoon for serving so that folks are less likely to double dip. This keeps the dip fresh—and prevents cross contamination.
FAQs
Can I use something besides sour cream?
While sour cream creates a rich and creamy dip, you can also use mayonnaise or Greek yogurt for part or all of the sour cream. If you'd like a thinner dip or dill dressing, you can adjust the consistency by whisking in buttermilk.
Can I use fresh dill instead of dried?
Dried dill tends to be the most economical, but if you grow your own dill weed or find it at a great price, it's a delicious upgrade.
Typically in recipes, you will use three times more fresh herb as you would dried herb. So, in this instance, you would use 1 1/2 tablespoons (or 4 1/2 teaspoons) of fresh dill instead of the dried.
What do you eat with dill dip?
This dill dip comes together easily and is just fantastic for dipping fresh vegetables such as carrot sticks, bell pepper, celery, and cucumber. It's delicious for dipping potato chips, tortilla chips, and crackers as well. But, don't stop there! This dill-infused sour cream is also a great sauce for grilled fish, baked potatoes, or roast potatoes.
How long does homemade dill dip last?
Homemade dill dip is good, stored in an airtight container in the refrigerator, for up to four days.
Recipe Costs
Knowing how much it costs you to prepare a recipe can help you decide if it's the type of recipe to make regularly or one you might want to save for special occasions. Let's crunch some numbers and see how this recipe pencils out.
sour cream – $1.00
dried dill – $0.54
dry onion flakes – $0.07
dry parsley flakes – $0.05
garlic powder – $0.02
onion powder – $0.06
black pepper – $0.04
Shopping at a mid-range grocery store at non-sale prices, you can expect to pay about $1.78.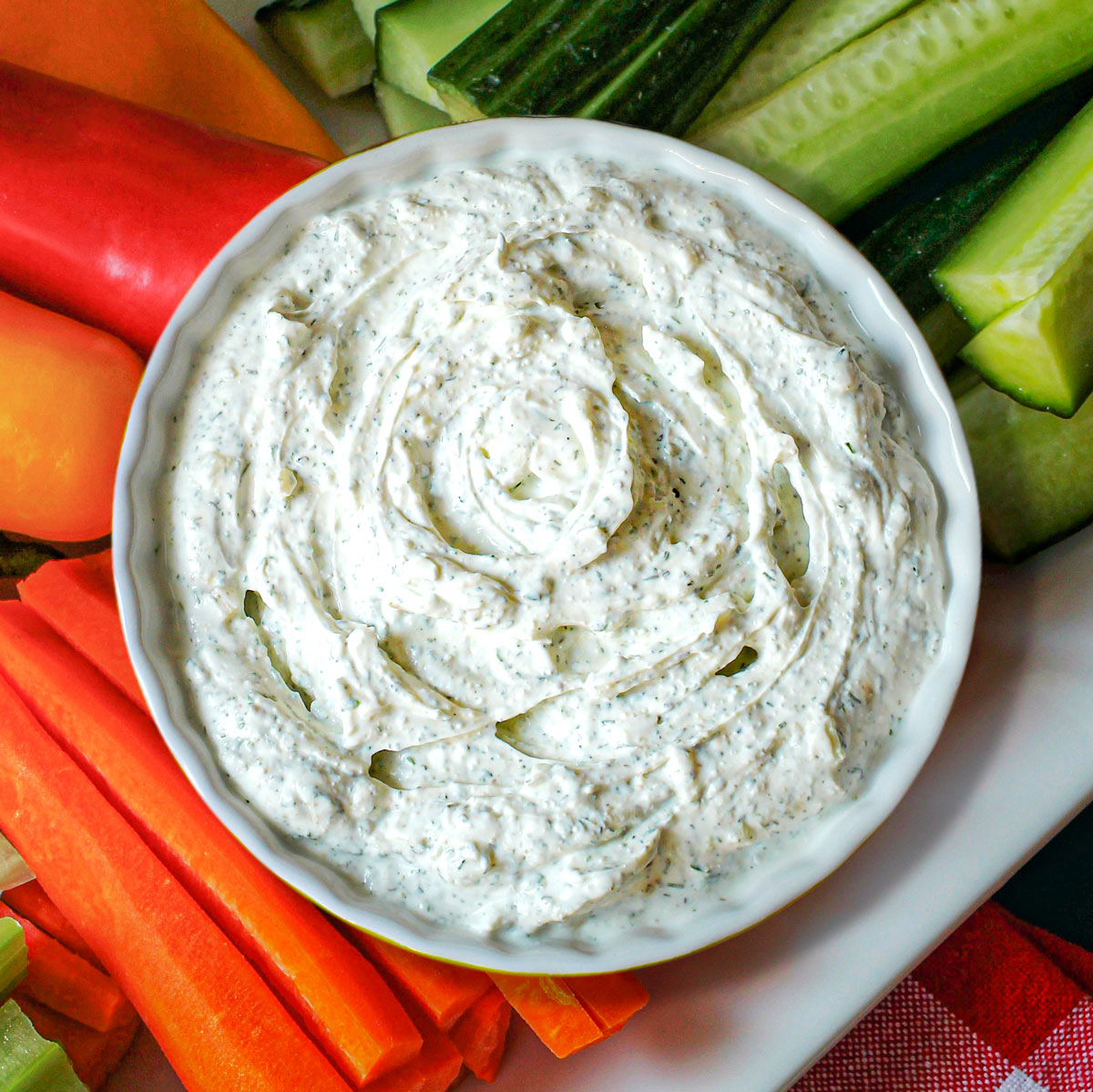 More Great Dips & Dressings
Recipe for Dill Dip
Make your own Dill Dip with sour cream and a few spice cupboard staples: dried dill, onion flakes, garlic powder, parsley flakes, onion powder, and black pepper.
Ingredients
8

oz

sour cream

1 1/2

tsp

dried dill

1

tsp

dry onion flakes

1

tsp

dry parsley flakes

1/2

tsp

garlic powder

1/2

tsp

onion powder

1/4

tsp

black pepper
Instructions
In a small mixing bowl, combine all the ingredients. Stir well and chill until ready to serve, at least 30 minutes.

Serve with chips or vegetable dippers. Can also be used as a topping for potatoes or grilled fish.
Notes
Promptly store leftovers in an airtight container in the refrigerator, for up to 4 days.
Nutritional values are approximate and based on 1 ounce of dip, about 2 tablespoons.
Serving suggestions: Dill dip is great as a dip for crudite veggies but also on cooked vegetables, baked potatoes, and cooked fish.
Nutrition
Calories:
59
kcal
|
Carbohydrates:
2
g
|
Protein:
1
g
|
Fat:
6
g
|
Saturated Fat:
3
g
|
Cholesterol:
15
mg
|
Sodium:
24
mg
|
Potassium:
56
mg
|
Fiber:
1
g
|
Sugar:
1
g
|
Vitamin A:
188
IU
|
Vitamin C:
1
mg
|
Calcium:
36
mg
|
Iron:
1
mg
This post was originally published on March 4, 2014. It has been updated for content and clarity.