Sour Cream and Onion Dip is a great appetizer to serve with chips and a Veggie Tray at holiday occasions, parties, and other get-togethers, but those mixes are just junk. Good thing you can make it homemade without any packaged soup mix!
With just four ingredients, this homemade onion dip is great paired with other appetizers such as Healthy Spinach Dip and Homemade Seven Layer Dip. Be sure to serve the leftovers on baked potatoes for a fun topping.
Jump to:
Everyone loves a good dip. Am I right? Dips make football games more exiting. Dips make backyard BBQs more fun. Dips make the world go round. Too bad the commercial varieties are full of junk.
Thankfully you don't need a dip mix. You can make sour cream and onion dip homemade!
Why Make This
It's delicious. This Sour Cream and Onion Dip makes for a great appetizer or snacky dinner component, especially when supplemented with some veggie dippers and potato chips.
It's easy. You'll be amazed at how easy it was! It takes less than five minutes to mix up.
It's more healthful than commercial dip mixes. With just four real food ingredients that are common pantry staples, you can avoid unneeded preservatives and additives.
Ingredients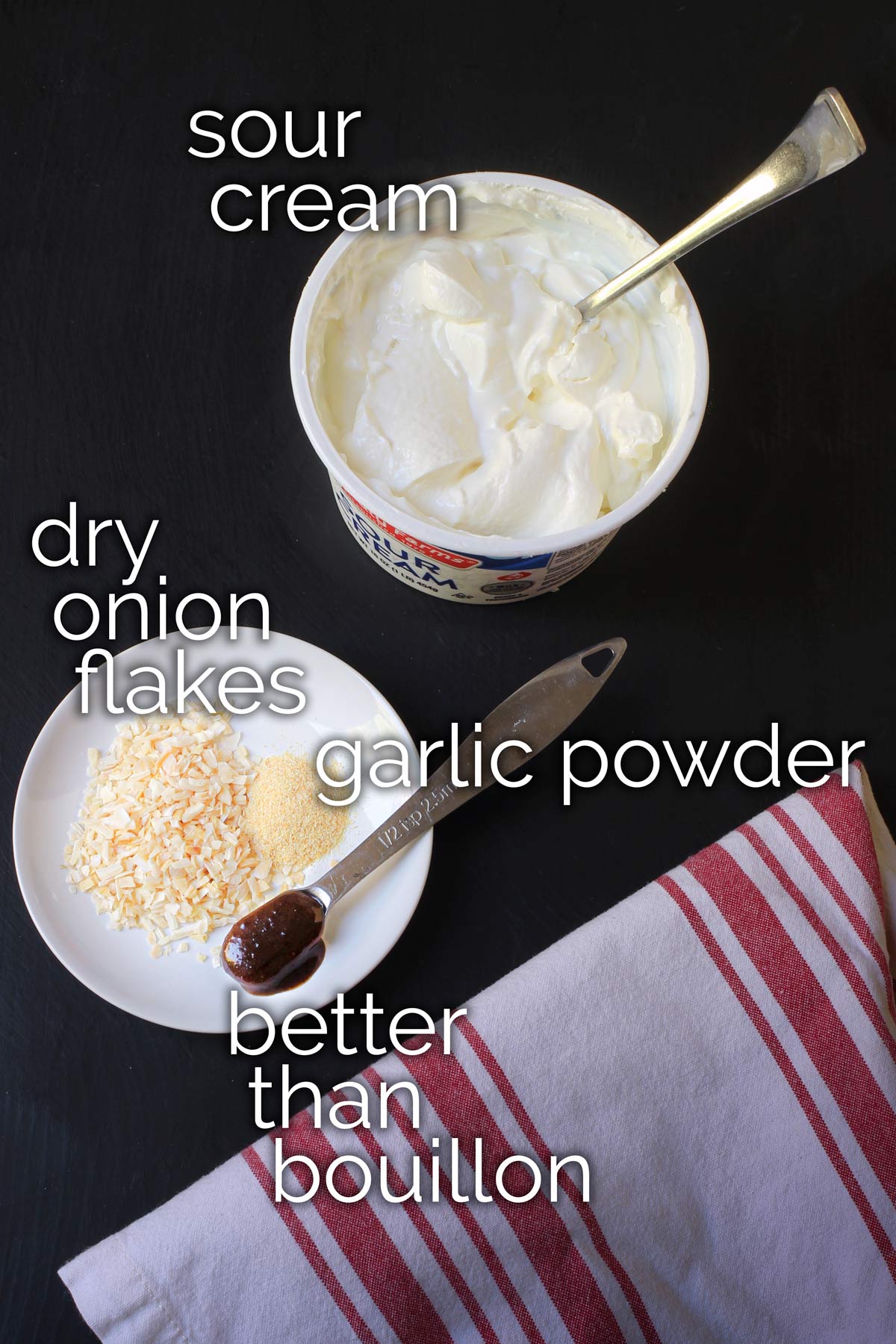 Commercially made onion dip mix or the premade kind from the deli case is typically made with a lot of ingredients, including but not limited to: onion, salt, hydrolyzed corn gluten, soy protein, wheat gluten, dextrose, yeast extract, corn maltodextrin, and spices.
Homemade Sour Cream and Onion Dip, however, is much tastier and only includes four ingredients:
sour cream – Buy whatever kind you prefer or is on sale. If you like, you can even use Greek yogurt for a higher protein version. The fuller fat Greek yogurt will be less sour than a nonfat version.
dehydrated onion flakes – Shelf stable and generally affordable, onion flakes are sold in the spice section of the grocery store. If you prefer, you can use three times as much freshly chopped green onion or chives.
garlic powder – Another cheap pantry staple, garlic powder is sold in the spice section. If you like, you can use one clove garlic, finely minced.
Better than Bouillon beef base – also known as demi glace, Better than Bouillon is a paste used to prepare beef broth. If you prefer, you can use a dry beef bouillon cube, crumbled into powder as a substitute.
Vegetarian Variation
If you prefer a meatless, vegetarian version of sour cream and onion dip, try my Homemade Onion Soup Mix as a mix in or simply substitute Vegetable Better than Bouillon for the beef flavor.
Step-by-Step Instructions
Just as there are minimal ingredients, there is also minimal prep when making homemade sour cream and onion dip. 
Combine all the ingredients into a bowl and chill the dip for about an hour before serving.
Storage
Keep this sour cream and onion dip refrigerated at all times. Food left at room temperature for longer than two hours should be discarded, so promptly refrigerate leftovers.
You can make the dip up to three days in advance of serving. It is not suitable for freezing.
FAQs
What do you eat with sour cream onion dip?
This Sour Cream and Onion dip is great served with potato chips or vegetable dippers. You can keep it simple and buy some chips or make your own homemade potato chips. Onion dip is also delicious with french fries and baked potatoes!
How long does sour cream onion dip last?
Prepared food is good in the fridge, covered, for up to 4 days. Since this is a dip that might tempt double-dipping, consider serving it in single-serve cups or provide a spoon so folks can dish out a bit on their plates. This is better food safety and it will help your dip stay good longer.
Can you freeze sour cream and onion dip?
Sour cream is not suitable for freezing on its own. When mixed in casseroles, it typically does okay, but on its own, as in dip, it does not thaw well after freezing.
Recipe Costs
Knowing how much it costs you to prepare a recipe can help you decide if it's the type of recipe to make regularly or one you might want to save for special occasions. Let's crunch some numbers and see how this recipe pencils out.
sour cream $0.99
beef base $0.13
onion flakes $0.29
garlic powder $0.02
Shopping at a mid-range grocery store at non-sale prices, you can expect to pay $1.43 per batch for homemade sour cream and onion dip.
Made with high quality ingredients, this homemade version is guaranteed to taste better than the cheap dips and mixes you might buy at the store. (Similar style dips will range from $2.48 to $3.99 at the same store.)
How to Save Even More
All of my recipes are affordable to begin with but there are some things you can do to make sure you're spending well. Here are some of the strategies you can use to make this recipe more economical: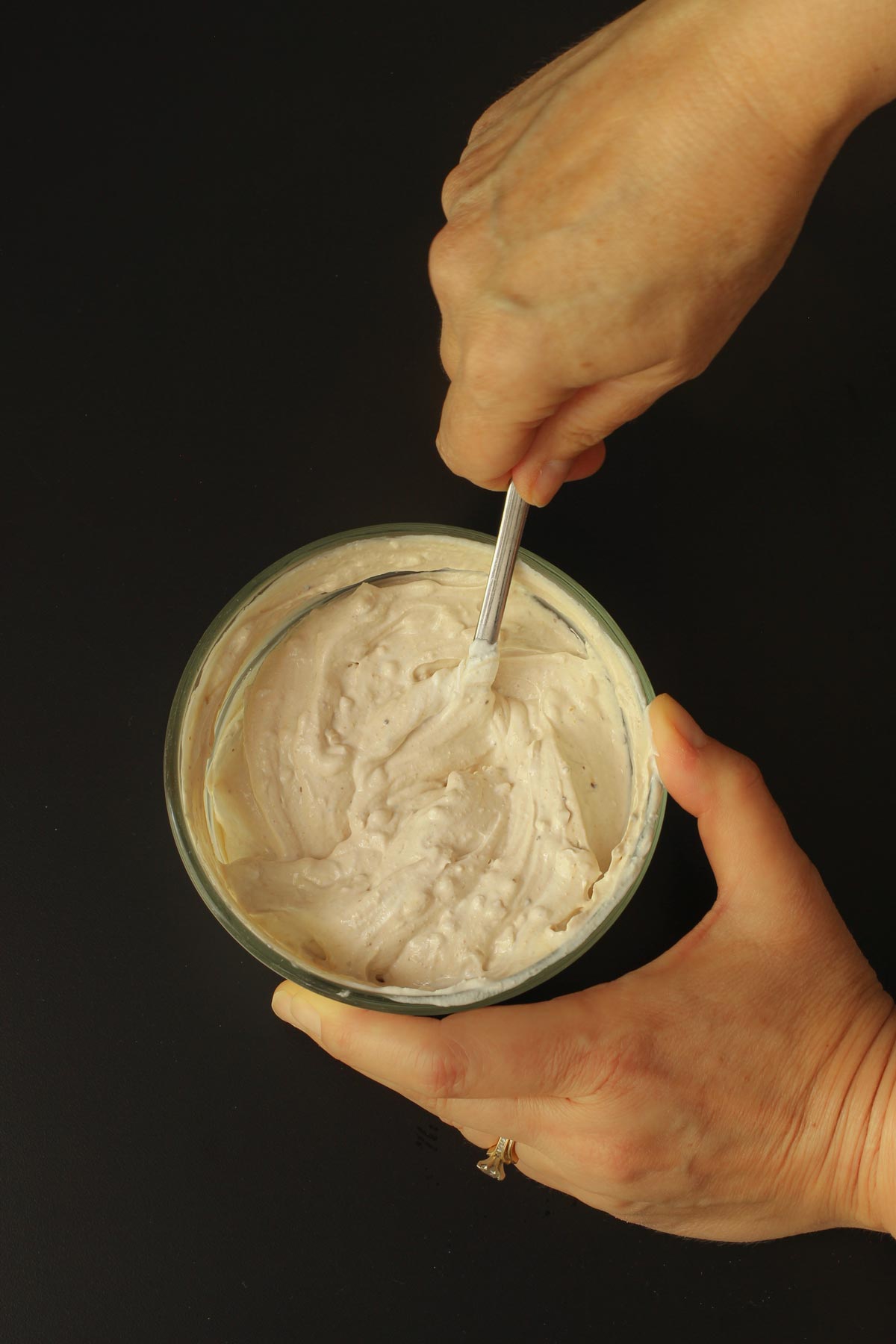 More Great Dips You Can Make Yourself
Sour Cream Onion Dip
This recipe will help you make Sour Cream Onion Dip easy and without any packaged soup mix. It's perfect for snacking!
Ingredients
1

cup

sour cream

1

tablespoon

dry onion flakes

½

teaspoon

garlic powder

½

teaspoon

Better Than Bouillion beef base
Instructions
In a small bowl, combine all ingredients. Chill for one hour.

Serve with chips and veggie dippers, or on baked potatoes or french fries.
Notes
This dip is good in the fridge, covered, for up to 4 days. Promptly refrigerate leftovers. Food that has been at room temperature for longer than 2 hours should not be eaten.
Variations: feel free to add other spices and herbs or to swap the dried garlic and onion for fresh. Use three times the amount of fresh as would dried.
Nutrition
Calories:
468
kcal
|
Carbohydrates:
12
g
|
Protein:
6
g
|
Fat:
45
g
|
Saturated Fat:
26
g
|
Cholesterol:
120
mg
|
Sodium:
426
mg
|
Potassium:
405
mg
|
Fiber:
1
g
|
Sugar:
9
g
|
Vitamin A:
1435
IU
|
Vitamin C:
5.9
mg
|
Calcium:
266
mg
|
Iron:
0.4
mg
This post was originally published January 1, 2011. It has been updated for content and clarity.