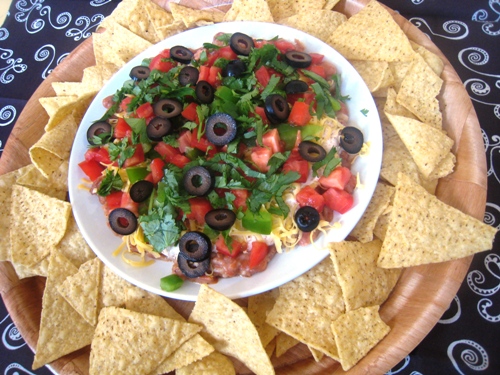 Thanksgiving is coming! A peek at the grocery fliers tells me it's true. I love Thanksgiving. It just might be my favorite holiday.
Remember, I'm just here for the food.
Last year I caused quite a stir with some of you when I suggested omitting the turkey from our Thanksgiving celebration. Well, I've been musing that thought again this morning. And I think I'm gonna do it.
[Gasps heard round the world.]
Don't get me wrong. I may still stock up on sale birds since it's such a great deal on poultry. But honestly? Dealing with a huge turkey on Thanksgiving Day just makes me grumpy. Last year hubs and I discussed doing tri-tip instead, but today I'm leaning toward chicken. It's affordable and still goes with all the trimmings that we love: stuffing, mashed potatoes, gravy, and cranberry sauce.
Alternatively, I might just cook a turkey in advance and freeze it. I dunno. The jury's still out. Anywho….
This month on URS we'll be waltzing through the Thanksgiving meal, swapping ideas for the other courses. You're free to debate the turkey v. no turkey question in the comments section.
This week, let's start with starters. I love to have a variety of hors d'oeurves available on Thanksgiving so that if my meal is late, as it's apt to be, my people aren't starving. Or whining.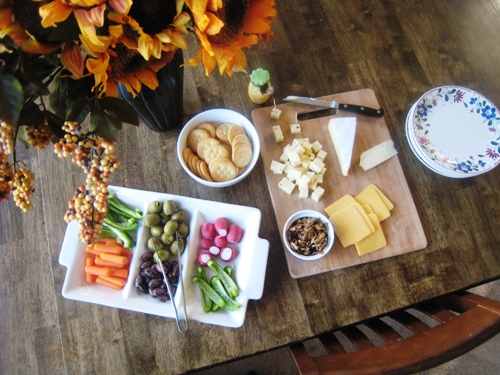 This typically includes a relish tray, a veggie assortment, nuts, and maybe some cheese and crackers. If we have a crowd, I might add my Healthier Spinach Dip.
One dish that my mom often included in her Thanksgiving spread was Traveling Taco. I have no idea why she called it this; you might have heard it called Seven Layer Dip. I loved this dip growing up.
Usually we made it with processed bean dip, packaged taco seasoning, canned salsa…. you get the picture. It was a highly processed, if not convenient appetizer to make and to share at a pot luck.
I decided to give Ye Olde Seven Layer Dip a make-over by making it as unprocessed as I could, but still make it easy. You gotta have easy if you're a mom and it's Thanksgiving.
It's the law.
I think you'll be surprised at how yummy the healthy version is. Feel free to use all Greek yogurt or all sour cream if you prefer. You'll need to mix up a batch of my taco seasoning mix and do a little mashing and stirring. But, you had to do that with the traditional recipe, too.
Funny. Remember last week when I shared my Stovetop Mac and Cheese? That's not any harder to make than the boxed variety! Neither is this. This definitely has me rethinking the "convenience" of the box.
Recipe: Really Homemade Seven Layer Dip
Ingredients
2 cups cooked pinto beans or one 15-ounce can pinto beans
1 tablespoon plus 1 teaspoon homemade taco seasoning mix
1/4 cup sour cream
1/4 cup greek yogurt
1/2 cup shredded cheddar cheese
1 small tomato, diced
1/4 cup diced bell pepper and chopped jalapeno pepper (adjust proportions to taste)
3 tablespoons chopped cilantro
2 tablespoons sliced black olives
Instructions
In a small bowl, mash the beans until only a few chunks remain. Stir in 1 teaspoon of the taco seasoning mix.
In another small bowl, combine the sour cream, greek yogurt, and remaining tablespoon taco seasoning.
On a small plate, spread the beans almost to the edge.
Spread the sour cream mixture over the beans.
Sprinkle the cheese over the sour cream. Continue sprinkling the remaining layers, peppers, olives, and cilantro.
Serve with tortilla chips.
Preparation time: 10 minute(s)
Number of servings (yield): 8