Cooking pinto beans from scratch is a great way to enjoy beans as a side dish or as a meatless main dish. They are so much cheaper than canned beans.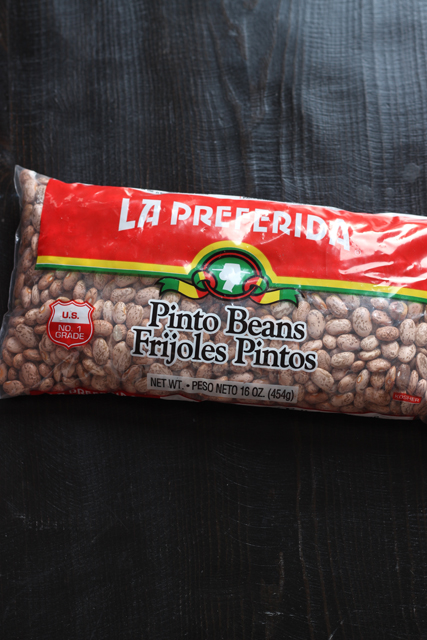 Since both my husband and I grew up in Southern California, Mexican food is a cuisine that is near and dear to our hearts. I serve it for dinner at least 2-3 times per week.
Making my own beans (as opposed to buying canned) is a great way for me to feed our growing family and stay under budget. Years ago I tried it, but we didn't really like it. I could never get the beans tender enough.
What do pinto beans taste like?
Pinto beans are similar to a light colored kidney bean if you have had those. They are described as earthy, nutty, and are creamy in texture.
Are pinto beans and kidney beans the same thing?
Pinto beans pink in color, and the staple bean in Mexican cooking, and the preferred bean in refried beans. Whereas kidney beans, primarily used in chilis, are large and have a general kidney shape to them.
Cooking pinto beans from scratch
But, desperate times call for desperate measures. It was time I learned everything I needed to know about beans. When I could no longer buy canned beans for a good price (<$0.50), I tried to make my own again. And it's working! The trick has been to cook them long and to season them well. Soaking them for a long time and cooking them in the slow cooker seems to help them get tender and less gassy.
Plus, cooking them myself is proving to be much cheaper than fifty cents a can. The bag pictured cost $6.39 at Costco. At $0.64/# I can make the equivalent of 4 cans of beans for a lot less money.
Here's how to make a pot of beans yourself. It's best if you start the night before.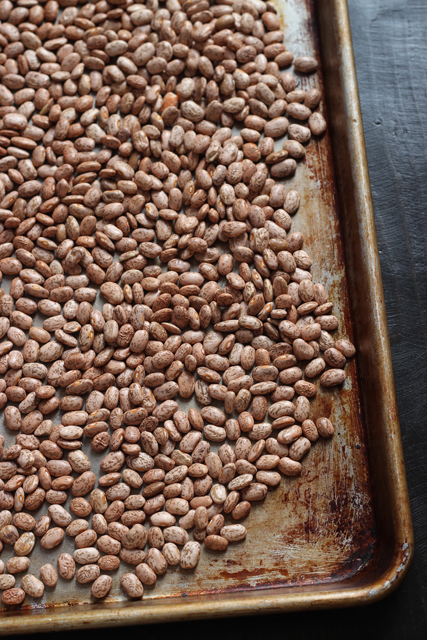 Sort the pinto beans.
Sort through the dry beans to make sure there are no stones mixed in. I also like to pick out any broken beans or those whose skins are broken. In my experience the smoother beans cook and taste better, but it's been a little tough to find really fresh beans, those that are dried, but not so much that their skins have started to whither. Sometimes, you just have to go with it.
It's easiest to lay the beans out on a cookie sheet and remove those that aren't smooth and whole.
Rinse the pinto beans.
Transfer the beans to a colander and rinse them well.
Soak the beans.
Transfer the beans to a pot or large bowl and cover them with at least two inches of water. Allow them to soak overnight, up to 24 hours. I've found that the longer soaking time prevents the cooked beans from being gassy. Drain and rinse them before cooking them.
Cook the beans.
Next I put the beans in a slow cooker or pot on the stove and allow them to cook until very soft. You want the skins to peel off when you blow on them. Scoop up some and blow. If the skins aren't tender, let them cook a little longer.
The beans will need a fair amount of salt, but sometimes adding salt at the beginning has made the beans tough, so I add the seasonings near the end of the cooking time.
I like to cook several pounds at once. Sometimes I even use two crockpots. I portion the cooked beans into two-cup containers which is basically the equivalent of one can. Cool them, chill them completely, and then stash them in the freezer to use in recipes. You'll save money and enjoy great, tasty beans.

What can I make with pinto beans?
We love these bean recipes:
Homemade Pinto Beans
Cooking pinto beans from scratch is a great way to enjoy beans as a side dish or as a meatless main dish. They are so much cheaper than canned beans.
Ingredients
1

pound

dried pinto beans

1

onion

chopped

fine sea salt and freshly ground black pepper

garlic powder
Instructions
Sort through the dried beans, removing any stones or defective beans. Rinse thoroughly. Place in a pot and cover with at least 2 inches of water. Allow to soak overnight or up to 24 hours.

The next day, rinse and place beans in a slow cooker. Add the chopped onion and enough water to cover by about an inch. Cook 8-10 hours on low or 6 on high. Stir in salt and pepper to taste.

We like to mash the beans slightly and season to taste with garlic powder.

*If you don't want to use the crockpot, or if you don't have 8 hours until serving time, you can cook them on the stovetop. Place beans, onion and water in a large stockpot. Bring to a boil. Reduce heat to a simmer and cover slightly. Stir frequently, adding water if necessary. They should be cooked in two to three hours.

To freeze: the beans can be frozen for a later date. Simply cool and divide the beans into meal size portions in airtight containers. I add some cooking liquid as well. Chill completely before freezing. To serve: thaw completely in the refrigerator. Reheat and serve.
Nutrition Facts
Homemade Pinto Beans
Amount Per Serving
Calories 270
Calories from Fat 9
% Daily Value*
Fat 1g2%
Sodium 10mg0%
Potassium 1080mg31%
Carbohydrates 49g16%
Protein 16g32%
Vitamin C 6.1mg7%
Calcium 90mg9%
Iron 3.9mg22%
* Percent Daily Values are based on a 2000 calorie diet.