Cooking pinto beans from scratch is a great way to enjoy beans as a side dish or as a meatless main dish. They are so much cheaper than canned beans.
Wanna save some money on food costs? Well, then, maybe it's time to embrace the bean.
If you read any money-saving advice when it comes to food, you're more than likely gonna hear the advice to eat more meatless meals, specifically, those that are bean-based.
Rice and beans, beans and rice — frugal, tasty, and a great dish to help you stretch your dollar.
I speak from experience. When we were getting out of debt, I served beans with dinner 2 to 3 times per week!
Since both my husband and I grew up in Southern California, Mexican food is a cuisine that is near and dear to our hearts. Eating beans on the regular wasn't a hardship.
Bonus: it helped us trim down our grocery spending — and my waistline! — without sacrificing flavor.
Beans are a fiber-filled, nutrient-rich food that can help you, too!
Cooking your own pinto beans, as opposed to buying canned, is a great way to eat well and stay under budget. Canned beans are certainly convenient, but you will save money and be able to control ingredients better if you cook your own beans from scratch.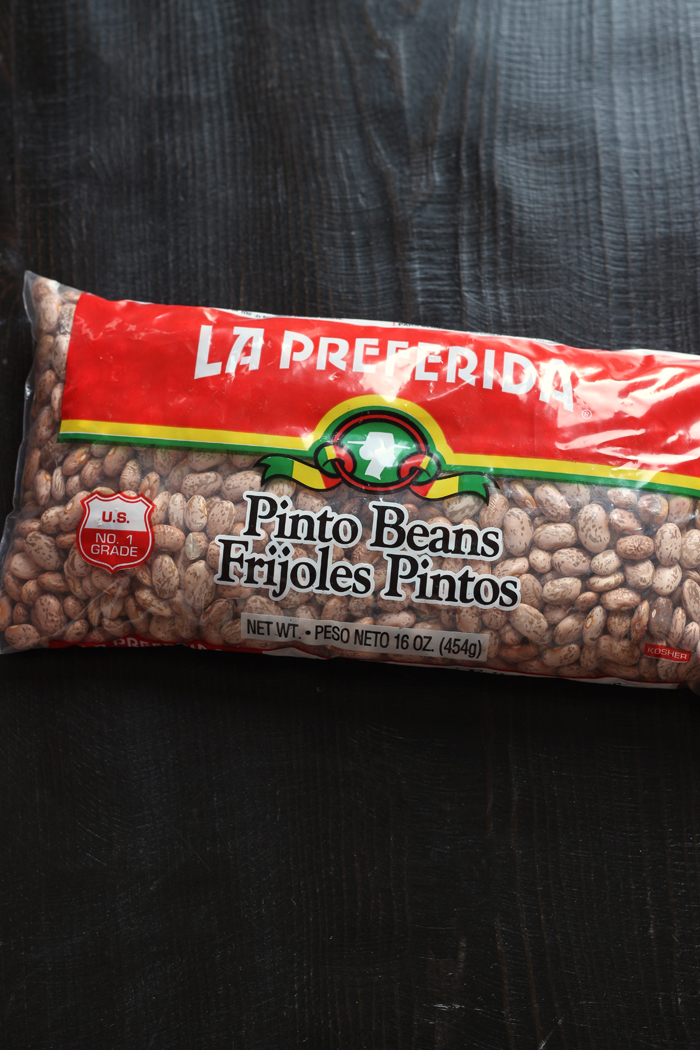 What do pinto beans taste like?
Pinto beans are small and flavorful. The are pale pinkish brown with reddish-brown streaks. Folks have described as them as earthy, nutty, rich, and creamy.
Since I've been eating pinto beans since birth, I'm probably not good at explaining them. They're just beans!
Are pinto beans and kidney beans the same thing?
Pintos and kidney beans are very different beans. Since pintos have a creamy texture when cooked, they are ideal in refried beans. Kidney beans, on the other hand, are primarily used in chilis and salads. They are larger, firmer, and have a more distinct kidney shape to them.
Why cook pinto beans from scratch?
Back when we were paying off debt, I looked for every way possible to reduce expenses. Tracking prices for groceries became a habit that has served us well.
When I could no longer find canned beans for a good price (<$0.50), I started cooking dry pintos from scratch. While not as convenient as using canned beans, now that I've learned to use my pressure cooker to cook pinto beans, it's become a simple process.
Plus, cooking them myself is proving to be much cheaper than fifty cents a can! I can cook dry pinto beans for about $0.64 per pound. That's the equivalent of 4 cans of beans for about the price of 1.
I've also found that commercially canned beans contain additives that I don't want in my food. By cooking my own, I can better control the ingredients.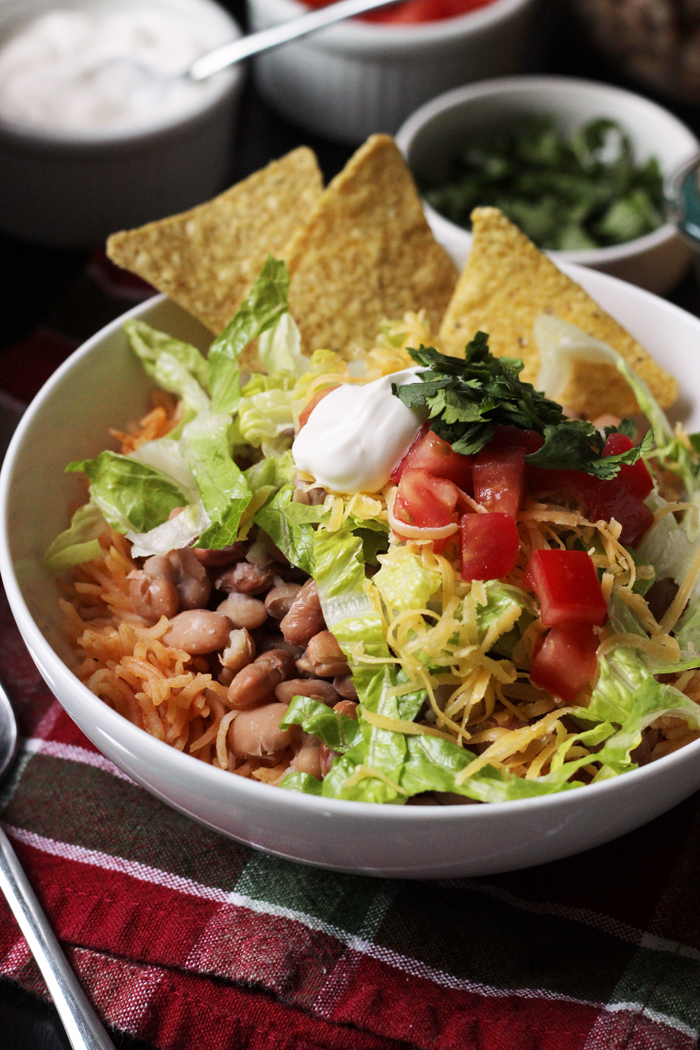 How to Cook Pinto Beans from Scratch
Here's how to make a pot of beans yourself.
Sort the pinto beans.
Sort through the dry beans to make sure there are no stones, agricultural matter, or rotten beans mixed in. It's easiest to lay the beans out on a cookie sheet and remove the odd items.
Rinse the pinto beans.
Transfer the beans to a colander and rinse them well with cool running water. This removes surface dirt and dust.
Soak the beans.
When I use the instant pot to cook dried pinto beans, I don't soak the beans. However, if I'm cooking beans on the stovetop or in the slow cooker, soaking is a must!
Transfer the beans to a pot or large bowl and cover them with at least two inches of water. Allow them to soak overnight, up to 24 hours. I've found that the longer soaking time prevents the cooked beans from being gassy. Drain and rinse them before cooking them.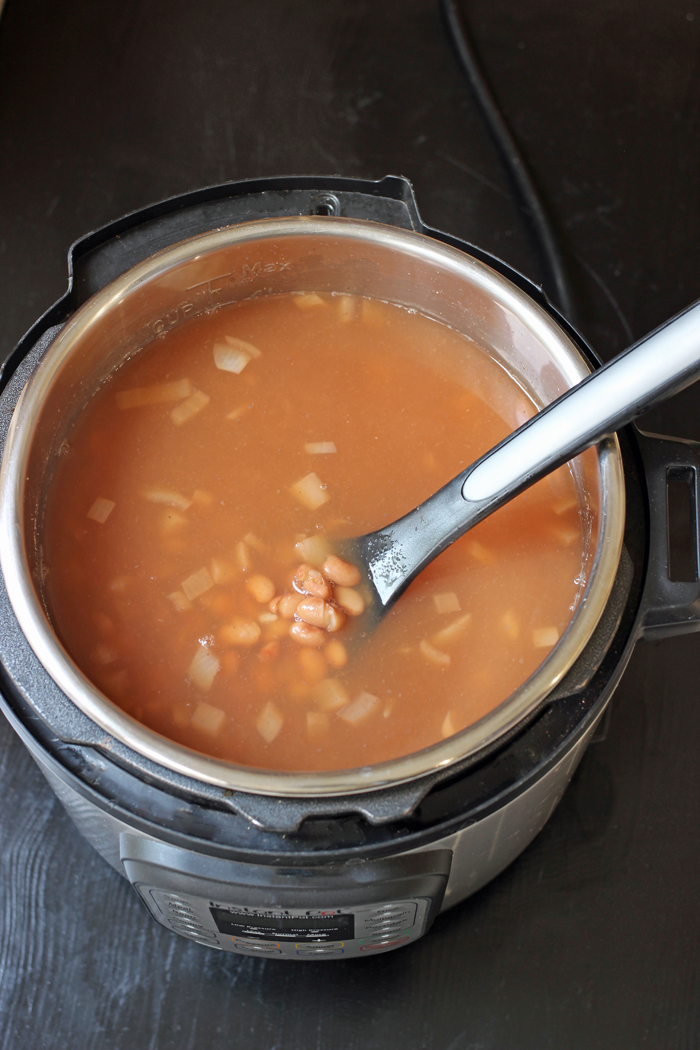 Cook the beans.
Put the beans in a slow cooker or pot on the stove with water and chopped onion and spices and allow them to cook until very soft. You want the skins to peel off when you blow on them. Scoop up some and blow. If the skins aren't tender, let them cook a little longer.
I've included the instructions to cook pinto beans in the pressure cooker in the recipe card below. It's super quick and easy!
Season the beans.
The beans will need a fair amount of salt, but sometimes adding salt at the beginning has made the beans tough, so I add the seasonings near the end of the cooking time.
Freeze the beans for later.
I like to cook several pounds at once. Sometimes I even use two crockpots. I portion the cooked beans into two-cup containers which is basically the equivalent of one can. Cool them, chill them completely, and then freeze cooked beans in the freezer to use in recipes.
This is a great way to save money and enjoy great, tasty beans.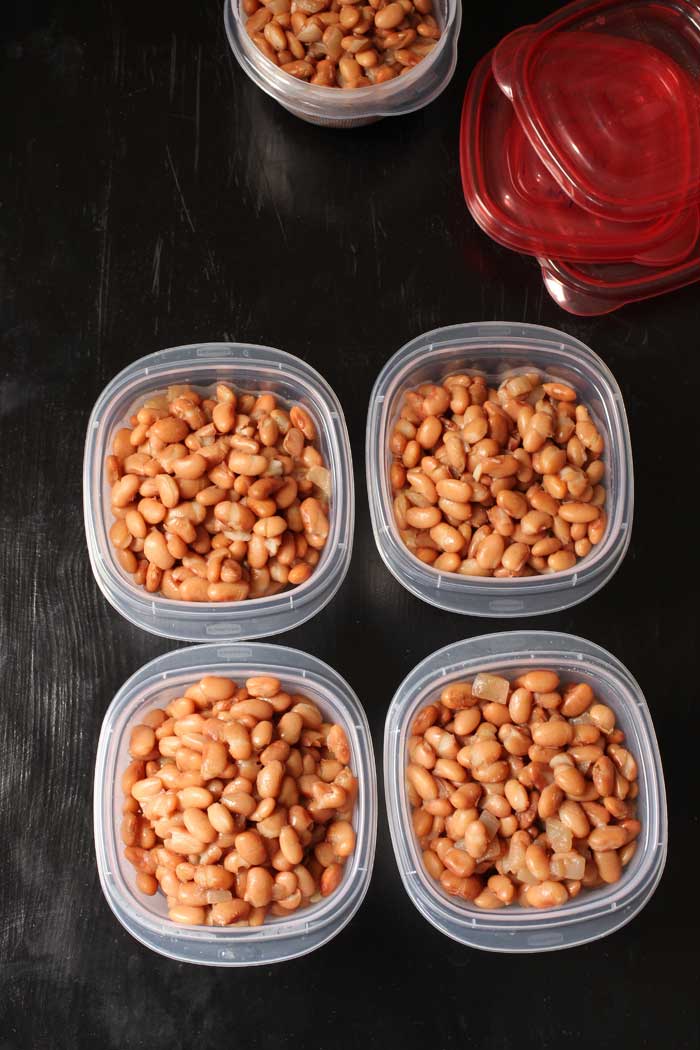 Can pinto beans be made ahead of time?
Yes, absolutely. You can store the pinto beans in an airtight container in the refrigerator. They will last 3 to 5 days in the refrigerator. In fact they will taste better the next day!
For longer storage, chill the beans in the fridge until very cold. Then transfer them to the freezer for longer storage.
What can I make with pinto beans?
We love these bean recipes:
What can replace pinto beans?
If a recipe calls for pinto beans but you really don't like them don't worry. You can replace them with another type of bean. Here a few options:
Navy Beans
Cannelini Beans
White Beans
Pink Beans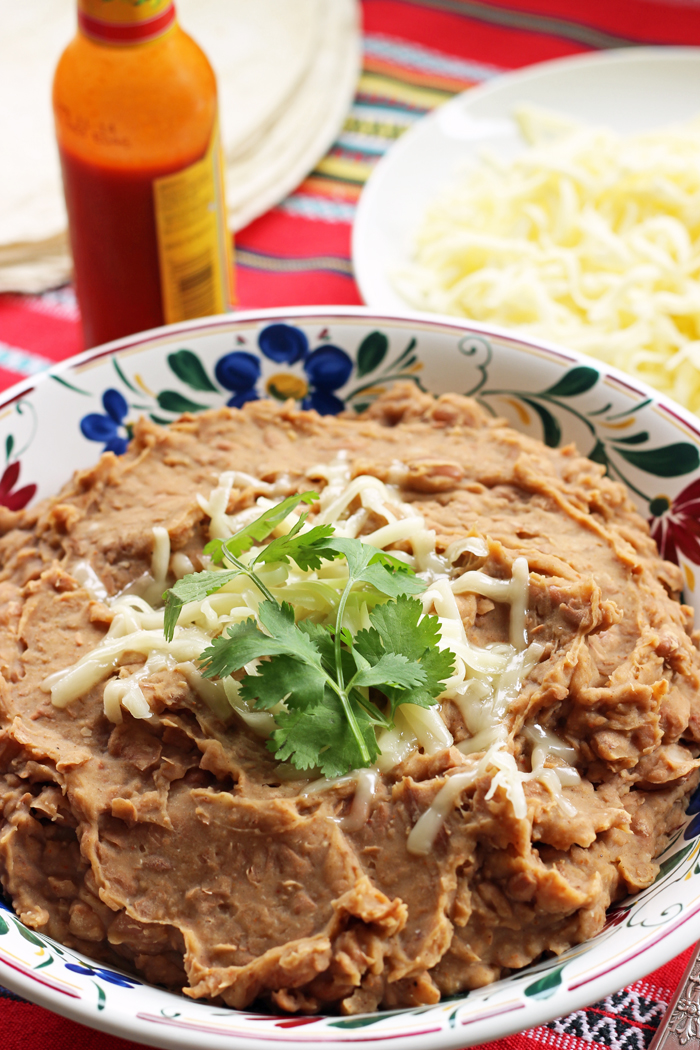 If you prepare this recipe, be sure to share a picture on social media and hashtag it
#GOODCHEAPEATS
. I can't wait to see what you cook up!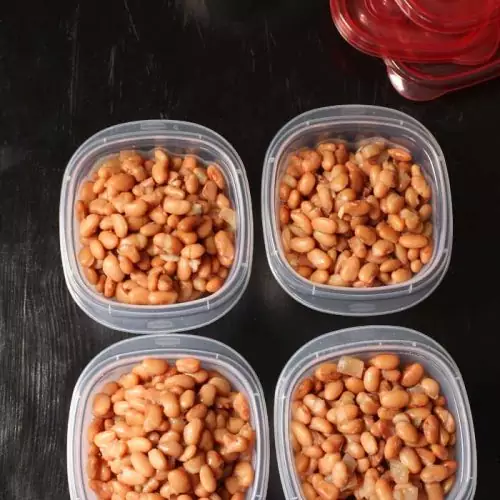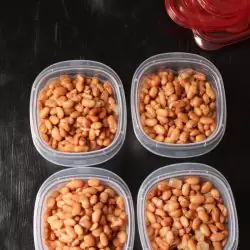 Homemade Pinto Beans
Cooking pinto beans from scratch is a great way to enjoy beans as a side dish or as a meatless main dish. They are so much cheaper than canned beans.
Print
Pin
Rate
Ingredients
1

lb

dry pinto beans

1

onion

chopped

1

tablespoon

garlic powder

1

tablespoon

coarse sea salt

black pepper
Instructions
Sort through the dried beans, removing any stones or defective beans. Rinse thoroughly.
To cook beans in the electric pressure cooker
Place the beans in the pressure cooker. Add the onion, garlic powder, salt and 8 cups of water.

Secure the lid and close the pressure valve. Set the machine to manual for 45 minutes. When the time is done, press cancel and let the pressure release naturally.

Drain the beans from the cooking liquid. Season to taste with salt and pepper.
To cook beans in a slow cooker:
Soak the beans prior to cooking. Place in a pot and cover with at least 2 inches of water. Allow to soak overnight or up to 24 hours.

The next day, rinse and place the beans in a slow cooker. Add the chopped onion, garlic powder, salt, and enough water to cover by about an inch.

Cook 8-10 hours on low or 6 on high. Stir in salt and pepper to taste.
To cook the beans on the stovetop:
If you don't want to use the crockpot, or if you don't have 8 hours until serving time, you can cook them on the stovetop. Soak the beans as you would for the slow cooker method. Place the beans, onion, garlic powder, salt, and water in a large stockpot. Bring to a boil.

Reduce heat to a simmer and cover slightly. Stir frequently, adding water if necessary. They should be cooked in two to three hours. Season as desired.
Notes
To freeze: the beans can be frozen for a later date. Simply cool and divide the beans into meal size portions in airtight containers. I add some cooking liquid as well. Chill completely before freezing.
To serve: thaw completely in the refrigerator. Reheat and serve.
Nutrition
Calories:
270
kcal
|
Carbohydrates:
49
g
|
Protein:
16
g
|
Fat:
1
g
|
Saturated Fat:
1
g
|
Sodium:
10
mg
|
Potassium:
1080
mg
|
Fiber:
12
g
|
Sugar:
2
g
|
Vitamin C:
6.1
mg
|
Calcium:
90
mg
|
Iron:
3.9
mg
Tried this recipe?
Tell us what you think! Your reviews help us develop better recipes and give newcomers the confidence to try your favorites. Scroll down to leave a starred comment.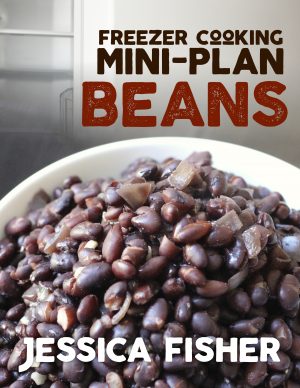 Ready to make the most of beans?
Beans not only make a great base for main dishes, but they also freeze beautifully.
Grab this Freezer Cooking Mini Plan featuring Beans to help you fill the freezer quickly and easily.
Learn to cook beans at home three different ways.
Fill the freezer with wraps, pot pie, lasagna, chili, and soup, all featuring hearty beans.
Click here to purchase the instant download: https://fishmama.com/product/freezer-cooking-mini-plan-beans/