This easy Chihuahua Beer Chili comes together quickly on the stove or in a slow cooker. Flavorful from enchilada sauce, beer, and spices, it is the perfect bowl of red.
When I'm going to feed a crowd, I often lean on chili. It's hearty and filling and easy to serve. It can be made vegetarian or loaded up with meat.
Chili is super affordable, and can easily be stretched to feed last-minute additions to your party. And it can be customized to suit each diner. Just dish up bowls of red and offer a selection of toppings, like shredded cheeses, salsas and hot sauces, chopped onion, tomato, and cilantro, sour cream, guac, and chips. Offer a basket of bread and butter on the side, and you're good to go.
Chili makes everyone happy. And this, Chihuahua Beer Chili Recipe is one of our longtime favorites.
Why is it called Chihuahua chili?
This chili is actually named because it's made with beer, specifically Chihuahua cerveza. Of course, you can add any beer you would like.
Fun fact: I developed this recipe back in 1998, back when the internet operated on turtle speed. Friends were thrilled to enter it as their submission into a chili cook-off contest because they could boast that it contained chihuahua. Their competition was using such wild ingredients as rattle snake, alligator, and ostrich!
Please note that no dogs were harmed in the creation of this recipe. 😉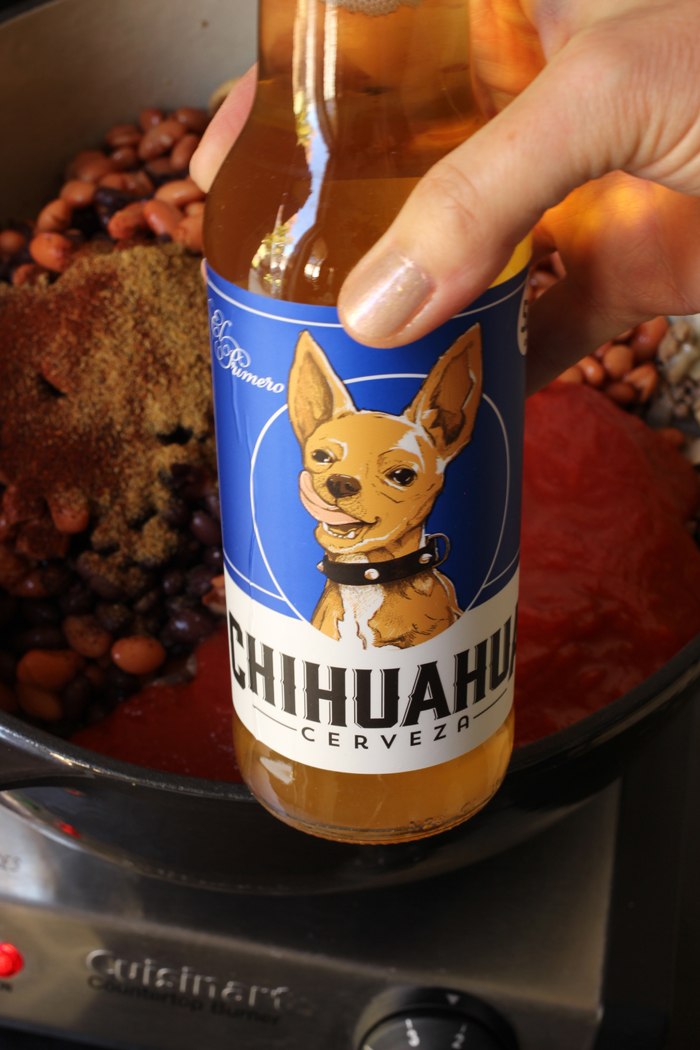 Do I need to add beer to this chili?
While beer adds great flavor to stews, chilis, and pot roast, you do not have to include beer in this recipe.. You can substitute the beer with water or broth if you prefer.
Can I freeze this chihuahua beer chili?
Absolutely you can freeze this recipe! And I recommend that you do. It's a great thing to freeze and then have on hand for those easy summer weeknight meals.
Chili is one of those dishes that actually benefit from time spent in the freezer as the flavors meld and intensify.
Cook up big batches and freeze the chili in single- or family-size containers. It freezes super well. It goes great over hot dogs, wrapped in burritos, or spooned atop fries.
Making your own chili to freeze will allow you to replace canned chili completely.
Is it chile, chili, or chilli?
Chile is the name of the spicy pepper used in Mexican, South American, Indian, African, and Thai cuisines. In the UK, it's written as chilli.
Chili, as in chili sauce, chili powder, and chili con carne is a mixture of chiles and other ingredients, like this recipe for beer chili.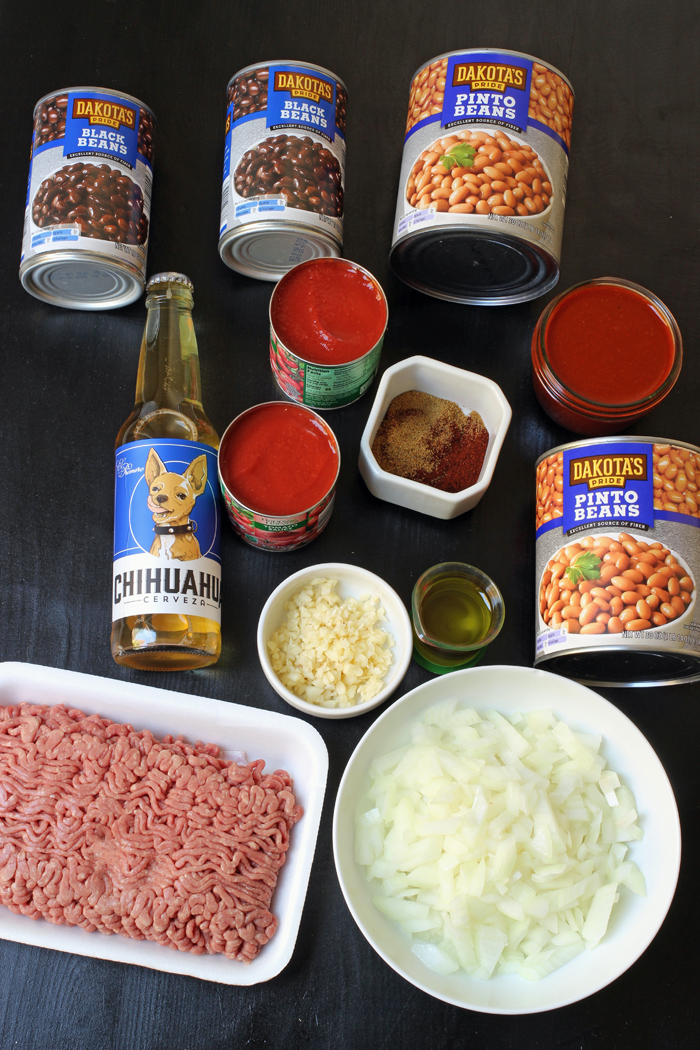 What ingredients go in this beer chili recipe?
Traditional chili is a mixture of meat (diced or ground beef) and chiles or chili powder. In some parts of the southwest United States, it's frowned upon to add beans, tomatoes, or other ingredients.
However, I live in California where anything goes, so my homemade chili has beans.
If you prefer to make this chili vegetarian, omit the ground beef. If you want to make it gluten-free, omit the beer.
What ingredients do I need to make this beer chili recipe?
Like I said, this Chihuahua chili may not be traditional but it's definitely delicious. Here is what you need to gather before prepping it:
oil
onions
garlic
tomato sauce
enchilada sauce
beer – Chihuahua beer if you're making this true to the recipe, but any beer will work (or water or broth)
ground beef or turkey
beans – I used a combination of pinto beans and black beans
spices – I used a combination of chili powder and cumin.
And of course don't forget the toppings:
sour cream
shredded cheddar cheese
chopped cilantro
chopped onion
fritos

How do I make beer chili?
This recipe comes together very quickly.
Gather all your ingredients. Chop the onions and garlic. Measure out the spices. Open the cans. Rinse and drain the beans.
Heat the oil in a sturdy pot. Add the onions and cook until they start to go clear.
Add the beef and cook, breaking it up into chunks with your spoon. Stir in the garlic.
Add the beans, tomato sauce, enchilada sauce, and spices. Stir in the beer.
Simmer for about an hour, partially covered. If you prefer, after sautéing the onions, meat, and garlic, you can combine all ingredients in a slow cooker. Cook on LOW for 6 to 8 hours or on HIGH for about 4.
Serve the chili with the toppings.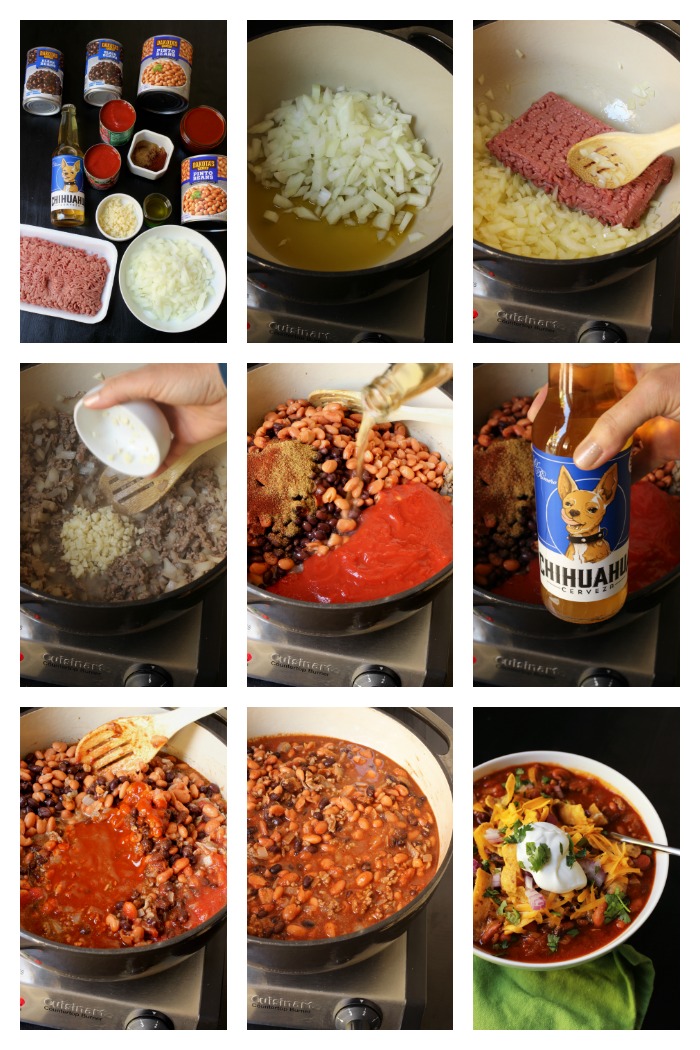 What can I serve with this chili recipe?
You really can serve this on it own of course. But we love serving some sort of bread with it. This is fantastic with my Whole Wheat Beer Bread.
Or you could whip up some Tortilla Chips and have those to eat with this chili!
How to make this good and cheap:
By their very nature, bean dishes are very budget-friendly. However, here are some of the strategies you can use to make this recipe even more economical:
Stock up on ingredients when they are on sale. When you see a good price on tomato sauce, beans, or your favorite meats, buy a few extra to stash for later. You know you'll use them.
Cook your own beans. It's a lot cheaper to cook dry beans than to buy canned. Recently I've started using my electric pressure cooker for beans and it just may be a game changer.
Buy spices in bulk. I regularly buy larger containers of spices I use frequently, like pepper, sea salt, garlic powder, and chili powder. I store excess dried herbs and ground spices in the freezer if I know it will be awhile before I go through the large container.
What tools do I need to make beer chili?
This recipe really couldn't be easier than it is, but having the right kitchen tools can really make your time in the kitchen more enjoyable. Over time, I've honed my collection so that they are perfect for my needs.
Here are the tools that I use for this recipe: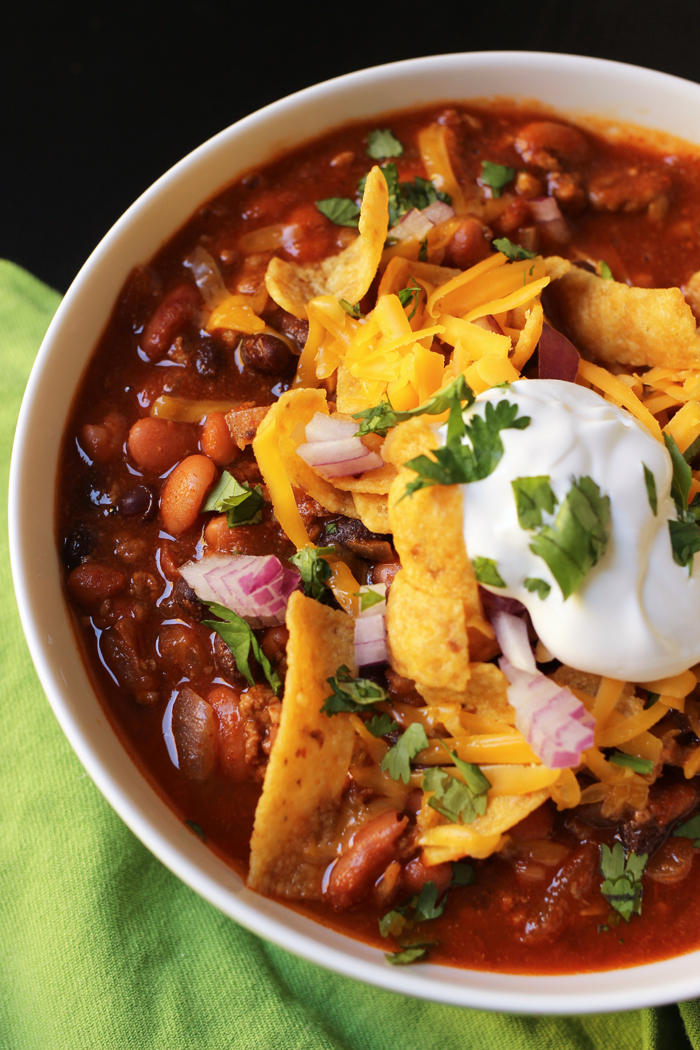 If you prepare this recipe, be sure to share a picture on social media and hashtag it
#GOODCHEAPEATS
. I can't wait to see what you cook up!
Chihuahua Chili
This easy Chihuahua Chili comes together quickly on the stove or in a slow cooker. Flavorful from enchilada sauce, beer, and spices, it is the perfect bowl of red.
Servings:
8
to 12 servings
Ingredients
¼

cup

olive oil

2

onion

chopped

6

clove

garlic

chopped

16

oz

tomato sauce

8

oz

red enchilada sauce

1

12-ounce bottle

beer

possibly Chihuahua, hence the name; If you'd like, you can omit the beer. Just add water or broth if the chili is too thick without the beer.

2

29-ounce cans

pinto beans

drained

2

15-ounce cans

black beans

drained

1

lb

ground beef

browned and drained

1

tablespoon

chile powder or ground chile

1

tablespoon

ground cumin

toppings for chili

: sour cream, grated cheddar cheese, chopped cilantro
Instructions
To make on the stovetop
In large pot, heat oil. Saute onion until translucent, about 3 to 4 minutes.

Add garlic and saute 2 minutes more.

Add tomatoes, enchilada sauce, beer, beans, cumin and chili powder. Bring to boil.

Simmer, partially covered, until slightly thickened and flavors have mingled, about 1 hour on the stovetop.
To make in the slow cooker
If you prefer, after sautéing the onions, meat, and garlic, you can combine all ingredients in a slow cooker. Cook on LOW for 6 to 8 hours or on HIGH for about 4.

Serve with toppings.

If freezing, divide into dinner portions suitable for your family. Cool, label and freeze.To serve: Defrost and reheat. Serve with cheddar cheese, sour cream and chopped cilantro. Shepherd's bread with butter is a great accompaniment.
Notes
Nutrition facts are for 8 servings, and do not include toppings.
Nutrition
Calories:
449
kcal
|
Carbohydrates:
56
g
|
Protein:
30
g
|
Fat:
11
g
|
Saturated Fat:
2
g
|
Cholesterol:
35
mg
|
Sodium:
641
mg
|
Potassium:
1237
mg
|
Fiber:
18
g
|
Sugar:
6
g
|
Vitamin A:
771
IU
|
Vitamin C:
9
mg
|
Calcium:
115
mg
|
Iron:
6
mg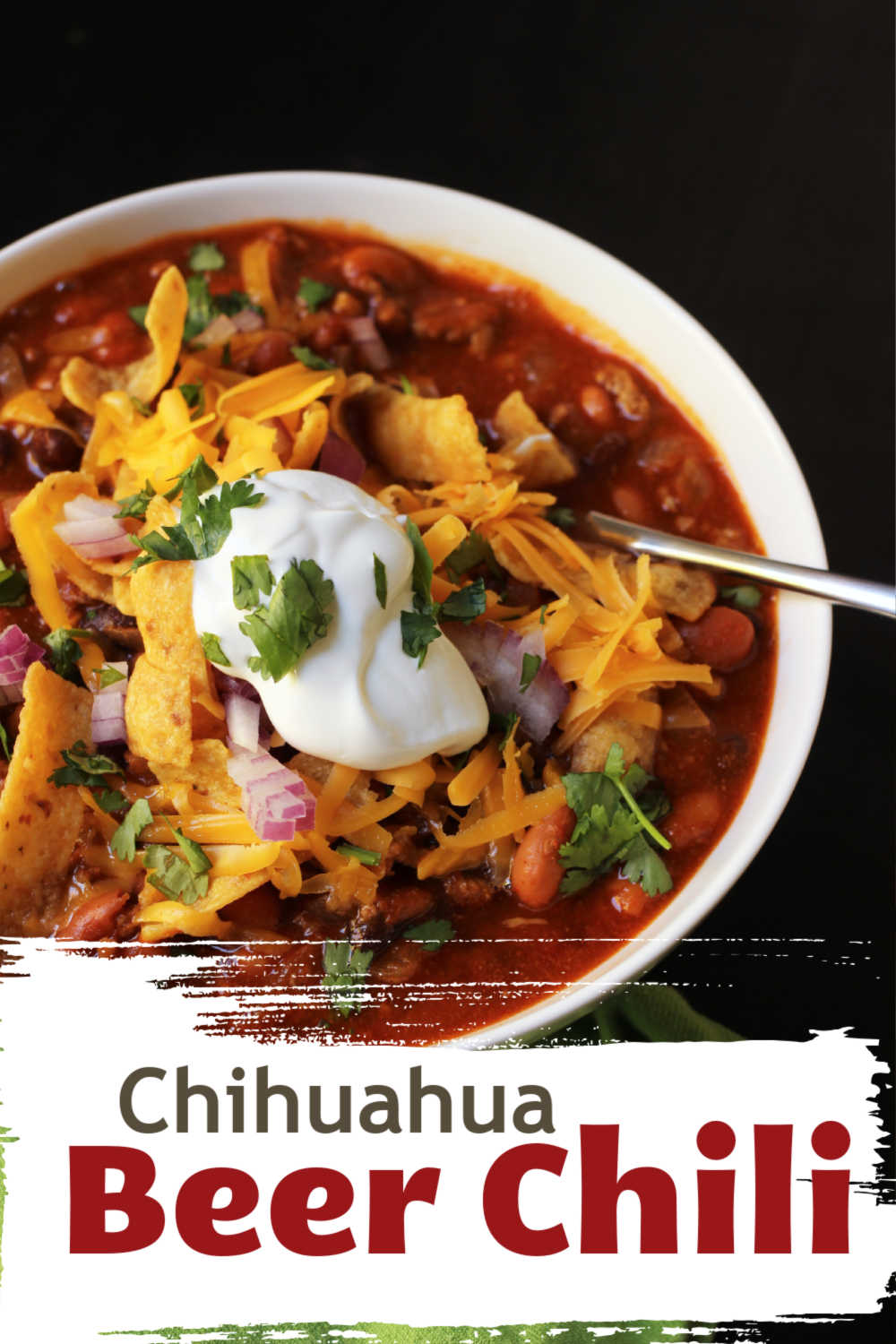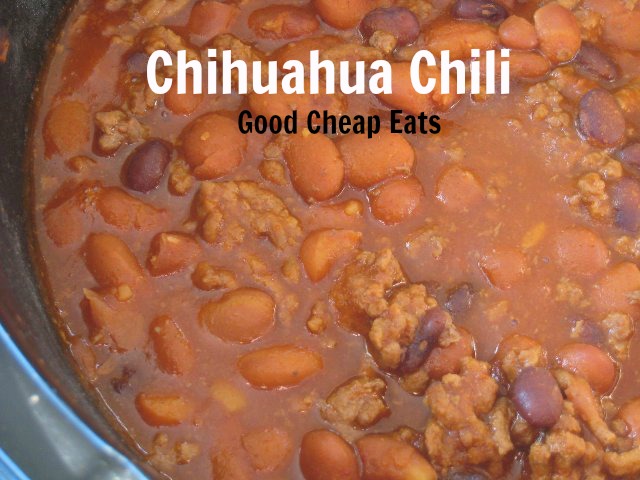 Originally published June 25, 2009.