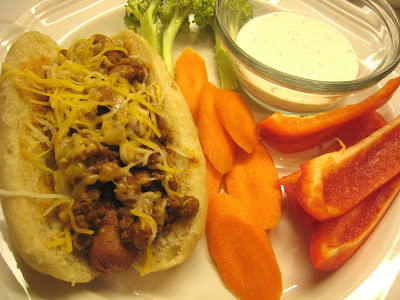 When you first hear the words chili dogs, nutritious and delicious are probably not the accompanying images, are they? But, last night I healthified them a bit and I think we're good to go.
I filled Homemade Hot Dog Buns, made with whole wheat flour, with kosher hot dogs and homemade chili. The chili was, in fact, an easy throw together affair since the beans and the ground beef were already cooked and seasoned as part of my freezer meal components from earlier in the month. Accompanied by fresh veggies and homemade ranch dip, I think it scored pretty high on the good factor.
As for the frugal element, the hot dogs were completely free. I used a free product coupon when hot dogs were already "buy one, get one free". That meant that both packages were free. The hot dog buns cost about $.75, the chili ingredients ran up to $1.26, cheese was $.25, and the veggies and dip put us back about $1. Grand total to feed 8 people? $3.26 I realize that free hot dogs are not the norm. But, on sale, I might have bought them for $5, which would still make our dinner about $8.26 to feed 8 people. That's one good cheap eat.

Quick Chili Dogs
2 cups cooked pinto beans
1 cup cooked and seasoned ground beef
1/2 cup tomato sauce
1/2 cup water
1 Tablespoon chili powder
1 clove garlic, minced
1/2 teaspoon dried oregano
1/8 teaspoon cayenne pepper, optional
homemade hot dog buns
hot dogs, cooked according to package directions
1/2 cup grated cheese
fresh cut veggies
ranch dressing
In small saucepan combine beans, meat, tomato sauce, water, chili powder, garlic, oregano, and cayenne pepper. Stir well and simmer for 10 – 15 minutes. Meanwhile, prepare hot dogs. Serve hot dogs in buns. Top with chili and cheese. Serve veggies and dip on the side.

*** For more dinners under five bucks, visit the
$5 Dinner Challenge
. And Jen's got more food inspiration at
Tasty Tuesday
. ***
Want the dish on delicious ways to act your wage? Subscribe to GCE in a reader or via email.