Onions add flavor, fiber, and nutrients to your dishes and serve as a grocery staple in cooking worldwide. Cheap and readily available, they're a mainstay in the kitchen, but can you freeze onions?
You bet! Freezing onions is a great way to extend their shelf life. Keeping a stash on hand means you can easily add them to a Fajita Omelet or Hot Italian Beef Sandwich.
Jump to:
When you cook at home, you can expect to cut onions. It's just par for the course. But, no use crying over slicing onions. Freeze them!
It's true. You can chop or slice many onions at once, get the job done in one go, and stash them in the freezer for later.
Freezing vegetables and fruits is a great way to stock your kitchen and save time and money.
Why Do This
It helps you avoid food waste. If you'll use it eventually but can't just right now, why not freeze it to use later and buy yourself some time?
It could save you money. Wasting food is akin to wasting money. Often times, it's cheaper to buy a bigger bag of onions than singletons. Freeze the extras and pay less all the way around. One of the many ways that freezer cooking saves money.
It can be more convenient. Frozen chopped or sliced onions are often more convenient than fresh ones as they are recipe-ready. You can easily add flavor, fiber, and nutrients to your recipes when the onions are already to go.
Step-by-Step Instructions
1. Slice or chop the onions.
Chopped onions are pretty universal for a lot of recipes while sliced onions are great in Sauteed Mushrooms and Onions and Fajita Veggies.
Think about what you use most often and chop or slice accordingly.
2. Freeze the onions.
You can package the onions right away after slicing, but if you do so, you'll need to package them in measured portions that you'll use all at once later. They'll freeze in one mass.
To freeze them individually (also called open freeze) so that you can use just a few at a time, place them on a lined tray in the freezer. Once they're frozen solid, you can package them up.
3. Package the onions.
Package the onions in an airtight container with a lid or in ziptop, freezer bags. Whatever container you choose, be sure to label the date and the contents so you can use them up within the next couple months.
To use frozen onions
When you're ready to cook, there's no need to thaw the onions. Just pull out the amount that you want, quickly returning the package to the freezer, and add them to your recipe.
FAQs
Are frozen onions as good as fresh?
If you're going to cook the onions, they are just as good from frozen as they are fresh. If you want raw onions for a sandwich or salad, you're better off using fresh onions. Frozen onions lose some of their crispness.
Can you freeze onions in ice cube trays?
After chopping the onions you can portion them into ice cube trays and freeze. Once frozen, pop them out of the trays and store in a ziptop freezer bag. Keep in mind that the "cubes" won't stay perfectly in tact since onions aren't liquid, but they should form nice clumps.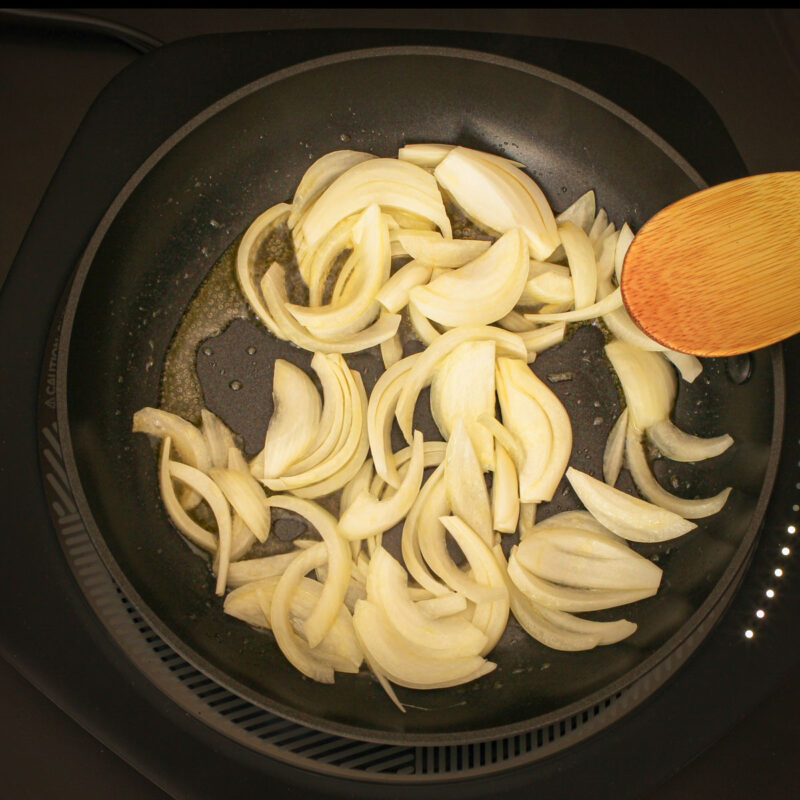 More Things You Can Freeze
How to Freeze Onions
Learn how to freeze jalapeños so that you can stock up on a great sale or save what you have for another time. It's a great way to save time and money and give your recipes a kick
Instructions
Peel the onions and chop or slice according to your preferences.

Package in recipe-size portions in ziptop freezer bags or freezer-friendly containers.

Alternatively, to freeze them loose, place them on a lined sheet pan and freeze until firm. Once solid, transfer the frozen onions to packaging and return to the freezer.

To use: add to recipe from frozen.
Notes
Frozen onions will be safe indefinitely if kept at below zero degrees, but after ten months, their quality will start to diminish. Since home freezers are not as consistent and reliable as commercial freezers, try to use your frozen onions within a couple months.
Use onions in sautés, stir-fries, soups, chilis, and stews. They are also good in sauces and gravies, and go well with roast meat dishes.
Nutrition
Calories:
45
kcal
|
Carbohydrates:
11
g
|
Protein:
1
g
|
Fat:
1
g
|
Saturated Fat:
1
g
|
Polyunsaturated Fat:
1
g
|
Monounsaturated Fat:
1
g
|
Sodium:
5
mg
|
Potassium:
166
mg
|
Fiber:
2
g
|
Sugar:
5
g
|
Vitamin A:
2
IU
|
Vitamin C:
8
mg
|
Calcium:
26
mg
|
Iron:
1
mg