Wondering if a food processor can help you in the kitchen? Here's the story of our love affair.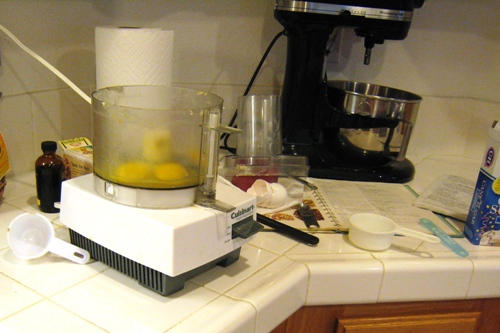 I am not a person to care about boats or cars. I drive a 96 minivan or sometimes a 02 SUV. Apparently, big ticket items don't thrill me.
Small kitchen appliances? Well, I get absolutely giddy about tools that will make my time in the kitchen easier. Last week I shared my love for the bread machine. Today?
Let's talk food processors.
My dad bought my mom a food processor when they were first the rage. He owned a Montgomery Wards catalog store at the time, so he probably got a good discount. My mom thought it was a pain to clean. My dad has a weird thing about storing appliances in their packaging. Between those two circumstances, that food processor stayed in its box for my tenure in that home.
Years later when I was a newlywed, an old family friend was downsizing. Dr and Mrs Goldman were fairly well-to-do and had never had children. They were elderly and she was no longer going to cook. She was dismantling her kitchen and offed me their Cuisinart, probably one of the first to come down the assembly line.
That baby was a workhorse. I loved it. It shredded cheese, chopped vegetables, mixed salsa, and made pie crust like nobody's business. I found it to be particularly helpful with big freezer cooking sessions.
And cleaning? It really wasn't that much of a pain. Once we moved to a home with a dishwasher, it became as easy as, well, pie crust in a food processor.
That early model was amazing. It's motor worked like a champ. Unfortunately, the bowl did not. Eventually, the bowl became cracked in numerous places, lost its handle, and eventually lost the safety mechanism that let the bowl closed during use.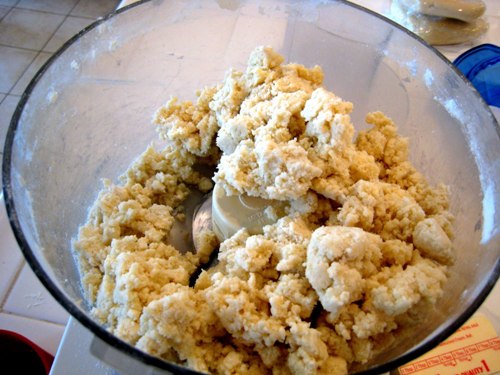 At the time of the bowl's demise, we were really strapped for cash. A replacement bowl was more than the lower model machine that my dad eventually bought me for Christmas. If I knew then how amazing that motor was, I would have replaced the bowl instead.
Overtime I've realized that older machines are worth their salt while the newer ones? Not so much.
The newer model (similar to this) that my dad bought circa 2001 worked great. it had fewer attachments than Mrs. Goldman's, but enough to do the job. And no, the parts were not interchangeable.
The motor is still going strong. The bowl? Not so much. The plunger is missing, the bowl is pretty worn, the handle broke off long ago. It's a sad state of affairs.
WHY do manufacturers create these great motors and not accompany them with great bread pans or great processor bowls?!
A few years ago, hubs encouraged me to invest some book money in a new food processor. He was getting a little leery of my using a wooden spoon as a replacement plunger. The cost of a replacement plunger was a significant percentage of a new machine.
I chose a fancy Cuisinart with all the bells and whistles. The one I had been ogling from afar, though I did not pay more than $200 for it. With multiple, different sized bowls and multiple attachments, it promised to do all kinds of great things for me.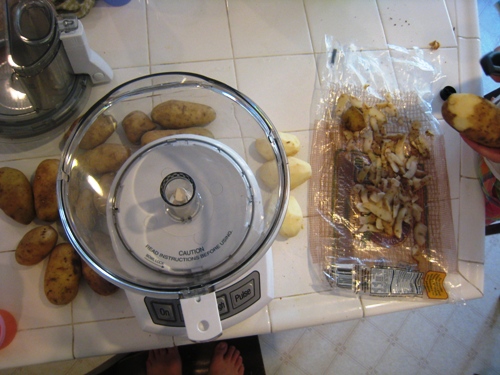 Normally loathe to read the directions, I even watched the demonstration DVD that came with the machine. Eventually.
But, you know what? This baby really is hard to clean. The bowl lids, while probably sturdier than the broken bowls of my past, have gaskets that trap food and are a pain to clean. The storage box for the attachments, while clever, is large and relegated to a top shelf, making me less likely to use it.
I love my food processor and use it daily. Sure, a good knife or a box grater can fill the bill. But since I cook for a small army, I don't want to spend an hour shredding cheese when the machine can do it in minutes.
Only I don't usually use my bells and whistles Cuisinart. It's too hard to clean so it sits in the cupboard. I'm more like my parents than I thought.
Instead, I hijacked its plunger and continue on with my old decrepit machine, circa 2001. At least I won't chop off my hand or shoot wooden spoon splinters up my nose.
Appliance Companions
I don't know that you really need any extras to make good use of a food processor. Provided you have all the pieces that came with your machine.
My 2001 model came with a very hard plastic spatula which has proven to be very handy to scrape the bowl. Rubber spatulas tend to get caught in the blade, so a harder plastic one is very nice to have.
Use of a Food Processor
As I've mentioned, a food processor does a lot to quicken your kitchen prep work. I use it for a number of things from shredding or chopping vegetables, mixing pesto sauces, blending other sauces and salsas, making pie crust or biscuit dough, mixing cookie dough, chopping nuts, slicing potatoes, etc.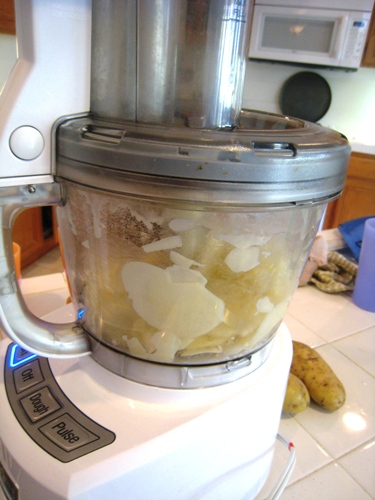 Anything that needs to be chopped or mixed can be done in a food processor. Except for pizza dough or other bread doughs. I've seen recipes for such, but you'll need to follow their method carefully as the blades of a processor don't really work for bread.
Not like a bread machine can, anyway. 😉
Some of my favorite recipes for the food processor:
Care and storage
Since I use my basic machine, care of the machine is pretty easy. I rinse the parts after use and then run through the dishwasher.
I store the motor and bowl parts in the cupboard. Turn the lid upside down in the bowl to conserve space. I keep the disks near the machine in the cupboard, but store the blade in the back of my baking drawer to minimize the risk of someone getting cut.
Purchasing a machine
I've had three food processors in twenty years. Two still work. Obviously Cuisinart bowls of the past could not live as long as their motors. I don't know about the new ones. I'll let you know when Cuisinart Bowl #2 bites the dust and I am forced to use the new one.
I have only purchased Cuisinarts so I can't speak to other brands. I'd get the biggest bowl size you can afford and easily store. Make sure it comes with a metal blade as well as slicing and shredding disks.
If you can go to a kitchen store to see the gasket to close the lid, choose a model that looks easy to clean.
Consider borrowing one before you buy. Or troll your local thrift stores and garage sales. Chances are somebody bought a fancy machine and it just stayed in the box. Who knows? Someday you might get a great deal on my fancy pants machine that I never use.
What's your experience with a food processor?
Love it or hate it? Do tell.
Disclosure: This post does include Amazon affiliate links. If you make a purchase through those links, I am paid a small amount in way of advertising fees.