Bake someone happy with these easy Cranberry-Orange Scones. Sweet cranberries, orange zest, and whole wheat pastry flour, not to mention ample butter, make for a divine weekend treat!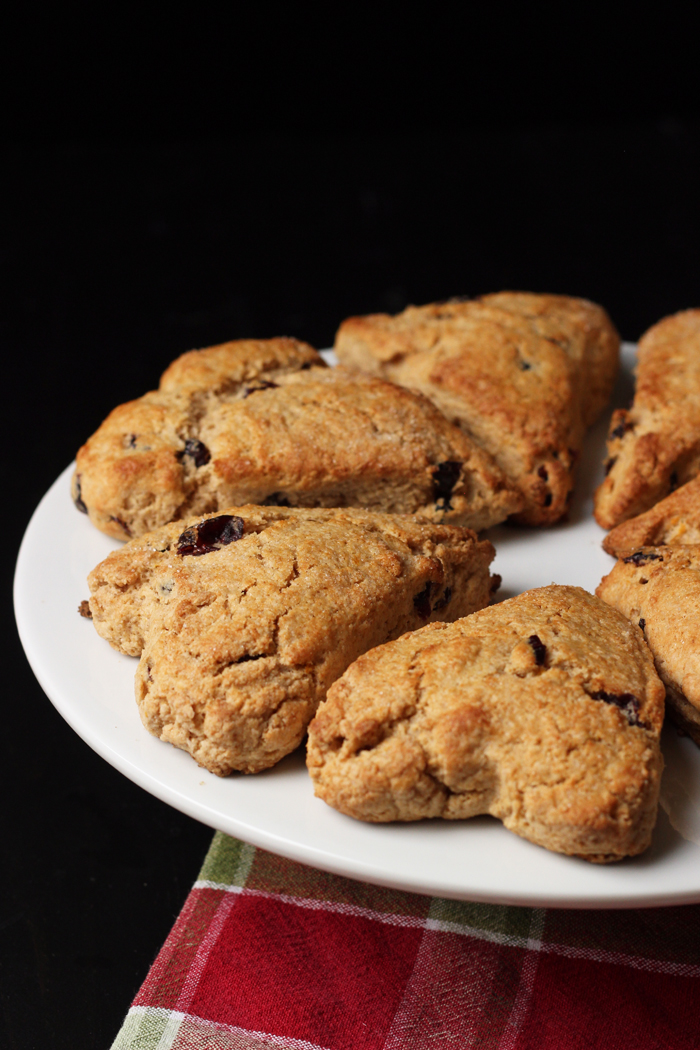 Scones are kind of my thing. I can't remember ever having them as a child, but once I grew up and went to college in Santa Barbara, they became my thing. Laura Ashley was, also, for a time, but I've moved on. Lace doesn't do much for me, but scones do!
In fact, when I was writing my first cookbook, I kinda had to hold back on the scone recipes. As it is, there are four scone recipes in that book! Only one scone recipe in Good Cheap Eats. But, if I had my way, there would be dozens!
(By the way, if you've been waiting to your hands on the freezer book, now might be the time to do it. They've knocked the price down to less than half list price!)
Scones feel fancy, but are incredibly easy to prepare. You don't need any fancy ingredients. Heck! Depending on the recipe, you don't even need an egg!
You can cut them into simple squares or triangles with a bench knife, cut them into fancy shapes with a cookie cutter, or with a quick twist of the wrist, turn simple triangles into hearts. Like so: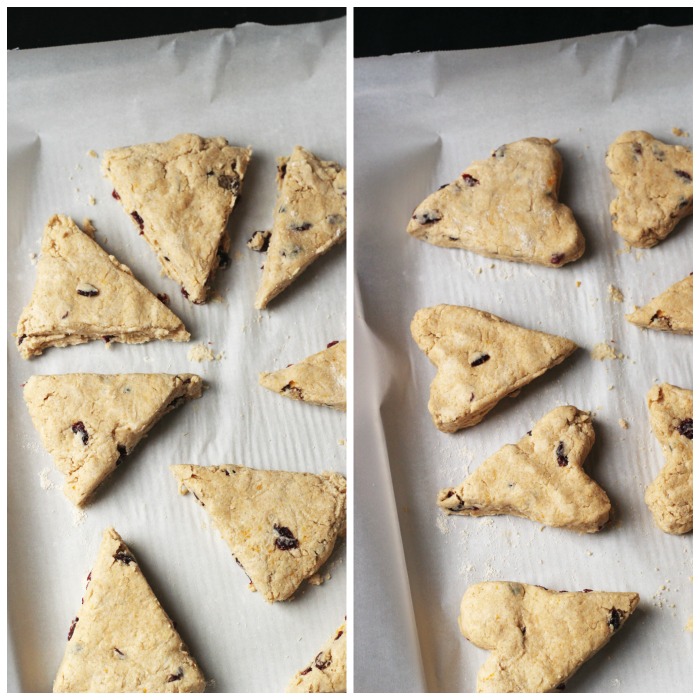 My favorite scones are light on the sugar and heavy on the flavor, usually from fruit or chocolate. This particular recipe is a riff on one my friend Jessika used to make growing up. I subbed whole wheat pastry flour and switched out the buttermilk for yogurt. I also tweaked the fruits included.
Okay, so it's a little different than what Jessica and her mom Pandra used to make, but I believe in telling the back story to recipes. 😉
Lately I've been trying to switch us back to whole grains, so whole wheat pastry flour is my preference for this recipe. It most closely resembles the texture of unbleached all-purpose flour. If you can't find that easily or in your budget, you can use white whole wheat flour which is a great option as well.
How to make this good and cheap:
Here are some of the strategies you can use to make this recipe more economical: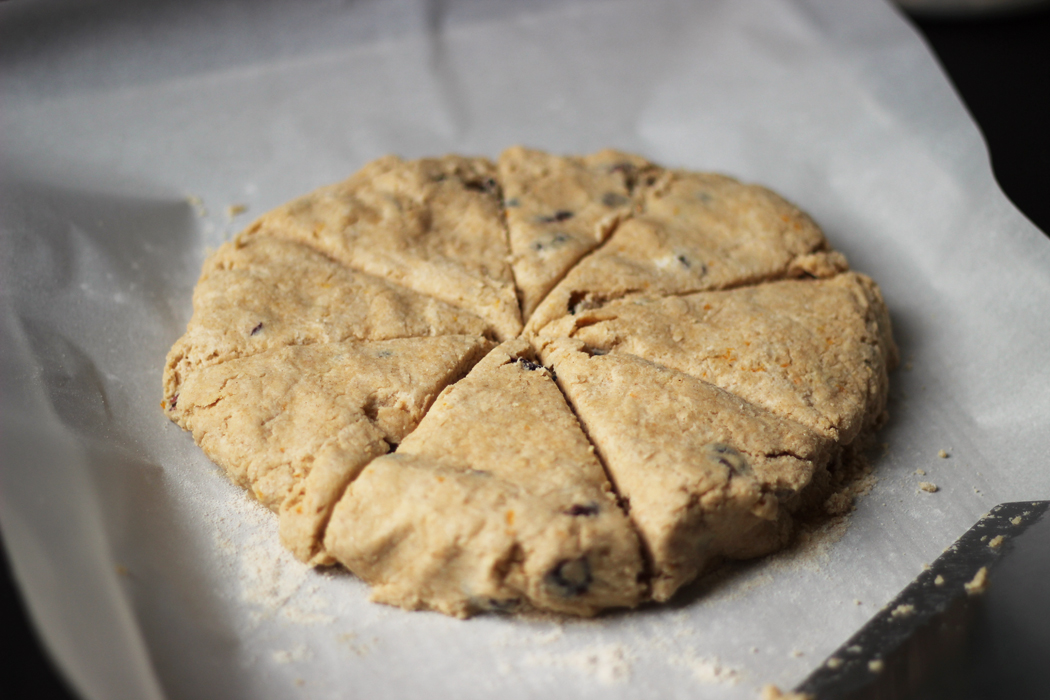 How I make this recipe easy:
One of the great things about scones is that you can freeze them before or after baking. If you freeze them prior to baking, you don't thaw them, just slide the frozen scones into the hot oven and add a few minutes to the baking time. If you bake them first and then cool and freeze, you can very easily thaw them overnight on the counter so they're ready when you are.
This recipe really couldn't be easier than it is, but having the right kitchen tools can really make your time in the kitchen more enjoyable. Over time, I've honed my collection so that they are perfect for my needs.
Here are the tools that I use for this recipe:
Cranberry-Orange Scones
Bake someone happy with these easy Cranberry-Orange Scones. Sweet cranberries, orange zest, and whole wheat pastry flour, not to mention ample butter, make for a divine weekend treat!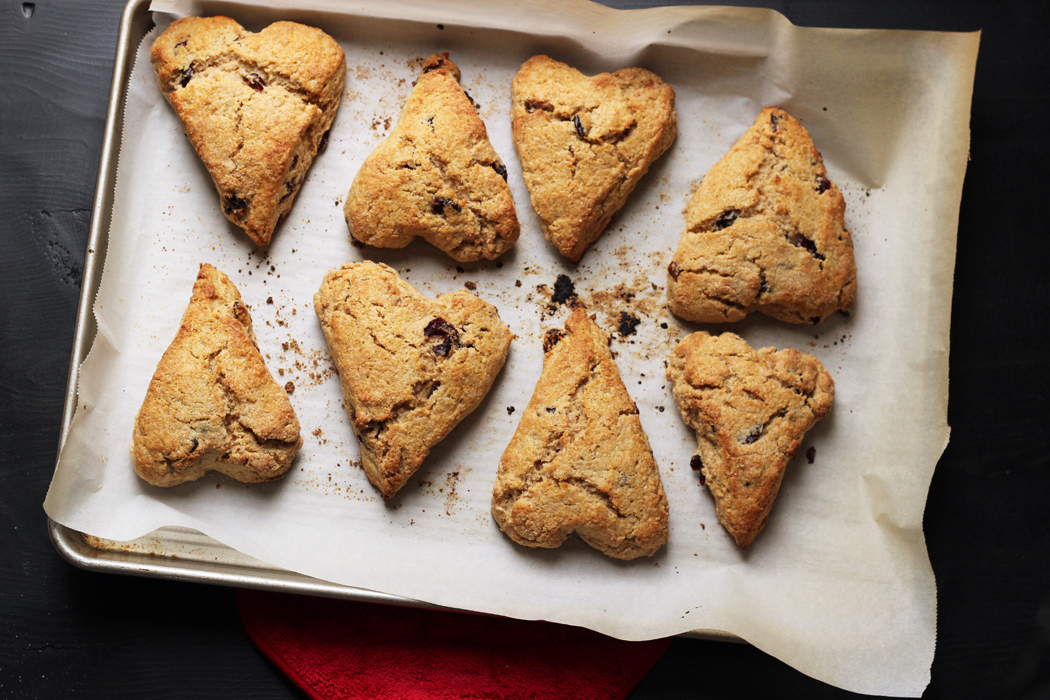 Preparation Time:15 minutes
Cook time:15 minutes
Total time:30 minutes
8 large scones
Ingredients:
3 cups whole wheat pastry flour

1/3 cup sugar plus more for sprinkling

2 1/2 teaspoons baking powder

1/2 teaspoon baking soda

1/2 teaspoon salt

1/2 teaspoon ground cinnamon

3/4 cup butter, cut into cubes

3/4 cup dried cranberries

the zest of one orange

3/4 cup milk

1/2 cup plain yogurt
Instructions:

Preheat the oven to 425 degrees. Line a baking sheet with parchment paper.
In a large bowl or the bowl of a food processor fitted with a metal blade, combine the flour, 1/3 cup sugar, baking powder, baking soda, salt, and cinnamon. Mix well.
Add the butter cubes and cut them in with a pastry blender, or if using the food processor, pulse until coarse crumbs are formed. If using the food processor, transfer the mixture to a large bowl. Stir in the cranberries and orange zest.
In another bowl, whisk together the milk and yogurt until smooth. Add this to the dry mixture, folding until a stiff dough is formed.
Turn the dough ball out onto a lightly floured surface. I simply do this on the prepared baking sheet. Knead just until the dough holds together. Pat the dough into a large circle and cut into wedges. Sprinkle heavily with sugar.
Lay the wedges out on the prepared baking sheet and bake in the oven until golden, 12 to 15 minutes. Cool on a rack and serve.
If freezing: Freeze unbaked scones on parchment covered tray until firm and then place them in a ziptop freezer bag in the freezer. Bake from frozen, adding five minutes to baking time. Completely cooled scones can also be frozen in a ziptop freezer bag. Thaw these, wrapped, on the counter, before serving.

Are you looking for more good cheap eats?