Cranberry Chocolate Chip Scones are delightfully easy to make with self-rising flour, sugar, butter, cranberries, chocolate, buttermilk, and eggs. Every bite is full of something delicious.
These scones are super tasty included in a Lunchtime Meal Prep or a Make Ahead Breakfast cooking session. They are great added to a Dessert Charcuterie Board. Make a double batch to stash extras in the freezer.
Jump to:
Ready to hunker down with a cup of tea and something delicious?
If you've got chocolate chips in your pantry and some fresh cranberries in your fridge or freezer, you are set for a great breakfast or teatime snack!
These Cranberry Chocolate Chip Scones are a great way to use up all that self-rising flour you panic-bought in the wake of the Great Flour Shortage of 2020. Oh, was that just me?
Lucky for you, deliciousness awaits you regardless of how you stock up.
Why Make This Recipe
These Cranberry Chocolate Chip Scones are delicious! These scones are lightly sweetened and dotted with fresh cranberries and dark chocolate. A simple powdered sugar glaze at the end rounds out the flavors for a treat low on the sugar, but packed with flavor.
They are very freezer-friendly. You can freeze Cranberry Chocolate Chip Scones baked or unbaked, making for an easy baked good any day of the week.
Ingredients
Here's what you need to make Cranberry Chocolate Chip Scones:
self-rising flour: These Chocolate Cranberry Scones are made with self-rising flour which accounts for the flour, leavening, and salt. You can make your own self-rising flour substitute if you need to.
sugar – You'll need granulated sugar for the Cranberry Chocolate Chip Scone dough and powdered sugar for the glaze. If you need to, you can make powdered sugar yourself.
butter: Keep your butter cold for this recipe. You want to cut the chunks of butter into the flour as you would do for pie crust or biscuits. If need be, you can use a plant butter, margarine, or even shortening. Butter, though, adds the best flavor.
cranberries: Fresh cranberries, while delicious left whole in cranberry bread or cranberry muffins, are a little too large for these scones. Coarsely chop the washed cranberries in a food processor prior to preparing the recipe. Don't have cranberries? No problem. You can fold raspberries or chopped strawberries into these Chocolate Chip Scones.
chocolate: If you can find mini chocolate chips, that's what I recommend for this recipe as they add a dainty dose of chocolate without overpowering the whole treat. Plus you get a bit of chocolate in almost every bite. Feel free to use white, milk chocolate, semisweet or dark chocolate chips.
buttermilk: When this recipe was first published, I recommended a mix of milk and cream. To make things easier and to produce a fluffier scone, I now use buttermilk. You can use milk or a plant milk if you prefer, just be sure to substitute 1 tablespoon of white vinegar for part of the liquid.
egg – Eggs add richness and texture to these Cranberry Chocolate Chip Scones. Don't omit them.
vanilla extract – Vanilla extract perfectly complements the cranberries. Remember it's cheaper to make your own vanilla extract.
milk – You just need a bit of milk to make the powdered sugar glaze.
Step-by-Step Instructions
Here's how to make Cranberry Chocolate Chip Scones: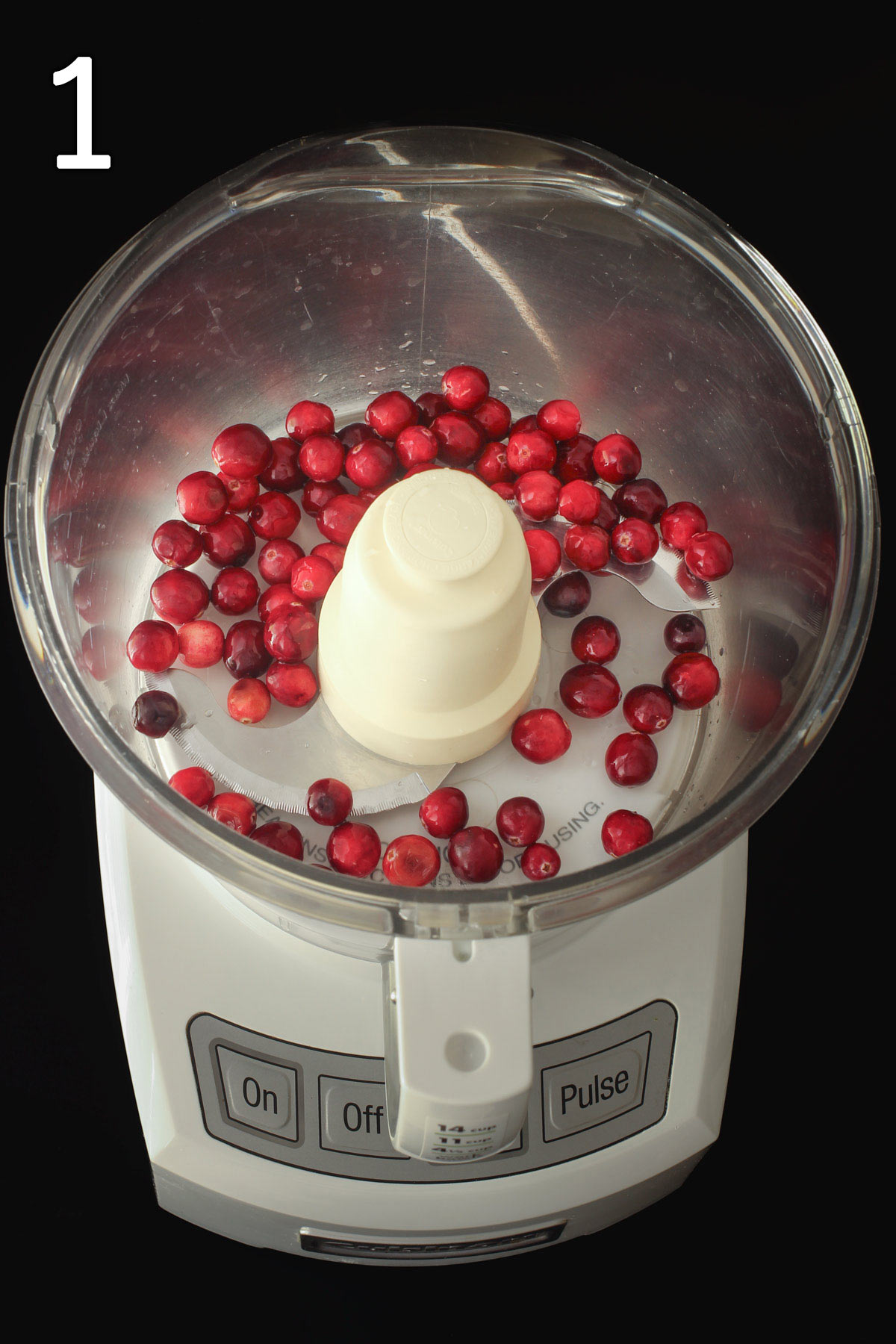 1. In a food processor bowl fitted with a metal blade, add the cranberries. Pulse them to coarsely chop. Transfer to a bowl.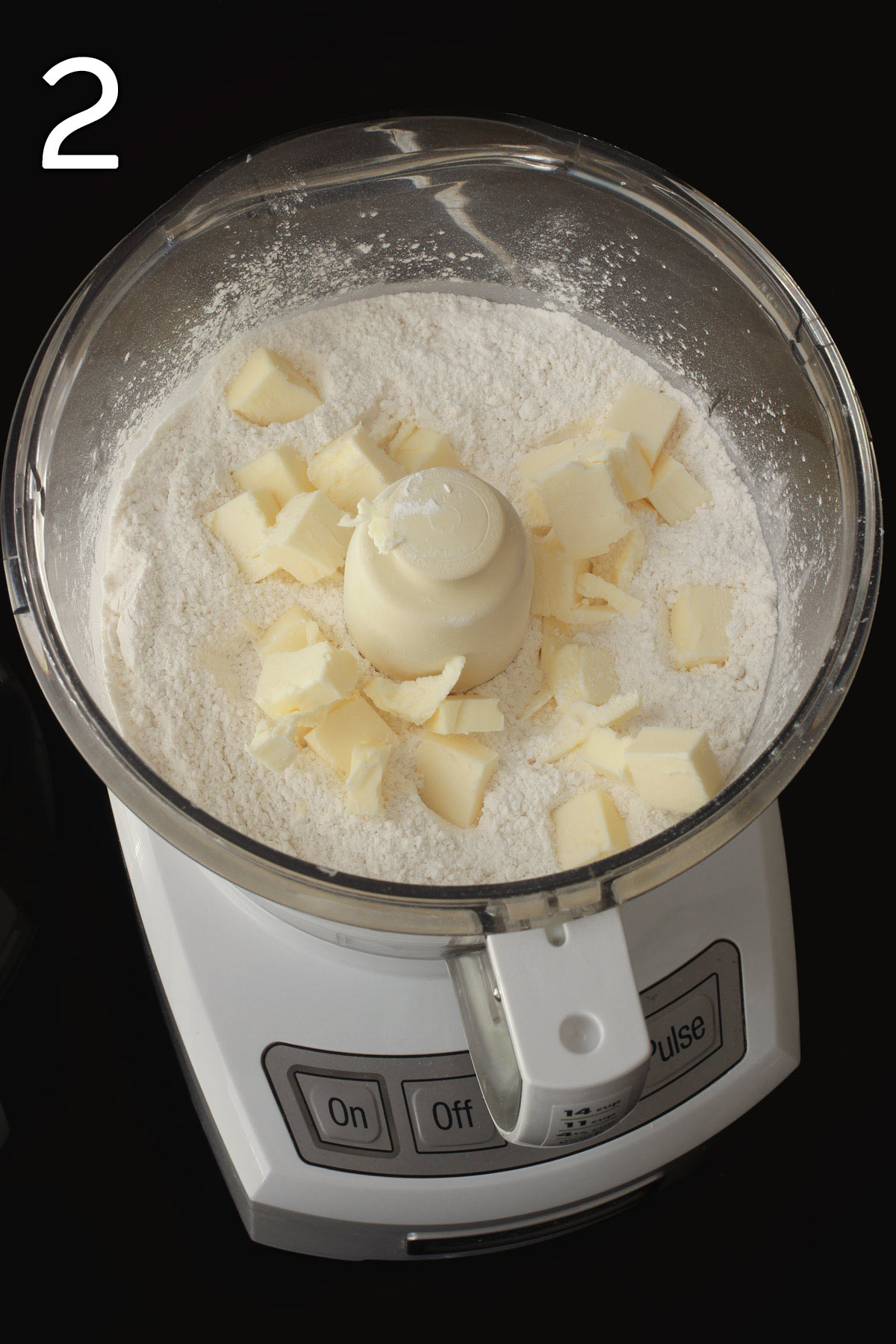 2. Place the flour, sugar, and cubed butter in the food processor. Cut the butter into the flour mixture until coarse crumbs form. You can use the food processor or a pastry blender. Transfer the flour mixture to a large mixing bowl. Fold in the mix-ins.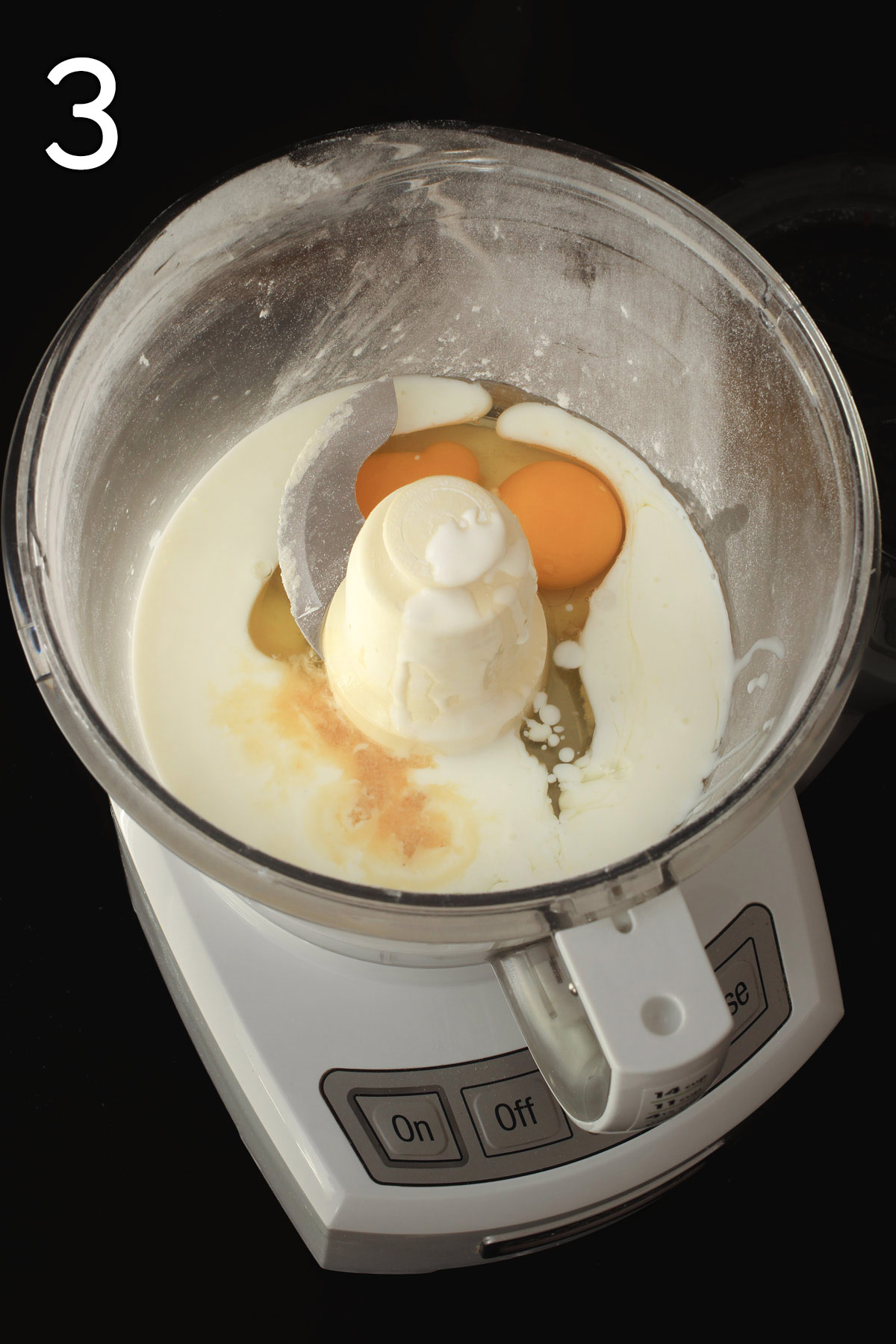 3. Add the eggs, buttermilk, and vanilla extract to the now empty food processor. Blend until smooth. Add this mixture to the dry ingredients and fold gently until a dough forms.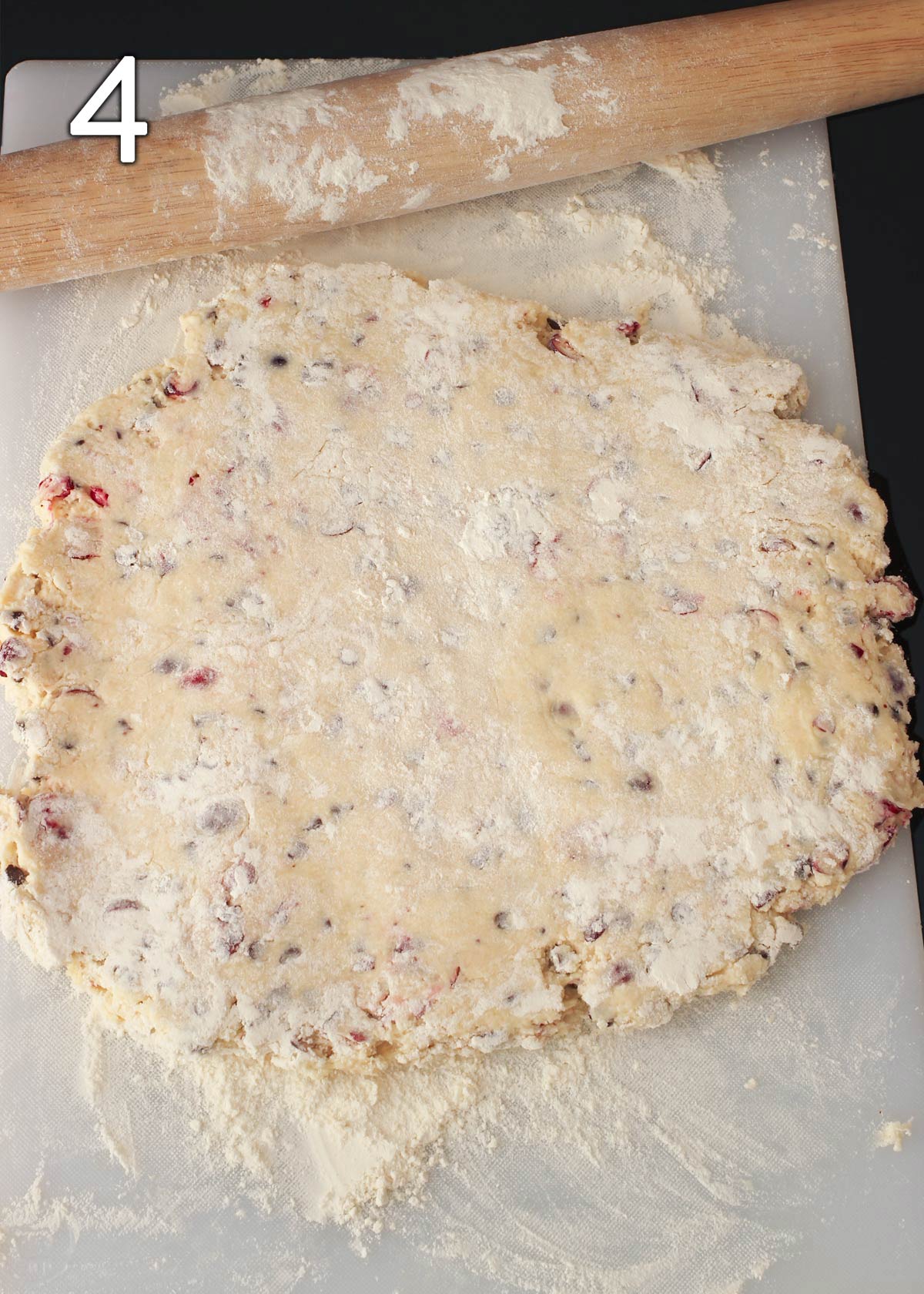 4. Transfer the dough to a floured surface and roll out into 1-inch thickness. Cut the dough into your desired shapes and place on a baking sheet lined with parchment or a silicone baking mat. Bake until golden. Cool and serve. Glaze if desired.
Freezing Instructions
Chocolate Chop Scones freeze beautifully! In fact, you can freeze the scones before or after baking.
To freeze baked scones: Prepare the scones according to the recipe instructions. Cool the scones completely on a rack. Once cool, store the scones in an airtight, freezer-safe container. You can also place them in a ziptop freezer bag, removing all the air from the bag. Store in the freezer for 4 to 6 weeks.
To serve: thaw on the counter. Glaze if desired.
To freeze unbaked scones: Label a ziptop freezer bag with the date, recipe name, and baking instructions. Prepare the scones as directed and place on a baking sheet. Instead of baking, place the baking sheet in the freezer. Once the scones are frozen solid, remove them to a ziptop freezer bag and store in the freezer until ready to serve.
To serve: preheat the oven and bake the scones from frozen, adding 5 minutes or so to the baking time if necessary.
FAQs & Recipe Costs
What is a scone?
A scone is a quick bread of Scottish origin, supposedly named after the Stone of Destiny (or Scone). Originally a triangular-shaped oat cake baked on a griddle, today you'll find scones made of flour and oven-baked.

Scones are cut into triangles as well as rounds, squares, or diamonds. They can be savory or sweet. Scones are delicious for breakfast or tea.
Can I use regular flour instead of self-rising flour?
If you don't regularly stock self-rising flour, you can use regular, all-purpose flour in recipes that call for self-rising flour. Be sure to add 1 ½ teaspoon baking powder and ½ teaspoon salt to each cup of flour in the recipe.

For example for these Chocolate Cranberry Scones, you would use 4 cups all-purpose flour plus 2 tablespoons baking powder and 2 teaspoons salt.
What is the difference between a scone and a biscuit?
Scones and biscuits are made in a very similar manner. Typically, a scone is sweetened and has fruit, nuts, or chocolate mixed in. Biscuits are simpler and more savory.
Recipe Costs
Knowing how much it costs you to prepare a recipe can help you decide if it's the type of recipe to make regularly or one you might want to save for special occasions. Let's crunch some numbers and see how this recipe pencils out.
self-rising flour – $0.40
sugars – $0.22
butter – $0.75
fresh cranberries – $0.50
chocolate chips – $0.50
buttermilk – $0.60
egg – $0.30
vanilla extract – $0.15
milk – $0.02
While your costs may vary depending on where and how you shop, you can expect to pay about $3.44 for a batch of Cranberry Chocolate Chip Scones, about $0.27/serving.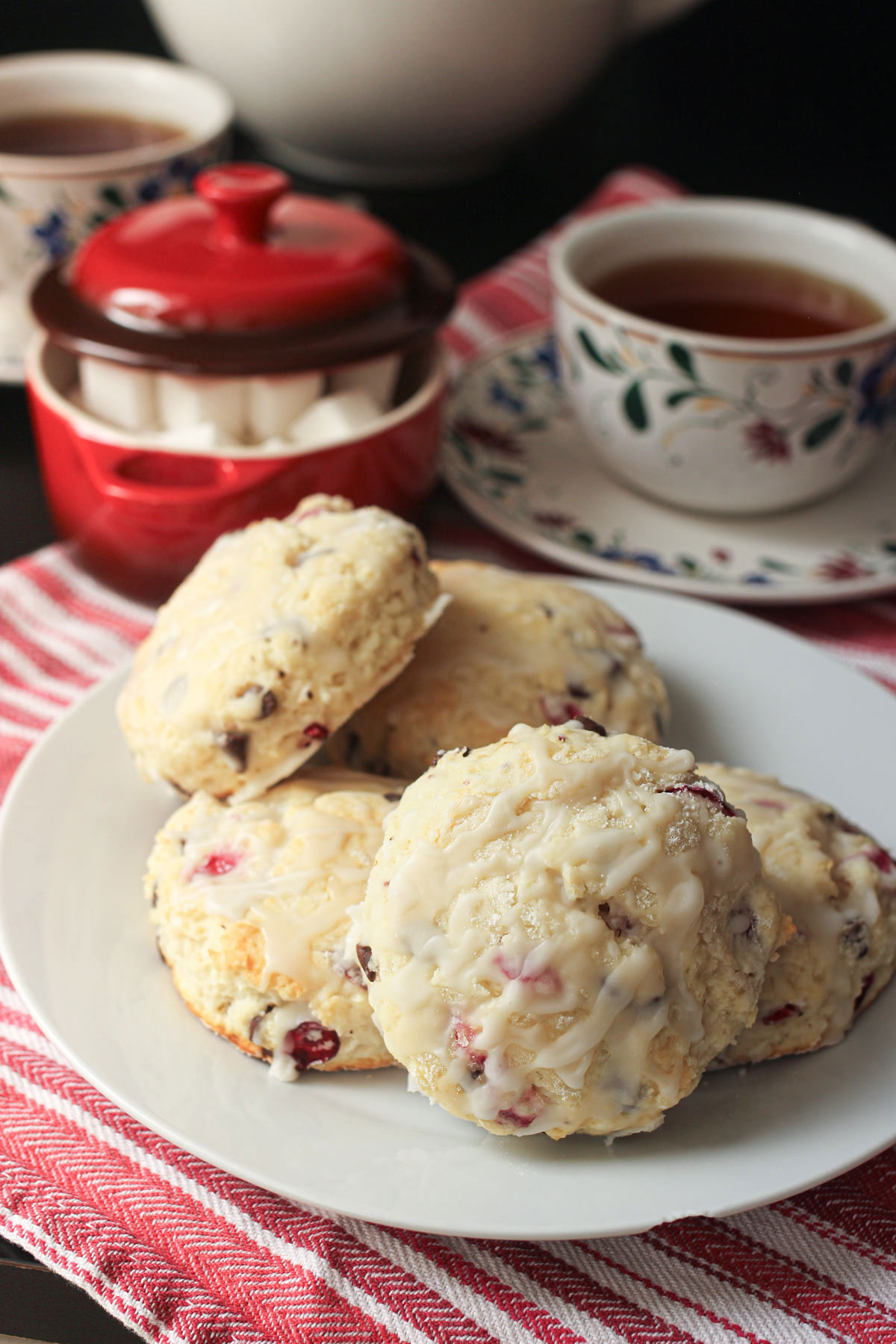 More Great Scones & Biscuits
Cranberry Chocolate Scones
Tart cranberries and sweet chocolate make a perfect match in these Cranberry Chocolate Scones. They mix up quickly, thanks to self-rising flour. Be sure to stash some in the freezer since they freeze beautifully and allow you to bake scones on demand so easily.
Ingredients
4

cup

self-rising flour

½

cup

granulated sugar

½

cup

butter

cubed

1

cup

fresh cranberries

coarsely chopped

½

cup

chocolate chips

¾

cup

buttermilk

2

egg

2

teaspoon

vanilla extract

¾

cup

powdered sugar

1

tablespoon

milk
Instructions
Preheat the oven to 400°. Line a baking sheet with parchment or a silicone baking mat.

Coarsely chop the cranberries with a knife on a cutting board or in the food processor fitted with the metal blade. If using the food processor, wipe out the bowl before proceeding.

In the bowl of a food processor fitted with metal blade, measure in the flour and sugar. Secure the lid and pulse briefly to mix.

Add the butter pieces and process until coarse crumbs are formed. (If you do not have a food processor, the same effect can be achieved in a mixing bowl with a pastry blender, fork, or two table knives held together.)

Pour the crumb mixture into a large mixing bowl. Add the cranberries and chocolate chips. Toss to coat.

No need to wash the processor bowl. In the bowl, combine the buttermilk, eggs, and 1 teaspoon of the vanilla extract. Or whisk them together in a mixing bowl.

Slowly pour the wet ingredients into dry crumb mixture and stir quickly, just until a shaggy dough forms. Overmixing will result in tough scones.

Empty the dough onto a lightly floured surface. Knead three or four times with floury hands. The dough will be sticky.

Shape dough into a large, flat rectangle. Cut into 12 squares. Separate the squares carefully. Alternatively, you can cut out 24 2-inch rounds with a cutter. Place the scones on the prepared baking sheet, allowing about an inch of space between them.

Bake for 12 to 14 minutes, until lightly browned. Cool slightly on a rack while you prepare the glaze.

To prepare the glaze, combine the powdered sugar, remaining 1 teaspoon extract and the milk. Add more milk if necessary to create a drizzling texture.

Drizzle the glaze over the slightly warm scones. Allow the glaze to set before serving.

Store the scones in an airtight container for up to 4 days at room temperature.
Notes
Note: If you don't regularly have self-rising flour on hand, you can use regular flour and add 1 ½ teaspoon baking powder and ½ teaspoon salt to each cup of flour.
You can also freeze the scones, baked or unbaked. Flash freeze and store in an airtight container in the freezer. If baking from frozen, increase baking time 5 minutes. Alternatively, bake and cool the scones and store them in an airtight container in the freezer for up to 4 weeks.
Promptly store leftovers in an airtight container in the refrigerator, for up to 3 days.
Nutritional values are approximate and based on 1 large or 2 small scones.
Nutrition
Calories:
344
kcal
|
Carbohydrates:
53
g
|
Protein:
7
g
|
Fat:
11
g
|
Saturated Fat:
7
g
|
Cholesterol:
51
mg
|
Sodium:
101
mg
|
Potassium:
79
mg
|
Fiber:
2
g
|
Sugar:
22
g
|
Vitamin A:
323
IU
|
Vitamin C:
1
mg
|
Calcium:
40
mg
|
Iron:
1
mg
This post was originally published on January 21, 2010. It has been updated for content and clarity.