Want to save money, eat better, and avoid the takeout line? Make a week of lunches! Doing a lunchtime meal prep totally pays off.
Whether you make a round of Meal Prep Salads or a couple batches of Freezer Burritos, prepping lunch in advance will put your mind at rest. Follow this strategy for pulling off a meal prep for lunchtimes and eat well all week long!
Jump to:
At the start of each work week, I spend a couple hours in the kitchen, doing a lunchtime meal prep for the days ahead. Believe it or not, these are not school lunches for the kids, but work lunches for us adults!
And it's one of the best habits I ever developed.
Why Do This
It saves time. My husband's work provides employees with access to a microwave and refrigerator. He has a 30-minute break for lunch. I work at home while homeschooling my kids and running a home business. My "break" is often shorter.
Having lunch all ready to go ensures that we actually eat during the day instead of spending time trying to fetch or prep a meal in a hurry.
It's efficient. For years I prepped lunch the night before or morning of. It wore me out! And then I realized I could adapt bulk cooking strategies I use for freezer meals for fresh lunches. Don't make lunch every day, but once a week!
It's cheap! Lunch out can easily cost $8 to 12 per person per day. We can eat all week for that price. Not only do we save money, but we eat better, too!
Step-by-Step Instructions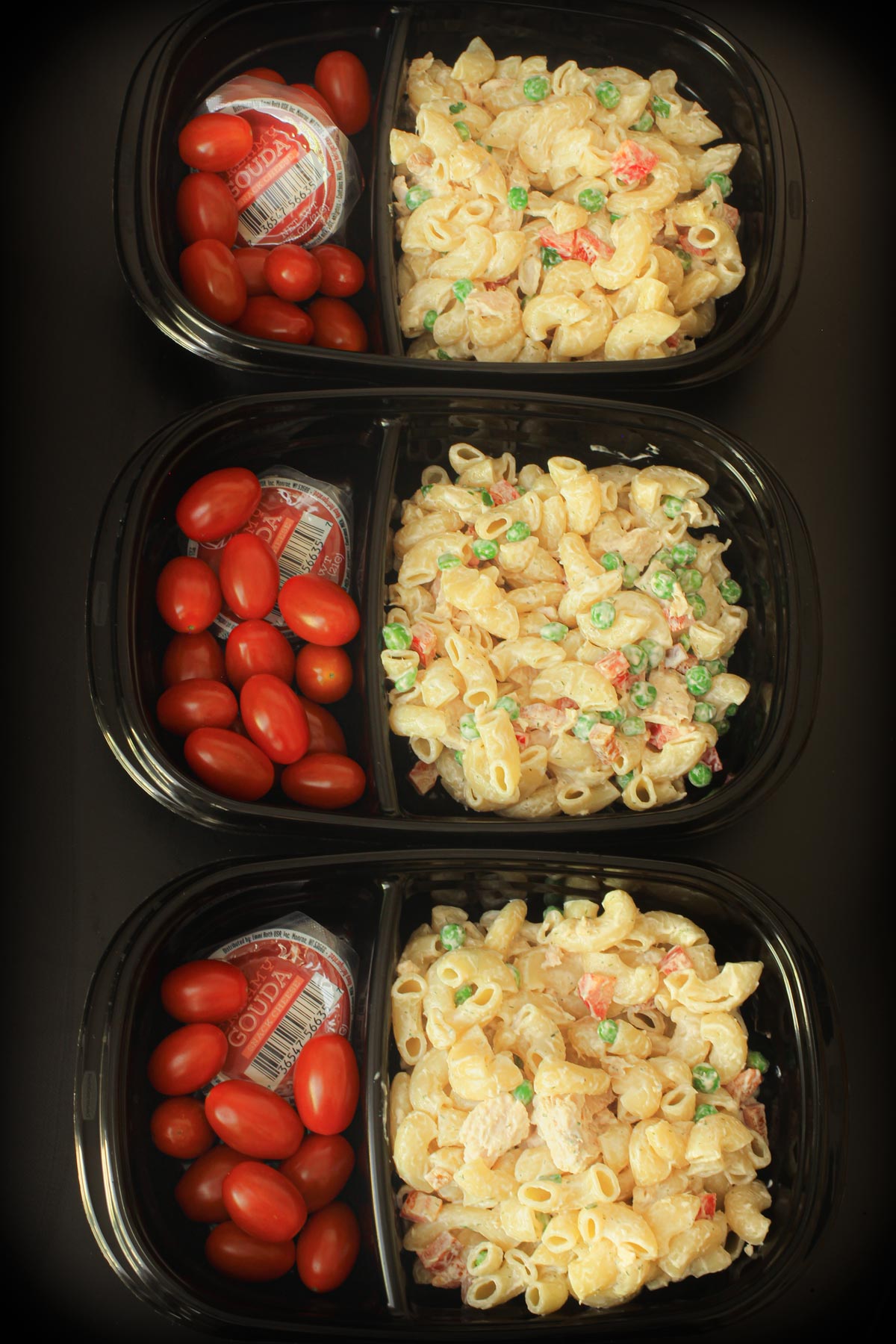 Here's a simple formula for lunchtime meal prep. Adapt it to suit your preferences, budget, and schedule.
1. Make a meal plan.
My lunch meal plan is nowhere near as elaborate as our weekly dinner plan might be. I basically ask my husband what sounds interesting to him. He's okay with eating the same thing twice a week, so I usually choose two lunch menus and double them.
I want our food to be fresh so I only pack four day's worth of lunches on a Sunday night. Those get us through lunch on Thursday. To push it to Friday goes against my 4-day "leftover" rule.
My husband likes to go out to lunch on Friday — as do I! — so it works out.
If you want five days of lunches AND to follow my 4-day rule, do the meal prep on Monday morning. Then you're good for all five days of the week.
Alternatively, you can choose items that freeze well, like bean and beef burritos or you can do a second mid-week meal prep.
Be sure to scroll down for some of our favorite lunchtime meal preps!
2. Go shopping.
Obviously, you'll save money if you shop the kitchen first. Use what you have before going to the grocery store.
I typically do one big shop on Sunday morning or afternoon. When I come home, I prep it all for the week's lunches. Do what works best for your schedule.
3. Chop, chop, chop.
Since we like to focus on vegetables for lunch time, either as salads or roasted veggies, I do a fair amount of chopping during my lunchtime meal prep, but not too much; I want quick and easy after all. Sometimes I buy baby zucchini or carrots or broccoli already cut into florets so I don't have to do any chopping at all.
My basic prep work looks like this:
chop salad greens and toppings
4. Form a line. An assembly line.
Once all the main components are prepared, I lay out all the containers and lids and assemble lunches in an assembly line.
This part is super quick, so depending on how many elements you're combining, your lunchtime meal prep really shouldn't take too long.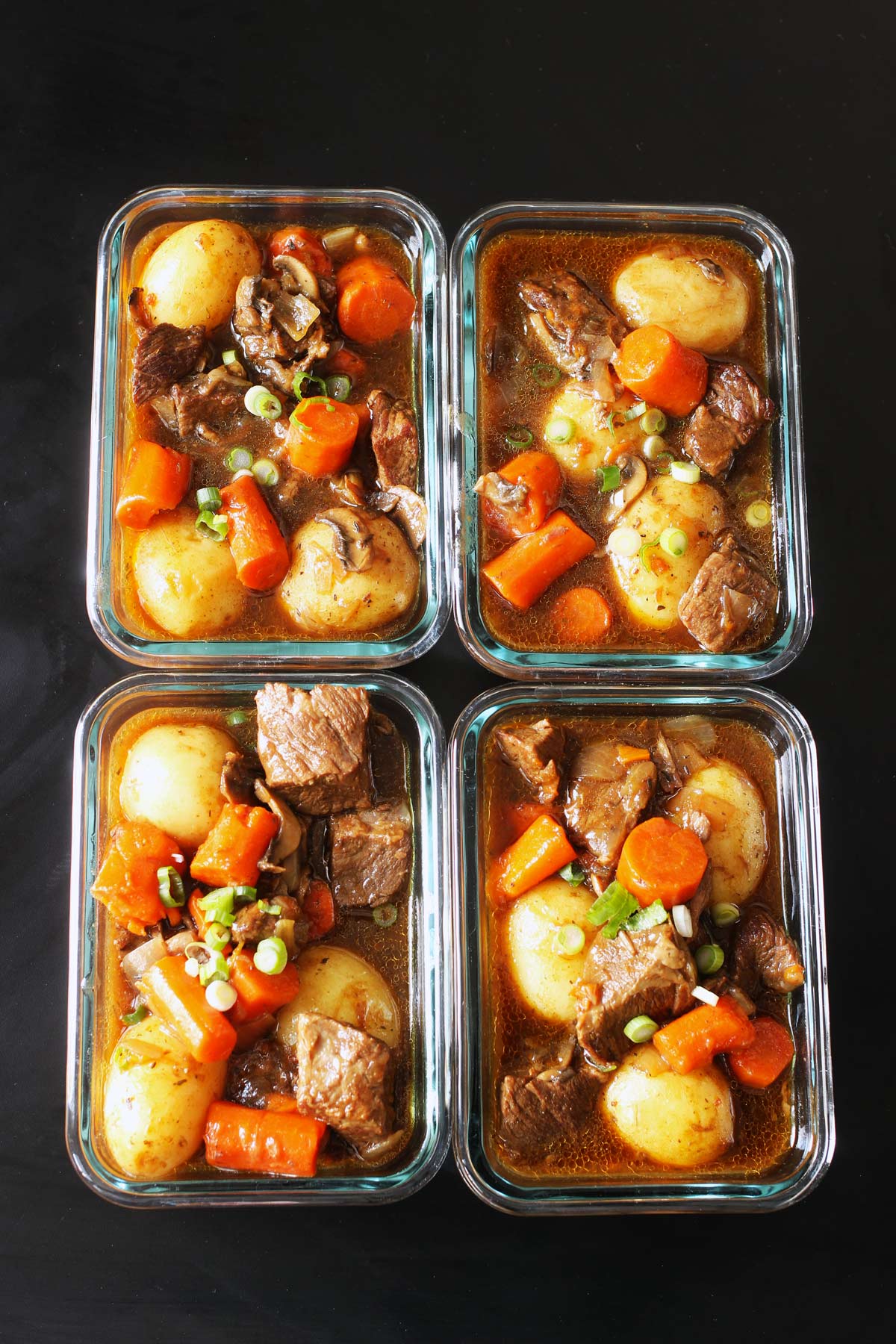 5. Refrigerate.
And that's it! I put two stacks of lunches in the fridge. My husband takes one stack to work with him on Monday mornings. I keep one stack for myself.
It's so nice not to have to make a meal midday for myself. My kids are happy with quesadillas, burritos, or sandwiches that they can make themselves, but I usually crave something more.
Note about storing lunch at work: my husband has very respectful co-workers. No one has stolen his lunch that I know of. The cream for his coffee is another story. Your mileage may vary.
Best Meal Prep Tools
Favorite Meal Prep Recipes
This post was originally published on September 9, 2016. It has been updated for content and clarity.