Red Burritos, particularly those stuffed with savory beef and beans and topped with luscious enchilada sauce and cheese are so tasty. Even better, you can make them and freeze them in advance!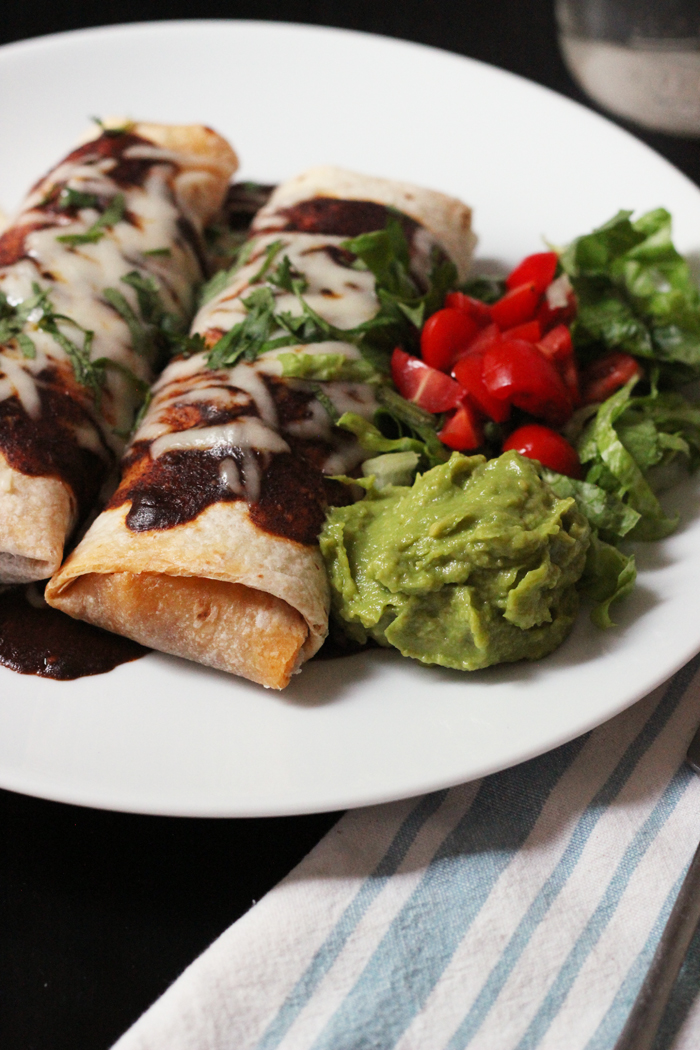 I've made these Red Burritos several times in the past month or two, to much acclaim from my children. We all love a crispy burrito, filled with yumminess, and topped with hot enchilada sauce and cheese. I regularly fill the freezer with batches of these for us to serve as dinner or reheat for quick snacks.
These Red Burritos are my healthier version of the chimichanga. Instead of frying them, I bake them in the oven until crispy. Then I serve them with all the fixings: enchilada sauce, cheese, lettuce, tomato, guacamole, and sour cream. Burrito night is a hit, to be sure.
As I mentioned, I do love to make these for the freezer. My husband and college son can grab a few to pack for lunch. They make for easy, on-the-go snacks. And honestly, having a meal already to go is such a lifesaver on busy nights!
Fun fact: Chimichangas topped with red sauce is one of my husband's favorite things to eat at restaurants. Also, he has a weird quirk about nicknaming foods with gruesome or weird monikers. Summer rolls are "larva", bran flakes are "head skin", and these? Well, let's just say, when my college son saw what I was making, he said happily, "Oh bloddy arms." Nice. TMI?
What can I say, but now you're ready for Halloween?
How I make this good:
Whenever possible I like to cook with plain old ingredients. While the convenience of mixes and canned sauces is nice, I feel better about feeding my family just real food whenever possible. (Go here for some of my reasons on all that.)
There are just six ingredients in this dish. Technically two of them are processed: the enchilada sauce and the tortillas, though you can make both homemade if you prefer. I find that making my own enchilada sauce is super quick and easy. While I love homemade corn tortillas, I don't see the advantage to making homemade flour tortillas. So I don't.
That means it's time to read labels. The fewer the ingredients, the better. Trader Joe's and Tortilla Land brand flour tortillas both have pretty clean ingredients lists.
As for the other four ingredients: ground beef, cheese, onion, and beans, those are pretty straightforward. Buy the best quality you can afford.
What's the difference between fajitas and a burrito?
Fajitas are typically a beef or chicken filling with sliced peppers and onions. The mixture is often sautéed quickly on a hot skillet and served with tortillas alongside.
A burrito is made of a flour tortilla filled with beans, meats, cheeses, and possibly a sauce, like these Green Chile Burritos.
Obviously, I've morphed the two dishes here into one. Combining the characteristic peppers and onions with jalapeños and shredded chicken.
Make burrito fillings easy to bite into.
Like sandwiches, burritos are something that you hold in your hands and take bites of. You want the filling to bite easily else you risk all the filling coming out of the wrapper as you eat.
You know what I'm talking about?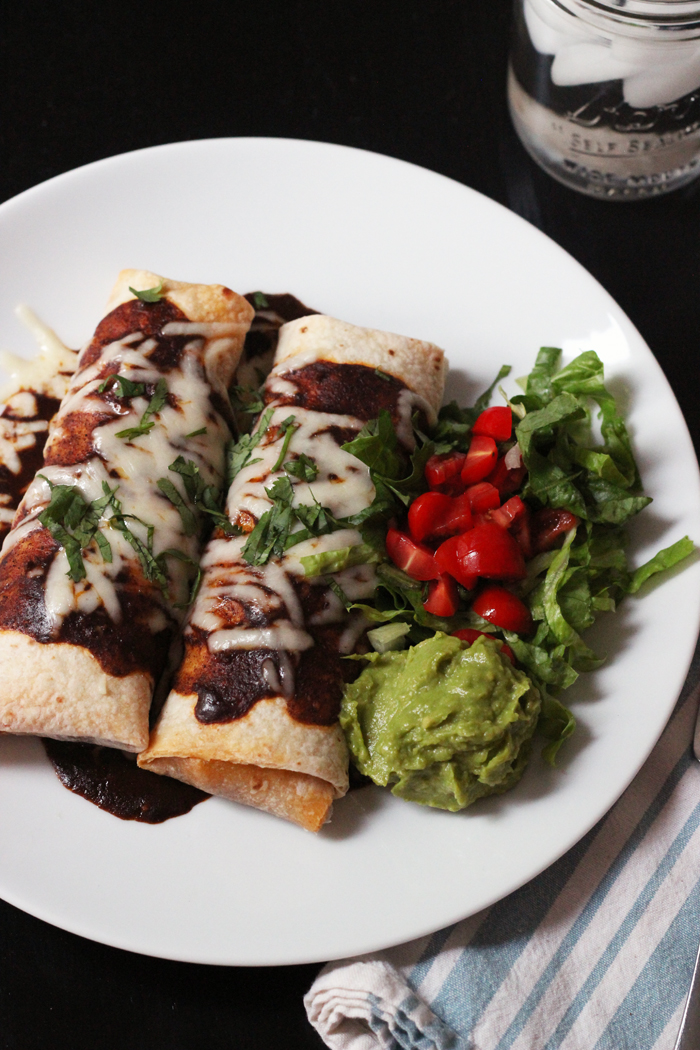 How to make this cheap:
Here are some of the strategies you can use to make this recipe more economical:
Meal plan around what's on sale. Don't decide to make this when ground beef is $7/pound and you have none in the freezer.
Stock up on ingredients when they are on sale

. For instance, when I see a great price on ground beef, I buy a lot. The same goes for jack cheese. In some ways jack is a specialty item around here, so I shoot for buying it at less than $3/pound.

Do a price comparison. I know that Costco is the best place to buy ingredients like tortillas or beef when there isn't a great sale elsewhere. I keep track of prices so that I know who has the best deal where.
Cook your own beans. While it takes a little more work than opening a can, cooking beans from dried can bring about significant savings.
Tools I use to make this recipe easy:
This is a pretty straight-forward dish. You don't need any fancy equipment. However, having some good basic kitchen tools can really make your time in the kitchen more enjoyable. Over time, I've honed my collection so that they are perfect for my needs. Here are the tools that I like to use in this recipe.
Red Burritos with Beef and Beans
Red Burritos, particularly those stuffed with savory beef and beans and topped with luscious enchilada sauce and cheese are so tasty. Even better, you can make them and freeze them in advance!
Ingredients
1

lb

ground beef

1/2

onion

finely chopped

2

16-ounce cans

pinto beans

rinsed and drained

8

oz

jack cheese (shredded)

(2 cups)

6

oz

red enchilada sauce

plus more for topping (3/4 cup)

12

burrito-size flour tortillas

toppings for burritos

: shredded lettuce, chopped tomatoes, salsa, guacamole, sour cream
Instructions
In a skillet, cook the ground beef onion until the beef is no longer pink and the onions have started to turn clear.

Transfer the meat to a mixing bowl. Add the beans, and enchilada sauce, folding to combine. If you are making the burritos in advance, allow the mixture to cool to room temperature before proceeding.

Fold in the cheese.

To assemble the burritos, lay out the tortillas on a flat working surface. Divide the meat mixture among the tortillas, placing each portion in a line down the center of each tortilla. Roll up the tortilla over the filling, tucking in the sides as you go. Repeat with all of the tortillas and the filling.

To serve right away, place the burritos on a hot griddle to warm the filling and crisp the outsides. If you prefer, you can bake them in a 350° oven for about 25 minutes. If desired, top with additional enchilada sauce and cheese.

These burritos can be frozen for later use. Prior to baking, wrap each burrito in deli wrap and store in a gallon-size freezer bag. Reheat in the microwave or oven or on a hot griddle.
Notes
Nutrition facts does not include toppings.
Nutrition
Calories:
346
kcal
|
Carbohydrates:
32
g
|
Protein:
19
g
|
Fat:
16
g
|
Saturated Fat:
7
g
|
Cholesterol:
44
mg
|
Sodium:
463
mg
|
Potassium:
418
mg
|
Fiber:
6
g
|
Sugar:
3
g
|
Vitamin A:
245
IU
|
Vitamin C:
1
mg
|
Calcium:
206
mg
|
Iron:
3
mg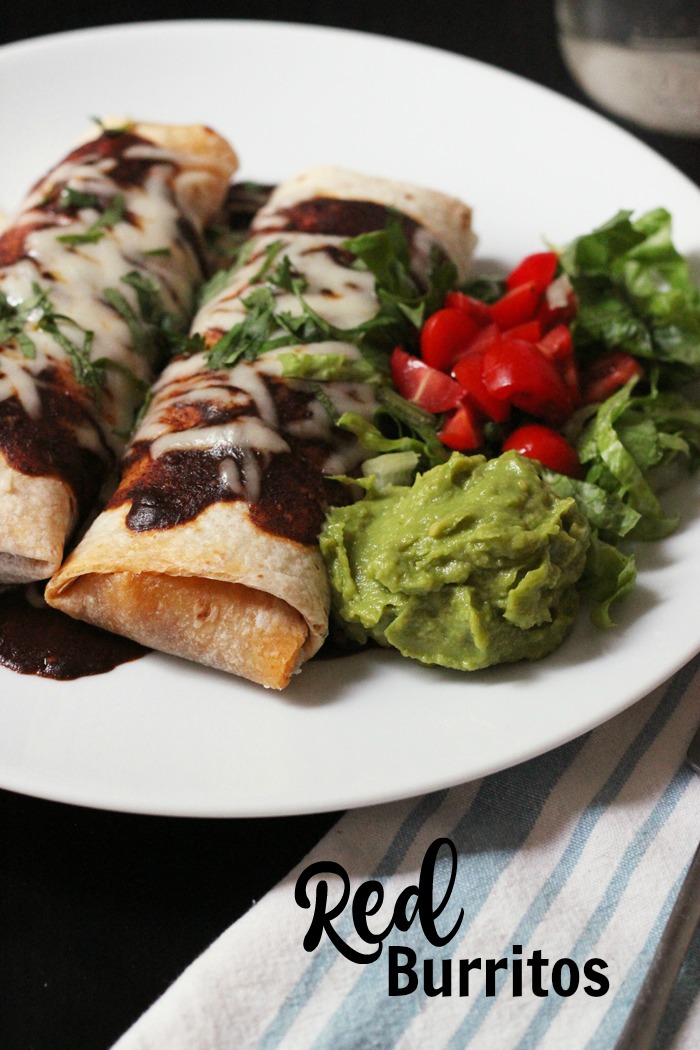 Like these Red Burritos? There's more good cheap eats in store for you!