This Shredded Beef Filling is great for tacos, burritos, and taquitos. It makes a mean sandwich, too. Best of all, it cooks up easily in the slow cooker.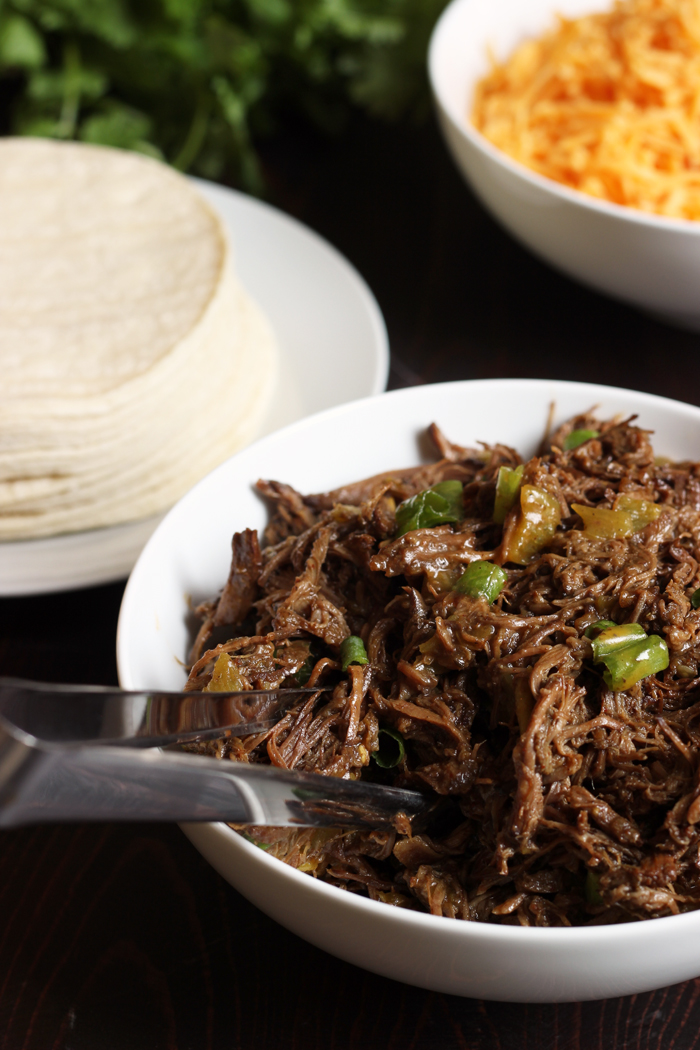 Shredded Beef is one of our favorite fillings for all sorts for sandwiches as well as Mexican dishes like tacos, burritos, and taquitos. It is delicious folded into enchiladas. Oh my word!
It's economical because beef chuck often goes on sale for less than $4 a pound. I stock up on roasts when I see them at the $3.99 rate, and then cook them up for all kinds of beefy deliciousness. The process is super easy since the slow cooker does most of the work.
I will often buy chuck roast or chuck steak on sale and cook several at one time. Once it's fork tender, I shred it and package it for the freezer. Packed away in meal size packages, it makes for a quick supper.
If I can keep it away from the hungry wolves long enough to get it to the freezer….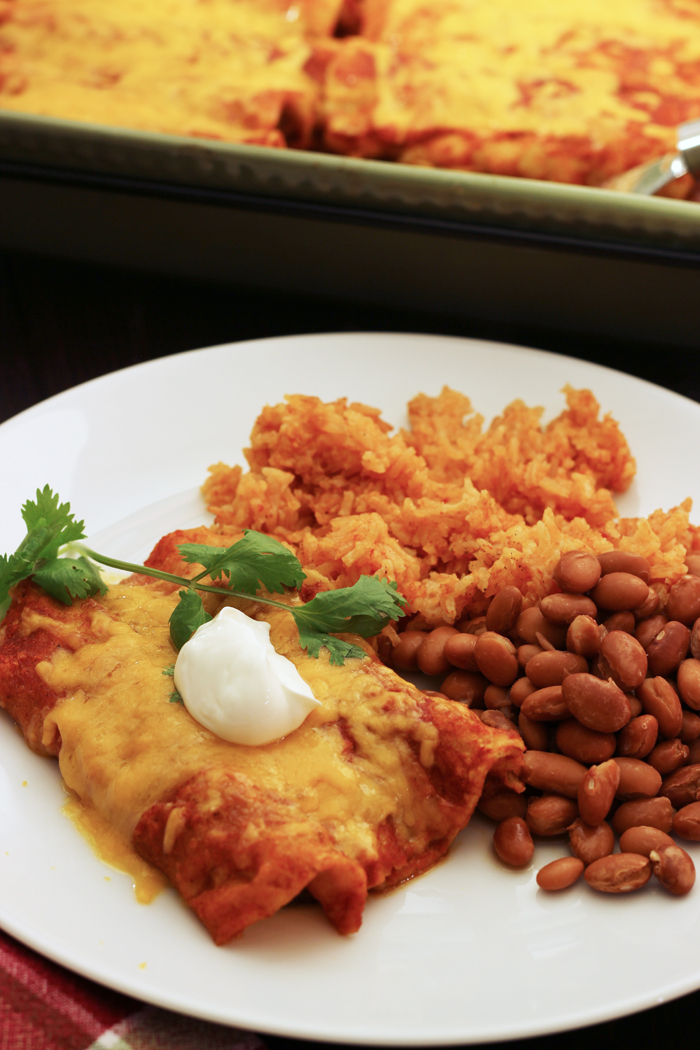 Tools I use for this recipe:
Shredded Beef Filling
Shredded beef is a great filling for tacos, burritos, and taquitos. This recipe cooks up easily in the slow cooker.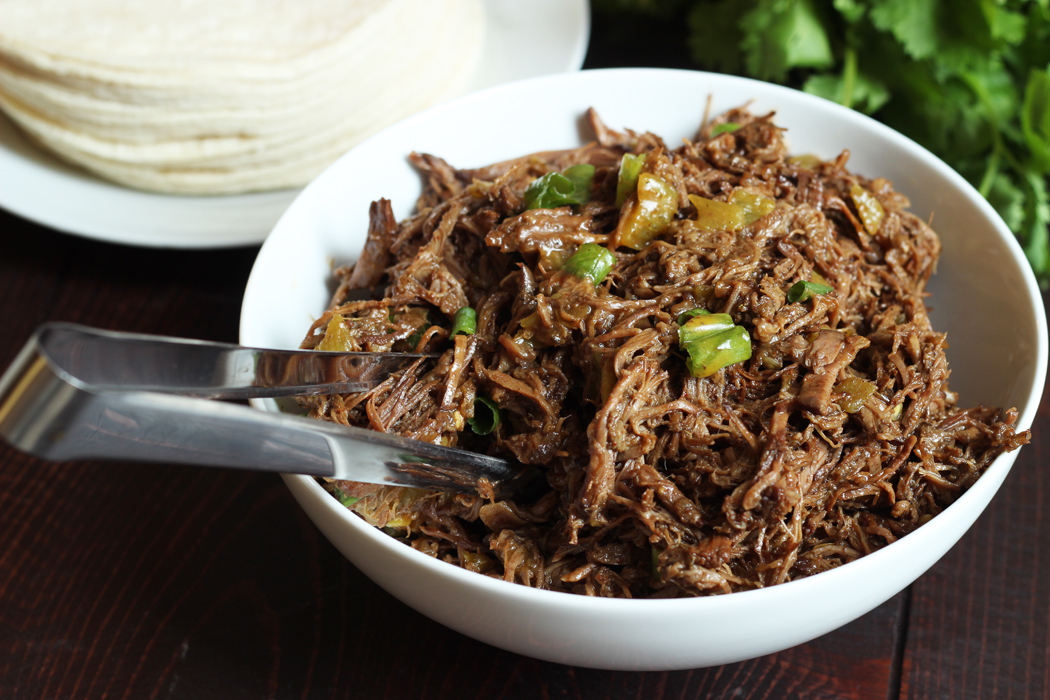 Preparation Time:10 minutes
Cook time:6 hours
Total time:6 hours 10 minutes
yield varies
Ingredients:
1 tablespoon olive oil

4 pounds (or so) chuck roast or chuck steak

fine sea salt and freshly ground black pepper

1 onion, chopped

1 tablespoon chili powder

1 teaspoon dried oregano

1-3 tablespoons water

1/2 cup chopped scallions (optional)

4-ounce can chopped green chiles (optional)
Instructions:

In large skillet heat olive oil until shimmering. Generously salt and pepper chuck roast. Add meat to pan and brown well on each side. Remove to the crockpot.
Add chopped onion to skillet and saute, scraping up bits, until onion is translucent. Stir in chili powder and oregano. Stirring until well combined. Add water to make a paste. Use the larger amount if the mixture is dry. Scrape onion mixture into crockpot (slow cooker).
Set to low and cook all day, about 6-10 hours. Meat will be extremely tender and easily fall apart. Shred by pulling meat apart with two forks or small tongs. Adjust seasonings. Add some of the drippings to moisten if necessary. Otherwise, save drippings for another use, like adding to soup or making gravy.
Use shredded beef in recipes like tostadas, chimichangas, burritos, tacos, enchiladas and even bbq sandwiches. For Mexican recipes, toss in scallions and green chiles.
To freeze: Wrap, label, and chill completely before freezing.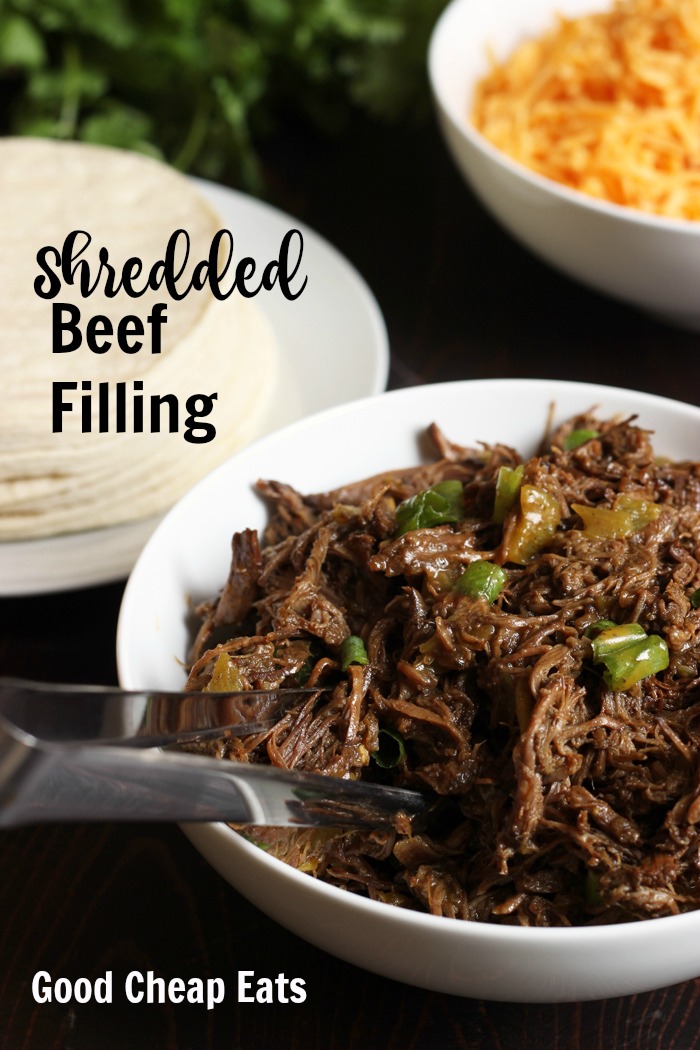 Are you looking for more good cheap eats?