Serving a Build-Your-Own-Burrito Bar is a great way to make dinner simply, easily, and economically. With tortillas, beans, cheese, and any number of fillings, all can have a burrito just the way they like it.
Looking for more easy Mexican food recipes? We've got you covered from Beef Chimichangas to Santa Fe Salad with Chicken, Corn, & Black Beans.
On a mission to make easy dinners? Fighting picky eaters all the way? Need something that can be made in advance?
Well, the Build-Your-Own Burrito Bar solves these problems and more. It's tasty and economical to boot!
How to Serve a Burrito Bar
A burrito bar is simply a serve yourself way to dish up burritos for the folks around your table. While burritos have a lot in common: flour tortillas, beans, cheese, they can also vary quite a bit.
Some folks prefer them spicy, others loaded with sour cream, rice, and meat. You could take four people and give them a burrito bar and you'd see four very different burritos.
No wonder Chipotle is so popular!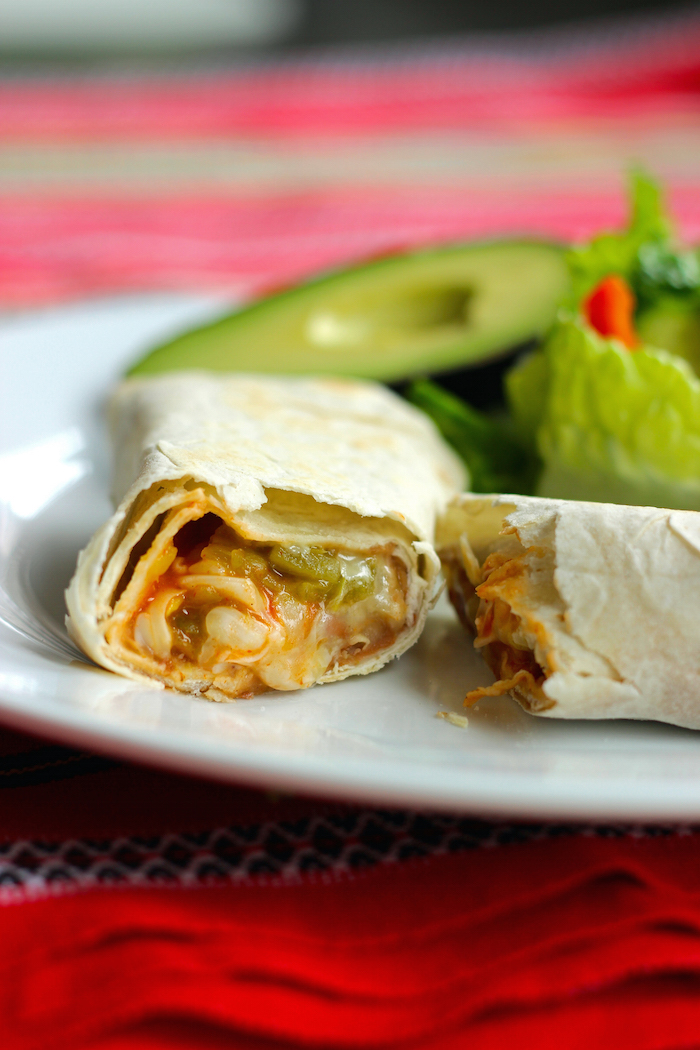 Take-out burritos can cost a pretty penny, but at home when you serve a burrito bar, you only need a lot of those main ingredients. The other fillings? Not so much.
You can even get away with shopping the fridge to fill out your burritos.
What goes good in a burrito?
By definition a burrito usually has beans and cheese, wrapped in a flour tortilla. But there are so many other ways to fill it. Consider these burrito fillings:
steamed or baked rice
shredded beef, pork, or chicken
seasoned ground beef or turkey
chopped Carne Asada
shredded lettuce
Salsa or hot sauce
green chiles or jalapenos
chopped cilantro
cooked potato or sweet potato or even French fries
chopped avocado or guacamole
sour cream
What toppings go on a burrito?
While most take-out burritos are served naked, there are toppings that you can add to the outside of the burrito, such as enchilada sauce, salsa verde, and shredded cheese.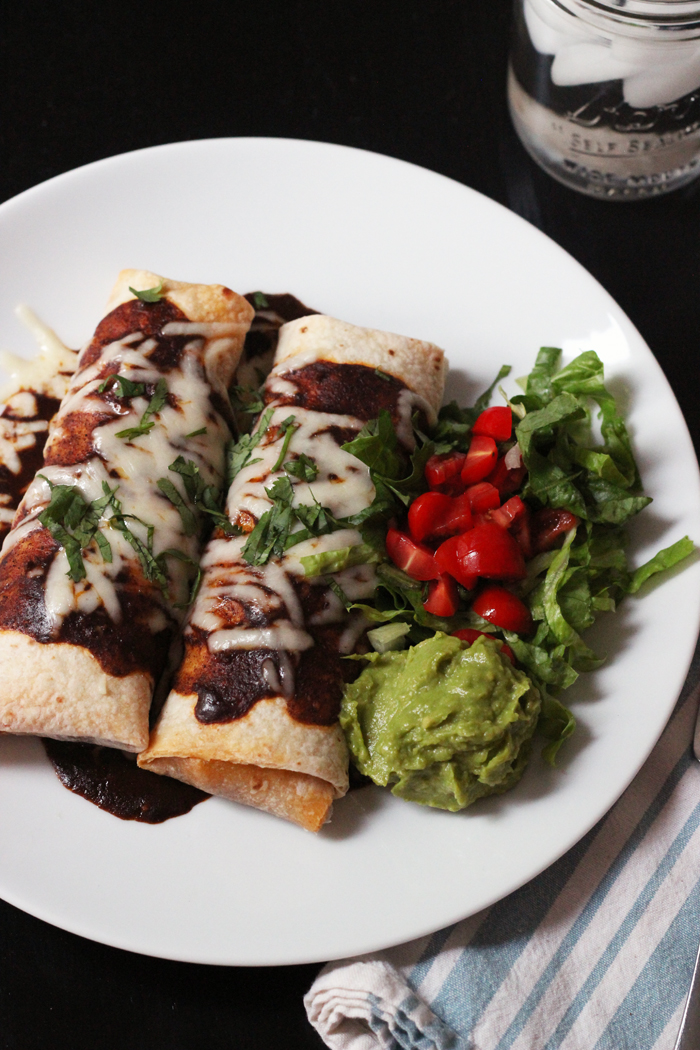 Don't feel like you have to offer all those items in your burrito bar. Just know that you have a lot of freedom and versatility.
How do you make a burrito bar?
Assembling the burrito bar is super simple!
Prepare the items that should be served hot, such as the beans, and any veggies, rice, or meats you might be serving.
Lay out containers of the fillings in a buffet line, starting with the tortillas, beans, and cheese, followed by the other burrito fillings.
How do you roll a burrito?
Don't be intimidated by rolling a burrito. It's pretty easy once you get the hang of it.
Place the fillings in a line down the middle of the tortilla.
Fold the bottom edge of the tortilla over the filling.
Tuck in the sides and continue rolling.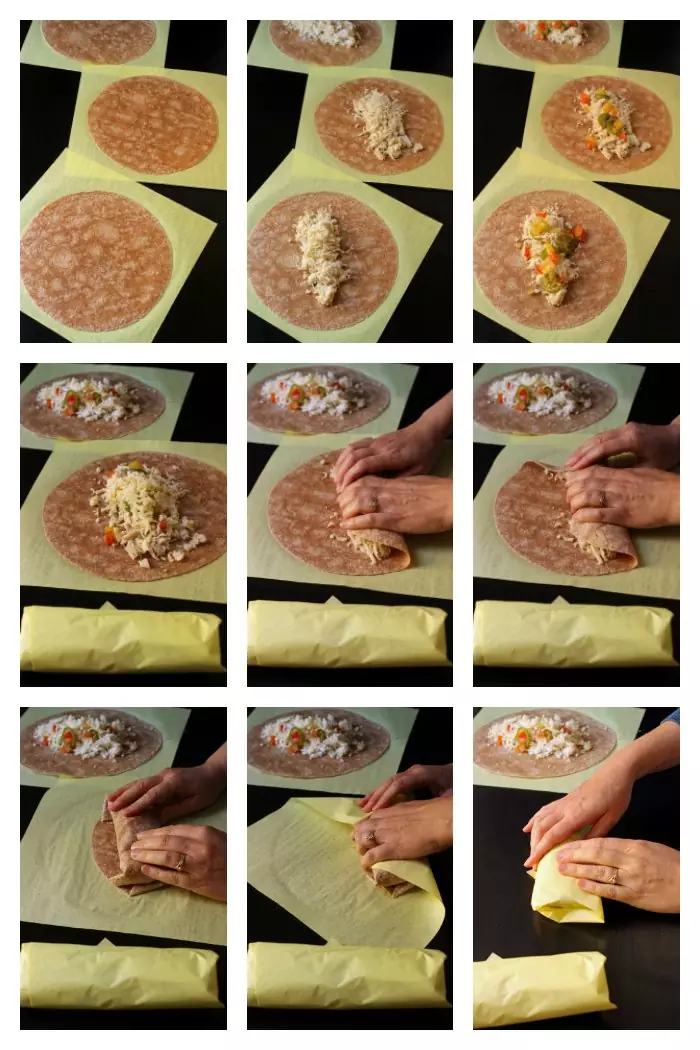 Can you make burritos in advance?
Burritos are a great food to make in advance and store in the fridge or freezer. It's a great thing to do after serving your burrito bar so you can use up the ingredients and make some extra meals for later.
When making freezer burritos, avoid fillings that don't freeze well, such as lettuce or sour cream. Wrap each burrito in a deli paper for best storage. Store burritos in the refrigerator overnight or in the freezer for several weeks.
How do you reheat burritos?
Sometimes when you're serving a burrito bar, folks get talking and ingredients can get cold. Offer folks the option to crisp their burritos on a griddle for a few minutes, turning to crisp each side.
Alternatively, you can heat burritos in a 350 oven for 15 minutes.
In both instances, it's best not to add lettuce to the burritos.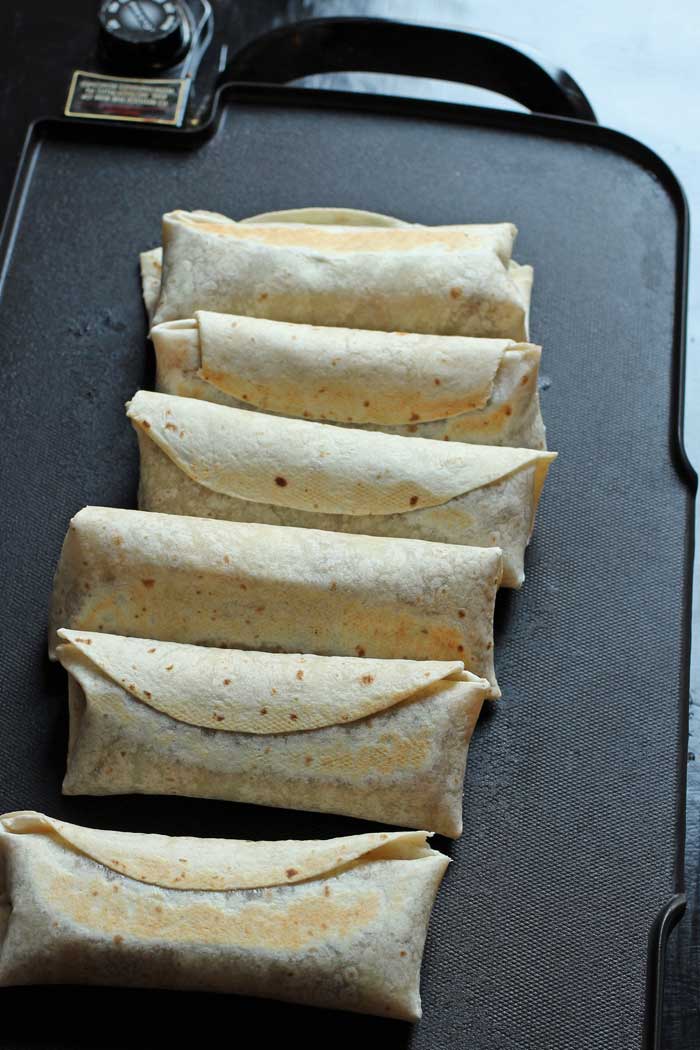 How much does it cost to serve a burrito bar?
A burrito bar is a great way to serve a crowd on a budget! Here's how the ingredients for this recipe pencil out when you buy them not on sale at a mid-range grocer in San Diego county.
burrito tortillas – $1.04 ($1.50/12)
refried beans – $1.86
iceberg lettuce – $0.65 ($1.29/1 head)
jack cheese – $2.00
tomatoes $0.60
sour cream $0.50 ($2.00/16 oz)
This prices out to be $6.65 for eight or $0.83 each! While you might be able to find some dollar burritos at a taco shop somewhere, they likely won't be as tasty. It's definitely worth your while to make your burritos at home, especially if you're feeding a crowd.
But wait, you can spend less!
The Good Cheap Eats System is designed to help you take your grocery spending to the next level of savings. Apply it to any recipe and you'll find ways to cut costs so you can enjoy more great things with your money.
Here's how to apply it to your burrito bar:
Shop your kitchen – Be sure to use what you have to prevent waste and to save time and money in buying more. Feel free to use mashed black beans instead of pintos, cheddar instead of jack, or romaine instead of iceberg. It will still be delicious.
Make a plan for leftover ingredients – You may have leftover iceberg lettuce, sour cream, and tortillas from a larger package. Make a plan to use these up so that you don't lose the investment.
Visit the store with the best prices – This recipe estimate is based on a mid-range grocery store. Chances are very good that you can get these already affordable ingredients for even less if you choose your store well. ALDI and Costco will both offer much better prices for tortillas as well as refried beans, one of the pricier items in this recipe.
Check the sales and clearance – Always shop the sales looking for things you use on a regular basis. Chances are you can stock up on some of these pantry staples at rock bottom prices to enjoy over the coming weeks and months.
Cook from scratch – This is already an affordable dish as is. Cooking your own beans will help shave the price down a little more and allow you better control of the ingredients. You could try making homemade flour tortillas and bring the cost down dramatically.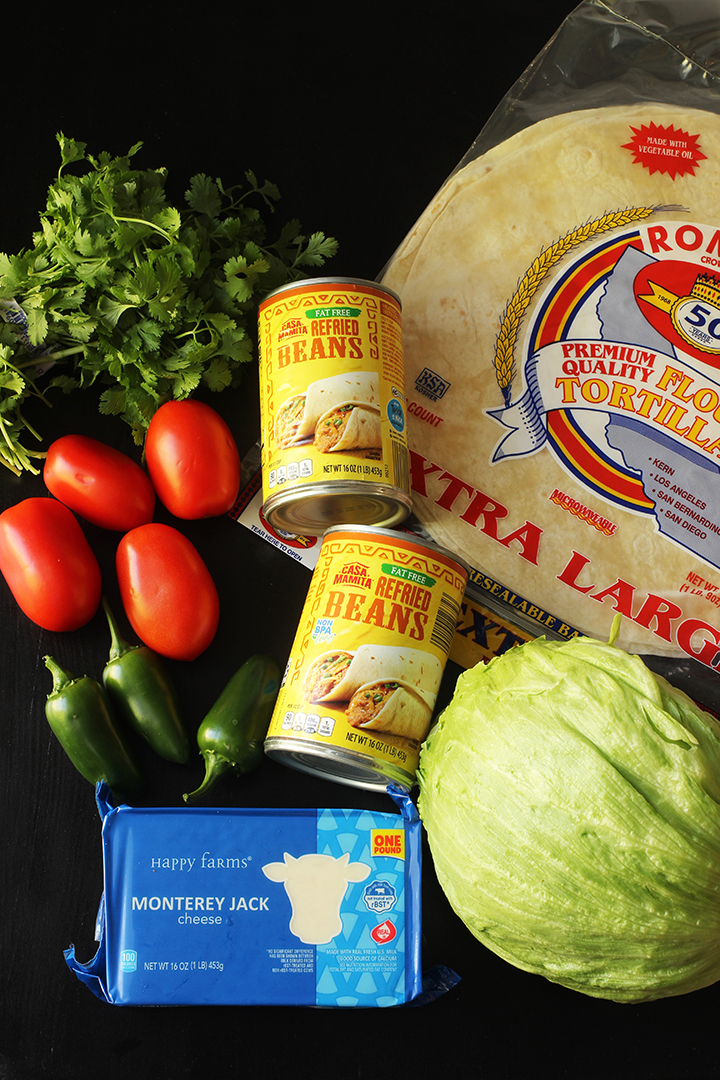 If you prepare this recipe, be sure to share a picture on social media and hashtag it
#GOODCHEAPEATS
. I can't wait to see what you cook up!
Build Your Own Burrito Bar
Serving a Build-Your-Own-Burrito Bar is a great way to make dinner simply, easily, and economically. With tortillas, beans, cheese, and any number of fillings, all can have a burrito just the way they like it.
Ingredients
2

15-ounce cans

Refried Beans

8

burrito-size flour tortillas

8

oz

jack cheese (shredded)

can also use cheddar cheese or a mixture

½

head

iceberg lettuce

4

roma tomato

chopped

½

cup

sour cream

additional burrito fillings

such as chopped cilantro, salsa, hot sauce, sliced jalapenos, diced green chiles, and cooked beef, pork, or chicken
Instructions
Heat the beans according to your preferences: in a pot on the stove or in a bowl in the microwave.

Lay out the other elements in containers: tortillas, cheese, lettuce, tomato, sour cream, and other burrito fillings.

Allow diners to assemble their own burritos according to their preferences.

If you like, you can crisp the rolled burritos on a hot griddle.
Notes
Promptly store leftovers in an airtight container in the refrigerator, for up to 3 days.
Nutritional values are approximate and based on 1

 burrito.
Nutrition
Calories:
234
kcal
|
Carbohydrates:
18
g
|
Protein:
10
g
|
Fat:
14
g
|
Saturated Fat:
8
g
|
Cholesterol:
33
mg
|
Sodium:
376
mg
|
Potassium:
210
mg
|
Fiber:
1
g
|
Sugar:
3
g
|
Vitamin A:
735
IU
|
Vitamin C:
5
mg
|
Calcium:
268
mg
|
Iron:
1
mg
Tried this Recipe? Tell us what you think!
Your reviews help us develop better recipes and give newcomers the confidence to try your favorites. Scroll down to leave a starred comment.