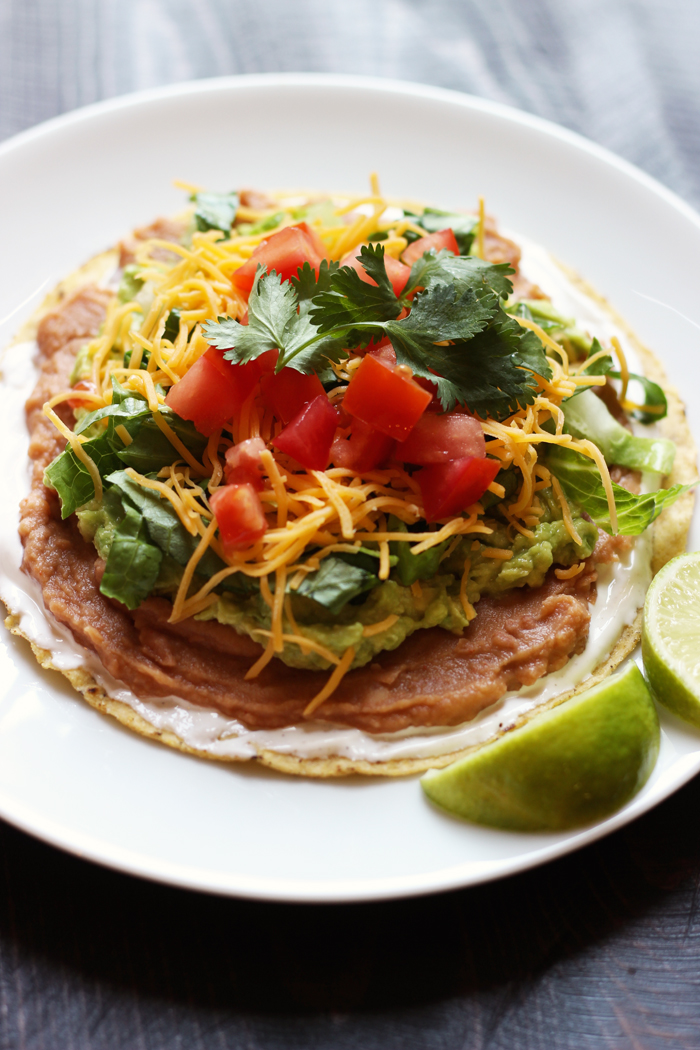 Lately, we've scored major big time in the avocado department. Not only have they been a great deal ($0.49 each), but they've also been beautiful, creamy, and delicious. It was almost a shame to turn some into guacamole. But, we like our avo dip. So, I did.
Years ago, FishPapa had a run in with bad guacamole – I guess the cook had stirred in mayo or sour cream or something.
Ummm, no.
Fresh guac needs to be just that – fresh! And good, fresh guacamole is super simple to make.
What is guacamole?
Basically guacamole is a dip made from avocados, lime and other ingredients. It's most commonly associated with Mexican food.
It's usually served with tortilla chips or as a topping for Mexican dishes like tacos.
Why you will love this easy guacamole recipe:
So easy – It really is the easiest guacamole recipe with just 3 simple ingredients (not including a sprinkle of salt and pepper of course!).
Quick to make – With just a few simple ingredients you can make this about 5 minutes or less.
Less dishes – You can make this is all in one bowl. Use a fork to mash and stir. That's all you need!
Ingredients for this easy guacamole
Avocado – We used 2 avocados, but you can easily adjust this recipe and make a double or triple batch.
Lime juice – Fresh lime juice is key to a great guacamole.
Salsa– Most guacamoles call for tomatoes, jalapenos and onions. So how do we simplify that? Use salsa! Salsa generally has all three of those ingredients already making this super easy to throw together.
Then we just season with salt and pepper to our liking.
Other optional ingredients
Of course you don't have to stop there! You can customize this recipe however you like. Here are a few suggestions:
Cilantro
Bacon
Fresh tomatoes
Red onion
More jalapenos
Cotija cheese
Easy Guacamole Recipe
The quick, quick way is to:
mash an avocado
squeeze in the juice of half a lemon
sprinkle with salt
stir in a spoonful or two of your favorite salsa.
Taste and adjust seasonings to suit your tastes.
Want to kick up the spice? Stir in some chopped jalapeno or tabasco. It's that simple.
What a fine thing!
How long does homemade guacamole last?
Unfortunately, homemade guac doesn't last long. It will last about 1-2 days. You can try to keep it as long as possible by wrapping it well, with plastic wrap directly on the surface, and kept in the fridge. But the avocados will eventually turn brown. If you notice a brown liquid on top, and the avocados underneath are no longer green, then it's gone bad.
How to choose a ripe avocado
The key to any good guacamole is making sure you choose a ripe avocado. An avocado that isn't ripe can be very difficult to cut into and just won't have that creamy deliciousness that all guacamole has. Here are two easy ways to tell if your avocados are ripe:
Give it a squeeze. A little one. Just press the avocado. It should give a little, but not feel hollow. If it's rock solid, then it's not ready yet.
Look under the stem. If it's green, then you're good to go.
What if my avocados aren't ripe?
Oh isn't that the worse? Especially when you are craving guacamole! But luckily there is a simple solution. Just place your avocados in a brown paper bag with an apple. About one day later, they will be ripe!
Or place in your fruit bowl. Your fruit gives off a gas called ethylene gas, which will help ripen the avocados.
What do I serve this guacamole with?
It's a great dip to just serve with tortilla chips or a condiment with your favorite tacos like Turkey & Black Bean Tacos or Shredded Beef Tacos.
Easiest Guacamole
Guacamole, that creamy avocado dip that you can't get enough of, is incredibly easy to make. This recipe is one that you'll have memorized after your first batch!
Ingredients
2

avocado

halved and pitted

1

tbsp

lime juice

1

tbsp

salsa

salt

to taste

black pepper

to taste
Instructions
Remove the avocado flesh from the avocado and mash in a bowl. Stir in 1 tablespoon lemon juice for each avocado that you use.

Season to taste with salt, pepper, and a spoonful or two of your favorite salsa.
Notes
Nutritional values are per tablespoon of guacamole. Values may vary depending on size of avocados used in the recipe.
Nutrition
Calories:
41
kcal
|
Carbohydrates:
2
g
|
Protein:
1
g
|
Fat:
4
g
|
Saturated Fat:
1
g
|
Sodium:
9
mg
|
Potassium:
125
mg
|
Fiber:
2
g
|
Sugar:
1
g
|
Vitamin A:
41
IU
|
Vitamin C:
3
mg
|
Calcium:
3
mg
|
Iron:
1
mg