Guacamole, that creamy avocado dip that you can't get enough of, is incredibly easy to make. This recipe is one that you'll have memorized after your first batch. With just four ingredients, you can whip up this easy guac in just five minutes!
It's a great dip to just serve with homemade tortilla chips or as a condiment for Turkey & Black Bean Tacos or Shredded Beef Tacos. Bonus: it freezes well so you can stash extra away in the freezer for another time.
Jump to:
Whether you enjoy it as a dip for chips or veggies or a condiment for tacos and burritos, this quick and easy guacamole recipe is sure to please. Made from creamy fresh avocados, lime juice, salt, and a hit of your favorite salsa, it's basic yet packed with flavor.
Why make this:
So easy – It really is the easiest guacamole recipe with just 4 simple ingredients.
Quick to make – With a swish and flick of your fork, you can make this avocado dip in about 5 minutes or less.
Less dishes – You can make this is all in one bowl. Use a fork to mash and stir. That's all you need!
Ingredients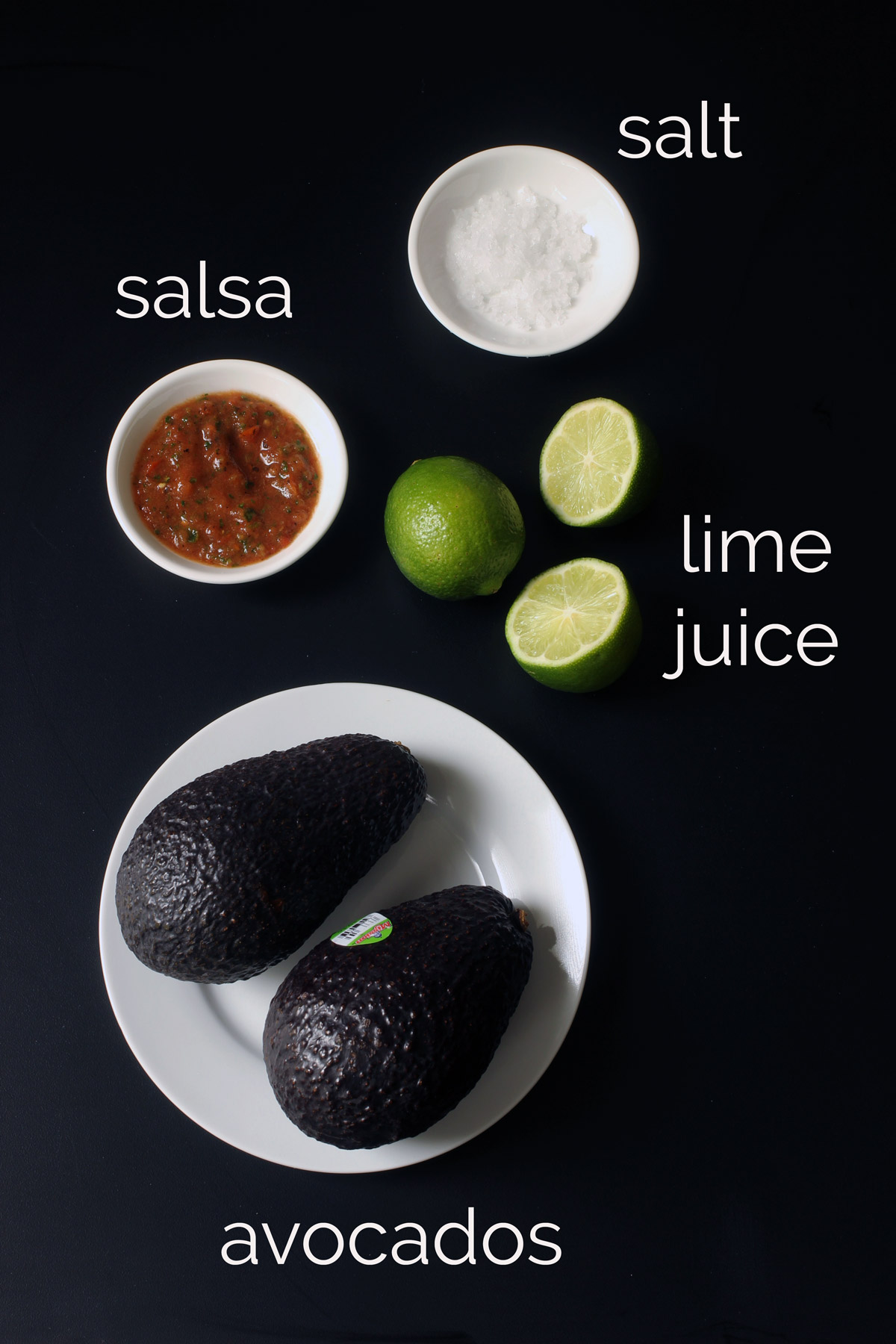 Some of the best recipes are super simple, but get a boost when you use fresh whole ingredients.
avocado – We used 2 avocados, but you can easily adjust this recipe and make a double or triple batch. It's super forgiving, so make as much or as little as you like.
lime juice – Fresh lime juice is key to a great guacamole, but in a pinch you can use bottled lime juice or even lemon juice.
salsa – Most guacamole recipes call for tomatoes, jalapeños, and onions. That's a lot of shopping! Simplify the process by using salsa which generally has all three of those ingredients in it. Try this Taco Shop Style Salsa for a quick fix.
salt – Bring out the flavor of the avocado by using plenty of salt. Be sure to taste as you go so you hit on the right combination.
Adaptations
It's a pretty simple guacamole recipe, but if you like you can ramp it up a bit with a few customizations. Consider adding any of the following, to taste:
chopped fresh cilantro
finely chopped cooked bacon
finely chopped fresh tomatoes
finely chopped red or sweet onion
finely chopped jalapeños
crumbled Cotija cheese
Instructions
This recipe comes together super quick and easy:
Scoop the avocado flesh into the bowl. Drizzle the lime juice over top.
Mash the avocado with a fork and sprinkle with salt.
Stir in a spoonful or two of your favorite salsa with the fork.
Taste and adjust seasonings to suit your tastes. Serve immediately.
Storage instructions
Homemade guacamole doesn't last long. If you won't be eating it right away, there are two ways to store it.
Store it in the fridge. You can refrigerate it up to 24 hours by wrapping it well, with plastic wrap directly on the surface to block out any air.
The lime juice will slow the oxidation, but the guacamole will eventually turn brown. If you notice a brown liquid on top, and the avocado dip underneath is no longer green, then it's gone bad and should be discarded.
Store it in the freezer. Place the guacamole in a labeled ziptop bag and squeeze out as much air as possible. Tap the bag on the counter to help the air bubbles rise to the top. Squeeze out the air and store in the freezer.
To serve, thaw the bag in the refrigerator and serve immediately.
FAQ
What is guacamole?
Basically guacamole is a dip made from avocados, lime and other ingredients. It's most commonly associated with Mexican food. It's usually served with tortilla chips or as a topping for Mexican dishes like tacos or nachos.
How do you choose a ripe avocado?
The key to any good guacamole is making sure you choose a ripe avocado. An avocado that isn't ripe can be very difficult to cut into and just won't have that creamy deliciousness that all guacamole has. Here are two easy ways to tell if your avocados are ripe:
Squeeze it with very gentle pressure. It should give a little, but not feel mushy. If it's rock solid, then it's not ready yet. 
Wiggle the stem. If it's loose, the avocado should be ripe. Avoid buying avocados whose stems have been removed.
What if my avocados aren't ripe?
It's actually best to buy avocados before they are fully ripe. Left on the counter for a day or two they will ripen fairly quickly. Refrigerate them once they are ripe so they don't turn to mush. If you'd like to speed the process, place them in close proximity to other fruits. Their gases will hasten the ripening.
Recipe costs
Knowing how much it costs you to prepare a recipe can help you decide if it's the type of recipe to make regularly or one you might want to save for special occasions. Let's crunch some numbers and see how this recipe pencils out.
avocados – $1.50
lime – $0.15
salt – $0.02
salsa – $0.15
Shopped at a mid-range grocery store at non-sale prices, the ingredients for this easy guacamole recipe should cost about $1.82/batch.
By comparison, a commercial product like Wholly Guacamole costs upwards of $2.50 a cup. Homemade is better and cheaper.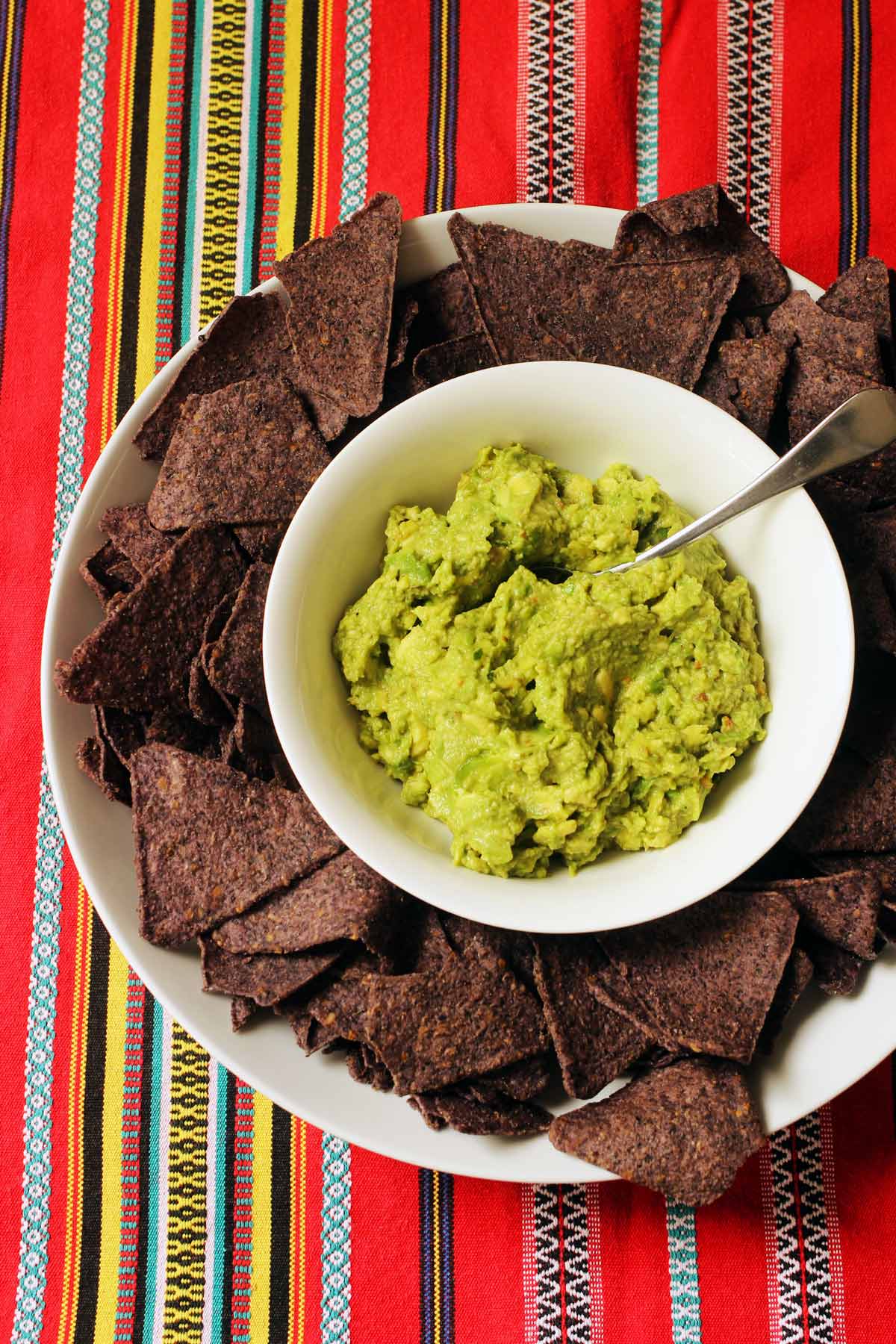 Great Mexican Food Recipes
Easy 4-Ingredient Guacamole
Guacamole, that creamy avocado dip that you can't get enough of, is incredibly easy to make. With just four ingredients this recipe is one that you'll have memorized after your first batch!
Ingredients
2

avocado

halved and pitted

1

tbsp

lime juice

1

tbsp

salsa

salt

to taste
Instructions
Remove the avocado flesh from the avocado and drizzle the lime juice over the top.

Mash with a fork and season to taste with salt.

Stir in 1 to 2 tablespoons of salsa.

Adjust seasonings to taste. Serve immediately or refrigerate covered closely with plastic wrap.
Notes
Be sure to use ripe avocados. If there are bruises, simply cut those spots out and mash the rest of the flesh.
Cold avocados mash and absorb lime juice better. Once your avocados are ripe, store them in the fridge to prevent over-ripening and to make them ready for guacamole.
To freeze the guacamole: place it in a labeled ziptop freezer bag. Tap the bag against the counter to help air rise to the top. Squeeze out the air, seal, and store in the freezer. To use, thaw and use immediately.
Nutritional values are approximate and based on 1 cup. 
Nutrition
Calories:
326
kcal
|
Carbohydrates:
18
g
|
Protein:
4
g
|
Fat:
29
g
|
Saturated Fat:
4
g
|
Sodium:
71
mg
|
Potassium:
1006
mg
|
Fiber:
14
g
|
Sugar:
2
g
|
Vitamin A:
336
IU
|
Vitamin C:
23
mg
|
Calcium:
28
mg
|
Iron:
1
mg
This post was originally published on January 30, 2009. It has been updated for content and clarity.