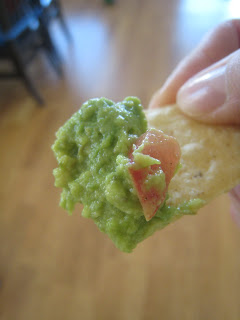 Lately, we've scored major big time in the avocado department. Not only have they been a great deal ($0.49 each), but they've also been beautiful, creamy, and delicious. It was almost a shame to turn some into guacamole. But, we like our avo dip. So, I did.
Years ago, FishPapa had a run in with bad guacamole – I guess the cook had stirred in mayo or sour cream or something.
Ummm, no.
Fresh guac needs to be just that – fresh! And good, fresh guacamole is super simple to make.
The Non-recipe Guacamole Recipe
The quick, quick way is to mash an avocado, squeeze in the juice of half a lemon, sprinkle with salt, and stir in a spoonful or two of your favorite salsa. Taste and adjust seasonings to suit your tastes. Want to kick up the spice? Stir in some chopped jalapeno or tabasco. It's that simple.
What a fine thing!
Recipe: Fresh Guacamole
Ingredients
avocados
fresh lemon juice
salt & pepper to taste
your favorite salsa
Instructions
Remove the avocado flesh from the avocado and mash in a bowl. Stir in 1 tablespoon lemon juice for each avocado that you use.
Season to taste with salt, pepper, and a spoonful or two of your favorite salsa.
For more great stuff, visit The Finer Things in Life every Friday.