Enjoy a chili supper that's full of flavor and a good dose of protein. This Quinoa Chili comes together quickly and easily for a super supper.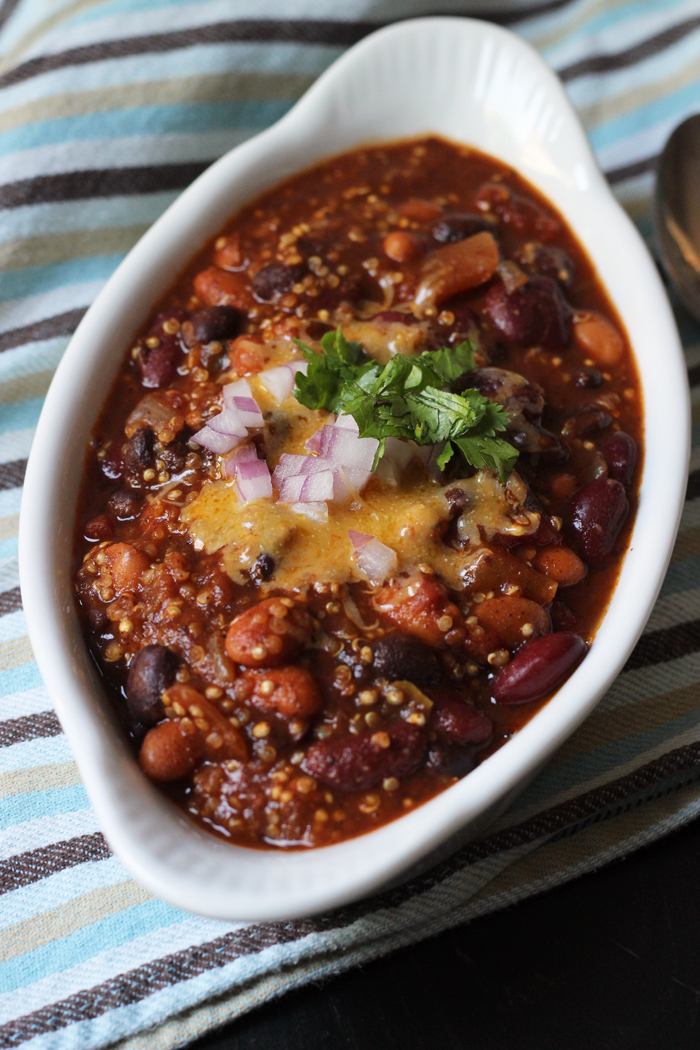 This recipe was born out of a Pantry Challenge. You see during a Pantry Challenge, I'm hyper-alert about leftovers and making them into something new instead of throwing them away. I had some quinoa in the fridge, but one can only push Quinoa Bowls on my children once in a week. I knew I could freeze it, but I just wanted to use it up.
Aha! I can hide it in chili!
Turns out that was a very, very good idea. Not only did my people gobble down the chili without a word, but it got me thinking that I could very easily create a Quinoa Chili on purpose. So, that's what I did.
How Do I Make Quinoa Chili?
I played around with the spice here. I wanted it to have several layers of spiciness, so I used mild, canned green chiles, picante, fresh jalapenos, and warm and spicy ground dry pasilla chiles. It turned out to be a Tres Chiles Chili Con Quinoa. And it's one of my favorites.
In the testing phase, I begged my sister to run it through its paces. She protested at first because my nieces don't like quinoa. I assured her they would never know. And they didn't!
The first time it was served. The next day, the quinoa chili looked more like chili with quinoa in it. And at least one tween girl made her voice heard. However, she did concede that she loved the chili. She just doesn't want to eat it the next day. To which I laugh and hope she marries a man who adores eating quinoa at every meal.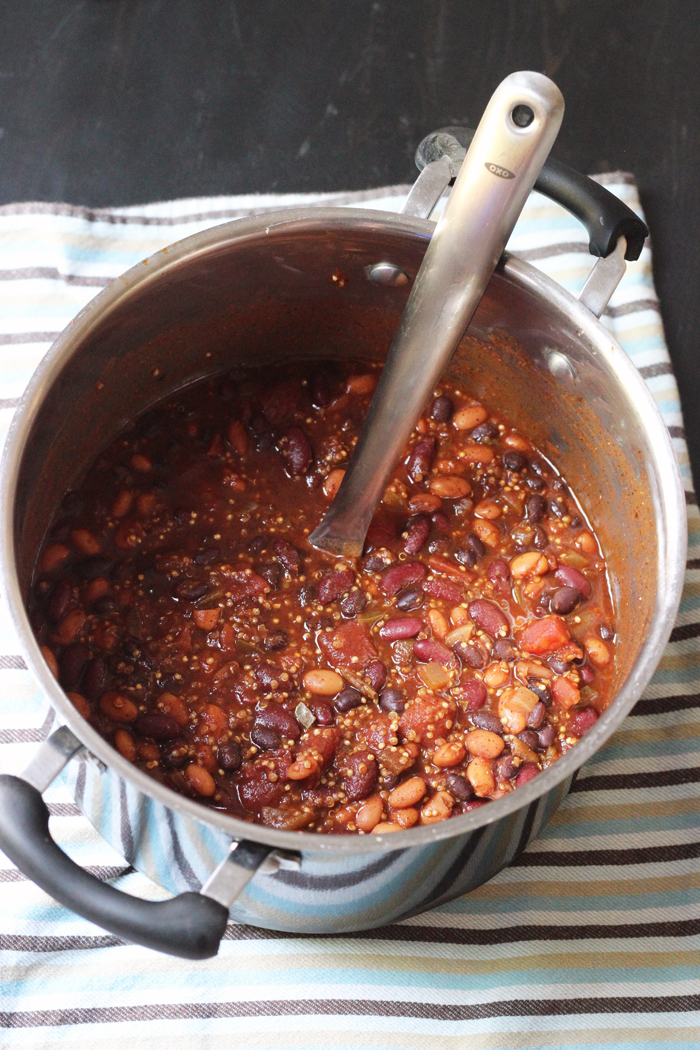 Can I Freeze This Quinoa Chili?
Yes! Freezing dinners is how I save money, time, and get a peace of mind.
Any leftovers just simply pop into a container and make sure to label it properly.
Can I Make This Chili Vegetarian?
I used chicken stock in this quinoa chili. But if you wanted to make it completely vegetarian, just simply swap the chicken stock for the vegetable stock.
How to make this good and cheap:
Here are some of the strategies you can use to make this recipe more economical:
Stock up on ingredients when they are on sale. Quinoa is your big ticket items here. Stock up when you see a good sale.
Shop at the cheapest stores. When I did

my big grocery store showdown, I learned that Costco has the best price for a lot of the things I buy, plus they sell all the ingredients needed for this recipe. I am partial to their quinoa because it's sold pre-rinsed, a step I'm not willing to make, no matter how much protein is involved. ALDI, who requires you to rinse your quinoa, happens to offer a great price on chopped green chiles, so that's where I buy mine.
Cook your own beans. It's super cheap and easy to cook dried beans. Freeze them in 2-cup containers; it's just like opening a can.
How I make this recipe easy:
This recipe really couldn't be easier than it is, but having the right kitchen tools can really make your time in the kitchen more enjoyable. Over time, I've honed my collection so that they are perfect for my needs.
Here are the tools that I use for this recipe:
Quinoa Chili
Enjoy a chili supper that's full of flavor and a good dose of protein. This Quinoa Chili comes together quickly and easily for a super supper.
Ingredients
2

tbsp

olive oil

1/2

onion

chopped for 1/2 cup

1

jalapeno

seeded and finely chopped

1

clove

garlic

minced

2

tbsp

pasilla chile powder

1

tsp

ground cumin

1

tsp

dried oregano

1

15-ounce can

tomato sauce

2

cup

chicken stock

3/4

cup

quinoa

, uncooked, rinsed if not packaged that way already

2

15.5-ounce can

black beans

drained

2

15.5-ounce can

kidney beans

drained

2

15.5-ounce can

pinto beans

drained

1

14.5-ounce can

diced tomatoes

1

4-ounce can

green chiles (chopped)

salt

black pepper

toppings for chili

: shredded cheese, salsa, sour cream, chopped avocado, and/or chopped fresh cilantro
Instructions
In a large stockpot over medium heat, heat the oil until shimmering. Cook the onions, jalapeno, and garlic until the onion starts to become translucent, about 5 minutes.

Add the pasilla chile powder, cumin, and oregano. Stir to combine. Stir in the tomato sauce and then the chicken stock. Bring to a low simmer.

Add the quinoa, beans, tomatoes, and green chiles. Bring to a simmer. Reduce the heat to low and cover. Simmer for about 20 minutes, or until the quinoa is tender. Adjust the seasonings with salt and pepper to taste.

To freeze: Divide the chili into meal-size portions in plastic containers. Chill in the refrigerator before freezing. When ready to serve, thaw the chili in the refrigerator. Reheat in a saucepan until heated through.
Notes
Nutrition Facts do not include any toppings you might add!
Nutrition
Serving:
8
g
|
Calories:
145
kcal
|
Carbohydrates:
19
g
|
Protein:
5
g
|
Fat:
5
g
|
Cholesterol:
1
mg
|
Sodium:
474
mg
|
Potassium:
483
mg
|
Fiber:
3
g
|
Sugar:
5
g
|
Vitamin A:
900
IU
|
Vitamin C:
11.7
mg
|
Calcium:
47
mg
|
Iron:
2.5
mg