Want to fill the freezer with homemade meals? Follow this step-by-step method to plan your next freezer meal prep session for easy freezing.
Whether you're focusing on Breakfast on the Go or Easy Freezer Meals to serve at busy dinnertimes, organizing your freezer meal prep can save you a lot of time, money, and heartache. And you can do it with your own favorite recipes!
Jump to:
I've officially been doing freezer meal prep for two decades now. Please don't click away because you think I'm an old lady and no longer one of the hip chicks. Surely you watched that teen movie that proclaimed how a woman hits her prime in her 40s.
Yes, it's true. Those two decades of adulthood behind me mean that I've made a lot of mistakes and learned a ton.
You can trust me on the freezer cooking front.
Cooking to freeze wasn't "new" when I first heard about it in the 90s. And it's not new now, but, the practice of cooking to freeze has changed with the times.
We've got a whole new world of flavor profiles to choose from, a wide range of kitchen gadgets to work with, and a huge realm of technology to make the process quicker and easier.
In short, like women and fine wine, freezer meal prep has improved with age.
Why It Matters
Freezer meal prep is a way that home cooks can prepare for the coming weeks by making their own homemade convenience foods and stashing them in the freezer.
Don't feel like cooking? Let everyone choose his favorite homemade soup from the freezer.
Have unexpected company? Grab a few quarts of homemade marinara sauce and prepare a pasta feed for a crowd.
Looking for something quick to eat on the run? Pull some burritos or freezer sandwiches from the stash.
Not only will this enable you to eat better, but it will also save you money as you avoid high priced takeout.
If you're new to freezer cooking, or bulk cooking as it is sometimes called, rest assured that it is not difficult. You can very easily spend a few hours cooking up several recipes in quick succession and have weeks worth of meals at the ready. In fact, the internet is full of freezer meal prep plans and programs to help you fill the freezer.
For instance,
Watch this video if you want some simple get-started tricks.
Grab some of my FREE freezer cooking plans here.
Browse my freezer-friendly recipes here.
You'll get the hang of it in no time! And once you do, you may want to branch out and create a cooking plan with your own recipes.
1. Download the free planner.
You can do your planning on a piece of paper, but I've designed planning pages that make it easy.
Find the planner here and download it right away! Use the coupon code freezegce at checkout to get it free.
So, once you've got your planner, you're ready to create a freezer meal prep plan.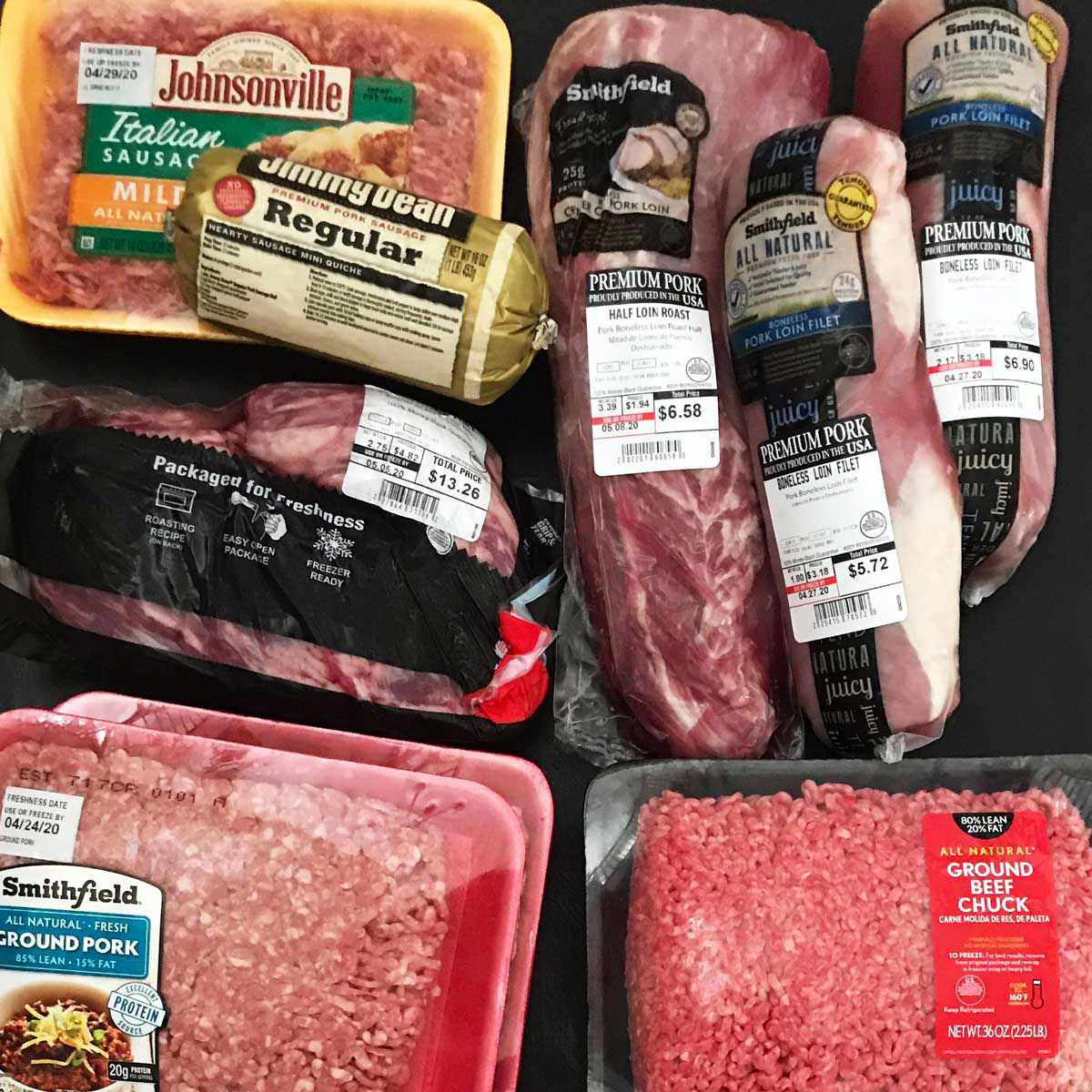 2. Decide on main proteins and recipes.
My usual mode of operation these days is to work my cooking plans around a common protein. Using common ingredients or recipes that build on one another is a great way to maximize the time benefits of batch cooking. I find this to be a good way to make use of good grocery sales as well as save time.
Choose your proteins based on what you already have on hand (shop your kitchen!) or what's on sale at the store.
Once you've chosen your protein, you can select the recipes you want to use featuring that protein. Be sure to check out these freezer-friendly recipes for inspiration.
If you're not sure a recipe freezes well, test it. Prep it as you normally would, but set aside a small portion, like one serving. Chill it well, wrap it for freezing, and chuck it in the deep freeze. In a few days thaw and reheat and see if you like it.
3. Create your grocery list.
As you're going through your freezer meal prep recipes, jot down which groceries you'll need to pick up.
Be sure to check the pantry, fridge, and freezer before you write it on your list. You may already have what you need.
4. Figure out your prep list.
Your cooking session will go much more smoothly if you prep your veggies and other ingredients in advance.
Go through each recipe and create a prep list of all the things that you need to precook/prepare, chop/slice, or grate.
Make note that several recipes may call for the same prepped ingredient, such as chopped onion or chopped broccoli. Write down how much you will need for all your recipes in your freezer meal prep and do all the chopping at one time.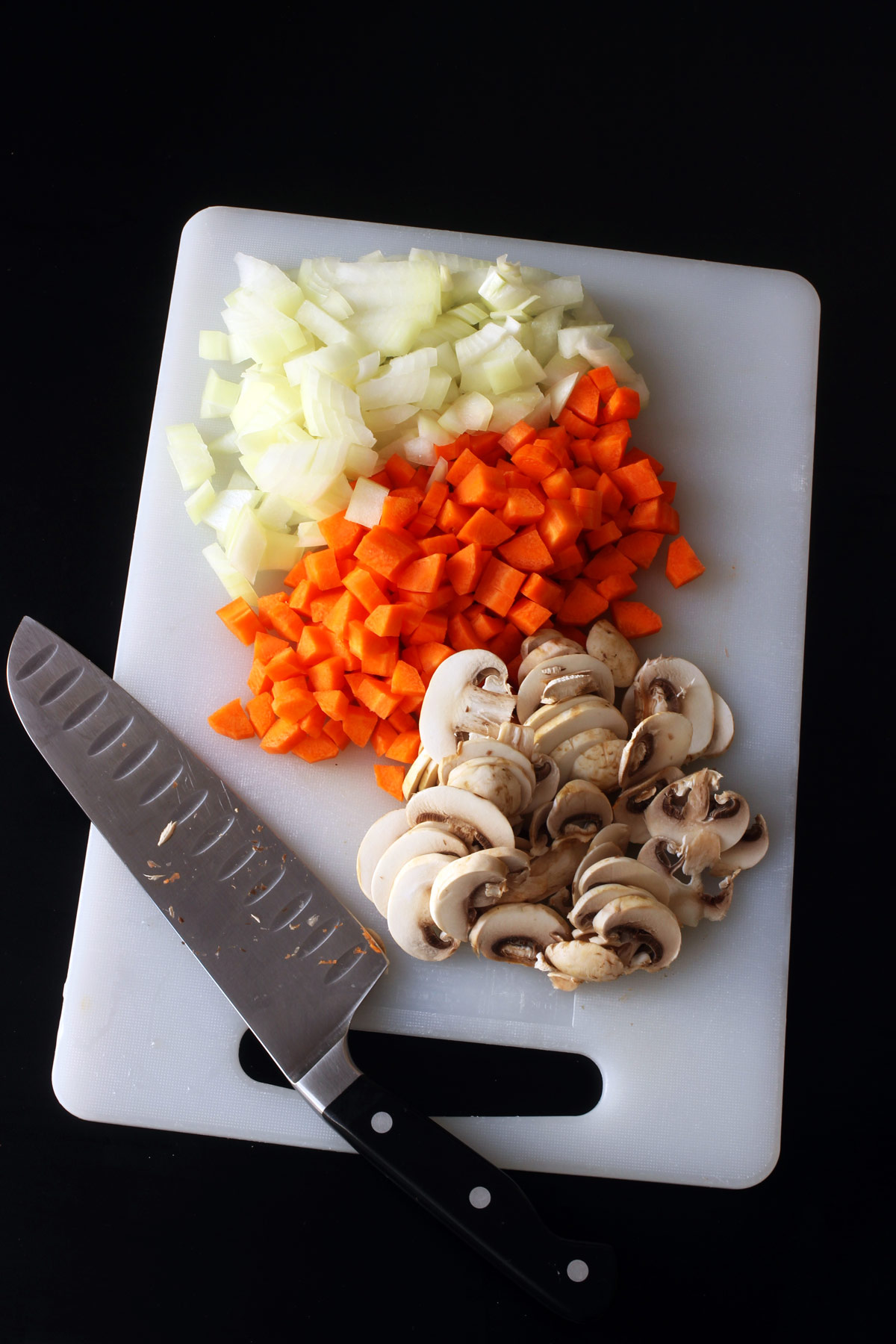 5. Plan your order of recipes.
Next what order of prepping the recipes makes the most sense for your freezer meal prep session. What will be the most efficient use of your time?
Some recipes will be part of other recipes. For instance, if you're making a homemade red sauce to use in meatball sub kits and lasagna, you'll need to prepare the sauce first so that you have it ready when you want to assemble the other recipes.
In the same way, put your recipes in order of what appliances you'll be using. You can't use the oven for five different recipes at once. You'll need to space them out throughout the cooking sesson.
Start with the longest cooking item so that the other freezer meal prep items will be finished in the same time. You want to condense your time in the kitchen as much as possible.
6. After you've cooked, keep track.
Once all your recipes are prepared, cooled, wrapped, labeled, and ready for freezing — your work is not quite done.
Make an inventory of your freezer meal preps so that you know what you have. Go here for more information on keeping a freezer inventory.
Use it or lose it, baby. You don't want to lose your precious work to freezer burn. Know what you have so you can use it up in the next 6 to 8 weeks.
7. Make a meal plan.
Create a meal plan for how you'll use these frozen meals in the coming month. You'll want to space out your bulk batches so that you're not stuck at the end of the month with a week's worth of enchiladas.
Having a few freshly-made meals interspersed with freezer meal preps can help you enjoy great food and still have the flexibility for other meals throughout the week.
This step-by-step process should help you easily create an efficient prep plan with your own recipes.
Don't got the bandwidth to plan? That's okay. We've got some free freezer cooking plans here.
Recommended Recipes
If you're running short on recipes that your family loves, check out our freezer-friendly recipes here on the blog to get some inspiration. There are dozens to choose from!
This post was originally published on April 1, 2011. It has been updated for content and clarity.