Looking for an easy meal? Try these Slow Cooker French Dip Sandwiches. They're simple, delicious, and make-ahead and can be adapted for Whole 30.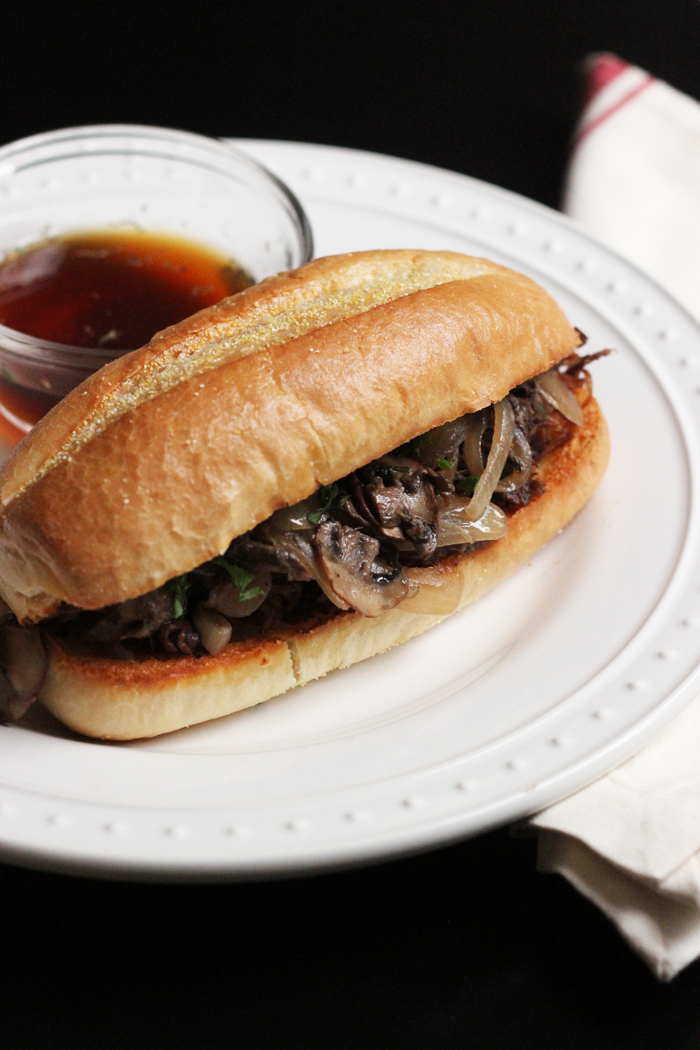 It seems that the fall and winter are always busy months for me on the homefront. Our school days are full as are our outside activities. My work load tends to be heavier, and, well, as Calvin and Hobbes say, "The days are just packed."
That's when it's so nice to have an easy, make-ahead meal that I can throw in the crockpot to have ready at dinner time. I get bonus points when I can double (or triple) the recipe and have a few extras to stash in the freezer.
So it goes with this Slow Cooker French Dip Sandwiches recipe.
French Dip is one of my husband's favorite foods to eat at a restaurant — as long as the jus is served on the side. No soggy bread lovers here.
This version cooks in the slow cooker, meaning that the beef has a slightly different texture than your traditional French Dip sandwich filling. Slow cooker meats tend to shred more than slice, and such is the case here.
One thing that I love to add into the mix, however, is a combination of sauteed mushrooms and onions. I cook these on the side, so that I don't throw pearls to swine. I mean, so that the kids who don't like onions and mushrooms don't worry about picking it out and wasting it. Ahem.
More for me, people.
But, you can add them to the crock as well. Your choice.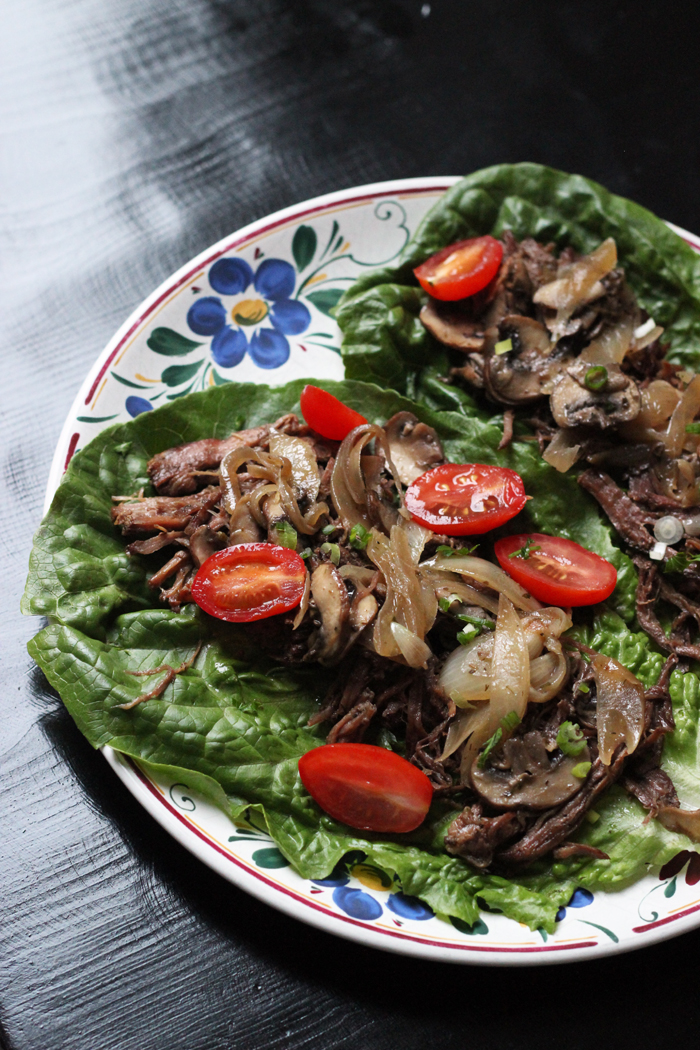 If you're eating low-carb, paleo, Whole 30, or gluten-free, this luscious, meat-mushroom-and-onion filling is great on lettuce wraps. Add a few tomatoes to give it a little extra color and pizazz.
One of the perks of this recipe is that you can easily make a bulk batch of the shredded beef and veggies to stash in the freezer, making for an easy lettuce wrap filling whenever you want.
If you prefer the traditional sandwich, make a mega batch of garlic rolls and freeze those. Then bake up as many as you want, reheat the filling, and you're golden.
So is the garlic bread. Yum.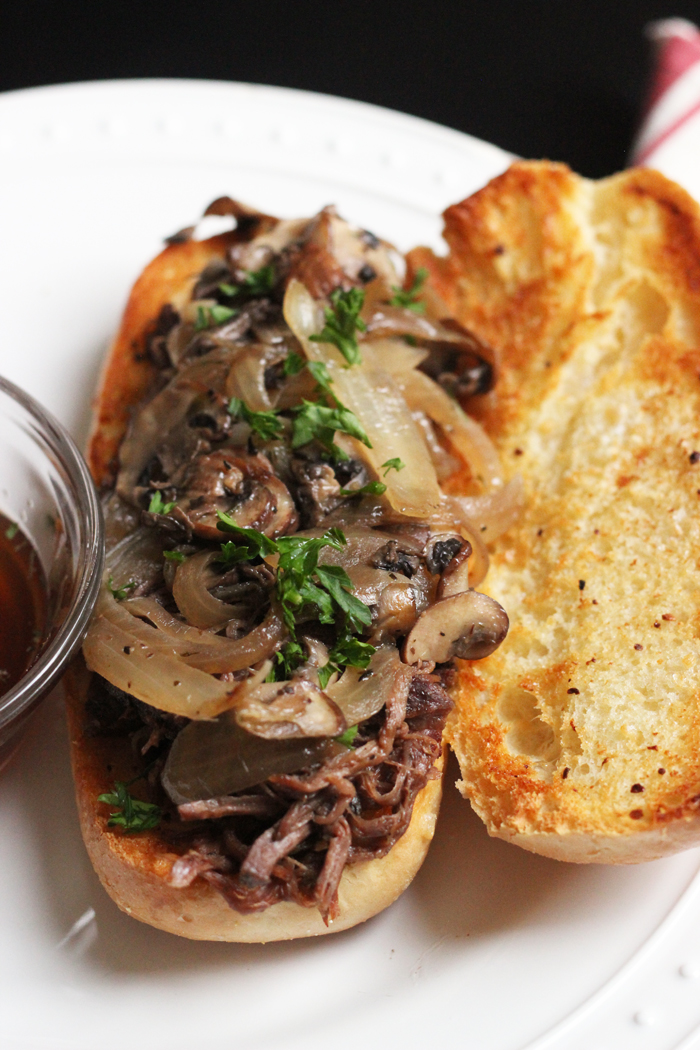 How to make this good and cheap:
Here are some of the strategies you can use to make this recipe more economical:
Stock up on ingredients when they are on sale. For instance, when I see a great price on chuck roast, onions and rolls, I snatch them up and plan my meals around them.
Compare prices. Currently, I'm able to find chuck roast for about $3.99/pound.
How I make this recipe easy:
Having the right kitchen tools can really make your time in the kitchen more enjoyable. Over time, I've honed my collection so that they are perfect for my needs. Here are the tools that I use for this recipe:
Slow Cooker French Dip Sandwiches
Looking for an easy meal? Try these Slow Cooker French Dip Sandwiches. They're simple, delicious, and make-ahead and can be adapted for Whole 30.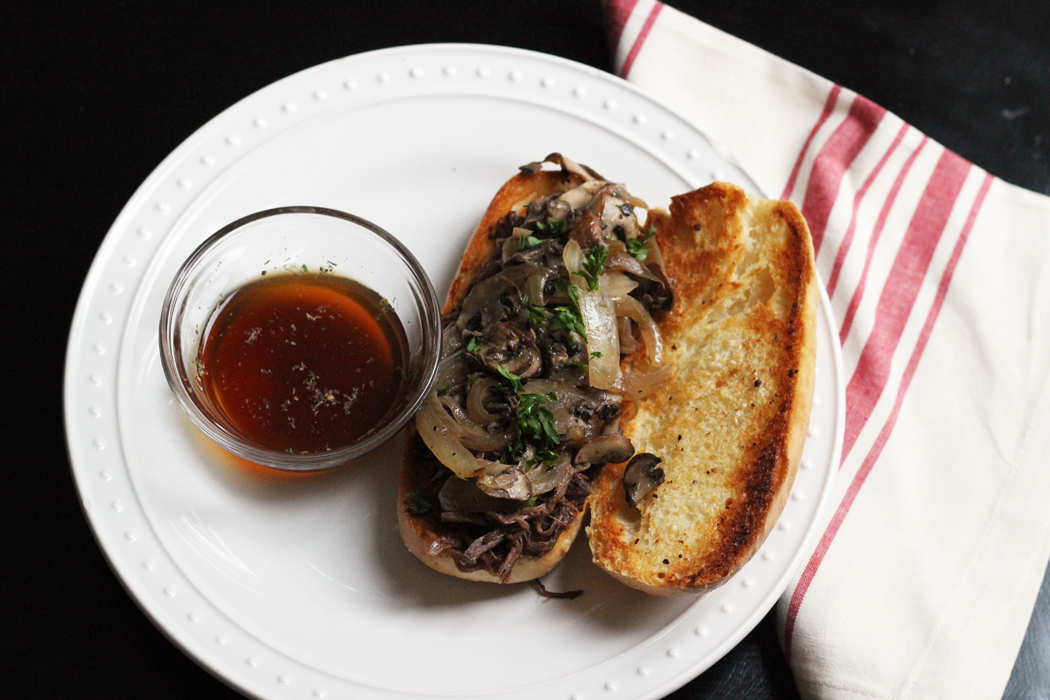 Preparation Time:15 minutes
Cook time:8 hours
Total time:8 hours 15 minutes
6 servings
Ingredients:
1 tablespoon olive oil

2-3 pound chuck roast

1 tablespoon Herbed Seasoning Mix

1 sliced onion

8 ounces sliced mushrooms

1 cup beef broth

1/2 cup butter, softened

1 teaspoon minced garlic

1 teaspoon chopped fresh parsley

6 large steak rolls or 12 lettuce or Napa cabbage leaves
Instructions:

In a large nonstick skillet, heat the oil until shimmering. Season the chuck roast on all sides with the seasoning mix. Sear the meat in the hot oil, turning to brown all sides. Remove the meat to the crock of a 5-qt slow cooker.
In the drippings, cook the onion and mushrooms until tender. Add the vegetables to the slow cooker and add the beef broth. You can also store the sautéed vegetables in the refrigerator until serving time, reheating before serving.
Set the slow cooker to LOW and cook for 8 hours or on HIGH for 6 hours.
When the meat is cooked, remove the jus from the crock with a ladle or baster. Shred the meat and combine it with the vegetables in the crock. Adjust seasonings and moisten with jus if needed. If freezing, wrap the meat-vegetable mixture and the jus separately. Thaw and reheat to serve.
In a small bowl, combine the butter, garlic, and parsley. Spread this on the insides of all the rolls. If freezing, wrap the rolls in foil and freeze. Thaw before serving.
To serve, broil the garlic bread rolls until golden brown and crisp. Fill the rolls with the meat mixture. Serve with the jus on the side.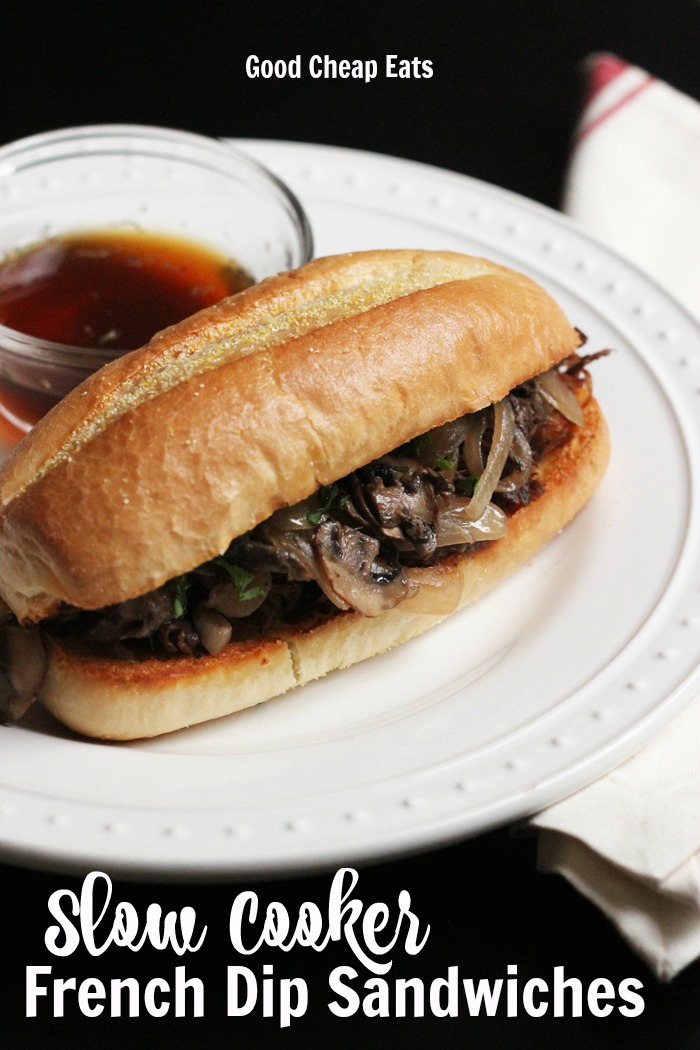 Are you looking for more good cheap eats?