Hot Italian Beef Sandwiches aren't difficult to make. And they're cheaper and better for you if you make them yourself.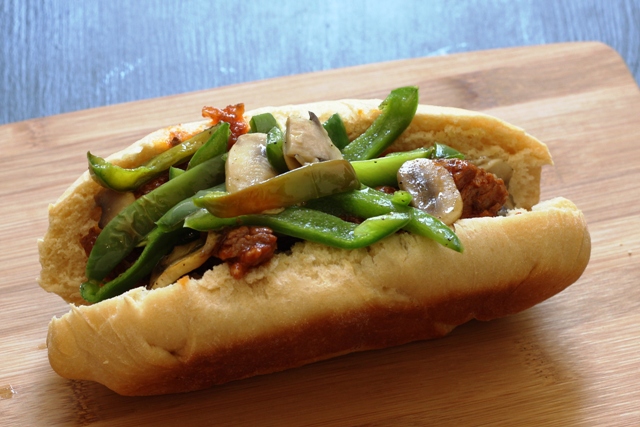 Let's make one thing clear. I'm not from Chicago. I'm not claiming that this is an authentic Chicago-style Italian Beef Sandwich.
What I do know is that this sandwich is tasty. And it beats, hands down, any sandwich I could buy in my neck of the woods, which happens to be Southern California. It's fresh, it's completely homemade, and it's super duper tasty.
If I do say so myself.
Earlier this week, we established the idea that homemade sandwich or sub rolls are better than those bought at the store. I would follow up that assertion that homemade sub fillings are better than others as well.
Making a hot beef sandwich yourself
Making this bad boy was not difficult. In fact, it was a matter of throwing five ingredients in the slow cooker and walking away for a few hours. Later I sliced some mushrooms and peppers to saute, sliced the freshly baked sub rolls, and bit into a slice of heaven.
Man, these were good! I'm thrilled that I have another chuck roast on hand so I can make these again soon.
Making it cheaper
Speaking of chuck roast, I bought the chuck on sale for $2.99/lb. Slowly meat prices are creeping a bit higher. My target price used to be $2, but now I'd have to say I'm shooting for $3 when it comes to beef.
I used a 2-pound roast ($5.98), 1/2 an onion ($0.10) and some Last-Minute Pizza Sauce ($0.30). This brought my costs up to $6.38 for the meat filling. Add another $1 for the sauteed veg and another $2.10 for the rolls. The entire meal cost $9.48 for 8 sandwiches, or $1.19 each. There's no way I could buy anything close for less than $5. So, homemade is clearly the winner.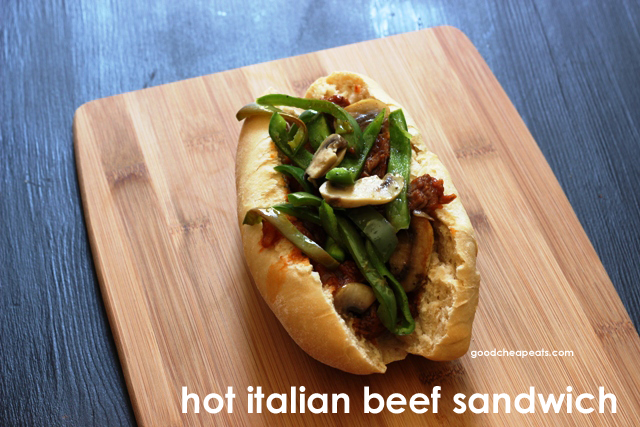 Hot Italian Beef Sandwiches
Hot Italian Beef Sandwiches aren't difficult to make. And they're cheaper and better for you if you make them yourself.
Ingredients
2

lb

boneless, beef chuck roast

1

cup

pizza sauce

1/2

onion

sliced

1

tbsp

olive oil

1

bell pepper (any color)

sliced

4

mushrooms

sliced

salt

black pepper

8

Italian sub rolls

try homemade
Instructions
Place the roast, pizza sauce, and onions in the slow cooker. Cook on low for 6 to 8 hours or on high for 4 hours. Meat should be tender and shred easily.

At this point, the meat can be frozen. To freeze: Wrap, label, and chill completely before freezing. Thaw and reheat before proceeding with next step.

In a large skillet, heat the oil until shimmering. Add the pepper and mushrooms and cook on medium until tender. Season to taste with salt and pepper.

Slice the rolls. Divide the meat among the rolls. Top with the vegetables.
Notes
Nutritional values are approximate and are based on 1/8 of the recipe. Refrigerate leftovers promptly and use within 4 days.
Nutrition
Calories:
410
kcal
|
Carbohydrates:
36
g
|
Protein:
28
g
|
Fat:
17
g
|
Saturated Fat:
6
g
|
Cholesterol:
78
mg
|
Sodium:
546
mg
|
Potassium:
551
mg
|
Fiber:
2
g
|
Sugar:
7
g
|
Vitamin A:
613
IU
|
Vitamin C:
22
mg
|
Calcium:
31
mg
|
Iron:
13
mg
Got a favorite sandwich filling?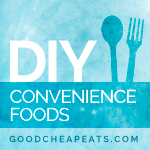 This is part of the DIY Convenience Foods series.
Don't want to miss a post in this series? Subscribe to 31 Days of DIY Convenience food here. Get updates via email here.