Fried zucchini is a treat to be sure, but Baked Zucchini Fritters are equally flavorful and so much more nutritious. Mix up a simple mixture of shredded zucchini, chopped green onion, beaten eggs, panko bread crumbs, and spices to form into patties and bake in the oven.
The result? Hearty and delicious, Baked Zucchini Fritters that perfect for dipping into your favorite sauces as an appetizer or for serving alongside fried eggs, fish, or rotisserie chicken as a side dish.
Jump to:
When I have a glut of zucchini, I usually turn to a round of baking yummy things like Zucchini Bread, Zucchini Muffins, or Chocolate Zucchini Cake.
My kids don't particularly love zucchini, so I have to be creative in stretching it in sauces, soups, and stews or baking it into fritters.
Surprisingly, Baked Zucchini Fritters have become a fast favorite of more than one of progeny over the years. When teenagers request something with zucchini, you heed that request!
Why Make This
They're easy. These fritters are pretty easy to mix up. Since they are baked, they don't take that much work to cook.
They're delicious. Baked zucchini fritters are a fun, little appetizer that would go great at gatherings. Serve them with ranch dressing or chipotle mayo for a little more oomph.
They're even good leftover! I've reheated these for breakfast to serve with fried eggs. Super yum even the next day!
Ingredients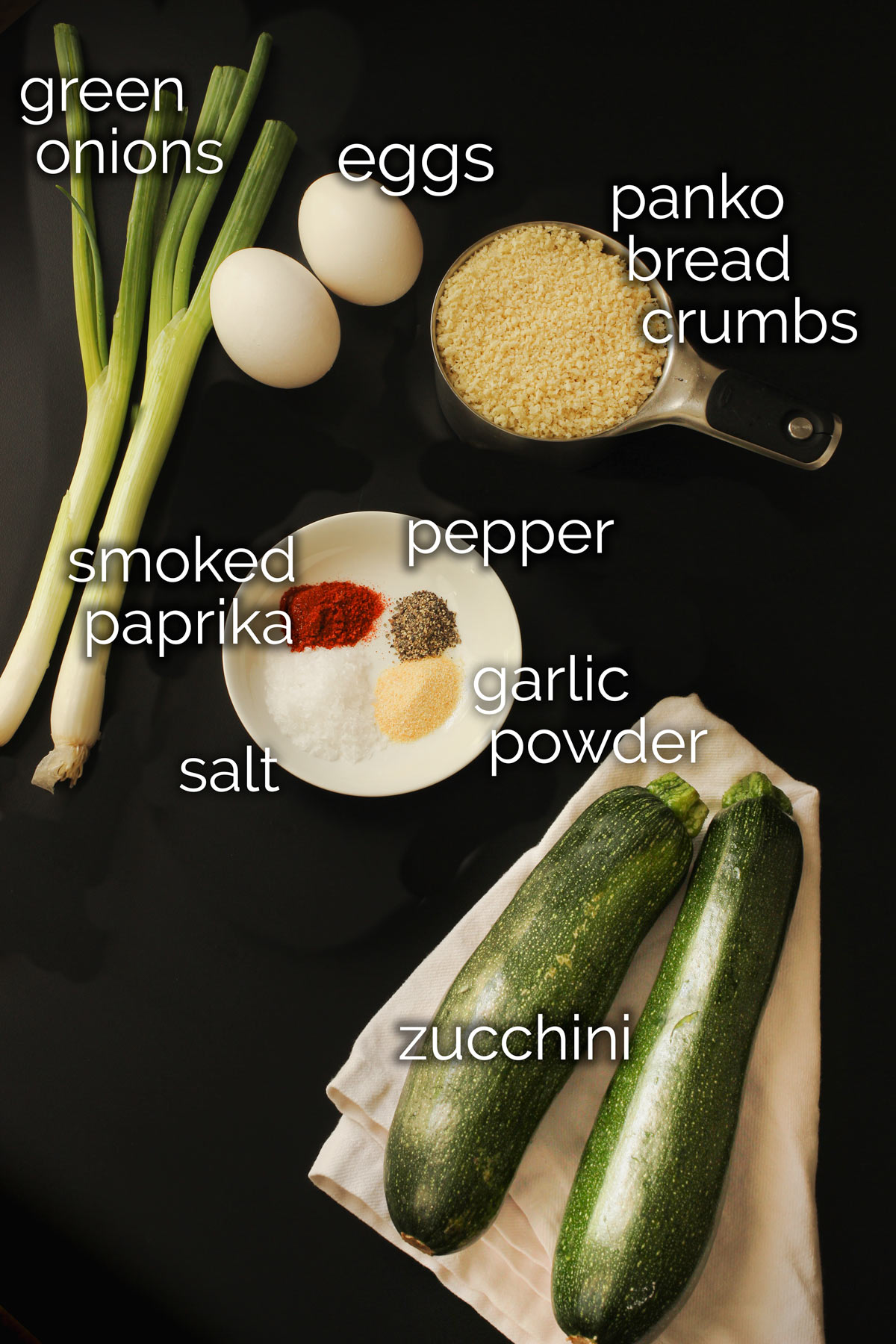 The ingredients you'll need for Baked Zucchini Fritters is pretty straightforward. Here's what you'll need:
zucchini – you can use the mammoth-sized zucchini your frenemies leave at your doorstep, or the normal sized ones at the grocery store. If you have a particularly large zucchini, you may want to cut away the seedy center before shredding the veg. You'll want to be sure to squeeze as much liquid from the zucchini as possible.
green onion – My preference is to use leeks in these Baked Zucchini Fritters, but I've found that they can be expensive. Green onion is a more reasonably priced option, but if you've got leeks, use them!
eggs – Beaten eggs help hold everything together.
panko bread crumbs – Panko gives the fritters a nice crunch. You can use commercial or homemade breadcrumbs. In a pinch, you can use traditional or Italian style as well if that's what you have.
spices – I've chosen to use smoked paprika, salt, garlic powder, and black pepper, but you can season these however you like. Homemade Seasoned Salt would be a quick thing to grab from the spice cupboard.
Step-by-Step Instructions
Making Baked Zucchini Fritters is super simple. Check this out:
1. Shred the zucchini.
Wash and dry the zucchini and trim off the ends. With the large hole side of a box grater, shred the zucchini onto a clean tea towel.
2. Squeeze the zucchini dry.
Gather up all the shredded zucchini in the tea towel and squeeze out all the liquid into a bowl or sink. This will help the texture of your fritters.
Discard the liquid.
3. Prepare the zucchini fritter mixture.
Place the squeeze-dried zucchini in a mixing bowl and add the other ingredients. Stir well to combine.
4. Prep the zucchini fritters.
Preheat the oven to 400 degrees.
Line a sheet pan with parchment paper. Scoop out the zucchini mixture into eight mounds. Shape the mounds into evenly shaped patties.
5. Bake the zucchini fritters.
Bake the fritters at 400 degrees for 20 minutes, flipping them halfway through the time.
Serve the immediately with the dipping sauce of your choice.
FAQs
Why are my zucchini fritters soggy?
Zucchini has a lot of water in it. If you don't remove all the liquid from the zucchini shreds, it could make your fritters soggy. Squeeze it as dry as possible.
How do you get water out of shredded zucchini?
Placing the shredded zucchini on a tea towel or in a nut milk bag will help remove much of the liquid. Placing it in a colander and pressing with a weight of some kind can also help.
Can you freeze cooked zucchini fritters?
Once you've cooked the fritters, remove them to a rack to cool completely. Once cool, package them in a ziptop freezer bag or airtight container. Chill for several hours before placing in the freezer. Reheat in the oven or air fryer prior to serving.
Recipe Costs
Knowing how much it costs you to prepare a recipe can help you decide if it's the type of recipe to make regularly or one you might want to save for special occasions. Let's crunch some numbers and see how this recipe pencils out.
zucchini – $1.50 (or free if you or a friend grow your own!)
eggs – $0.30
panko bread crumbs – $0.62
green onion – $0.20
spices – $0.10
Shopping at a mid-range grocery store at non-sale prices, you can expect to spend about $2.72 for the ingredients. This works out to be 34 cents each!
You can save even more if you shop sales, ALDI, or grow your own veggies.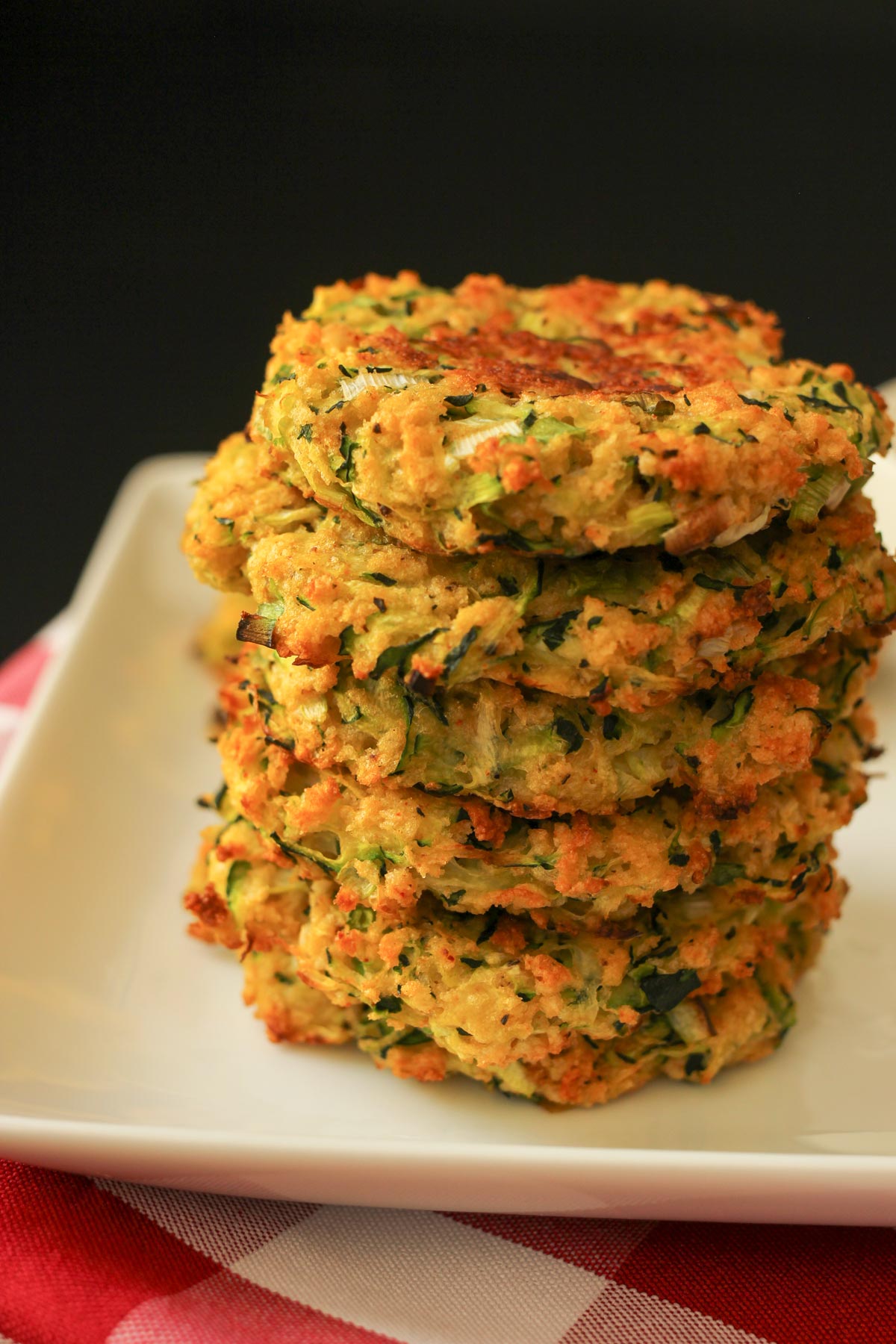 More Great Veggie Recipes
Baked Zucchini Fritters
Bake up a batch of zucchini fritters. Flavorful with shredded zucchini and green onions, they'll have you coming back for more.
Ingredients
2

zucchini

shredded

½

cup

chopped green onion

2

egg

beaten

1

cup

panko bread crumbs

1

teaspoon

coarse salt

½

teaspoon

smoked paprika

½

teaspoon

garlic powder

¼

teaspoon

black pepper

1

cup

Ranch dressing

or sour cream for dipping
Instructions
Preheat the oven to 400 degrees. Line a sheet pan with parchment paper.

Squeeze the zucchini to get rid of any extra liquid. I did this in a nut milk bag, but you can also use layers of cheesecloth.

In a large bowl combine the zucchini, green onions, eggs, panko, salt, paprika, garlic powder, and pepper.

Form zucchini mixture into eight 2-inch patties and place the patties on the prepared sheet.

Bake 20 minutes, flipping once halfway through the baking time. Serve immediately.
Notes
Nutritional values are approximate and are based on ⅛ of the recipe. Refrigerate leftovers promptly and use within 4 days.
Possible dipping sauces: ranch dressing, chipotle mayonnaise, marinara sauce, or ketchup, salsa, or aioli.
To freeze: Once you've cooked the fritters, remove them to a rack to cool completely. Once cool, package them in a ziptop freezer bag or airtight container. Chill for several hours before placing in the freezer. Reheat in the oven or air fryer prior to serving.
If you prefer, you can fry the fritters. Heat ½-inch of oil in the bottom of a heavy skillet. Scoop the zucchini mixture into the hot oil and press to form a flat patty. Cook for a few minutes over medium high heat, flip, and continue cooking until they are browned on both sides. Drain on paper toweling and serve hot.
Nutrition
Calories:
202
kcal
|
Carbohydrates:
10
g
|
Protein:
3
g
|
Fat:
17
g
|
Saturated Fat:
3
g
|
Polyunsaturated Fat:
9
g
|
Monounsaturated Fat:
4
g
|
Trans Fat:
1
g
|
Cholesterol:
51
mg
|
Sodium:
695
mg
|
Potassium:
200
mg
|
Fiber:
1
g
|
Sugar:
3
g
|
Vitamin A:
293
IU
|
Vitamin C:
11
mg
|
Calcium:
42
mg
|
Iron:
1
mg
This post was originally published on December 1, 2013. It has been updated for content and clarity.