Fry up a batch of zucchini fritters. Your kids, or your spouse, won't know what hit them!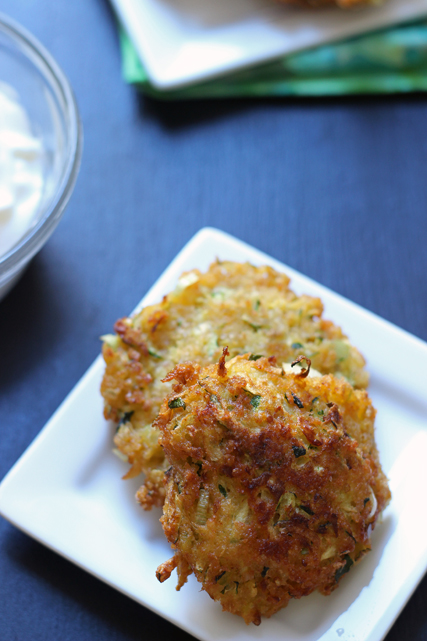 Ever since we started subscribing to a weekly produce delivery, I've become more attune to the seasons. Previously, I paid little attention to weather or when things were in season. I just bought whatever was on sale at the store.
It's been a weird fall as our fall produce and summer produce overlapped all the way into November. We've been getting tomatoes, zucchini, and melon for the last month still. Crazy! (Not that I'm complaining.)
Except for the zucchini part.
My kids don't particularly love zucchini, so I have to be creative in stretching it in sauces, soups, and stews or baking it into cakes and breads. However, this last month, I tried an experiment: Zucchini Fritters.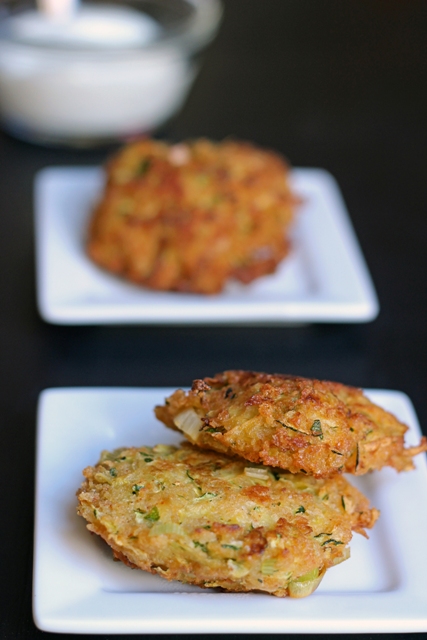 The first time around they were a huge hit, crispy little cakes of zucchini and leeks, dipped in homemade ranch dressing. They were a delicious side dish for a fish dinner.
The leeks get crispy when fried, adding a great texture. They also add a flavor reminiscent of onion rings. I'm not sure you can omit the leeks in this recipe. They really make it yummy.
When I had a glut of zucchini later in the month, I proposed a round of baking: Zucchini Bread, Zucchini Muffins, Chocolate Zucchini Cake. My 13yo son requested that I make Zucchini Fritters instead.
Yes, really.
How can I say No to that?!
These fritters are pretty easy to mix up. Even though they are fried, they don't take that much work to cook. They are a fun, crunchy little appetizer that would go great at this month's gatherings. Just be sure to serve them hot and fresh. They lose their crunch once they cool.
I've reheated them for breakfast, but they don't get crunchy again. Still good, though.
Looking for more bright ideas to get dinner on the table? My latest cookbook is here! And it's designed just for you to make dinner quickly, easily, and affordably.
You can beat the clock without breaking the bank. And you'll eat well too.
Recipe: Zucchini Fritters
Ingredients
2 medium zucchini, shredded
1 cup chopped leeks
2 eggs, beaten
1 cup panko bread crumbs
1 teaspoon kosher salt
1/2 teaspoon paprika
freshly ground black pepper to taste
oil for frying
Ranch dressing or sour cream for dipping
Instructions
Squeeze the zucchini to get rid of any extra liquid. I did this in a nut milk bag, but you can also use layers of cheesecloth.
In a large bowl combine the zucchini, leeks, eggs, panko, salt, paprika, and pepper.
Heat 1/2-inch oil in a large skillet.
Form zucchini mixture into 2-inch patties. Fry the patties, in batches, in the hot oil until golden brown, flipping once.
Drain patties on paper toweling. Serve immediately.
Preparation time: 10 minute(s)
Cooking time: 10 minute(s)
Number of servings (yield): 8
How do YOU feel about fried zucchini?