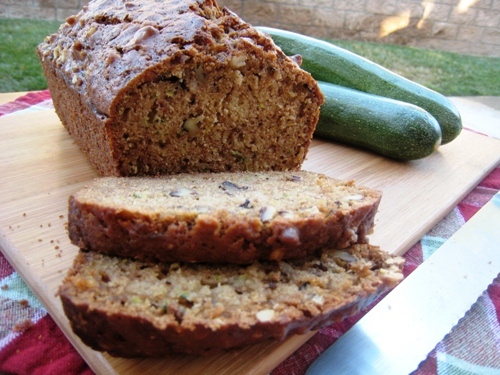 Ah, zucchini. The vegetable you love to hate, or hate to love. Which is it?
They are such prolific little buggers. I know, my dad grows them every summer. Correction: My dad grows too many of them every summer. Thankfully, my mom has been picking them while they are small-er, instead of the gargantuan things that Dad drops on my doorstep.
Truly, though, I love cooking with zucchini. I love adding grated zucchini to soups. I love grilling it, tossing it on pizza. I love baking with it. Good thing, too, 'cause those are prolific little buggers.
Recently, I had a wealth of zucchini from my dad's garden and I baked up a big batch of bread. A food processor is very handy for this sort of thing.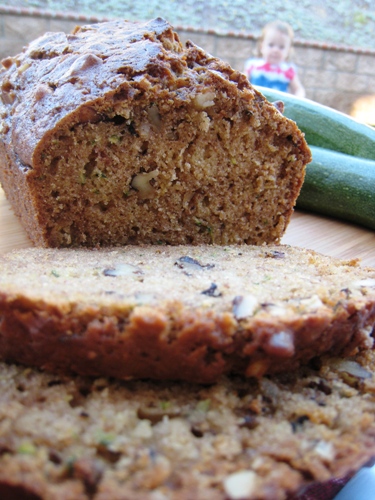 This recipe makes four good sized loaves. Feel free to stir in chopped nuts or chocolate chips, or both. Eat one and freeze the rest so that you can grab a loaf and go enjoy. See that cute little girl, she's racing for it. You'll want to, too.
Bulk Batch Zucchini Bread
Make good use of that garden surplus of zucchini. A bulk batch zucchini bread that's freezer-friendly is just the ticket.
Ingredients
3

cup

neutral oil

9

egg

beaten

5

cup

granulated sugar

2

tablespoon

vanilla extract

9

cup

unbleached, all-purpose flour

can include some whole wheat pastry flour

6

zucchini

(shredded to equal 6 cups)

1

tablespoon

baking soda

¾

teaspoon

baking powder

1

tablespoon

salt

1

tablespoon

ground cinnamon

1 ½

cup

chopped nuts
Instructions
Preheat the oven to 325°. Spray four bread loaf pans with nonstick cooking spray.

In a large mixing bowl, combine the oil, eggs, sugar, and vanilla. Mix well. Stir in the flour, zucchini, baking soda, baking powder, salt, cinnamon, and nuts and chocolate chips. Stir until just mixed.

Pour the batter into the prepared loaf pans and bake for 1 hour or until tester comes out clean. Cool completely on a wire rack.
Notes
To freeze: Once cool, wrap in plastic wrap and place in a large freezer bag. Remove excess air and freeze. Can also be sliced before freezing.
Promptly store leftovers in an airtight container, for up to 4 days.
Nutritional values are approximate and based on 1/12 of a loaf.
Nutrition
Calories:
220
kcal
|
Carbohydrates:
40
g
|
Protein:
4
g
|
Fat:
5
g
|
Saturated Fat:
1
g
|
Cholesterol:
31
mg
|
Sodium:
228
mg
|
Potassium:
124
mg
|
Fiber:
1
g
|
Sugar:
22
g
|
Vitamin A:
94
IU
|
Vitamin C:
4
mg
|
Calcium:
20
mg
|
Iron:
1
mg