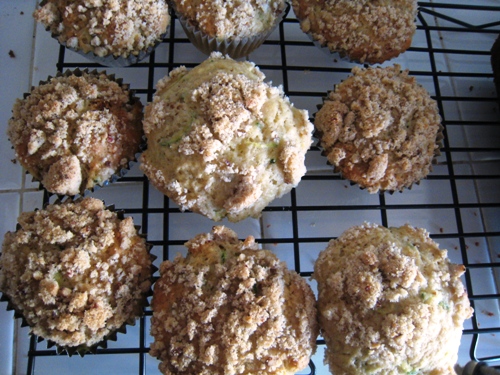 Prepping my own baking mixes to keep on hand is standard operating procedure around here. I've found that it helps me to bake more if half the work is done for me.
I love the versatility of mixes because I can stir in all kinds of goodies, like zucchini. Your kids might not think they are "goodies," but baked into these muffins they will!

Recipe: Zucchini Muffins with Streusel Top
Ingredients
3 cups unbleached flour
1/2 cup whole wheat flour
4 teaspoons baking powder
1/2 teaspoon baking soda
1/2 teaspoon salt
1 cup sugar, brown sugar, or sucanat
1/2 cup oil
1 cup milk
1/2 cup plain yogurt
2 eggs
1 teaspoon vanilla extract
1 1/2 cups grated zucchini
1/2 teaspoon nutmeg
1 batch Streusel Topping
Instructions
Preheat oven to 350 °. Line muffin tin with papers or spray with nonstick cooking spray. In large mixing bowl, combine, flours, baking powder, baking soda, salt, and sugar. (If preparing as a mix, simply combine all these ingredients in a ziptop bag, label well, mark with the wet ingredients and baking instructions.)
In a separate bowl, combine oil, milk, yogurt, eggs, vanilla, and nutmeg. Whisk to blend. Add wet ingredients to dry. Fold gently until mostly moistened, but still lumpy. Fold in zucchini.
For 12 large muffins, fill muffin cups completely, even mounding past their tops. For 18 kid-size muffins, fill almost full. Top each muffin with 1 Tablespoon streusel topping. Bake 25 – 35 minutes, depending on how much you fill them.
Baked muffins can also be frozen.