Streusel Topping is super easy to make. Adding it to your baked goods, elevates muffins, cakes, and pies from ordinary to amazing. See how easy it is!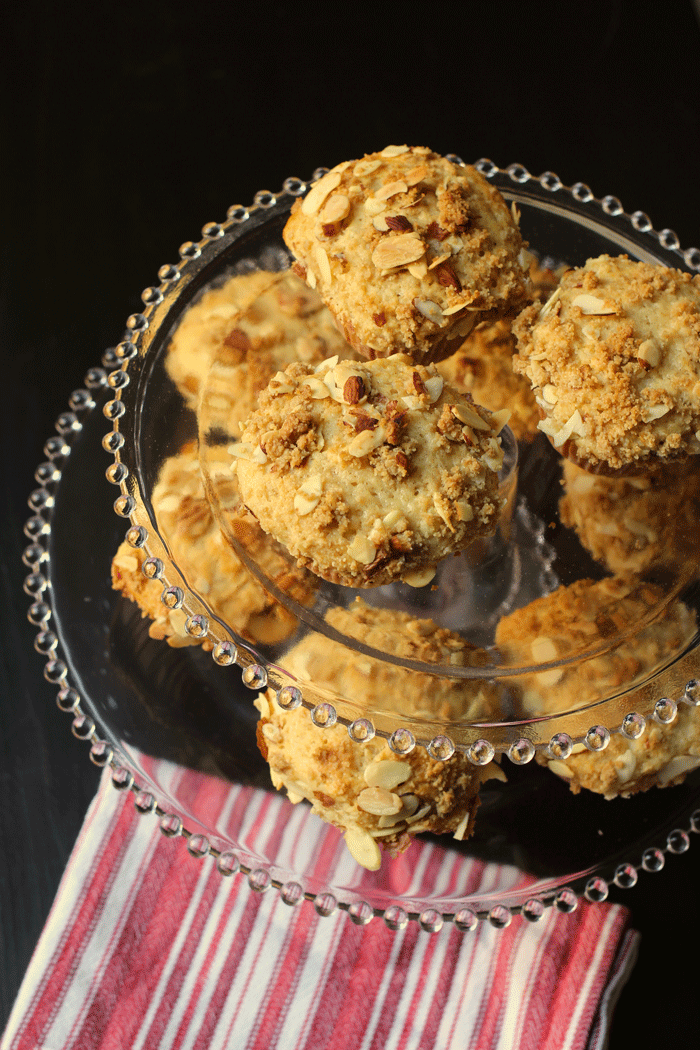 We all know that baking is a science. I mean, how many of us have encountered true baking disasters when we messed with the laws of chemistry. Try to bake in too cold an oven? Forget to beat your eggs? Mismeasure your salt?
Yeah, I did that one.
First time I ever attempted homemade pie crust on my own, I read 1/2 cup salt in the recipe instead of 1/2 teaspoon. I was 9 at the time, which means my younger sister Jamie was my nemesis. I assumed that when she criticized my creation, she was exaggerating.
She wasn't. Bless her.
Yep, you can really jack things up when you bake and don't follow the directions. However, that doesn't mean you can't improvise.
If you've watched more than 20 minutes of The Great British Baking Show, you know what I mean. Each week contestants duke it out as they bake cakes, breads, pastries, and desserts — and give new and creative twists to classic recipes.
While you and I may not be competition ready, there are some easy tweaks we can apply at home, to our tried and true recipes as well as to boxed mixes.
I did, indeed say boxed mixes.
One of those magic tweaks? Streusel.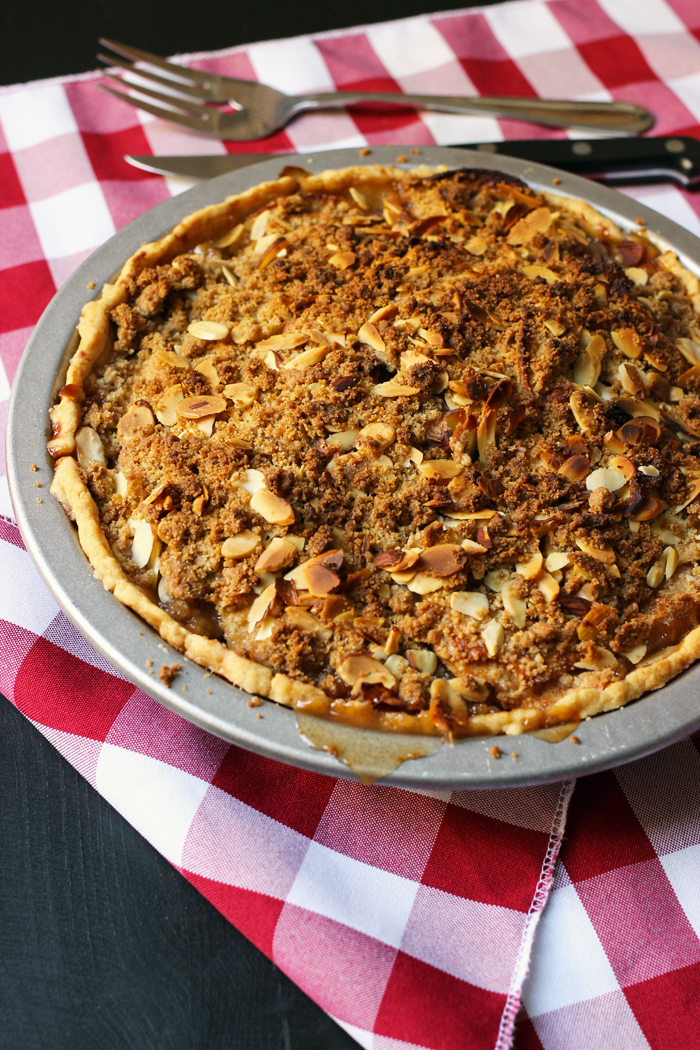 Nutty Streusel Topping for Muffins, Cakes, and Pies
Streusel is that sweet, crumbly goodness that tops muffins, cakes, and pies. It adds flavor, crunch, and a delectable lid of pastry to the tops of your favorite baked goods. It can even be layered in your favorite coffee cakes if you so desire.
What is streusel topping made of?
Streusel is a crumb topping made from working together flour, sugar, and butter. Sometimes nuts and spices are added as well. It's used as a topping for coffeecakes, breads, muffins, cakes, and pies.
Where does streusel come from?
The word streusel is from the German for "to sprinkle or to strew".
What's the difference between streusel and strudel?
Both words are baking terms from German. Streusel is a crumb topping, while strudel is a pastry, in and of itself, made from many layers of very thin dough, filled, rolled, and baked until crisp and golden.
Strudel is delicious, but it's not the same as streusel.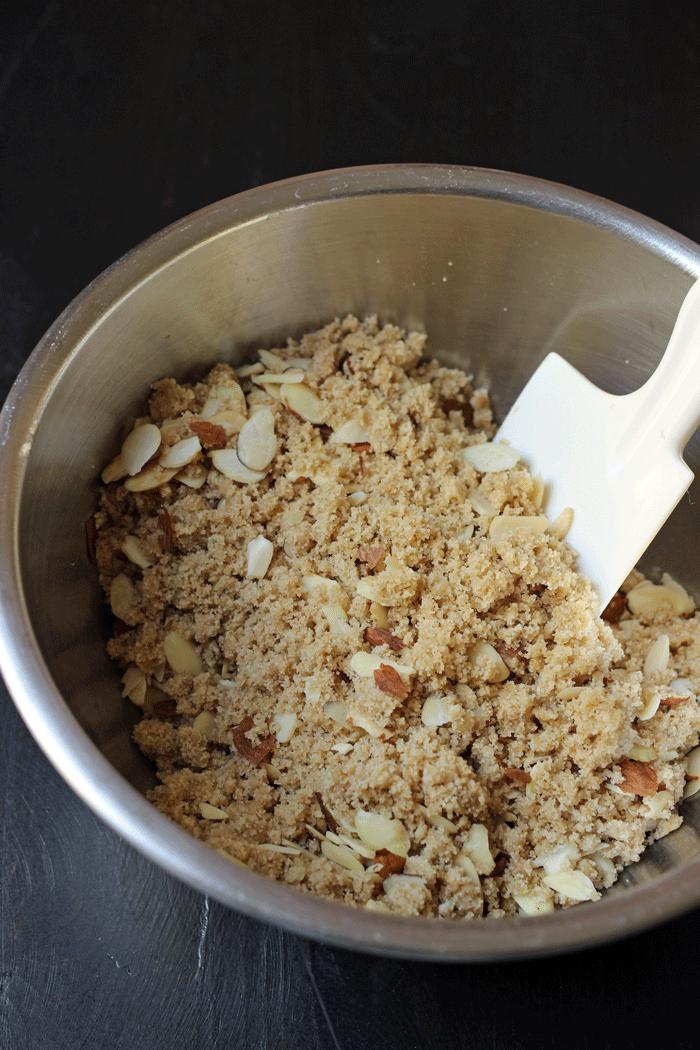 How do you make streusel topping?
Streusel topping is super easy to make. It's just a matter of cutting butter into a mixture of flour and sugar.
Having a food processor makes this recipe come together in a snap, but you could always use a pastry blender or two table knives to cut in the butter.
For nutty streusel, just stir the nuts into the crumbs. You can also add spices and extracts to change up the flavors.
How can you use a crumb topping?
I love to sprinkle streusel on everything. It takes a normal baked good over the top! It's delicious on Raspberry Muffins, and it is the topping that makes Nanna's Apple Pie and Slab Apple Pie so great.
Really, you can add this basic streusel to any bread, cake, or muffin recipe that you already love. Try it on Mix and Match Muffins or on Chocolate-Chip Banana Bread. Yummy!
I use cinnamon in this recipe, but feel free to play with the recipe. Try nutmeg or cardamom. Vanilla instead of almond extract. Different nuts or seeds could be added.
You can add this crumb topping to your regular muffin and cake mixes or even mix up a boxed cake mix and make streusel-topped cupcakes or cakes with very little work. Do you see where I'm going with my improv suggestion? The world is your oyster when it comes to playing with streusel.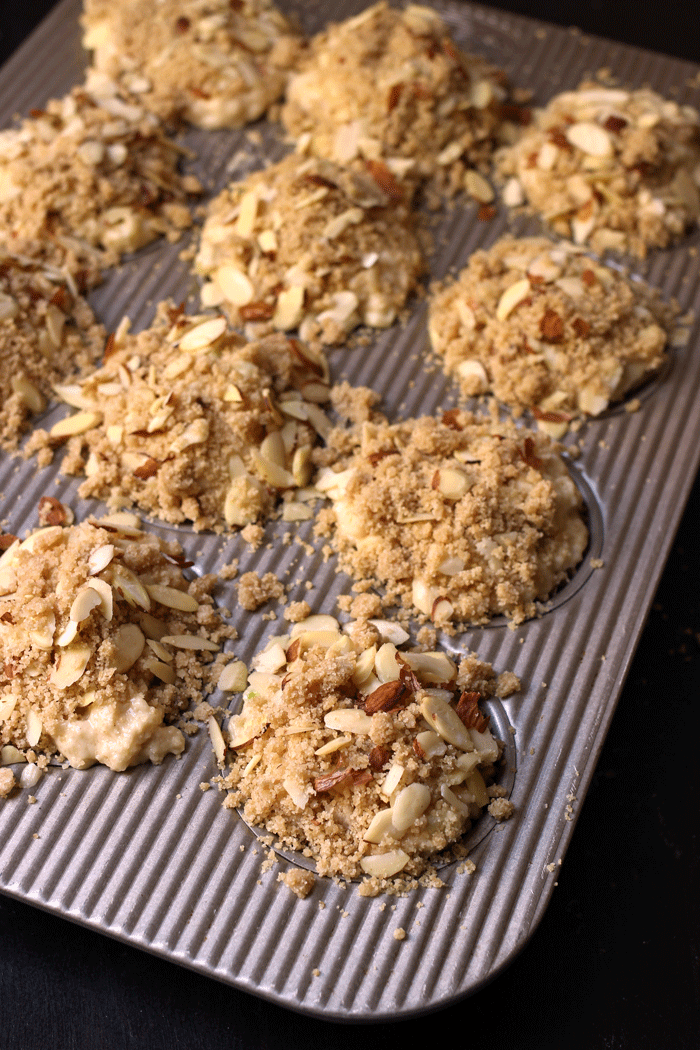 Nutty Streusel Topping
Streusel Topping is super easy to make. Adding it to your baked goods, elevates muffins, cakes, and pies from ordinary to amazing. See how easy it is!
Keyword:
crumb top, crumb topping, streusel, streusel topping
Ingredients
1/2

cup

flour

1/4

cup

brown sugar

2

tablespoons

butter

cubed

1/2

cup

chopped or sliced nuts

1

teaspoon

ground cinnamon

1/2

teaspoon

almond extract
Instructions
Place all ingredients in the bowl of food processor. Pulse until coarse crumbs are formed.

Alternatively, combine the flour, sugar, and butter in a mixing bowl with a pastry blender. Stir in the nuts, cinnamon, and extract.

Sprinkle the crumb toping over unbaked pies, muffins, cakes, coffeecakes, or muffins. Bake according to recipe directions.