Carrots add flavor, texture, and fiber to this easy carrot bread recipe. Make a bulk batch so that you can easily freeze extra loaves for later.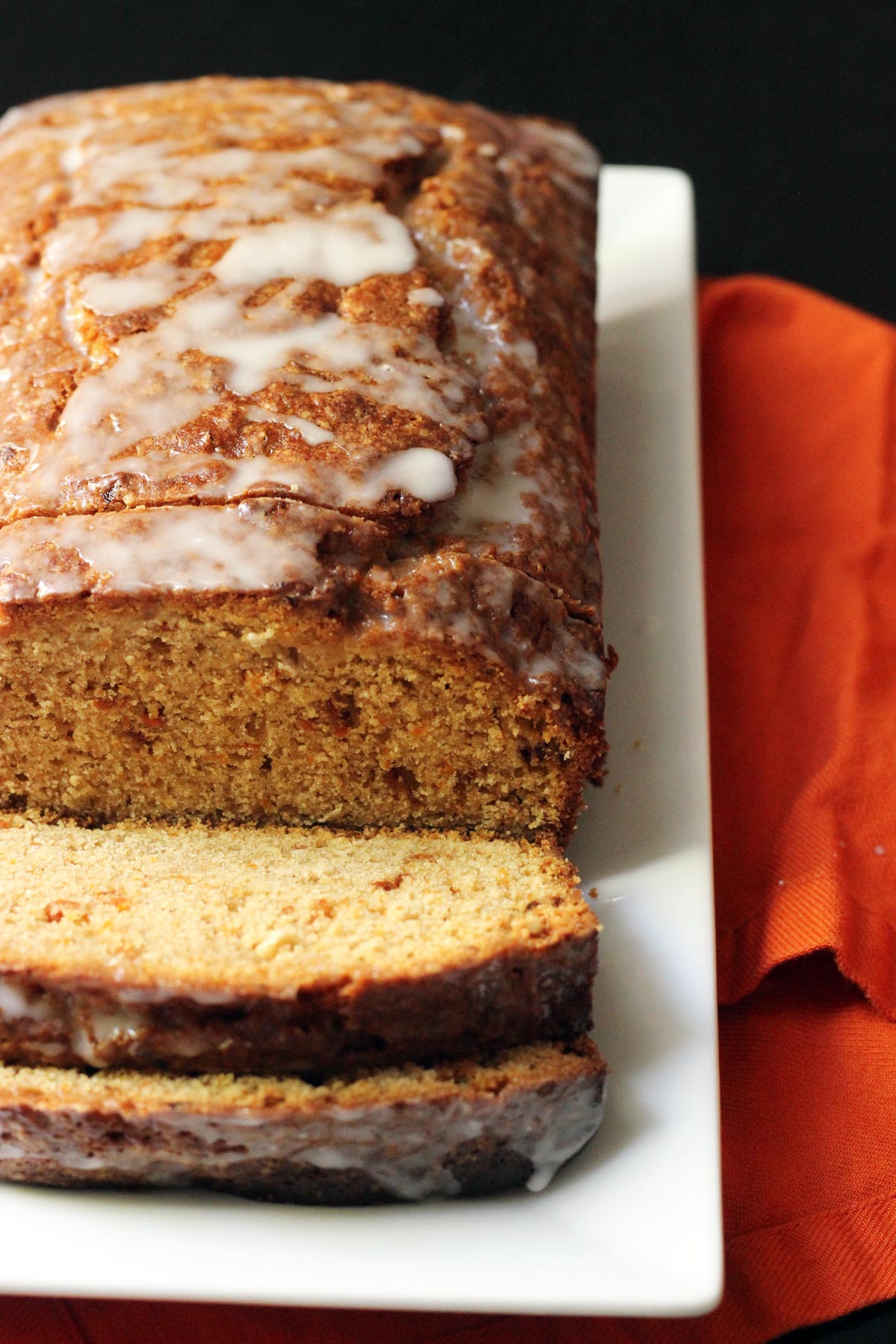 Jump to:
Most folks are familiar with zucchini bread or banana bread as a way to use up excess produce; carrot bread is relatively unknown. Until now.
This Spiced Carrot Bread, redolent with spices and kissed with a powdered sugar glaze, is a perfect afternoon snack or an elegant addition to your breakfast or brunch spread. It's super affordable and uber-convenient since carrots are almost always affordable and easily available. No need to wait for browned bananas or for zucchini season to roll around.
What is carrot bread?
Carrot bread is a quick bread, meaning that it doesn't use yeast for leavening, but rather baking soda and/or baking powder. Similar to Carrot Cake , it features shredded carrot to give it flavor and texture.
This particular carrot bread recipe is on the sweet side, making it similar to a cake, but easier to bake.
Serving suggestions
Carrot bread is delicious served at breakfast or snack time with butter or a Flavored Cream Cheese. It is also good as a dessert, served with coffee.
Ingredients
Generally speaking all the ingredients in this recipe are grocery staples, making it easy to make whenever you like.
Please note that this recipe makes four loaves of carrot bread. If you would like to make fewer loaves, adjust the servings on the recipe card.
Here's what you'll need:
neutral oil – I use avocado as my preferred oil for baking. You can use canola, vegetable, coconut, or light olive oil as well as melted butter.
eggs – If you run out of eggs or need to avoid them for dietary reasons, you can use Flaxseed Meal as an Egg Substitute.
buttermilk – The acid in the buttermilk is what helps the baking powder react. You can buy commercial buttermilk, culture your own buttermilk, or use a buttermilk substitution such as equal parts yogurt and milk or 1 tablespoon white vinegar added to each cup of milk.
vanilla extract – This adds a nice flavor, but in lieu of commercial vanilla, you can also use rum. Homemade vanilla is also easy to make.
sugar – I use granulated sugar but you can also use sucanat, turbinado, or brown sugar in this recipe.
carrots – You'll need several shredded carrots. You can shred them yourself or buy them pre-shredded.
unbleached, all-purpose flour – This is the type of flour I prefer, you can also use whole wheat pastry flour or bleached, all-purpose flour.
leavenings (baking powder, salt, and baking soda) – These are what give the bread its lift. You cannot omit them.
spices (ground cinnamon, nutmeg, ginger, and cloves) – This is what makes this carrot bread "spiced" and gives it a rich flavor. You can omit them, but the flavor of the bread will be decidedly different. You can also substitute a tablespoon of pumpkin pie or apple pie spice if that is what you have.
lemon zest – Lemon zest can be from a fresh lemon or dried zest from the spice section. Either works well. If you have a lot of lemons, you can freeze lemon zest to use in baking later. In lieu of lemon zest, you can use orange zest instead.
Instructions
This is a simple recipe to prep.
Line four loaf pans with parchment paper, using binder clips to hold the paper in place. Alternatively, spray the pans with nonstick cooking spray.
Combine the dry ingredients in a very large bowl. Remember this makes four loaves, so you'll need the largest bowl you have.
Combine the wet ingredients in a second mixing bowl.
Add the wet ingredients to the dry along with the shredded carrots.
Fold gently to combine. Spoon the batter into the prepared pans and bake until a tester comes out with a few crumbs attached.
Remove the loaves from their pans and allow them to cool completely on a wire rack.
Prepare the glaze if desired and glaze the loaves you plan to eat immediately.
For loaves you intend to freeze, leave them unglazed.
Freezing instructions
This recipe makes enough for four loaves, though you can easily halve or even quarter the recipe. Eat one and wrap the others in plastic wrap and place in freezer bags in the icebox for future good eats.
To freeze: Cool the loaves completely on a wire rack. Once completely cool, wrap each loaf with plastic wrap. Place the wrapped loaves in a large ziptop freezer bag and store in the freezer, up to 3 months.
Alternatively, you can slice the loaves and freeze the slices in serving-size packages.
To serve: remove a loaf or serving-size package and allow it to thaw, in its wrapping, before slicing and serving.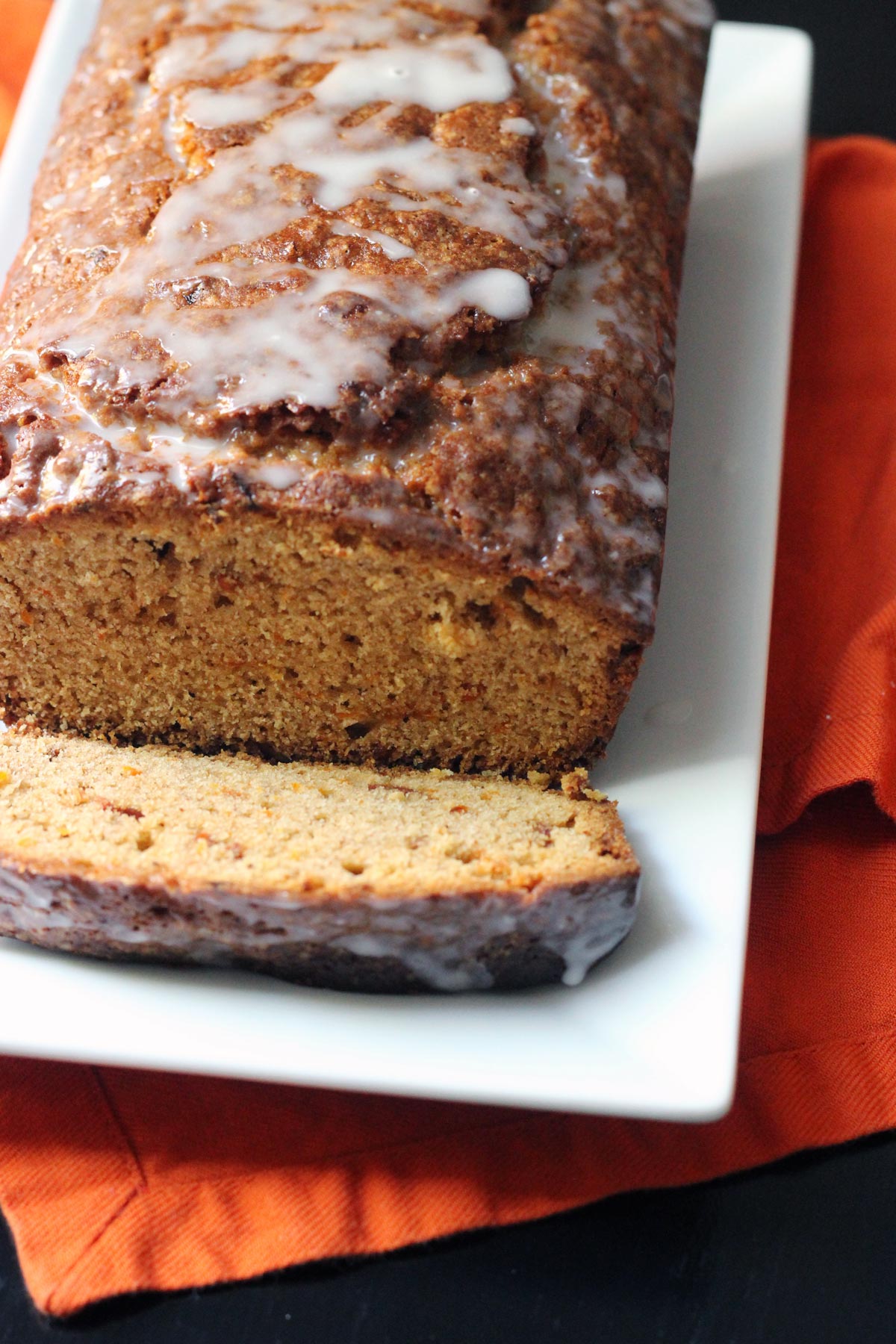 Recipe costs
Knowing how much it costs you to prepare a recipe can help you decide if it's the type of recipe to make regularly or one you might want to save for special occasions. Let's crunch some numbers and see how this recipe pencils out.
oil – $0.64
eggs – $2.00
buttermilk – $0.80
vanilla extract – $0.75
sugar – $1.10
carrots – $1.00
flour – $1.60
baking powder – $0.09
salt – $0.06
cinnamon – $0.15
lemon zest – $0.10
baking soda – $0.01
nutmeg – $0.05
ginger – $0.13
cloves – $0.10
optional glaze – $0.40
Shopped at a midrange grocery store at non-sale prices, it costs $8.98 to make a batch of four loaves of carrot bread, or $2.25/loaf.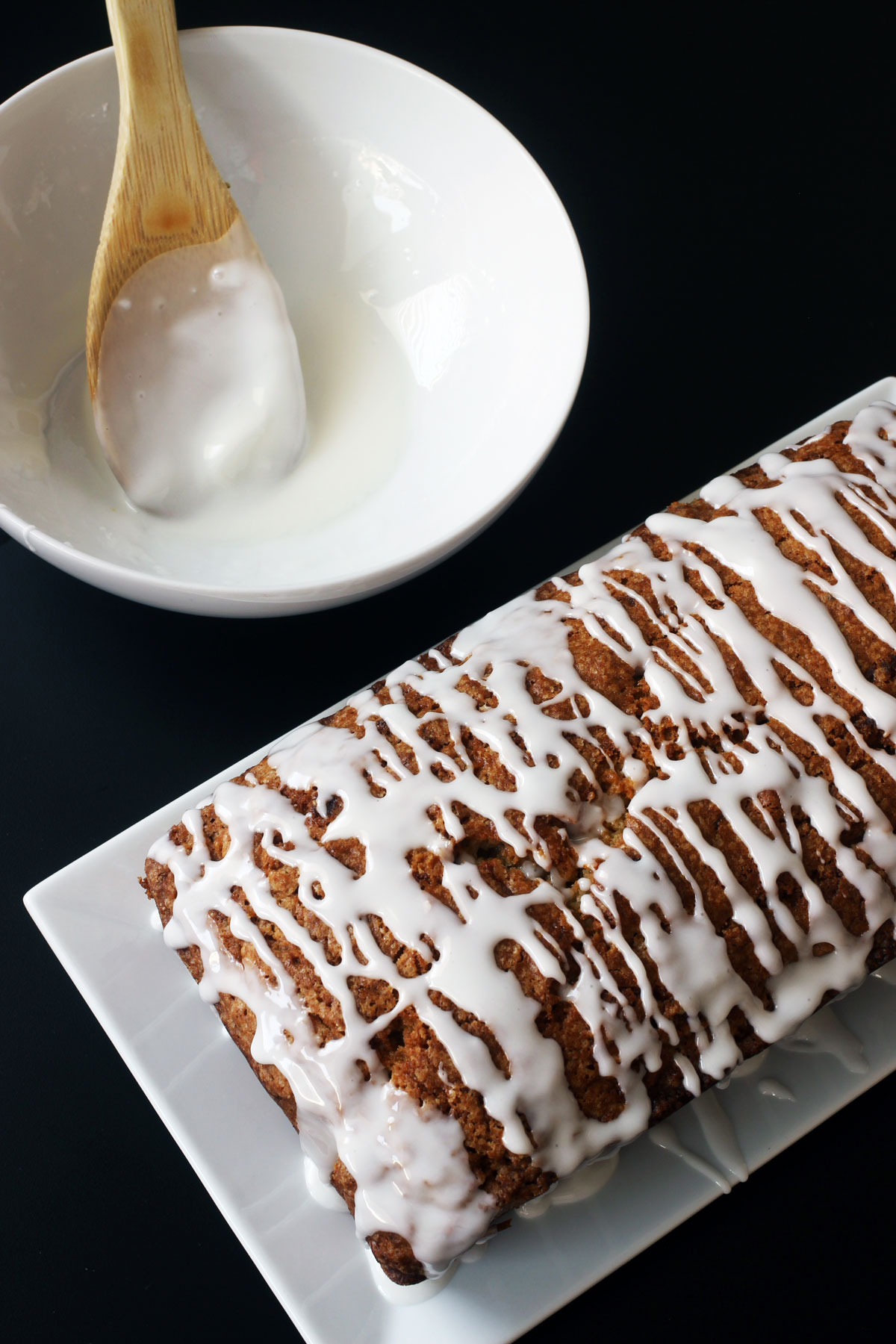 How to save even more?
Here are some of the strategies you can use to make this recipe more economical:
Kitchen equipment
This recipe really couldn't be easier than it is, but having the right kitchen tools can really make your time in the kitchen more enjoyable. Over time, I've honed my collection so that they are perfect for my needs.
Here are the tools that I use for this recipe: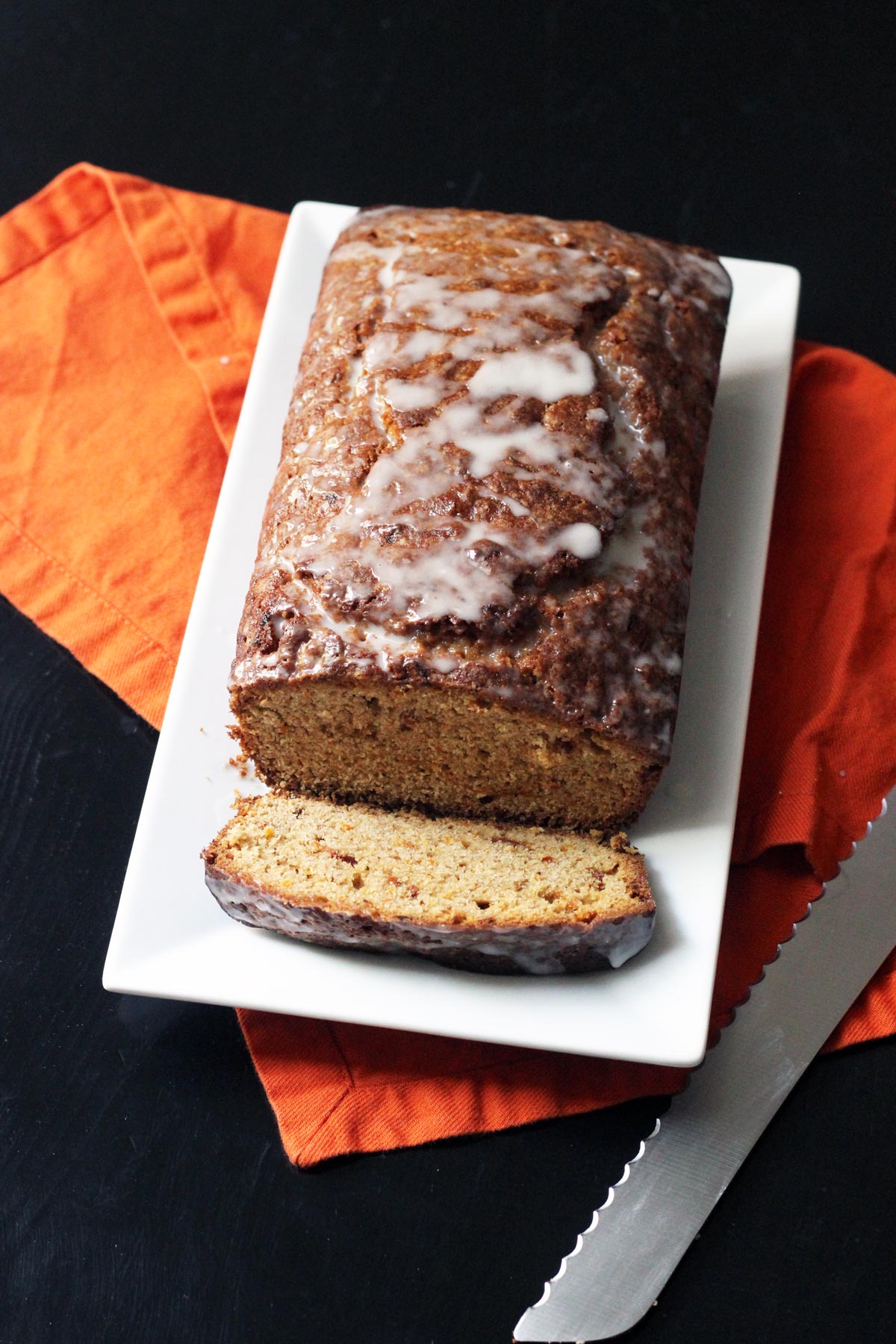 Bulk Batch Spiced Carrot Bread Recipe
Spiced Carrot Bread is an excellent, affordable option for a delicious home baked goodie. Carrots add flavor, texture, and fiber to this spiced quick bread, making for a quick snack or elegant addition to the breakfast tray. Talk about a great way to eat your veggies!
Ingredients
2

cup

neutral oil

8

egg

beaten

1

cup

buttermilk

1

tbsp

vanilla extract

5

cup

granulated sugar

4

cup

carrots (shredded)

8

cup

unbleached all-purpose flour

1

tbsp

baking powder

1

tbsp

salt

1

tbsp

ground cinnamon

1

lemon, zested

1

tsp

baking soda

1

tsp

ground nutmeg

1

tsp

ground ginger

1/2

tsp

ground cloves
Optional powdered sugar glaze
1

cup

powdered sugar

1 to 2

tbsp

milk
Instructions
Preheat the oven to 350°. Spray four 8.5×4.5-inch loaf pans with nonstick cooking spray.

In a large mixing bowl, combine the oil, eggs, buttermilk, and vanilla. Stir in the sugar until well incorporated. Stir in the carrots.

In another large mixing bowl, combine the flour, baking powder, salt, cinnamon, lemon zest, baking soda, nutmeg, ginger, and cloves. Whisk to blend.

Add the flour mixture to the wet mixture and fold to combine.

Divide the batter into the prepared pans and bake for about 1 hour or until a tested comes out with a few crumbs attached. Cool loaves on a wire rack.

In a small bowl, place the powdered sugar. Add enough milk to form a thin glaze. Drizzle the glaze over the cooled loaves.
Notes
To freeze: Wrap the cooled loaves, unglazed, with plastic wrap and place them in ziptop freezer bags. Store in the freezer for up to 6 weeks.
This post was originally published on April 12, 2012. It has been updated for content and clarity.