When life hands you lemons (or any kind of citrus), zest 'em, juice 'em, make all kinds of good things with 'em. Today we're sharing recipes that feature citrus fruits.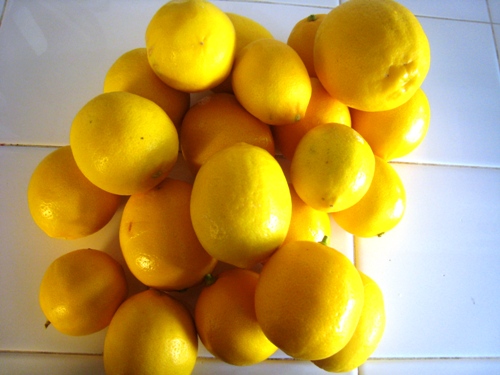 Once upon a time, I grew up in a fairytale castle with a golden tree growing in the backyard….
Ok, so it wasn't a castle, but gold really did grow in the backyard. Lemon gold. The lemon tree "came with the house," as they say. The house my parents bought when I was 2 is where they still reside. That makes the lemon tree at least 38 years old and it's still producing.
Hundreds of lemons every year are harvested from its branches. And since I moved back from the frozen tundra, I am the happy recipient of a king's ransom of lemons. Considering that lemons are often $1 a piece at the stores, I'd say, yes, a king's ransom.
Lemons and limes are different than their citrus cousins in that you don't typically eat them fresh. (I have on many a day as a teenager when I forgot my key and climbed over the back fence to wait until my mom came home. But, my stories of eating whole lemons are for another post.) My point is that lemons and limes typically aren't the fruit you just take a bite out of.
At least not if you're a normal person.
Instead, you use them as garnish or take their zest and juice to enhance both savory and sweet recipes. They are flavoring, if you will.
So, what do you do when you have a surplus of lemons?
Now, I know not all of you are spoiled to live in the Land of Eternal Sunshine where trees of gold sprout in the backyard. But, I have lived in the frozen tundra we call Kansas, and I know that while living there, I found lemons on sale from time to time, so I stocked up. Because I could. And because I love lemons. And probably because I missed home.
So, what do you do when you have a surplus of lemons?
Or limes, or oranges, or grapefruit, for that matter. Winter is citrus season, so no matter where you live (north of the equator), you should be finding citrus at a lower price than normal right about now. Stock up when you see a good sale. If you can eat the citrus fresh (like with oranges or grapefruits) go for it.
But no matter the variety, I suggest these two wonderfully, freezer friendly options: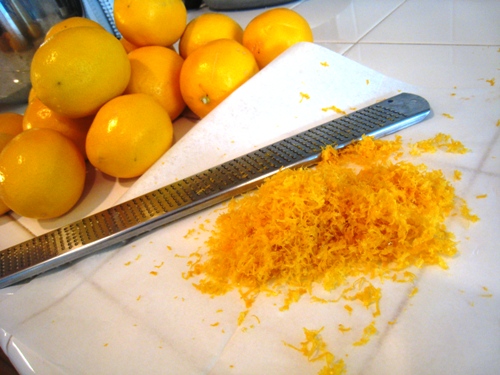 1. Zest the citrus fruit.
Citrus zest contains a huge amount of flavor. It's the colorful, oily part of the fruit's skin. Don't go too deep, into the white, that is bitter. Just scrape off the zest with a zester or microplane. Store it in an airtight container in your freezer to use in recipes throughout the coming months. Thanks to my friend Jessika for the tip! It has been a wonderful asset to my cooking.
You can do this for lemons, limes, grapefruits, and oranges, just store the different kinds separately.
2. Juice the fruit.
This year I finally broke down and bought a new power juicer for citrus. Prior to that purchase the kids and I were using an antique citrus juicer with the well, similar to this style, but in milk glass. A family heirloom that is better to stay that way.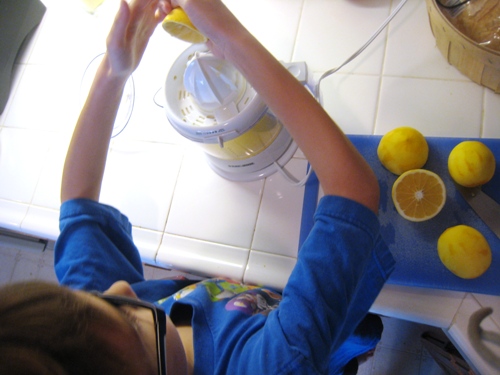 Plus, using a power juicer is so much quicker. Throughout the last few months we've had Valencia oranges and lemons from our produce co-op to juice as well as Meyer lemons from Dad's tree.
You can use the juice right away or freeze it in small containers for later use. You can even freeze it in ice cube trays, transfer the lemon cubes to another container or a ziploc bag and return it to the freezer.
Favorite Citrus Recipes
Use the juice and/or zest in these family favorites:
And use the fruit in these:
Orange Salad with Feta and Almonds