Baking a Lemon Meringue Pie from scratch is not complicated, but it feels like such an accomplishment. Tart and sweet, buttery and creamy, it calls for some pretty standard baking staples: flour, butter, sugar, cornstarch, eggs, lemon, and cream of tartar.
Jump to:
As a dedicated pie person, I've learned over the years how important it is to know how to make your people's favorite pies. And, as a dedicated pie person, I have felt no qualms over "having to learn".
So far, I've mastered Mixed Berry Pie for my husband, Blueberry Pie for my eldest daughter, Chocolate Cream Pie for my youngest, and Gramma John's Blue Ribbon Apple Pie for my sons.
I was ten years old when I learned how to make lemon meringue pie, my all-time favorite.
What is lemon meringue pie?
Lemon Meringue Pie is a lemon tart topped with a lightly browned meringue.
It is a delectable combination of flavors and textures: flaky, buttery crust, tart and creamy lemon filling, and sweet and chewy meringue. It's definitely a pie for all the senses.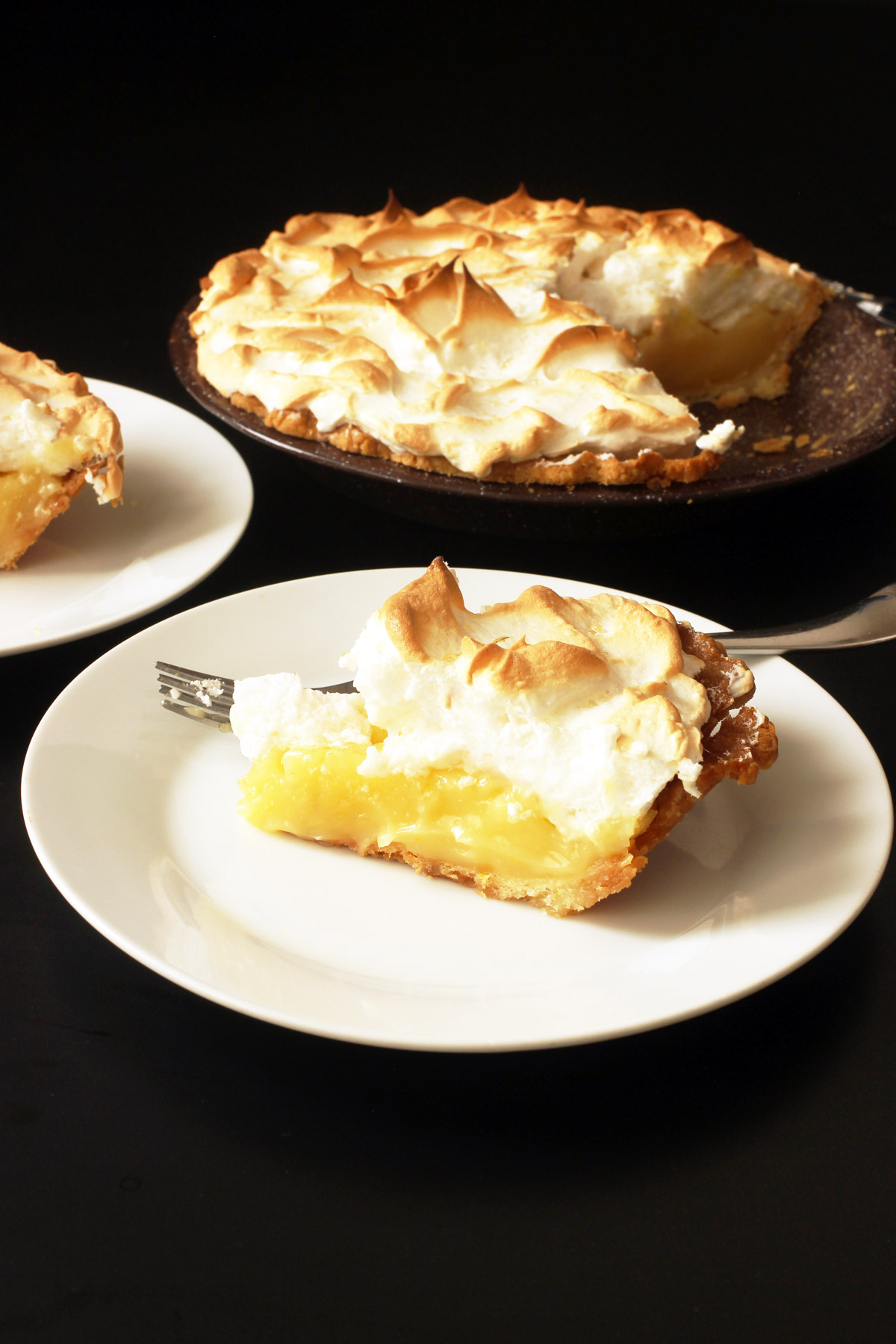 Serving suggestions
This pie is delicious anytime of day; I confess to eating a piece for breakfast from time to time. Ideally, though, you would serve it as a dessert alongside tea or coffee.
Ingredients
You don't need much more than a few baking staples to make your pie completely from scratch. Of course, you could buy commercial pie crust and boxed lemon pie filling, but honestly, those take just as much effort to prep into a pie as making it from scratch.
While there are tricks to making it picture perfect, homemade tastes so much better. So, go for the gusto and make your own, with these ingredients: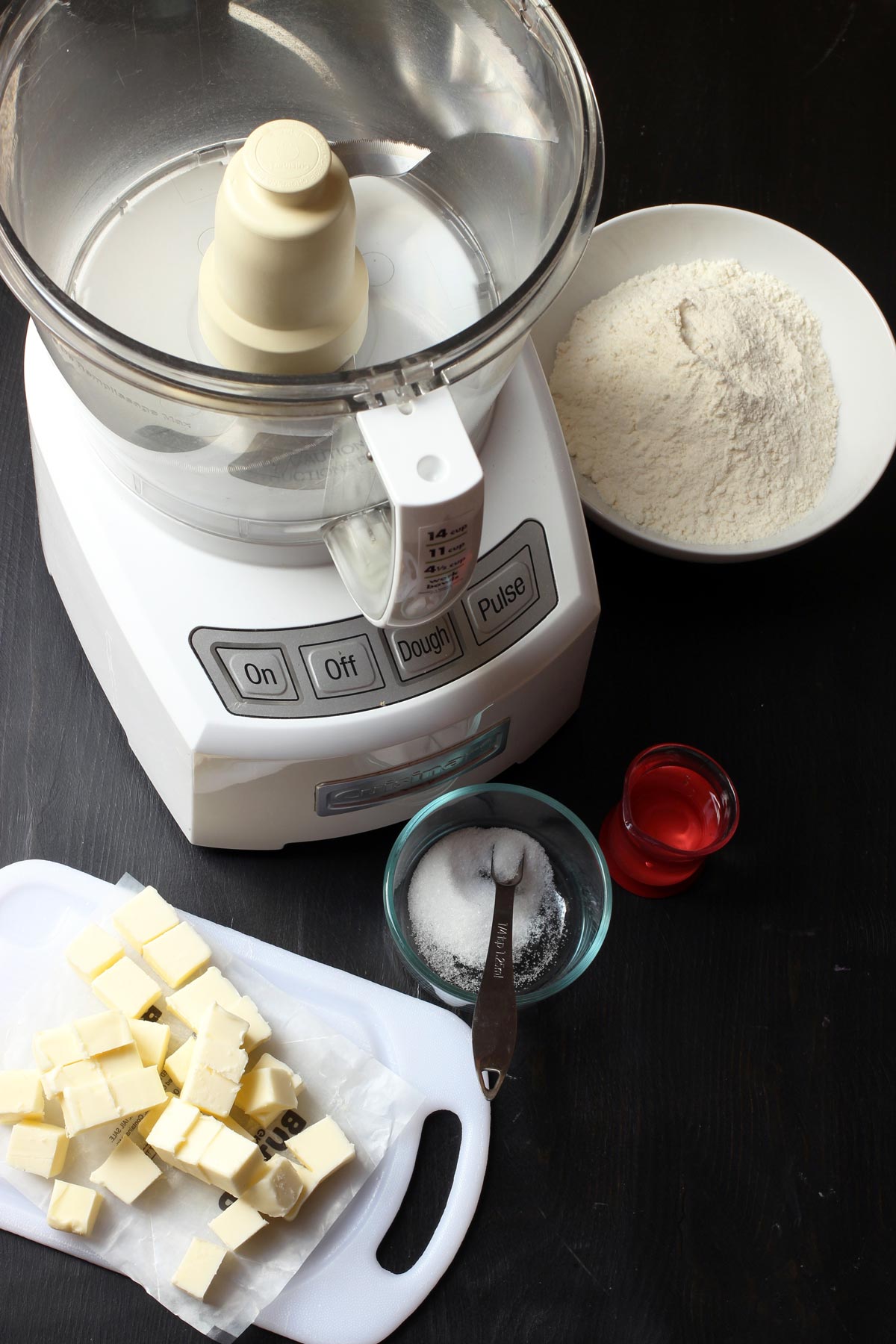 For the crust:
I recommend Gramma John's Press-in Pie Crust. It's loaded with buttery flavor and is super simple to make. If you prefer a roll-out crust, this homemade pie crust recipe is also a winner.
Either way, you'll need:
butter – you can also use margarine or lard if that's what you prefer in pie crust
flour – unbleached, all-purpose is best
ice water – cold ingredients make for a flakier pie crust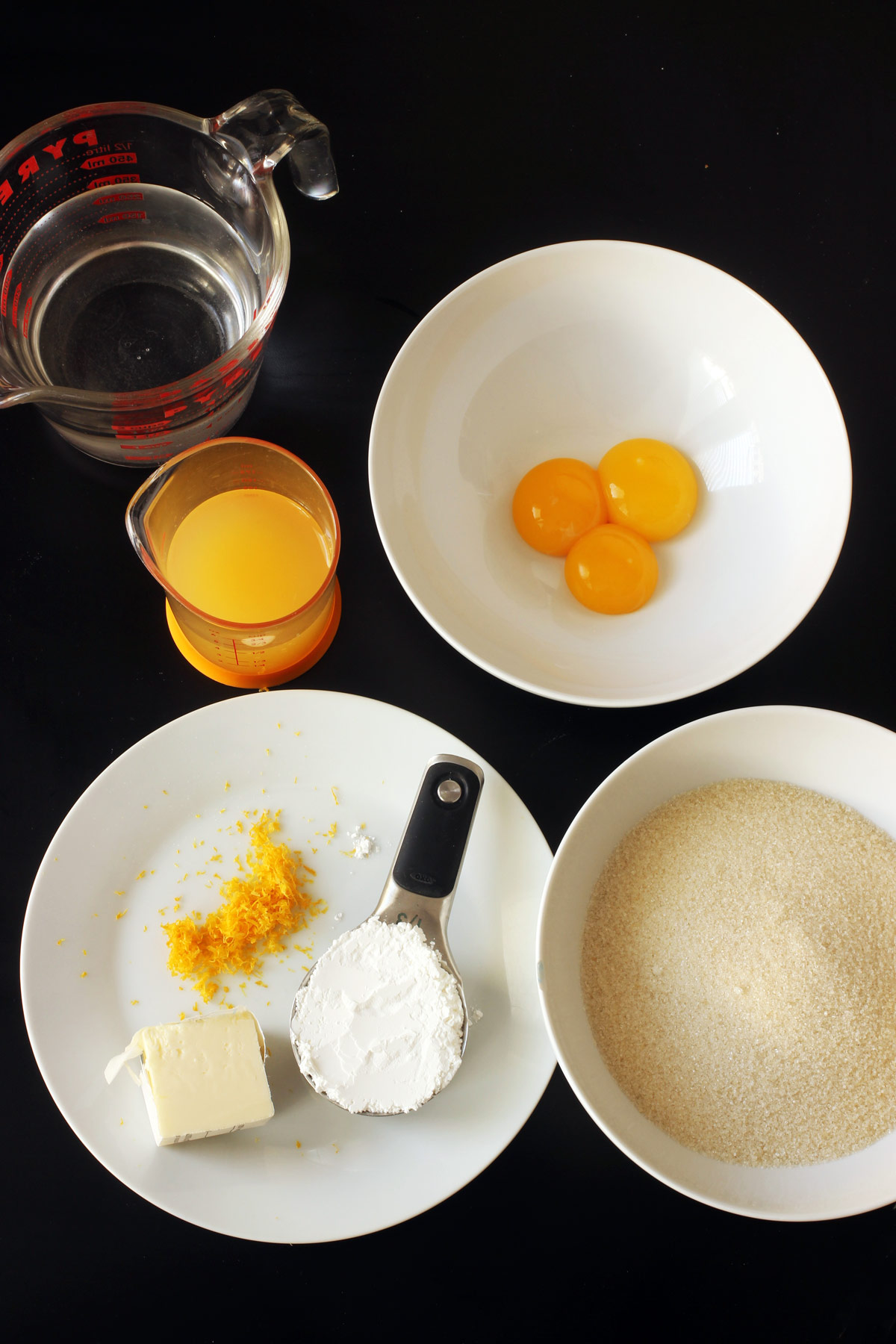 For the filling:
The lemon filling is made similarly to chocolate pudding, simmering sugar, cornstarch, and liquid until thickened with the addition of a few other ingredients to flavor it:
sugar
cornstarch
water
lemon juice
lemon zest
butter
egg yolks – save the whites for the meringue topping
The same filling would be delicious atop Lemon Meringue Sundaes as a stand-in for commercial lemon curd. You could also use it for layering in Lemon Blueberry Icebox Cake.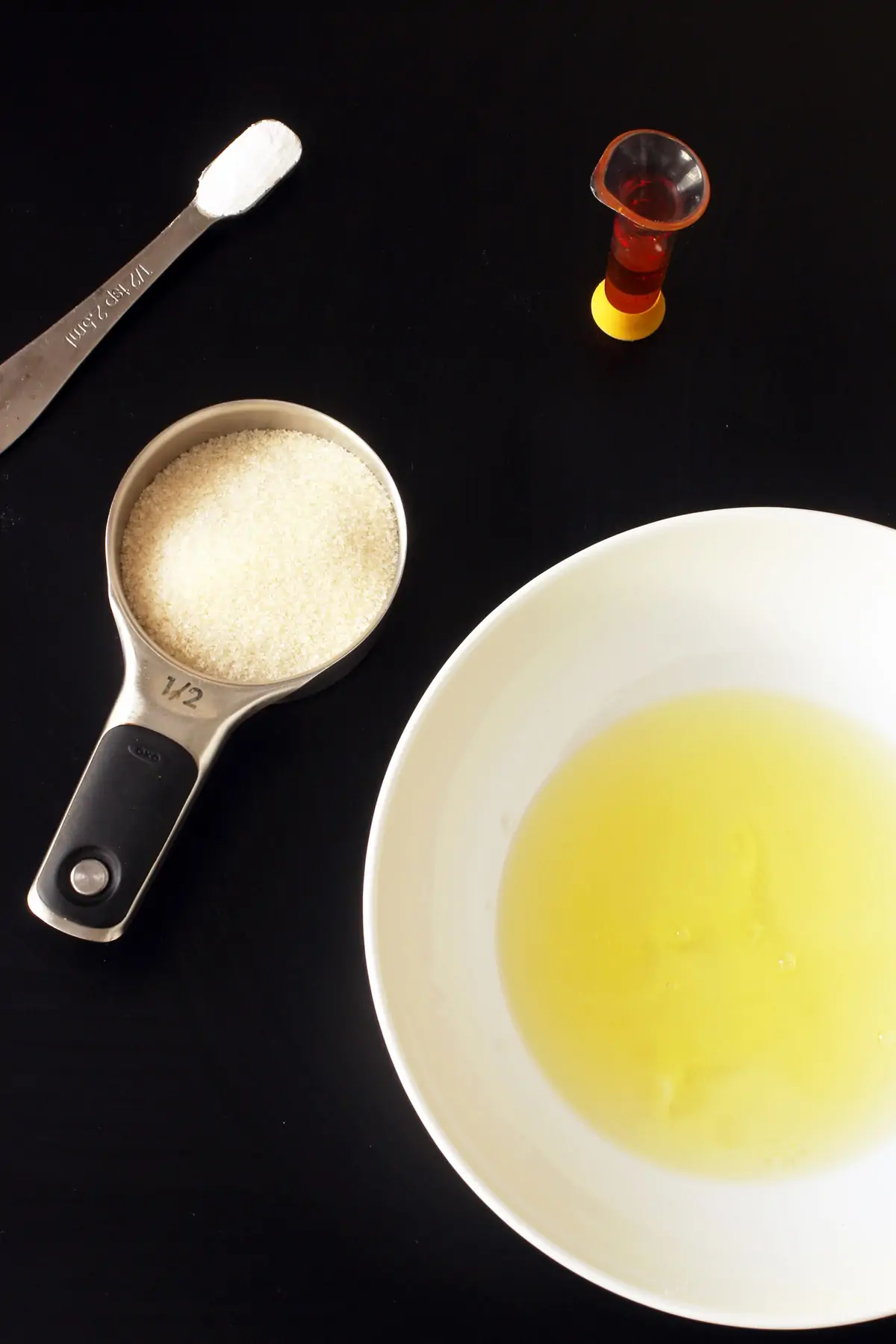 For the meringue:
The sugar and egg white topping is what gives this pie its signature finish: meringue. Similar to the meringue you'd bake for Lemon Meringue Cookies, this meringue is spread atop the lemon curd layer and baked until golden.
You'll need:
egg whites – from the same eggs you got the egg yolks for the filling
granulated sugar – the finer the better so that it dissolves well in the egg whites
vanilla extract – optional, but adds great flavor
cream of tartar – this helps the egg whites stiffen.
Instructions
Preparing the pie requires a few different steps.
Prepare the pie crust and allow this to cool completely, then prepare the filling.
In a saucepan, whisk together the sugar and cornstarch. Add the water, and stir to dissolve the dry mixture completely, being sure to scrape the corners of the pot. Sometimes cornstarch parks out in the edges.
Bring the mixture to a boil and allow it to thicken. You're going to add more liquid later, so you want it to be very thick.
Take some of the hot mixture and stir it into the egg yolks. This tempers the yolks so that they don't cook like scrambled eggs. Add this back to the filling in the pot and bring to a boil again.
Pull the pot off the heat and whisk in butter, lemon juice, and lemon zest. You don't want the filling to cool prior to assembling it, so prepare the meringue straight away.
In a mixing bowl. place the egg whites, cream of tartar, and vanilla extract. Beat at high speed until soft peaks form.
Gradually add the sugar a bit at a time, whipping at high speed until all the sugar is incorporated and the egg whites have formed stiff peaks. It should be stiff and glossy.
Once you've got the three components ready: a cooled pie crust, hot filling, and stiff meringue, you're ready to assemble the pie.
Pour the filling into the cooled crust.
Start spooning the meringue atop the lemon filling, being sure to seal the meringue tightly to the crust edge. If there isn't a seal, the meringue will shrimp away leaving a gap between the crust and the meringue. It's not bad, but just not as pretty.
Once the meringue covers the pie entirely, you can make some decorative swoops across the top.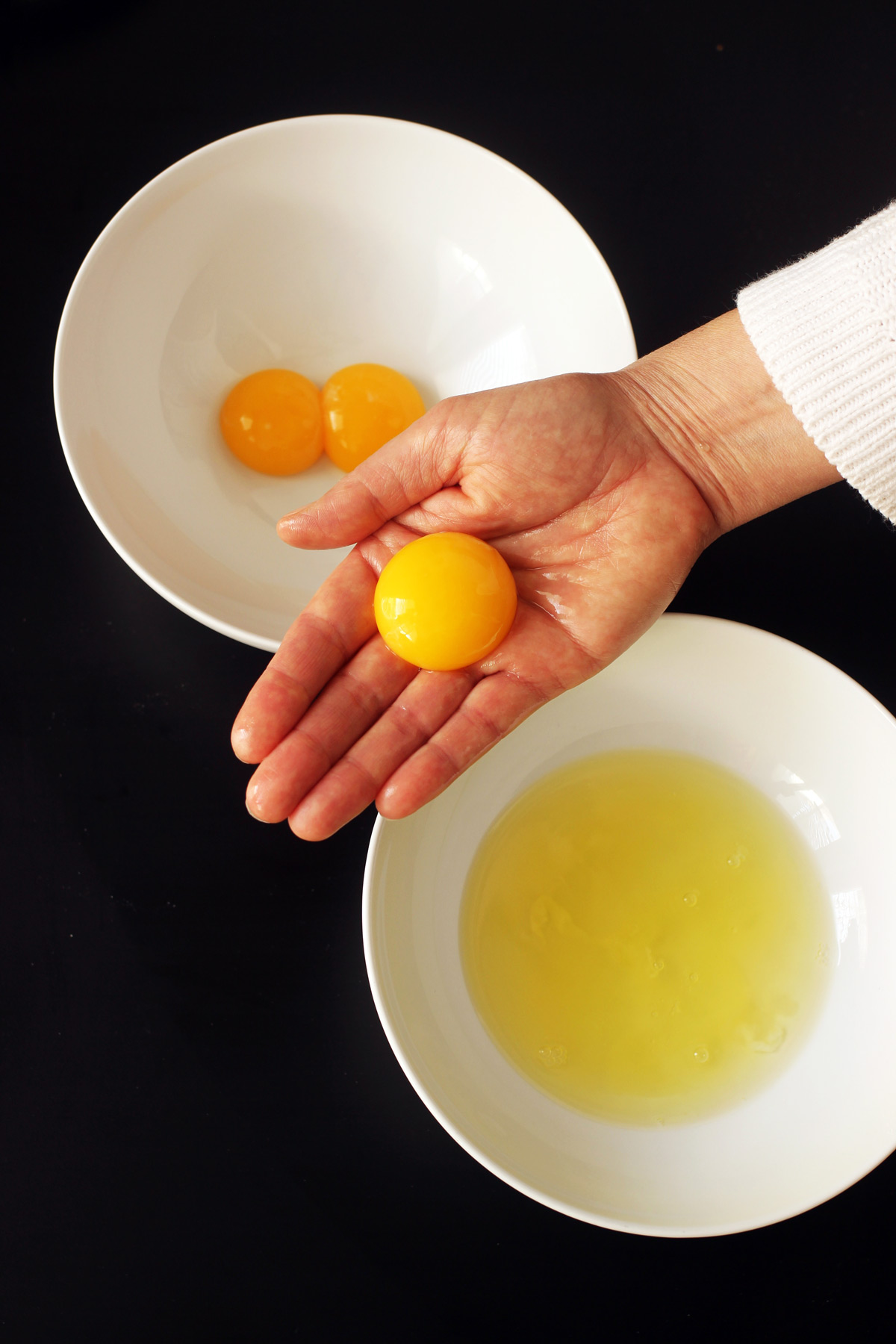 Tips for success
I taught myself to make this pie when I was ten. I had lots of fails—and sometimes still do. It always tastes good, but a few tricks will help the appearance of your final pie.
Separating the eggs can be tricky. You need to have no whites in your bowl of yolks and absolutely no yolks in your bowl of whites. I often keep a third bowl nearby in case a yolk breaks. That way, I don't contaminate the two main bowls. I also like to separate them in my (washed) hand. This allows the yolk to get really clear of any clinging whites. I wash my hands in between to help this process.
Let the curd get very thick. As mentioned earlier, during the cooking stages you want the filling to be extra thick since you're going to add butter and juice that will thin it. Go in with thick curd to account for this.
Allow the pie to cool completely. Soupy pies can be a result of not-thick-enough curd or curd that hasn't been allowed to cool completely. Be patient. It will be worth it!
Recipe costs
Knowing how much it costs you to prepare a recipe can help you decide if it's the type of recipe to make regularly or one you might want to save for special occasions. Let's crunch some numbers and see how this recipe pencils out.
pie shell – $1.69
sugar – $0.22
cornstarch – $0.16
eggs – $0.45
lemons – $0.80
butter – $0.30
cream of tartar – $0.10
vanilla extract – $0.13
Making a lemon meringue pie yourself costs about $3.85/pie or 48 cents/slice. Conversely a grocery store pie costs $7 to $8. While homemade will take some time, it's much cheaper and so much tastier!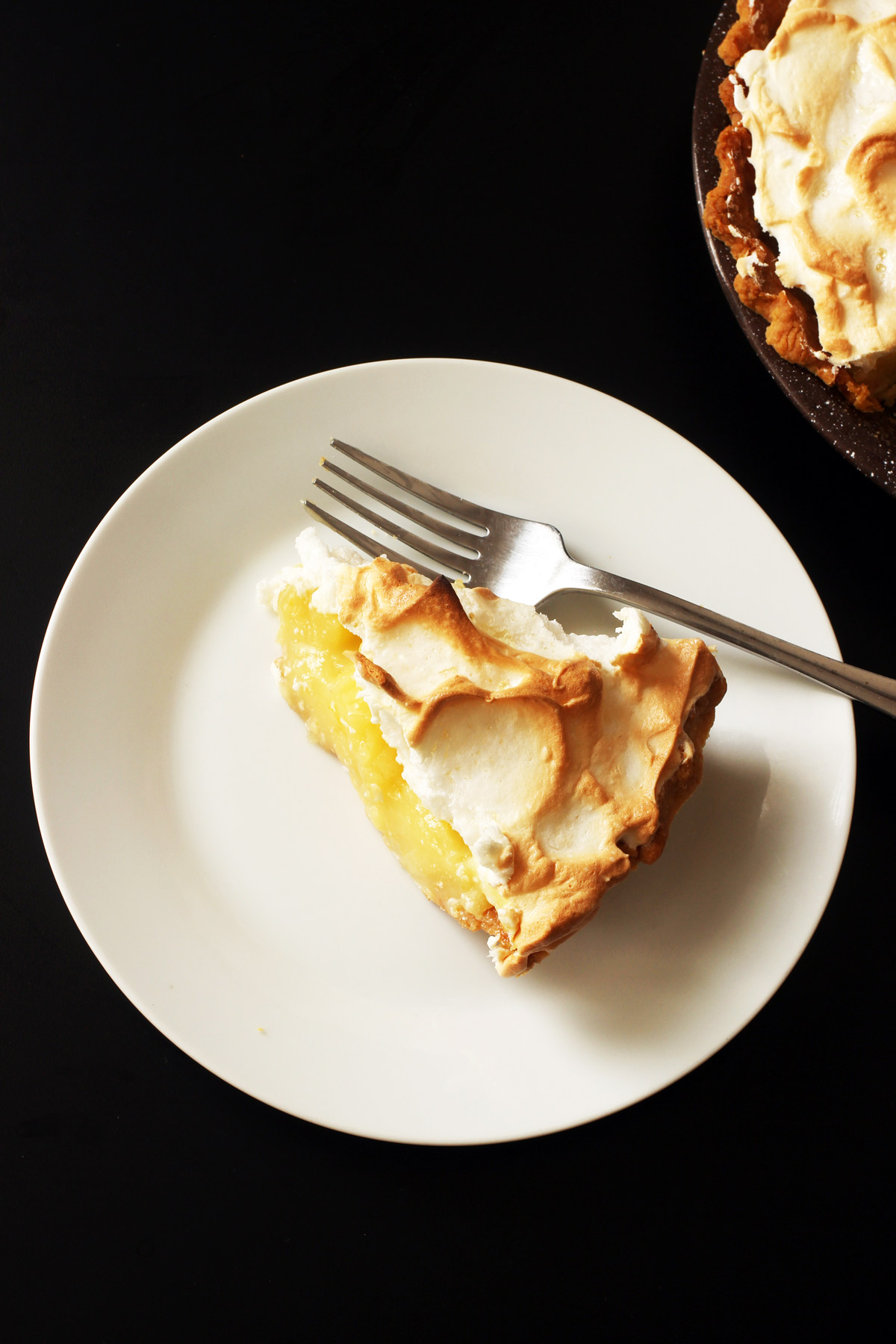 How to bring down the cost:
You can lower your costs even more by following the Good Cheap Eats System. Here are some ways that this would work:
Shop the stores with the best prices for baking ingredients. Likewise, stock up on baking ingredients when you see them on sale.
Buy things like sugar, cornstarch, vanilla, and cream of tartar in bulk. Provided you'll use those items, you'll benefit from bulk pricing.
Conversely, health food stores often sell the dry ingredients in their bulk section. If you don't think you'll use up a five-pound bag of flour, buy just what you need for the recipe. That's better than throwing the rest of the flour away.
Anytime you can get free lemons, go for it! This is easy where I live since both my hair dresser and my neighbors regularly give me free lemons. Keep an eye out for sales as well.
Kitchen equipment
This recipe really couldn't be easier than it is, but having the right kitchen tools can really make your time in the kitchen more enjoyable. Over time, I've honed my collection so that they are perfect for my needs.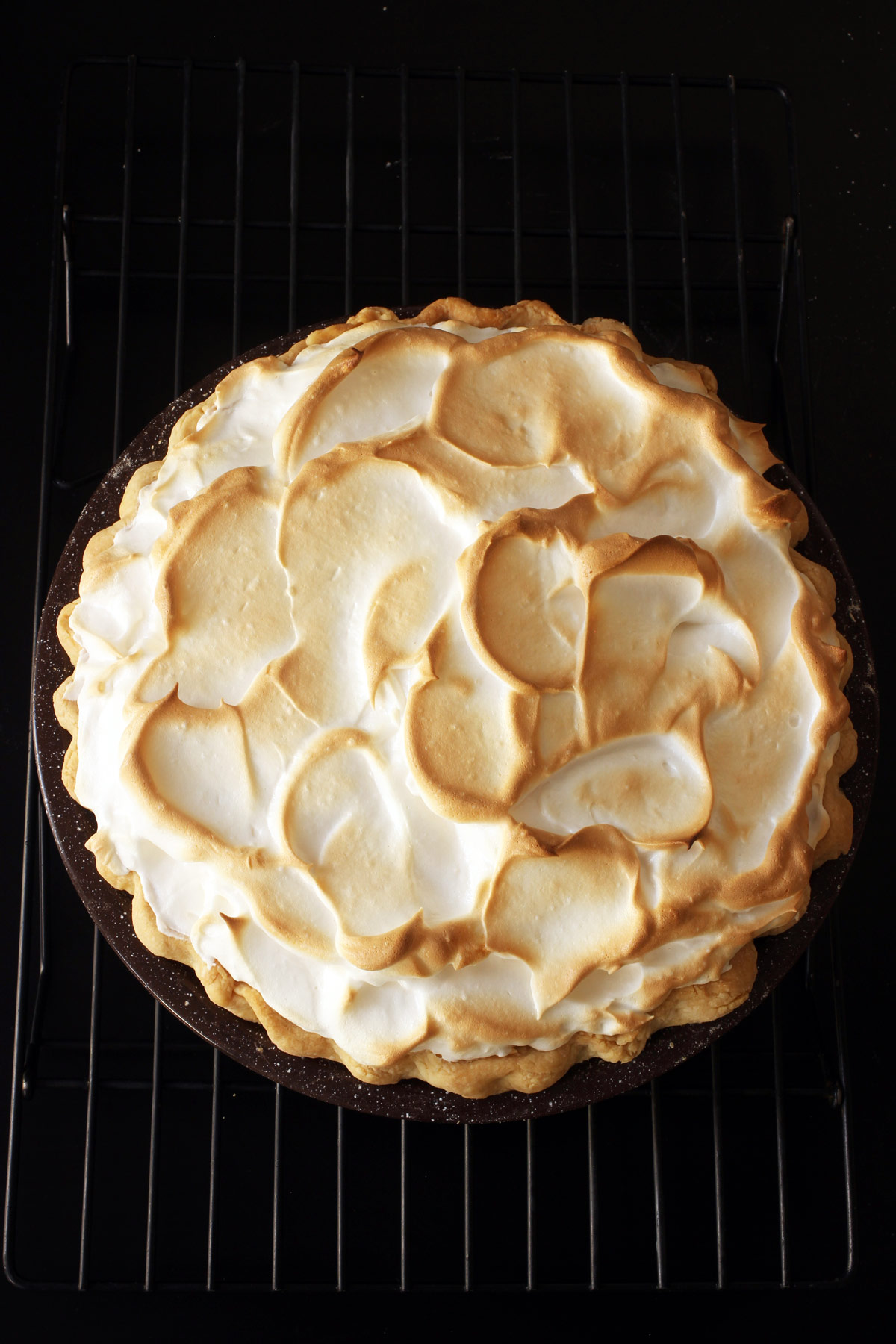 If you prepare this recipe, be sure to share a picture on social media and hashtag it
#GOODCHEAPEATS
. I can't wait to see what you cook up!
Lemon Meringue Pie Recipe
Homemade Lemon Meringue Pie is not complicated to make, but it feels like a million dollars. It's tart and sweet, buttery and creamy, a perfect pie to celebrate a special occasion or enjoy any day.
Ingredients
1 ½

cup

granulated sugar

⅓

cup

cornstarch

1 ½

cup

water

3

egg

separated

3

tablespoon

butter

1

tablespoon

lemon zest

½

cup

lemon juice

½

teaspoon

vanilla extract

½

teaspoon

cream of tartar

6

tablespoon

granulated sugar

1

baked 9-inch pie shell

cooled
Instructions
In a medium saucepan, combine the sugar and cornstarch. Stir in the water, blending until smooth. Cook over medium heat until the mixture boils, stirring constantly. Boil 1 minute. Remove from heat.

Blend a small amount of the hot mixture into the beaten egg yolks. Return this to the saucepan, mixing well. Cook just until the mixture starts to boil, stirring constantly. Reduce the heat to medium low and continue stirring and cooking until the mixture is very thick. Remove from heat.

Stir in the butter, lemon peel, and juice.

Meanwhile, prepare the meringue. In a large mixing bowl, beat the egg whites, vanilla extract, and cream of tartar until small peaks form. Gradually beat in the sugar, 1 tablespoon at a time until stiff peaks form. The meringue should be stiff and glossy.

Pour the cooled filling into the prepared pie shell. Spoon the meringue over filling, sealing to edges of the crust and spreading to cover. Add some decorative swoops if you like.

Bake at 400 degrees until the meringue is golden brown, about five to 10 minutes. Remove the pie to a cooling rack. Cool the pie for several hours before serving.
Notes
Promptly store leftovers in an airtight container in the refrigerator, for up to 3 days.
Nutritional values are approximate and based on ⅛ of the recipe. 
If you prefer, you can omit the meringue and serve the pie as a tart with whipped cream.
Nutrition
Calories:
364
kcal
|
Carbohydrates:
63
g
|
Protein:
4
g
|
Fat:
11
g
|
Saturated Fat:
5
g
|
Trans Fat:
1
g
|
Cholesterol:
73
mg
|
Sodium:
151
mg
|
Potassium:
94
mg
|
Fiber:
1
g
|
Sugar:
47
g
|
Vitamin A:
222
IU
|
Vitamin C:
7
mg
|
Calcium:
18
mg
|
Iron:
1
mg
This post was originally published on February 20, 2009. It has been updated for content and clarity.