Gramma John's Blue Ribbon Apple Pie is one of the simplest desserts that packs the biggest punch in flavor and texture. Make one today!
Pie is probably one of my very favorite desserts. I have wonderful memories of watching my Gramma John or my mom magically transform fruit, flour, sugar, and butter into something amazing.
Amazing, I tell ya!
I was about ten when I first tried to make a pie on my own. Lemon Meringue with fresh lemons from our tree in the back yard was the first for me to tackle — and perfect. But it's funny that I didn't start with an easy, surefire winner: our family classic, Gramma John's Blue Ribbon Apple Pie.
As the story goes, my Gramma John entered a number of dishes in the fair every year. And every year she nabbed a prize for her blue ribbon apple pie.
Tradition back then dictated that the winner share his or her recipe over the radio. But, sly woman that she was, Gramma always changed the recipe so that no one, least of all her competition, could steal the spotlight from her the following year.
As a result, her daughters-in-law always wondered if they had the right version of the recipe!
But, you know me, I'm all about sharing the wealth. So, here it is, Gramma's masterpiece, complete with my own tweaking.
But first let's answer some questions, easy as, well, apple pie.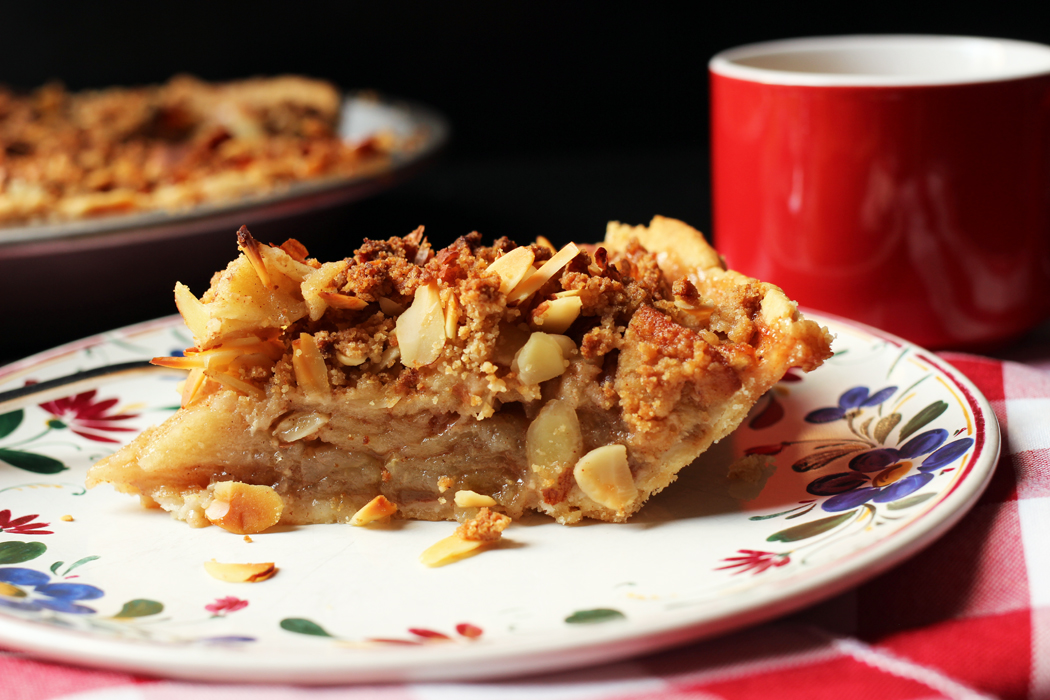 How do you make homemade apple pie?
Apple pie is typically a sweetened apple filling between two crusts. The top crust can be a rolled crust, like the bottom, or it can be a streusel or crumble type topping that serves as the second layer of crust.
Line a pie plate with pastry.
Fill the pastry with a mixture of sugar, spices, sliced apples, and lemon juice.
Dot the filling with small bits of butter.
Place the top crust, either rolled, lattice, or streusel.
Bake until the filling is bubbly and the crust is nicely golden browned.
Can you make apple pie in advance?
A baked apple pie is good for about three days, stored at room temperature.
Can you freeze apple pie?
Yes! When I've found apples at great prices, I've spent a few hours making many apple pies at once.
Freeze the pie unbaked, well wrapped in foil.
When you're ready to bake, vent the top crust and brush it with milk or an egg wash.
Bake at 450° for 15 minutes and then reduce heat and bake at 375° until crust is browned and filling bubbles, about one hour more.

Do I need to buy canned apple pie filling?
Please don't. Canned apple pie filling came into existence when fresh fruit was not easily obtainable. Unless you live somewhere where fresh apples are not at all obtainable, you don't need canned apple pie filling.
The exception to this rule would be when you or someone you know has a glut of apples and needs a way to preserve them for later use, aside from freezing. Then homemade apple pie filling is allowed. 😉
How is apple pie different from an apple tart?
An apple pie has both a bottom and top crust while an apple tart only has a bottom crust.
What are the best apples for apple pie?
Some apples are great for eating, but not good for baking. Be sure to choose the right apples for you pies. Your selection may vary depending on where you live.
Recommended varieties include the following:
Jonagold
Granny Smith
Rome Beauty
Golden Delicious
Honeycrisp
Braeburn
Crispin
Winesap
Pink Lady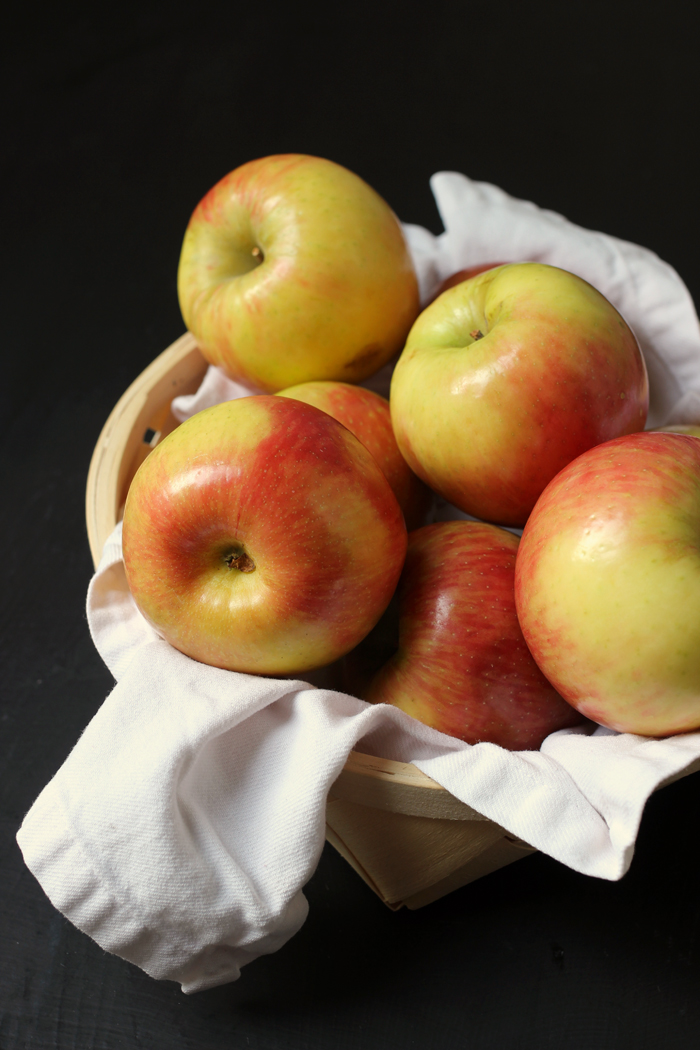 How to make Apple Pie good and cheap:
To make this recipe more economical:
Stock up on ingredients when they are on sale. Fall is your best time to find best selection, freshness, and price on apples, though it's true you can buy apples all year-round. My target price on apples is $1/pound, though I will go as high as $1.50 if they are organic. Watch for sales and stock up.
However, you can watch for sales year-round for things like flour, butter, and sugar. Stock up when you see a sale and store those items for when you want Apple Pie.
How to make this recipe easily:
Having the right kitchen tools can really make your time in the kitchen more enjoyable. Over time, I've honed my collection so that they are perfect for my needs. Here are the tools that I use for this recipe:
Here are the tools that I use for this recipe:
Not quite sure how to slice an apple? I'll show you four different ways to make easy apple slices.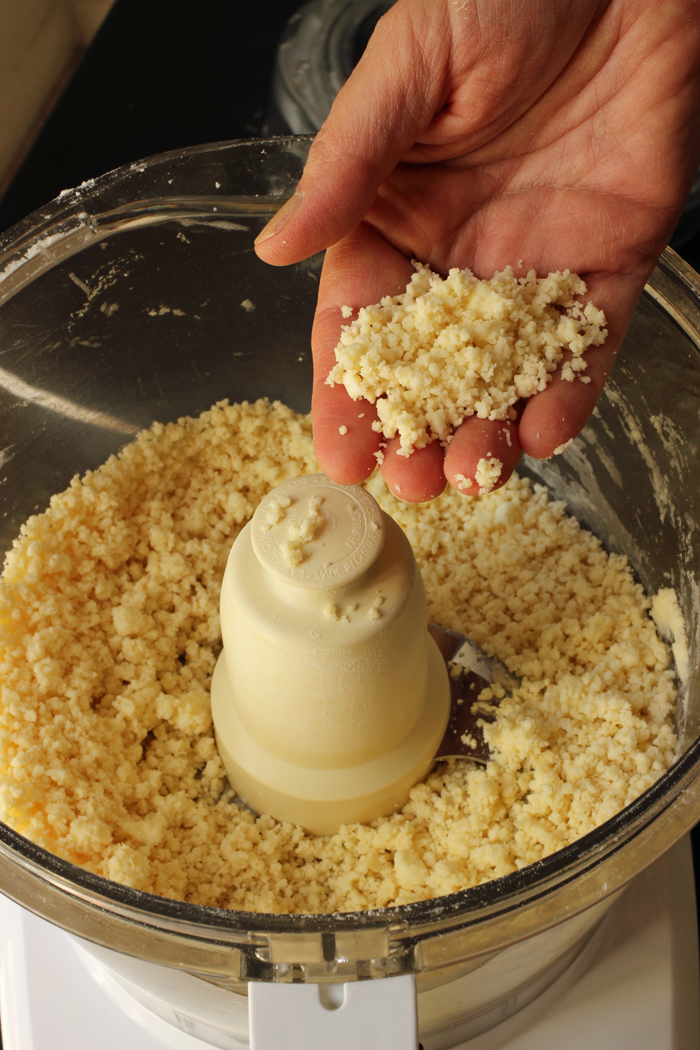 If you prepare this recipe, be sure to share a picture on social media and hashtag it
#GOODCHEAPEATS
. I can't wait to see what you cook up!
Gramma John's Blue Ribbon Apple Pie
Gramma John's Blue Ribbon Apple Pie is one of the simplest desserts that packs the biggest punch in flavor and texture. Make one today!
Ingredients
1

batch

single pie crust use this recipe or this one

6

apple

peeled, cored and sliced

½

cup

granulated sugar

1

tablespoon

lemon juice

1

teaspoon

ground cinnamon

dash

ground nutmeg

½

cup

unbleached, all-purpose flour

¼

cup

brown sugar

2

tablespoon

butter

¼

cup

sliced almonds
Instructions
Preheat the oven to 375°. Place a pie plate lined with a single crust on a rimmed baking dish to catch the drips.

In a large bowl, combine the apples, sugar, lemon juice, cinnamon, and nutmeg. Stir gently to distribute the components evenly.

Spoon this mixture into the prepared pie shell.

In a food processor bowl fitted with a metal blade, combine the flour, butter, and brown sugar. Pulse until coarse crumbs form. Stir in the almonds.

Alternatively, prepare the streusel top in a mixing bowl with a fork or pastry blender to cut the butter into the flour and sugar.

Sprinkle the streusel topping evenly over the apple filling.

Bake the pie 45-50 minutes, or until the filling bubbles and the topping is browned. If the topping and crust brown too quickly, cover with aluminum foil until baking is complete.

Allow the pie to cool on a rack for about an hour before serving.
Notes
Note: This pie is extra special served with whipped cream, whipped topping, or vanilla ice cream.
The unbaked pie can be frozen for up to six weeks. Wrap well with foil and freeze. Bake from frozen in a 425 degree oven for 15 minutes. Then reduce the heat to 375 and continue baking until filling bubbles and top is brown, up to an hour more.
Nutrition
Calories:
323
kcal
|
Carbohydrates:
56
g
|
Protein:
3
g
|
Fat:
11
g
|
Saturated Fat:
4
g
|
Cholesterol:
8
mg
|
Sodium:
116
mg
|
Potassium:
216
mg
|
Fiber:
5
g
|
Sugar:
34
g
|
Vitamin A:
161
IU
|
Vitamin C:
7
mg
|
Calcium:
32
mg
|
Iron:
1
mg