Apple slices are great in salads, pies, and eating out of hand. Learn how to slice an apple four different ways for easier eating, serving, and baking.
Apple are an easy, healthy, super duper packable snack. Not only are they packed with vitamins and fiber, but they also taste great. They can play the starring role in apple pie, desserts, salads, and even sandwiches!
While it is just fine to chomp off a bite from a whole apple, slicing apples makes them easier to eat and much easier to serve. Since kids just don't generally get all the edible bits off an apple core, cutting apple slices is a great way to waste less.
How 'bout them apple slices?
Apple slices are one of a kid's first snacks, but they also find a place in adult food, too. Slice an apple into a salad for a mix of savory and sweet. Fill a pie with sugar and spice-coated apple slices. Tuck a few thin apple slices into your favorite chicken salad or grilled cheese sandwich.
But before you do, consider which apples to use:
What are the best apples for eating fresh?
Not all apples are created equal. Some are better for eating than others. In fact, if you head to an apple farm that boasts heirloom varieties, you may stumble on some that taste almost inedible for fresh eating, but are magnificent once baked.
The best apples for fresh eating include these commonly available varieties:
Braeburn
Empire
Fuji
Gala
Opal
Gravenstein
Jonagold
Winesap
Pink Lady
Cameo
How can you keep sliced apples from turning brown?
Since we try to pack a lunch when we go on outings, I'll often cut up several apples, douse them in lemon or lime juice, bag them up and stash them in the cooler. The citric acid in the juice helps keep the apple slices from turning brown.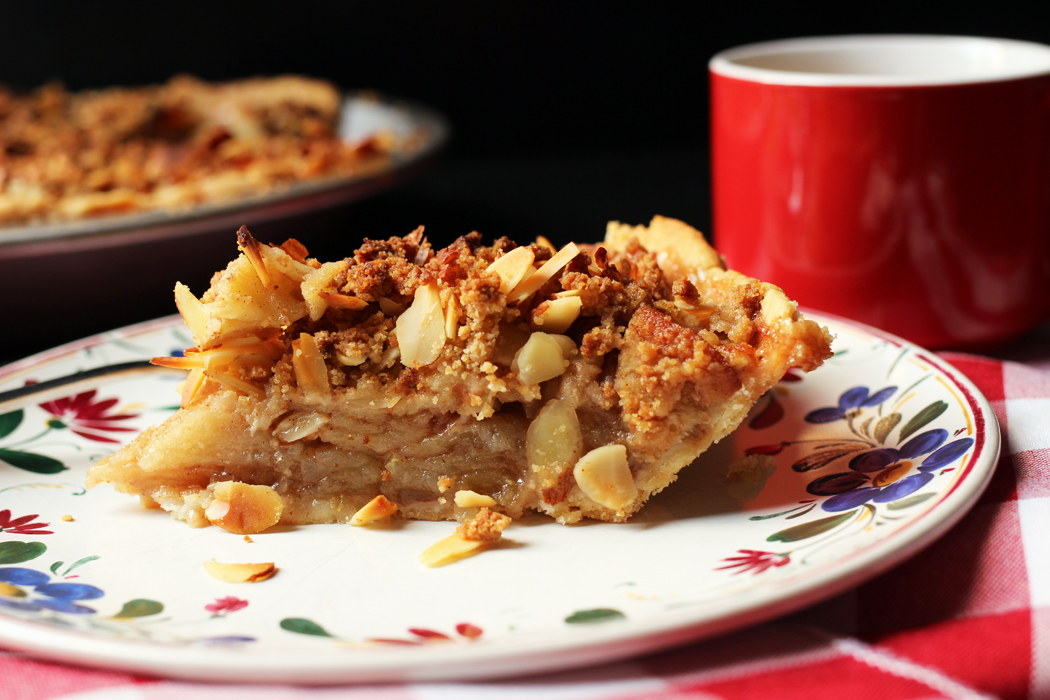 How big should apple slices be for apple pie?
How thinly you slice apples for pie is really based on personal preference. However, the thicker the slices, the longer it will take for your filling to cook. This becomes a problem when your pie crust gets overly brown while your filling is not quite done.
Slice apples for pie about ⅛- to ¼-inch thickness.
How do you slice an apple?
Over the years I've tried a number of different slicing techniques and tools. I vary the method depending on how much time I have and how many apples I'll be slicing.
Choose one you like: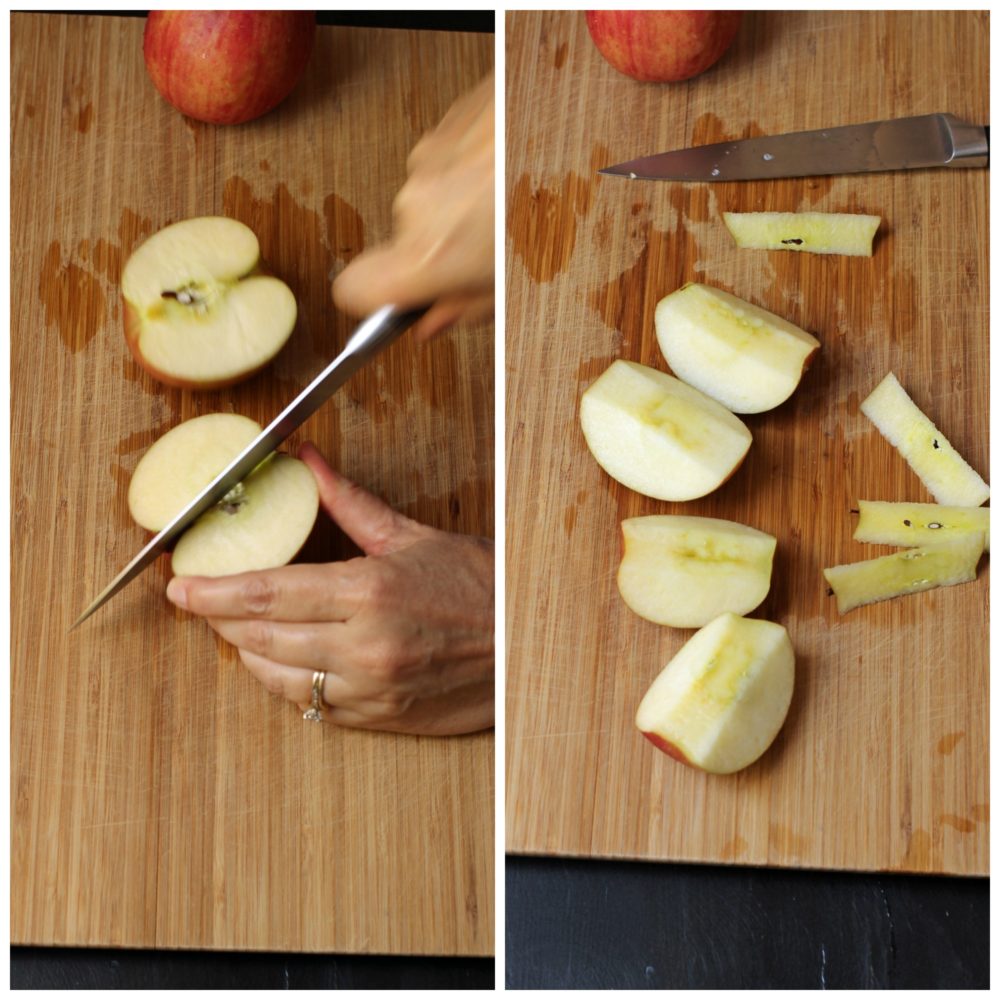 The Old School Method: Cut through the Core.
This is probably the way your gramma did it.
Cut the apple in half through the core.
Cut each half in half.
Cut out the core from each quarter.
Then slice each quarter into thin slices. (not pictured)
This method works best when you've got a good sharp knife, and time to make exact cuts.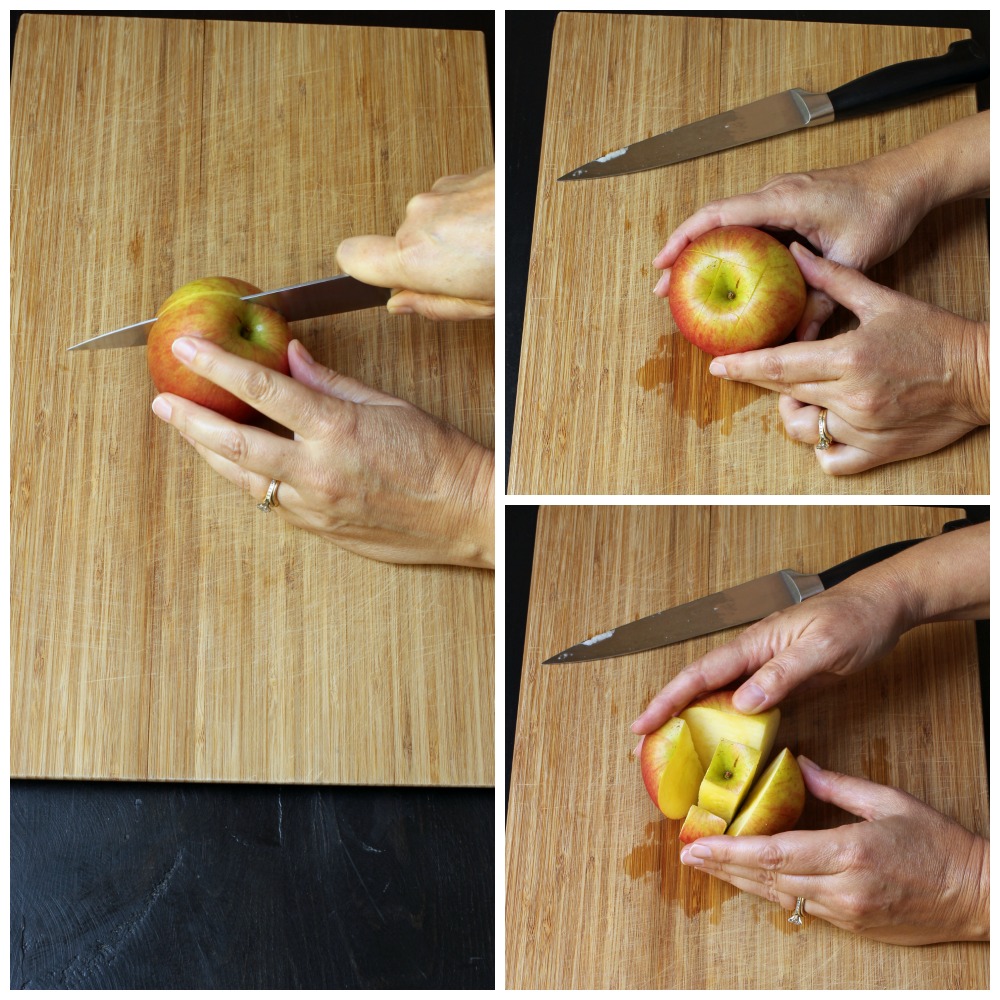 Cut around the Core.
The quickest way is cut around the core in straight, diagonal cuts. Yes, there might be a little more waste around the core, but at the same time, if you're too lazy to cut it the old school way, you might as well just slice your apples and enjoy them.
This method is really easy. Just slice around the core like we did with the pineapple. The slices aren't all symmetrical, but that's okay. They still taste the same!
Cut through the apple alongside the stem and center.
Turn the apple and cut again down next to the core.
Continue turning the apple until you've made straight cuts around the core.
Slice the quarters and chunks into thin slices.
Again, all you need is a good sharp knife.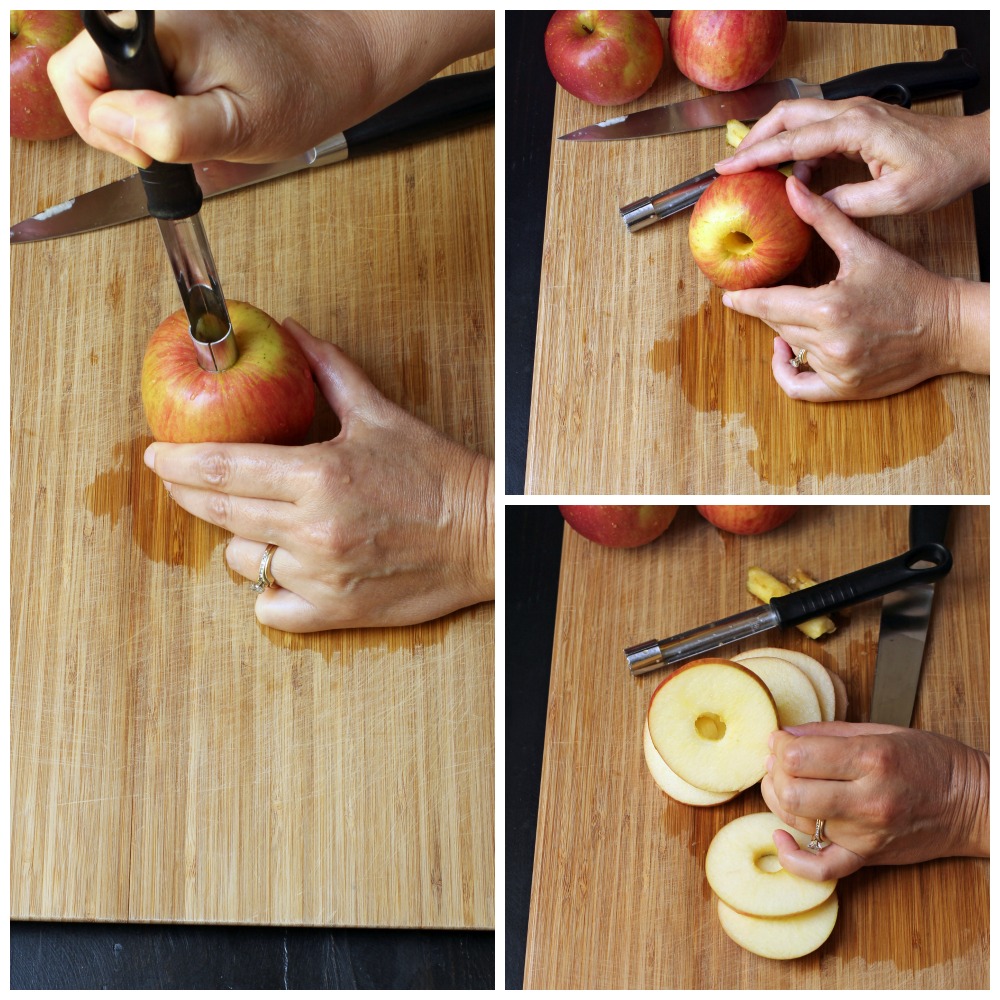 Make Rings with an Apple Corer
An apple corer is another tool we regularly use. It's not only great for hollowing out the apples for baked apples, but it is also very handy for making apple rings.
Simply shove it through the middle of the apple and remove the center core. Sometimes, you have to fiddle with it. Not all apples are created equal.
Then slice your apple into rings.
My daughters call these "apple donuts".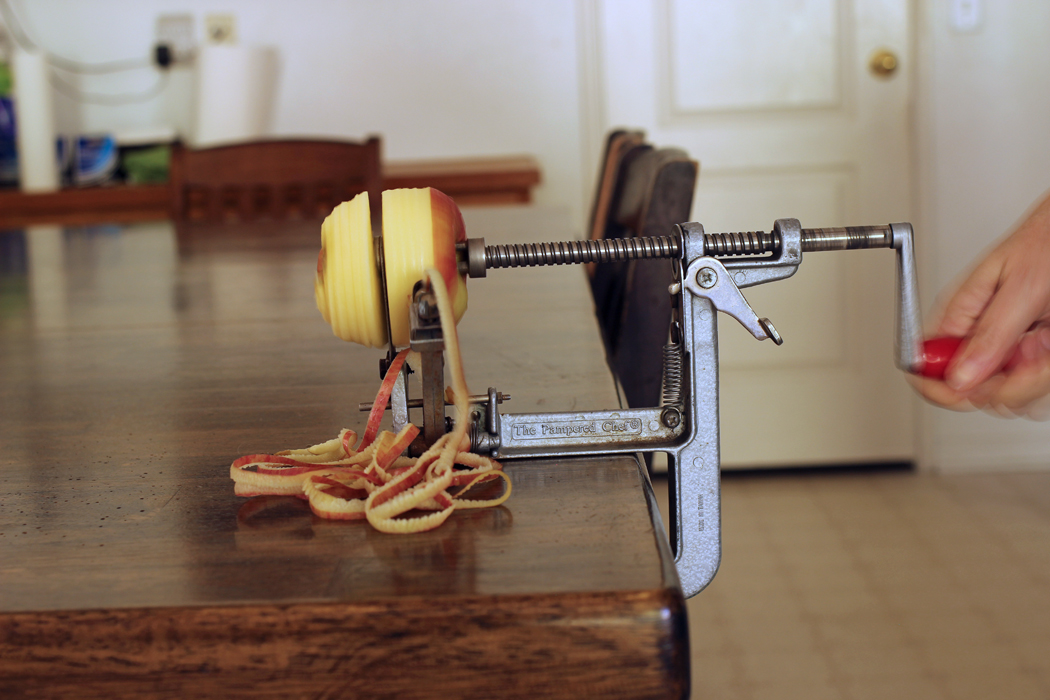 Make Rings Using the Apple Peeler Corer Slicer
I love this gadget. The apple-peeler-corer-slicer does just that; it peels, cores, and cuts apples in one fell swoop. Plus the apples are cut into these cool spirals. Just slice down the side of the apple to have the spiral break into apple rings.
I usually use this gadget when I am making lots of pies at one time. The trick to this tool, however, is that only small to medium sized apples really work. And you'll want a trash can underneath to catch all the juice and peels.
So, there you have it. No matter how you slice them, apples are delicious. Go buy some today!
How do YOU slice them apples?