Turkey Pesto Panini are super fun sandwiches to make. They're uber-comforting, freezer-friendly, AND even great for potlucks! Grab the recipe and get pressing these gooey, cheesy, delicious, pesto-infused sandwiches.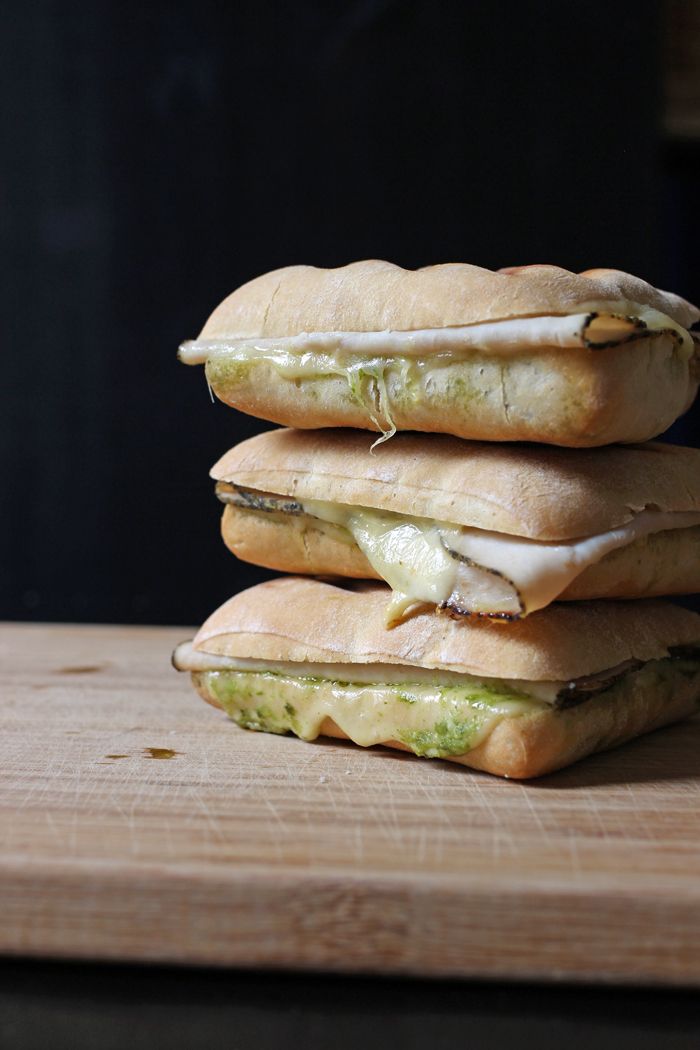 My husband works at a state university. His department often enlists the aid of student workers, and Paulette, a sweet lady in the department often works with the students on different projects and/or treats them to yummy treats. Bryan told me about how she made them all panini one day, and that got me thinking.
What a brilliant idea for potluck!
My Bible study holds a luncheon once a month, so when the theme was sandwiches this month, I decided to try out my theory.
How Do You Make A Turkey Pesto Panini?
I grabbed all the ingredients (sliced turkey, sliced Havarti, ciabatta rolls) at ALDI except for the pesto which I had in a ginormous Costco tub at home. I assembled the sandwiches the morning of our luncheon and then repacked them in the bag the rolls came in.
At Bible study, I fired up my panini press and within a few minutes, we had hot sandwiches! This strategy for feeding a crowd has me intrigued. I've been dreaming up all kinds of flavor combinations: roast beef and cheddar with horseradish mayo, chicken and Monterey Jack with chipotle mayo, Italian sausage and mozzarella and pizza sauce.
Bible study peeps, let's do sandwiches again next month!
Stay tuned as I WILL get back to you on more ways to potluck with panini. In the meantime, grab these four ingredients: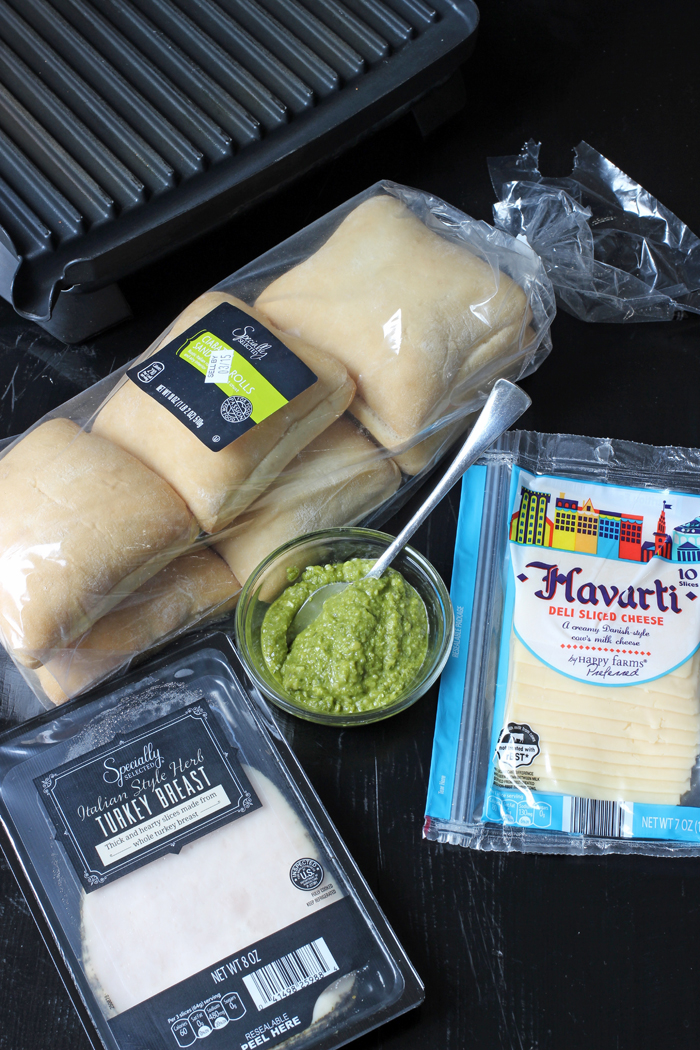 And make some Pesto Turkey Panini!
But first, let's have a word about pesto. Pesto is awesome. It packs in the flavor into a tiny storage space, making it a great condiment to add to lots of different things.
Many commercial brands contain different nuts than traditional pine nuts, so read your labels carefully. I like to get the big jars at Costco and then use them in a myriad of ways. Like here:
Ways to use up pesto:
this Pesto Turkey Panini, of course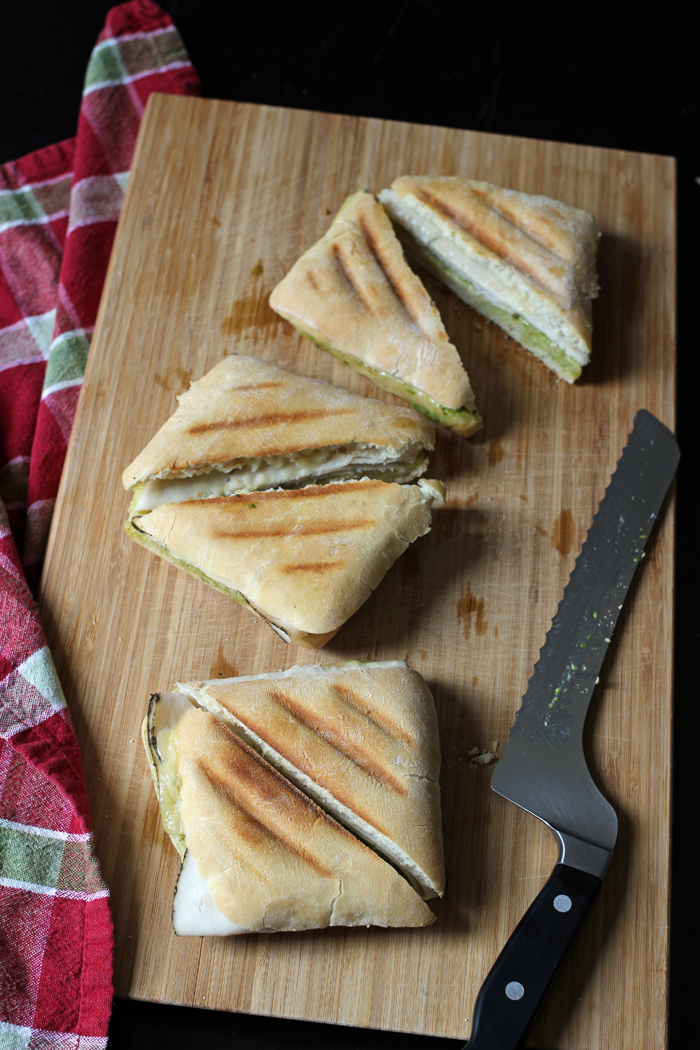 How to make this good and cheap:
Here are some of the strategies you can use to make this Pesto Turkey Panini recipe more economical:
Stock up on ingredients when they are on sale. Pesto is the big ticket item in this dish. Stock up when you see a good sale or buy the bulk container at Costco.
Shop at Costco or ALDI. When I did

my big grocery store showdown, I learned that those two stores have the best price for a lot of the things I buy, plus they sell all the ingredients needed for this recipe. I LOVE one-stop recipes.
Make your own pesto. Pesto can be a pricey ingredient sometimes, but it's super easy to make yourself, especially if you've got a source of cheap fresh basil, like your own backyard. You can get a lot of the pesto flavor, by making this Rustic Basil Sauce that is also allergy-friendly.
How I make this recipe easy:
This Pesto Turkey Panini recipe really couldn't be easier than it is, but having the right kitchen tools can really make your time in the kitchen more enjoyable. Over time, I've honed my collection so that they are perfect for my needs.
Here are the tools that I use for this recipe: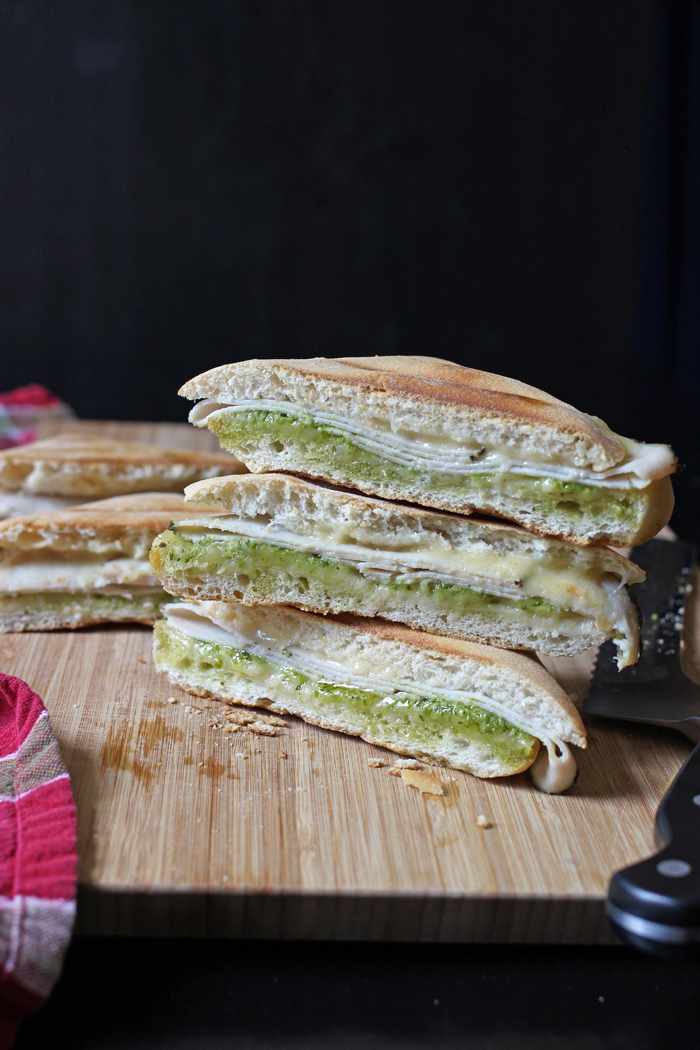 Turkey Pesto Panini
Turkey Pesto Paninis are super fun sandwiches to make. They're uber-comforting, freezer-friendly, AND even great for potlucks! Grab the recipe and get pressing these gooey, cheesy, delicious, pesto-infused sandwiches.
Ingredients
6

ciabatta rolls

, sliced in half lengthwise

7-8

oz

havarti cheese slices

1/2

cup

pesto

8

oz

deli sliced turkey breast

get herbed if you can
Instructions
Split the rolls open and place them on a work surface. Divide the cheese among the roll halves, on tops and bottoms. I had to tear a few slices in half to make it even.

Dollop the pesto among the six roll halves and spread to coat. We're spreading this on the cheese slices so as not to make the bread soggy since we're cooking them later. If you're cooking the sandwiches right away, you could spread the pesto directly on the surface of the roll.

Divide the meat among the rolls. Put the roll halves together. Place the closed rolls into the roll bag and refrigerate until ready to cook. If you're going to freeze the rolls, double bag them for added insulation and be sure to squeeze all the air out of the bag.

When you're ready to cook the sandwiches, heat the panini press. Cook the sandwiches in batches until the cheese is melty and the rolls are toasty.
Notes
In lieu of a panini press, you can wrap the sandwiches in foil and cook them for 4 hours on low in a slow cooker or bake them at 350 for about 2o minutes.
Nutrition
Calories:
395
kcal
|
Carbohydrates:
17.5
g
|
Protein:
25.7
g
|
Fat:
24.5
g
|
Saturated Fat:
10.4
g
|
Cholesterol:
74
mg
|
Sodium:
383
mg
|
Potassium:
113
mg
|
Fiber:
1.2
g
|
Sugar:
2.7
g
|
Calcium:
3380
mg
|
Iron:
0.7
mg