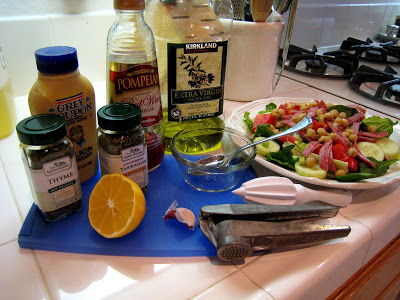 Making my own salad dressings has proven to be the best way for our family to enjoy salads, economically, nutritionally, and culinarily.
Yes, I know. With coupons you can often get bottled dressing for just pennies. But, honestly, it's been difficult to find dressings that weren't full of junk! I don't want corn syrup on my salad. And the few varieties that I've found at a bargain didn't taste as good as my homemade kind. So, I make my own, often mixing up a vinaigrette daily, just like my French mom does.
I could eat salad every day of the week. Wait a minute, I do.
It's my "go to" lunch. And it's nice to have a little variety. Sometimes I just use plain oil and vinegar, but I love Ranch, Garlic Cilanto, and Yogurt Dill, depending on my mood. During the Pantry Challenge, I refined one of my vinaigrettes and found that it goes well on salads as well as on steamed broccoli. It's full of flavor which my husband really likes. But, if the garlic and lemon are too strong for you, increase the amount of oil to 1/3 cup.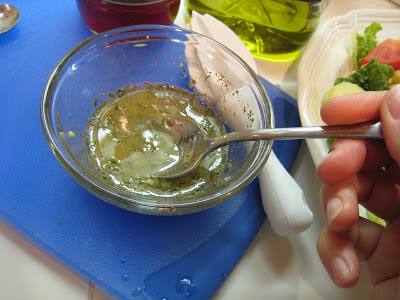 Recipe: Herbed Vinaigrette
Ingredients
juice of half a lemon
1 Tablespoon red wine vinegar
1 teaspoon Dijon mustard
1 clove garlic minced
1/4 teaspoon dried thyme
1/4 teaspoon dried tarragon
1/8 teaspoon black pepper
1/4 cup extra virgin olive oil
Instructions
In small dish combine lemon juice, vinegar, mustard, garlic, herbs, and pepper. Stir well. Add olive oil in a thin stream, stirring to combine.
Use as a salad dressing or a marinade for chicken or fish. Go here to learn about freezing marinated chicken.
Do you make your own dressings? Why or why not?
Want the dish on delicious ways to act your wage? Subscribe to GCE in a reader or via email.